Abstract
Healthy behaviors (e.g., eating a healthy diet, engaging in regular physical activity, smoking cessation) are associated with a reduction in the incidence and mortality of chronic non-communicable diseases (NCDs), including cardiovascular disease. There have been many examples of health behavior interventions leading to improvements in NCDs and their risk factors, such as hypertension. However, despite their potential benefits, the uptake of existing behavioral interventions has been limited. Among many barriers to implementation of behavioral treatments are concerns about methodological inadequacies. The current manuscript discusses recent advances in frameworks for the development of interventions, the reporting of trials and their protocols, and areas which need further work. The goal of this article is to increase awareness and encourage further debate about how best to promote high-quality behavioral intervention research.
Access options
Buy single article
Instant access to the full article PDF.
US$ 39.95
Tax calculation will be finalised during checkout.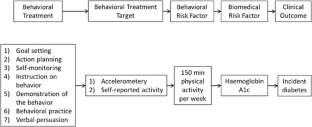 References
1.

Lozano R, Naghavi M, Foreman K, et al. Global and regional mortality from 235 causes of death for 20 age groups in 1990 and 2010: a systematic analysis for the Global Burden of Disease Study 2010. Lancet. 2012;380(9859):2095–128.

2.

Vos T, Flaxman AD, Naghavi M, et al. Years lived with disability (YLDs) for 1160 sequelae of 289 diseases and injuries 1990–2010: a systematic analysis for the Global Burden of Disease Study 2010. Lancet. 2012;380(9859):2163–96.

3.

Murray CJL, Vos T, Lozano R, et al. Disability-adjusted life years (DALYs) for 291 diseases and injuries in 21 regions, 1990? 2010: a systematic analysis for the Global Burden of Disease Study 2010. Lancet. 2012;380(9859):2197–223.

4.

Lim SS, Vos T, Flaxman AD, et al. A comparative risk assessment of burden of disease and injury attributable to 67 risk factors and risk factor clusters in 21 regions, 1990–2010: a systematic analysis for the Global Burden of Disease Study 2010. Lancet. 2012;380(9859):2224–60.

5.

Mozaffarian D, Wilson PWF, Kannel WB. Beyond established and novel risk factors: lifestyle risk factors for cardiovascular disease. Circulation. 2008;117(23):3031–8.

6.

Stampfer MJ, Hu FB, Manson JE, Rimm EB, Willett WC. Primary prevention of coronary heart disease in women through diet and lifestyle. N Engl J Med. 2000;343(1):16–22.

7.

Folsom AR, Yatsuya H, Nettleton JA, et al. Community prevalence of ideal cardiovascular health, by the American Heart Association definition, and relationship with cardiovascular disease incidence. J Am Coll Cardiol. 2011;57(16):1690–6.

8.

Spring B, Moller AC, Colangelo LA, et al. Healthy lifestyle change and subclinical atherosclerosis in young adults: Coronary Artery Risk Development in Young Adults (CARDIA) study. Circulation. 2014;130(1):10–7.

9.

Critchley JA, Capewell S. Mortality risk reduction associated with smoking cessation in patients with coronary heart disease. JAMA. 2003;290(1):86–97.

10.

Moullec G, Laurin C, Lavoie KL, Ninot G. Effects of pulmonary rehabilitation on quality of life in chronic obstructive pulmonary disease patients. Curr Opin Pulm Med. 2011;17(2):62–71.

11.

Gordon L, Graves N, Hawkes A, Eakin E. A review of the cost-effectiveness of face-to-face behavioural interventions for smoking, physical activity, diet and alcohol. Chronic Illn. 2007;3(2):101–29.

12.

Kangas M, Bovbjerg DH, Montgomery GH. Cancer-related fatigue: a systematic and meta-analytic review of non-pharmacological therapies for cancer patients. Psychol Bull. 2008;134(5):700–41.

13.

Langford DJ, Lee K, Miaskowski C. Sleep disturbance interventions in oncology patients and family caregivers: a comprehensive review and meta-analysis. Sleep Med Rev. 2012;16(5):397–414.

14.

Gage JD, Everett KD, Bullock L. A review of research literature addressing male partners and smoking during pregnancy. J Obstet Gynecol Neonatal Nurs. 2007;36(6):574–80.

15.

Turner L, Shamseer L, Altman D, Schulz K, Moher D. Does use of the CONSORT Statement impact the completeness of reporting of randomised controlled trials published in medical journals? A Cochrane review. Syst Rev. 2012;1(1):60.

16.••

Schulz KF, Altman DG, Moher D, for the CONSORT Group. CONSORT 2010 Statement: updated guidelines for reporting parallel group randomised trials. Brit Med J. 2010;340(340):698–702. This paper provides the details of the elements of the CONSORT Statement which are key to reporting randomised clinical trials.

17.

Boutron I, Moher D, Altman DG, Schulz KF, Ravaud P, for the CONSORT Group. Extending the CONSORT statement to randomized trials of nonpharmacologic treatment: explanation and elaboration. Ann Int Med. 2008;148(4):295–309.

18.

Montgomery P, Grant S, Hopewell S, et al. Protocol for CONSORT-SPI: an extension for social and psychological interventions. Implement Sci. 2013;8(1):99.

19.

Chan A-W, Tetzlaff JM, Gøtzsche PC, et al. SPIRIT 2013 explanation and elaboration: guidance for protocols of clinical trials. Brit Med J. 2013;346:e7586.

20.•

Michie S, Richardson M, Johnston M, et al. The behavior change technique taxonomy (v1) of 93 hierarchically clustered techniques: building an international consensus for the reporting of behavior change interventions. Ann Behav Med. 2013;46(1):81–95. The Behavior Change Technique Taxonomy (v1) of 93 Hierarchically Clustered Techniques: Building an International Consensus for the Reporting of Behavior Change Interventions.

21.

Michie S, van Stralen M, West R. The behaviour change wheel: a new method for characterising and designing behaviour change interventions. Implement Sci. 2011;6(1):42.

22.

Hoffmann TC, Glasziou PP, Boutron I, et al. (2014) Better reporting of interventions: template for intervention description and replication (TIDieR) checklist and guide. Brit Med J. 348.

23.

Bhatt A. Evolution of clinical research: a history before and beyond James Lind. Perspect Clin Res. 2010;1(1):6–10.

24.

Greenwald P, Cullen JW. The new emphasis in cancer control. J Natl Cancer Inst. 1985;74(3):543–51.

25.••

Czajkowski SM, Powell LH, Adler N, et al. From ideas to efficacy: the ORBIT model for developing behavioral treatments for chronic diseases. Health Psychol. 2014. This paper outlines the key elements of the ORBIT behavioural intervention development model which provides a usable framework for intervention development and testing.

26.

Craig P, Dieppe P, Macintyre S, Michie S, Nazareth I, Petticrew M. Developing and evaluating complex interventions: the new medical research council guidance. Brit Med J. 2008;337:a1655.

27.

Wade DT. Outcome measures for clinical rehabilitation trials: impairment, function, quality of life, or value? Am J Phys Med Rehabil. 2003;82(10):S26–31.

28.

Moncher FJ, Prinz RJ. Treatment fidelity in outcome studies. Clin Psychol Rev. 1991;11(3):247–66.

29.

Montgomery P, Underhill K, Gardner F, Operario D, Mayo-Wilson E. The Oxford Implementation Index: a new tool for incorporating implementation data into systematic reviews and meta-analyses. J Clin Epidemiol. 2013;66(8):874–82.

30.

Guydish J, Campbell BK, Manuel JK, et al. Does treatment fidelity predict client outcomes in 12-Step Facilitation for stimulant abuse? Drug Alcohol Depend. 2014;134:330–6.

31.

Perepletchikova F, Treat TA, Kazdin AE. Treatment integrity in psychotherapy research: analysis of the studies and examination of the associated factors. J Consult Clin Psychol. 2007;75(6):829–41.
Acknowledgments
The members of the IBTN (IBTNetwork.org) would like to thank the Canadian Institutes of Health Research—MPE 132280 for the initial funding for the network and Mr. Guillaume Lacoste for overseeing the coordination of the network. In addition, Drs. Bacon and Lavoie both received salary support from the Fonds de Recherche du Quebec—Sante and the Canadian Institutes for Health Research which aid in the maintenance of the network.
Founding Members of the IBTN
| | | |
| --- | --- | --- |
| Name | Institution | Position |
| Simon Bacon, PhD | Concordia University and Hôpital du Sacré-Coeur de Montréal | Professor of Exercise Science and Co-Director of the Montreal Behavioural Medicine Centre |
| Kim Lavoie, PhD | Université du Québec à Montréal and Hôpital du Sacré-Coeur de Montréal | Professor of Psychology and Co-Director of the Montreal Behavioural Medicine Centre |
| Gregory Ninot, PhD | University of Montpellier | Director of the Epsylon Laboratory |
| Jean Bourbeau, MD | Montreal Chest Institute and McGill University | Director of the Respiratory Epidemiology and Clinical Research Unit (RECRU) |
| Isabelle Boutron, MD | University Paris Descartes and INSERM U738 | Professor of Clinical Epidemiology |
| Tim Caulfield, PhD | University of Alberta | Canada Research Chair in Health Law and Policy |
| Susan Czajkowski, PhD | National Heart, Lung and Blood Institute, NIH | Program Director |
| Karina Davidson, PhD | Columbia University | Director of the Center for Behavioral and Cardiovascular Health |
| Kenneth Freedland, PhD | Washington University School of Medicine | Professor of Psychiatry and Psychology |
| Gaston Godin, PhD | Laval University | Professor Emeritus |
| Susan Michie, PhD | University College London | Director of the Health Psychology Research Group |
| David Moher, PhD | Ottawa Hospital Research Institute | University of Ottawa Research Chair |
| Paul Montgomery, DPhil | Oxford University | Professor of Psycho-Social Intervention |
| Lynda Powell, PhD | Rush University Medical Center | Charles J. and Margaret Roberts Professor of Preventive Medicine |
| Lise Rochaix, PhD | Université Paris 1 Panthéon-Sorbonne | Professeur des Universités en Sciences économiques |
| David Secko, PhD | Concordia University | Team Leader of the Concordia Science Journalism Project |
| Stan Shapiro, PhD | McGill University | Professor of Epidemiology and Biostatistics |
| Bonnie Spring, PhD | Northwestern University | Director of the Center for Behavior and Health |
Compliance with Ethics Guidelines
ᅟ
Conflict of Interest
Kenneth Freedland, Kim Lavoie, Susan Czajkowski, Susan Michie, Lynda H. Powell, Gregory Ninot, and Bonnie Spring have no conflicts of interest. Simon Bacon received a grant from the Canadian Institutes of Health Research (CIHR) and the Fonds de Recherche du Quebec—Sante. Paul Montgomery received support from CIHR.
Human and Animal Rights and Informed Consent
This article does not contain any studies with human or animal subjects performed by any of the authors.
Additional information
This article is part of the Topical Collection on Physical Activity
About this article
Cite this article
Bacon, S.L., Lavoie, K.L., Ninot, G. et al. An International Perspective on Improving the Quality and Potential of Behavioral Clinical Trials. Curr Cardiovasc Risk Rep 9, 427 (2015). https://doi.org/10.1007/s12170-014-0427-0
Keywords
Behavioral trials

Clinical trials

Control groups

Methodology

Outcomes

Treatment fidelity

International Behavioural Trials Network