Abstract
Black women in the United States are disproportionately affected by obesity, with almost two-thirds considered obese based on body mass index. Obesity has been directly linked to cardiovascular morbidity and mortality in black women. Therefore, understanding contributors to the genesis of obesity in black women is imperative. While biologic differences likely result in varying obesity prevalence across racial/ethnic groups, behaviors such as post-partum weight retention and limited leisure-time physical activity, may especially contribute to obesity in black women. Black women also appear to be particularly susceptible to cultural, psychosocial, and environmental factors that can promote weight gain. Therapeutic interventions are being tailored to specifically address these social determinants of health and to foster lifestyle modification; however, more work is needed to understand barriers to behavior change for black women. Knowledge gaps also remain in identifying mechanisms by which pharmacologic and surgical treatments for obesity modify cardiovascular risk in black women.
Access options
Buy single article
Instant access to the full article PDF.
USD 39.95
Price includes VAT (USA)
Tax calculation will be finalised during checkout.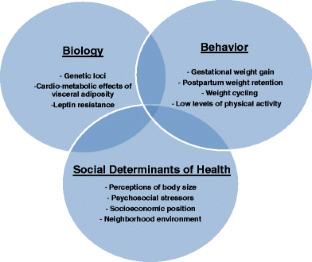 References
Papers of particular interest, published recently, have been highlighted as: • Of importance •• Of major importance
1.

National Center for Health Statistics. Health, United States, 2011: with special feature on socioeconomic status and health. Hyattsville, MD; 2012.

2.

Flegal KM, Carroll MD, Kit BK, et al. Prevalence of obesity and trends in the distribution of body mass index among US adults, 1999-2010. JAMA. 2012;307:491–7.

3.

Go AS, Mozaffarian D, Roger VL, et al. Heart disease and stroke statistics–2013 update: a report from the American Heart Association. Circulation. 2013;127:e6–245.

4.

Warren TY, Wilcox S, Dowda M, et al. Independent association of waist circumference with hypertension and diabetes in African American women, South Carolina, 2007-2009. Prev Chron Dis. 2012;9:e105.

5.

•• Das SR, Alexander KP, Chen AY, et al. Impact of body weight and extreme obesity on the presentation, treatment, and in-hospital outcomes of 50,149 patients with ST-Segment elevation myocardial infarction results from the NCDR (National Cardiovascular Data Registry). J Am Coll Cardiol. 2011;58:2642–50. This study examined the impact of morbid obesity on treatment patterns and 30-day in- hospital mortality in patients following ST-segment elevation myocardial infarction.

6.

•• Boggs DA, Rosenberg L, Cozier YC, et al. General and abdominal obesity and risk of death among black women. N Engl J Med. 2011;365:901–8. This prospective study of a population-based cohort demonstrated the direct relationship between obesity and all-cause mortality among women in the Black Women's Health Study.

7.

Wang YC, McPherson K, Marsh T, et al. Health and economic burden of the projected obesity trends in the USA and the UK. Lancet. 2011;378:815–25.

8.

Stewart ST, Cutler DM, Rosen AB, et al. Forecasting the effects of obesity and smoking on U.S. life expectancy. N Engl J Med. 2009;361:2252–60.

9.

Bibbins-Domingo K, Coxson P, Pletcher MJ, et al. Adolescent overweight and future adult coronary heart disease. N Engl J Med. 2007;357:2371–9.

10.

Zhao W, Wineinger NE, Tiwari HK, et al. Copy number variations associated with obesity-related traits in African Americans: a joint analysis between GENOA and HyperGEN. Obesity. 2012;20:2431–7.

11.

Monda KL, Chen GK, Taylor KC, et al. A meta-analysis identifies new loci associated with body mass index in individuals of African ancestry. Nat Genet. 2013;45:690–6

12.

Cohen SS, Gammon MD, North KE, et al. ADIPOQ, ADIPOR1, and ADIPOR2 polymorphisms in relation to serum adiponectin levels and BMI in black and white women. Obesity. 2011;19:2053–62.

13.

Duncan BB, Schmidt MI, Pankow JS, et al. Adiponectin and the development of type 2 diabetes: the atherosclerosis risk in communities study. Diabetes. 2004;53:2473–8.

14.

Heid IM, Wagner SA, Gohlke H, et al. Genetic architecture of the APM1 gene and its influence on adiponectin plasma levels and parameters of the metabolic syndrome in 1,727 healthy Caucasians. Diabetes. 2006;55:375–84.

15.

Matsuzawa Y, Funahashi T, Nakamura T. The concept of metabolic syndrome: contribution of visceral fat accumulation and its molecular mechanism. J Atheroscler Thromb. 2011;18:629–39.

16.

Maahs DM, Ogden LG, Kinney GL, et al. Low plasma adiponectin levels predict progression of coronary artery calcification. Circulation. 2005;111:747–53.

17.

• Bidulescu A, Liu J, Hickson DA, et al. Gender differences in the association of visceral and subcutaneous adiposity with adiponectin in African Americans: the Jackson Heart Study. BMC Cardiovasc Disord. 2013;13:9. This study evaluated gender-specific associations between adiposity and adiponectin among African Americans in the Jackson Heart Study cohort.

18.

Khan UI, Wang D, Sowers MR, et al. Race-ethnic differences in adipokine levels: the Study of Women's Health Across the Nation (SWAN). Metabolism. 2012;61:1261–9.

19.

Mattu HS, Randeva HS. Role of adipokines in cardiovascular disease. J Endocrinol. 2013;216:T17–36.

20.

Headen IE, Davis EM, Mujahid MS, et al. Racial-ethnic differences in pregnancy-related weight. Adv Nutr. 2012;3:83–94.

21.

Groth SW, Morrison-Beedy D, Meng Y. How pregnant African American women view pregnancy weight gain. J Obstet Gynecol Neonatal Nurs. 2012;41:798–808.

22.

Herring SJ, Henry TQ, Klotz AA, et al. Perceptions of low-income African-American mothers about excessive gestational weight gain. Matern Child Health J. 2012;16:1837–43.

23.

National Institute of Diabetes and Digestive and Kidney Diseases, National Institutes of Health. Weight cycling. Bethesda: Weight Control Information Network; 2008.

24.

Montani JP, Viecelli AK, Prevot A, et al. Weight cycling during growth and beyond as a risk factor for later cardiovascular diseases: the 'repeated overshoot' theory. Int J Obes. 2006;30 Suppl 4:S58–66.

25.

Jeffery RW, Wing RR, French SA. Weight cycling and cardiovascular risk factors in obese men and women. Am J Clin Nutr. 1992;55:641–4.

26.

Schulz M, Liese AD, Boeing H, et al. Associations of short-term weight changes and weight cycling with incidence of essential hypertension in the EPIC-Potsdam Study. J Hum Hypertens. 2005;19:61–7.

27.

Wallner SJ, Luschnigg N, Schnedl WJ, et al. Body fat distribution of overweight females with a history of weight cycling. Int J Obes Relat Metab Disord. 2004;28:1143–8.

28.

Blair SN, Shaten J, Brownnell K, et al. Body weight change, all-cause mortality, and cause-specific mortality in the Multiple Risk Factor Intervention Trial. Ann Intern Med. 1993;119:749–57.

29.

Rzehak P, Meisinger C, Woelke G, et al. Weight change, weight cycling and mortality in the ERFORT Male Cohort Study. Eur J Epidemiol. 2007;22:665–73.

30.

• Osborn RL, Forys KL, Psota TL, et al. Yo-yo dieting in African American women: weight cycling and health. Ethn Dis. 2011;21:274–80. Despite data on the adverse cardiovascular risks associated with weight cycling, this study is among the first to examine weight cycling in African American women.

31.

Kong A, Odoms-Young AM, Schiffer LA, et al. Racial/ethnic differences in dietary intake among WIC families prior to food package revisions. J Nutr Educ Behav. 2013;45:39–46.

32.

National Center for Chronic Disease Prevention and Health Promotion, Division of Adult and Community Health. Adults who report no liesure time physical activity during preceding month: REACH,U.S. 2009. Atlanta, GA; 2011.

33.

•• Hall RR, Francis S, Whitt-Glover M, et al. Hair care practices as a barrier to physical activity in African American women. Arch Dermatol. 2012:1–6. This cross-sectional study highlights a growing area of interest for targeting health behaviors related to hair care practices among black women.

34.

Chomistek AK, Manson JE, Stefanick ML, et al. The relationship of sedentary behavior and physical activity to incident cardiovascular disease: results from the Women's Health Initiative. J Am Coll Cardiol. 2013;61: 2346–54

35.

Manson JE, Greenland P, LaCroix AZ, et al. Walking compared with vigorous exercise for the prevention of cardiovascular events in women. N Engl J Med. 2002;347:716–25.

36.

Mathieu 4th RA, Powell-Wiley TM, Ayers CR, et al. Physical activity participation, health perceptions, and cardiovascular disease mortality in a multiethnic population: the Dallas Heart Study. Am Heart J. 2012;163:1037–40.

37.

• Robinson SA, Webb JB, Butler-Ajibade PT. Body image and modifiable weight control behaviors among black females: a review of the literature. Obesity. 2012;20:241–52. This review article examines 31 studies pertaining to body image satisfaction and weight loss behaviors in black women.

38.

Thomas S, Ness S, Thurston RC, et al. Racial differences in perception of healthy body weight in midlife women: results from the Do Stage Transitions Result in Detectable Effects study. Menopause. 2013;20:269–73.

39.

Powell TM, de Lemos JA, Banks K, et al. Body size misperception: a novel determinant in the obesity epidemic. Arch Intern Med. 2010;170:1695–7.

40.

Mastin T, Campo S, Askelson NM. African American women and weight loss: disregarding environmental challenges. J Transcult Nurs. 2012;23:38–45.

41.

Duncan DT, Wolin KY, Scharoun-Lee M, et al. Does perception equal reality? Weight misperception in relation to weight-related attitudes and behaviors among overweight and obese US adults. Int J Behav Nutr Phys Act. 2011;8:20.

42.

James DC, Pobee JW, Oxidine D, et al. Using the health belief model to develop culturally appropriate weight-management materials for African-American women. J Acad Nutr Diet. 2012;112:664–70.

43.

Barnes AS, Kimbro RT. Descriptive study of educated African American women successful at weight-loss maintenance through lifestyle changes. J Gen Intern Med. 2012;27:1272–9.

44.

• Gebreab SY, Diez-Roux AV, Hickson DA, et al. The contribution of stress to the social patterning of clinical and subclinical CVD risk factors in African Americans: the Jackson Heart Study. Soc Sci Med. 2012;75:1697–707. This cross-sectional study explores the impact of perceived stress and negative life events on cardiovascular risk factors in the Jackson Heart Study cohort.

45.

• Cunningham TJ, Berkman LF, Kawachi I, et al. Changes in waist circumference and body mass index in the US CARDIA cohort: fixed-effects associations with self-reported experiences of racial/ethnic discrimination. J Biosoc Sci. 2013;45:267–78. Using data from the CARDIA cohort, this longitudinal study investigates changes in waist circumference and body mass index associated with racial/ethnic discrimination.

46.

Coogan PE, Wise LA, Cozier YC, et al. Lifecourse educational status in relation to weight gain in African American women. Ethn Dis. 2012;22:198–206.

47.

Coogan PF, Cozier YC, Krishnan S, et al. Neighborhood socioeconomic status in relation to 10-year weight gain in the Black Women's Health Study. Obesity. 2010;18:2064–5.

48.

•• Ludwig J, Sanbonmatsu L, Gennetian L, et al. Neighborhoods, obesity, and diabetes–a randomized social experiment. N Engl J Med. 2011;365:1509–19. This is one of the first randomized trials to assess the effects of changes in neighborhood socioeconomic level with moving on obesity and diabetes prevalance in U.S. populations.

49.

Jilcott Pitts SB, Edwards M, Moore JB, et al. Obesity is inversely associated with natural amenities and recreation facilities per capita. J Phys Act Health. 2012;23.

50.

Lee RE, Mama SK, Adamus-Leach HJ. Neighborhood street scale elements, sedentary time and cardiometabolic risk factors in inactive ethnic minority women. PloS one. 2012;7:e51081.

51.

• Kershaw KN, Albrecht SS, Carnethon MR. Racial and ethnic residential segregation, the neighborhood socioeconomic environment, and obesity among Blacks and Mexican Americans. Am J Epidemiol. 2013;177:299–309. This cross-sectional study of a national sample of African American adults provides insight about the association between metropolitan level racial/ ethnic neighborhood segregation and obesity among ethnic minorities.

52.

Corral I, Landrine H, Hao Y, et al. Residential segregation, health behavior and overweight/obesity among a national sample of African American adults. J Health Psychol. 2012;17:371–8.

53.

Powell-Wiley TM, Ayers CR, de Lemos JA, et al. Relationship between perceptions about neighborhood environment and prevalent obesity: data from the Dallas Heart Study. Obesity. 2013;21:e14–21.

54.

Moyer VA. Screening for and management of obesity in adults: U.S. Preventive Services Task Force recommendation statement. Ann Intern Med. 2012;157:373–8.

55.

Alexander SC, Cox ME, Turer B, et al. Do the five A's work when physicians counsel about weight loss? Fam Med. 2011;43:179–84.

56.

Bleich SN, Simon AE, Cooper LA. Impact of patient-doctor race concordance on rates of weight-related counseling in visits by black and white obese individuals. Obesity. 2012;20:562–70.

57.

Powell-Wiley TM, Ayers CR, Banks-Richard K, et al. Disparities in counseling for lifestyle modification among obese adults: insights from the Dallas Heart Study. Obesity. 2012;20:849–55.

58.

Cox ME, Yancy Jr WS, Coffman CJ, et al. Effects of counseling techniques on patients' weight-related attitudes and behaviors in a primary care clinic. Patient Educ Couns. 2011;85:363–8.

59.

Gudzune KA, Beach MC, Roter DL, et al. Physicians build less rapport with obese patients. Obesity. 2013. doi:10.1002/oby.20384.

60.

Bennett GG, Warner ET, Glasgow RE, et al. Obesity treatment for socioeconomically disadvantaged patients in primary care practice. Arch Intern Med. 2012;172:565–74.

61.

• Foley P, Levine E, Askew S, et al. Weight gain prevention among black women in the rural community health center setting: the Shape Program. BMC Public Health. 2012;12:305. This study highlights the potential of a community- based intervention to target obesity in socioeconomically disadvantaged populations.

62.

Fitzgibbon ML, Tussing-Humphreys LM, Porter JS, et al. Weight loss and African-American women: a systematic review of the behavioural weight loss intervention literature. Obesity Rev. 2012;13:193–213.

63.

Rodriguez F, Christopher L, Johnson CE, et al. Love your heart: a pilot community-based intervention to improve the cardiovascular health of African American women. Ethn Dis. 2012;22:416–21.

64.

Wilcox S, Parrott A, Baruth M, et al. The faith, activity, and nutrition program: a randomized controlled trial in african-american churches. Am J Prev Med. 2013;44:122–31.

65.

Zoellner JM, Connell CC, Madison MB, et al. H.U.B city steps: methods and early findings from a community-based participatory research trial to reduce blood pressure among African Americans. Int J Behav Nutr Phys Act. 2011;8:59.

66.

Whitt-Glover MC, Goldmon MV, Karanja N, et al. Learning and Developing Individual Exercise Skills (L.A.D.I.E.S.) for a better life: a physical activity intervention for black women. Contemp Clin Trials. 2012;33:1159–71.

67.

Yoong SL, Carey M, Sanson-Fischer R, et al. A systematic review of behavioural weight-loss interventions involving primary-care physicians in overweight and obese primary-care patients (1999-2011). Public Health Nutr. 2012:1–17. doi:10.1017/S1368980012004375.

68.

Wilcox S, Sharpe PA, Parra-Medina D, et al. A randomized trial of a diet and exercise intervention for overweight and obese women from economically disadvantaged neighborhoods: Sisters Taking Action for Real Success (STARS). Contemp Clin Trials. 2011;32:931–45.

69.

Fidler MC, Sanchez M, Raether B, et al. A one-year randomized trial of lorcaserin for weight loss in obese and overweight adults: the BLOSSOM trial. J Clin Endocrinol Metab. 2011;96:3067–77.

70.

Allison DB, Gadde KM, Garvey WT, et al. Controlled-release phentermine/topiramate in severely obese adults: a randomized controlled trial (EQUIP). Obesity. 2012;20:330–42.

71.

Gadde KM, Allison DB, Ryan DH, et al. Effects of low-dose, controlled-release, phentermine plus topiramate combination on weight and associated comorbidities in overweight and obese adults (CONQUER): a randomised, placebo-controlled, phase 3 trial. Lancet. 2011;377:1341–52.

72.

Colman E, Golden J, Roberts M, et al. The FDA's assessment of two drugs for chronic weight management. N Engl J Med. 2012;367:1577–9.

73.

Carter R, Mouralidarane A, Ray S, et al. Recent advancements in drug treatment of obesity. Clin Med. 2012;12:456–60.

74.

Adams TD, Davidson LE, Litwin SE, et al. Health benefits of gastric bypass surgery after 6 years. JAMA. 2012;308:1122–31.

75.

Hallersund P, Sjostrom L, Olber T, et al. Gastric bypass surgery is followed by lowered blood pressure and increased diuresis - long term results from the Swedish Obese Subjects (SOS) study. PloS one. 2012;7:e49696.

76.

Sjostrom L, Peltonen M, Jacobson P, et al. Bariatric surgery and long-term cardiovascular events. JAMA. 2012;307:56–65.

77.

Vest AR, Heneghan HM, Agarwal S, et al. Bariatric surgery and cardiovascular outcomes: a systematic review. Heart. 2012;98:1763–77.

78.

Mackey RH, Belle SH, Courcoulas AP, et al. Distribution of 10-year and lifetime predicted risk for cardiovascular disease prior to surgery in the longitudinal assessment of bariatric surgery-2 study. Am J Cardiol. 2012;110:1130–7.

79.

Worni M, Guller U, Maciejewski ML, et al. Racial differences among patients undergoing laparoscopic gastric bypass surgery: a population-based trend analysis from 2002 to 2008. Obes Surg. 2013;23:226–33.

80.

• Admiraal WM, Celik F, Gerdes VE, et al. Ethnic differences in weight loss and diabetes remission after bariatric surgery: a meta-analysis. Diabetes Care. 2012;35:1951–8. This meta- analysis examines differences in weight loss outcomes and diabetes mellitus remission in Caucasians and African Americans after bariatric surgery.
Compliance with Ethics Guidelines
Conflict of Interest
Priscilla Agyemang and Tiffany M. Powell-Wiley declare that they have no conflict of interest.
Human and Animal Rights and Informed Consent
This article does not contain any studies with human or animal subjects performed by any of the authors.
Additional information
Funding Sources
Ms. Agyemang and Dr. Powell-Wiley are supported by the Division of Intramural Research of the National Heart, Lung, and Blood Institute (NHLBI).
About this article
Cite this article
Agyemang, P., Powell-Wiley, T.M. Obesity and Black Women: Special Considerations Related to Genesis and Therapeutic Approaches. Curr Cardiovasc Risk Rep 7, 378–386 (2013). https://doi.org/10.1007/s12170-013-0328-7
Keywords
Obesity

Black women

Genetics

Behavior

Cultural norms

Psychosocial stress

Environmental factors

Lifestyle modification

Therapeutics