Abstract
Pine pollen has been widely recognized for its comprehensive nutritional properties and health benefits, but it has also been the target of fraudulent practices. Accurate authentication of pine pollen throughout the production chain is thus of great importance to quality and safety control of pine pollen food products. Aiming at the adverse effects of excipients and DNA degradation during processes, a pretreatment method including dissolution and centrifugation steps was incorporated in DNA extraction, and the chloroplast trnL-F region was used to establish a multiplex species-specific PCR assay. The developed assay could detect 1% of intentional adulteration of cattail pollen or corn flour into pine pollen down to 0.01 ng level of template DNA and was proved to be effective for botanical origin authentication of commercial pine pollen food products. Therefore, the present study provides a simple and sensitive approach for quality control and safety monitoring of commercial pine pollen food products, and the methodology can be applied in botanical origin authenticity control of other pollen products.
Access options
Buy single article
Instant access to the full article PDF.
USD 39.95
Price excludes VAT (USA)
Tax calculation will be finalised during checkout.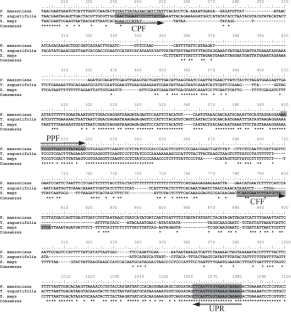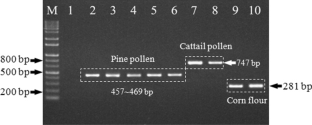 Data availability
All data generated or analyzed during this study are included in this published article. The materials used during the current study are available from the corresponding author on reasonable request.
References
Chen PD, Cao YD, Bao BH, Zhang L, Ding AW (2017) Antioxidant capacity of Typha angustifolia extracts and two active flavonoids. Pharm Biol 55:1283–1288

Costa J, Campos B, Amaral JS, Nunes ME, Oliveira M, Mafra I (2016) HRM analysis targeting ITS1 and matK loci as potential DNA mini-barcodes for the authentication of Hypericum perforatum and Hypericum androsaemum in herbal infusions. Food Control 61:105–114

Dobrogojski J, Adamiec M, Luciński R (2020) The chloroplast genome: a review. Acta Physiol Plant 42:98

Dong J, Gao K, Wang K, Xu X, Zhang HC (2015) Cell wall disruption of rape bee pollen treated with combination of Protamex hydrolysis and ultrasonication. Food Res Int 75:123–130

Galimberti A, De Mattia F, Losa A, Bruni I, Federici S, Casiraghi M, Martellos S, Labra M (2013) DNA barcoding as a new tool for food traceability. Food Res Int 50:55–63

Grazina L, Amaral JS, Mafra I (2020) Botanical origin authentication of dietary supplements by DNA-based approaches. Compr Rev Food Sci F 19:1080–1109

Kostic AZ, Milincic DD, Barac MB, Ali Shariati M, Tesic ZL, Pesic MB (2020) The application of pollen as a functional food and feed ingredient-the present and perspectives. Biomolecules 10:84

Lee K-H, Kim A-J, Choi E-M (2009) Antioxidant and antiinflammatory activity of pine pollen extract in vitro. Phytother Res 23:41–48

Liang S-B, Liang N, Bu F-L, Lai B-Y, Zhang Y-P, Cao H-J, Fei Y-T, Robinson N, Liu J-P (2020) The potential effects and use of Chinese herbal medicine pine pollen (Pinus pollen): a bibliometric analysis of pharmacological and clinical studies. World J Tradit Chin Med 6:163–170

Ma X, Sun W, Ren W, Xiang L, Zhao B, Zhang Y, Song M, Mu Z, Chen S (2014) Identification of cattail pollen (Puhuang), pine pollen (Songhuafen) and its adulterants by ITS2 sequence. China J Chin Mater Med 39:2189–2193

Mao G-X, Zheng L-D, Cao Y-B, Chen Z-M, Lv Y-D, Wang Y-Z, Hu X-L, Wang G-F, Yan J (2012) Antiaging effect of pine pollen in human diploid fibroblasts and in a mouse model induced by D-galactose. Oxid Med Cell Longev 2012:750963

Sievers F, Wilm A, Dineen D, Gibson TJ, Karplus K, Li W, Lopez R, McWilliam H, Remmert M, Soding J, Thompson JD, Higgins DG (2011) Fast, scalable generation of high-quality protein multiple sequence alignments using Clustal Omega. Mol Syst Biol 7:539

Taberlet P, Gielly L, Pautou G, Bouvet J (1991) Universal primers for amplification of three non-coding regions of chloroplast DNA. Plant Mol Biol 17:1105–1109

Wang XJ, Zhang AH, Yan GL, Han Y, Sun H (2014) UHPLC-MS for the analytical characterization of traditional Chinese medicines. Trac-Trend Anal Chem 63:180–187

Wang XY, Chen XH, Li J, Evans OB, Wang H, Yang XJ, He J, Gao XM, Chang YX (2020) Thrombin-based discovery strategy of bioactive-chemical quality marker combination for pollen of Typha orientalis by metabolomics coupled with chemometrics. Phytomedicine 75:8

Xu JH, Liu QX, Hu WX, Wang TZ, Xue QZ, Messing J (2015) Dynamics of chloroplast genomes in green plants. Genomics 106:221–231

Xu XL, Zheng YZ, Chen XC, Zhu FL, Miao XQ (2018) Identification of cattail pollen, pine pollen and bee pollen by Fourier transform infrared spectroscopy and two-dimensional correlation infrared spectroscopy. J Mol Struct 1167:78–81

Yang JY, Jang SY, Kim HK, Park SJ (2012) Development of a molecular marker to discriminate Korean Rubus species medicinal plants based on the nuclear ribosomal DNA internal transcribed spacer and chloroplast trnL-F intergenic region sequences. J Korean Soc Appl Biol Chem 55:281–289

Yang SY, Wu YY, Luo CB, Di ZH, Wu YP, Zhang J, Xu YM (2015) A Bacillus coagulans and its application in pine pollen fermentation. Food Sci Biotechnol 24:2129–2135

Yang YE, Wang HY, Liu MC, Huang WS, Wang YC, Wu YJ (2019) A multiplex real-time PCR method applied to detect eight pollen species in food for the prevention of allergies. Eur Food Res Technol 245:2195–2207

Zhou CM, Yin SJ, Yu ZF, Feng YX, Wei K, Ma WM, Ge LJ, Yan ZG, Zhu RL (2018) Preliminary characterization, antioxidant and hepatoprotective activities of polysaccharides from Taishan Pinus massoniana pollen. Molecules 23:281

Zhu Q, Hou Z, Quan S, Mou D (2019) Research progress of main active components and functions of pine pollen. Food Res Dev 40:194–198
Funding
This study was funded by the National Natural Science Foundation of China (81503178).
Ethics declarations
Ethics Approval
Not applicable.
Consent to Participate
Not applicable.
Consent for Publication
Not applicable.
Conflict of Interest
The authors declare no competing interests.
Additional information
Publisher's Note
Springer Nature remains neutral with regard to jurisdictional claims in published maps and institutional affiliations.
About this article
Cite this article
Wang, R., Zhong, M., Hao, N. et al. Botanical Origin Authenticity Control of Pine Pollen Food Products Using Multiplex Species-Specific PCR Method. Food Anal. Methods 15, 421–427 (2022). https://doi.org/10.1007/s12161-021-02130-0
Received:

Accepted:

Published:

Issue Date:

DOI: https://doi.org/10.1007/s12161-021-02130-0
Keywords