Abstract
Vitamin K is a dietary component that, as a cofactor, has critically important physiological roles in the body. As it is present in milk at very low levels, it is fortified at higher levels in paediatric milk-based formulae. Currently, the predominant analytical strategy for both food database surveys and routine compliance testing is high-performance liquid chromatography with post-column zinc reduction and fluorescence detection. This study presents a single-laboratory validation of a pre-column reduction modification that provides enhanced sensitivity (> 2×) and increased analytical throughput. Accuracy was confirmed by analysis of a certified reference infant formula and milk proficiency samples, and by comparison against the reference method for a wide range of dairy products containing vitamin K1 at both natural and supplemented levels. The method offers several performance advantages and is suitable for routine product compliance release testing.
This is a preview of subscription content, log in to check access.
Access options
Buy single article
Instant access to the full article PDF.
US$ 39.95
Tax calculation will be finalised during checkout.
Subscribe to journal
Immediate online access to all issues from 2019. Subscription will auto renew annually.
US$ 79
Tax calculation will be finalised during checkout.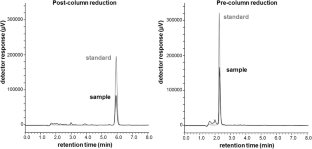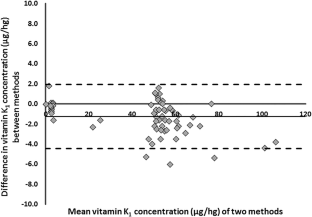 References
Ahmed S, Mahmoud AM (2015) A novel salting-out assisted extraction coupled with HPLC-fluorescence detection for trace determination of vitamin K homologues in human plasma. Talanta 144:480–487

AOAC (2019) AOAC Official Method 999.15. Vitamin K in milk and infant formulas, liquid chromatographic method. In: Official methods of analysis of AOAC International, 21st edn. AOAC, Gaithersburg

Bolinova P, Šrámková I, Sklenarova H, Acebal CC, Fernandez Band BS, Solich P (2014) A study of the effect of organic solvents on the fluorescence signal in a sequential injection analysis system. Anal Methods 6:9392–9396

Booth SL (2009) Roles for vitamin K beyond coagulation. Annu Rev Nutr 29:89–110

Booth SL (2012) Vitamin K: food composition and dietary intakes. Food Nutr Res 56:5505. https://doi.org/10.3402/fnr.v56i0.5505

Card DJ, Shearer MJ, Schurgers LJ, Harrington DJ (2009) The external quality assurance of phylloquinone (vitamin K1) analysis in human serum. Biomed Chromatogr 23:1276–1282

Cook KK, Mitchell GV, Grundel E, Rader JI (1999) HPLC analysis for trans-vitamin K1 and dihydro-vitamin K1 in margarines and margarine-like products using the C30 stationary phase. Food Chem 67:79–88

EFSA European Food Safety Authority (2017) Dietary reference values for vitamin K. EFSA J 15:4780. https://doi.org/10.2903/j.efsa.2017.4780

Eitenmiller RR, Ye L, Landen WO Jr (2008) Vitamin K. In: Vitamin analysis for the health and food sciences, 2nd edn. CRC Press, Boca Raton, pp 193–227

Fanali C, D'Orazio G, Fanali S, Gentili A (2017) Advanced analytical techniques for fat-soluble vitamin analysis. Trends Anal Chem 87:82–87

Fu X, Harshman SG, Shen X, Haytowitz DB, Karl JP, Wolfe BE, Booth SL (2017) Multiple vitamin K forms exist in dairy foods. Curr Dev Nutr 1:e000638. https://doi.org/10.3945/cdn.117.000638

Gentili A, Miccheli A, Tomai P, Baldassarre ME, Curini R, Pérez-Fernández V (2016) Liquid chromatography–tandem mass spectrometry method for the determination of vitamin K homologues in human milk after overnight cold saponification. J Food Comp Anal 47:21–30

Gröber U, Reichrath J, Holick MF, Kisters K (2015) Vitamin K: an old vitamin in a new perspective. Dermatoendocrinol 6:e968490. https://doi.org/10.4161/19381972.2014.968490

Hamidi MS, Cheung AM (2014) Vitamin K and musculoskeletal health in postmenopausal women. Mol Nutr Food Res 58:1647–1657

Haroon Y, Bacon DS, Sadowski JA (1987) Chemical reduction system for the detection of phylloquinone (vitamin K1) and menaquinones (vitamin K2). J Chromatogr 384:383–389

Indyk HE, Woollard DC (1997) Vitamin K in milk and infant formulas: determination and distribution of phylloquinone and menaquinone-4. Analyst 122:465–469

Indyk HE, Woollard DC (2000) Determination of vitamin K in milk and infant formulas by liquid chromatography: collaborative study. J AOAC Int 83:121–130

Indyk HE, Shearer MJ, Woollard DC (2003) Vitamin K: properties and determination. In: Caballero B, Finglas P, Toldra F (eds) Encyclopedia of food sciences and nutrition, vol 4, 2nd edn. Academic press, London, pp 6032–6038

Karl JP, Fu X, Dolnikowski GG, Saltzman E, Booth SL (2014) Quantification of phylloquinone and menaquinones in feces, serum, and food by high-performance liquid chromatography-mass spectrometry. J Chromatogr B 963:128–133

Koivu-Tikkanen TJ, Ollilainen V, Piironen VI (2000) Determination of phylloquinone and menaquinones in animal products with fluorescence detection after postcolumn reduction with metallic zinc. J Agric Food Chem 48:6325–6331

Nevado JJB, Laguna MAG (1998) Spectrofluorimetric determination of vitamin K3. Analyst 123:287–290

Schimpf KJ, Thompson LDB, Pan S-J (2019) Determination of trans and total vitamin K1 in infant, pediatric, and adult nutritionals by HPLC with post column reduction and fluorescence detection: multilaboratory testing study, AOAC Final Action 2015.09. J AOAC Int 102:222–232

Schurgers LJ, Vermeer C (2000) Determination of phylloquinone and menaquinones in food. Effect of food matrix on circulating vitamin K concentrations. Haemostasis 30:298–307

Shearer MJ, Okano T (2018) Key pathways and regulators of vitamin K function and intermediary metabolism. Annu Rev Nutr 38:127–151

Shearer MJ, Fu X, Booth SL (2012) Vitamin K nutrition, metabolism, and requirements: current concepts and future research. Adv Nutr 3:182–195

Su GCC (1998) A comparison of statistical and empirical detection limits. J AOAC Int 81:105–110

Thijssen HHW, Drittij M-J, Vermeer C, Schoffelen E (2002) Menaquinone-4 in breast milk is derived from dietary phylloquinone. Br J Nutr 87:219–226

Woollard DC, Indyk HE, Fong BY, Cook KK (2002) Determination of vitamin K1 isomers in foods by liquid chromatography with C30 bonded-phase column. J AOAC Int 85:682–691

Zhang Y, Bala V, Mao Z, Chhonker YS, Murry DJ (2019) A concise review of quantification methods for determination of vitamin K in various biological matrices. J Pharm Biomed Anal 169:133–141
Ethics declarations
Conflict of Interest
Harvey Indyk declares that he has no conflict of interest. Brendon Gill declares that he has no conflict of interest. Shane Wei declares that he has no conflict of interest. Lisa Harvey declares that she has no conflict of interest. David Woollard declares that he has no conflict of interest.
Ethical Approval
This article does not contain any studies with human participants or animals performed by any of the authors.
Informed Consent
Not applicable.
Additional information
Publisher's Note
Springer Nature remains neutral with regard to jurisdictional claims in published maps and institutional affiliations.
About this article
Cite this article
Indyk, H.E., Gill, B.D., Wei, S. et al. Quantitation of Vitamin K in Milk Products by Pre-column Reduction HPLC–Fluorescence. Food Anal. Methods (2021). https://doi.org/10.1007/s12161-020-01922-0
Received:

Accepted:

Published:
Keywords
Vitamin K

High-performance liquid chromatography

Fluorescence

Milk