Abstract
Knowledge about the inherent complexity of the composition, nutrition, and physiology of different plant tissues and parts is required as this will allow for the discovery of new or improved properties (e.g. new bioactive compounds with health-benefitting activities, antimicrobial substances to reduce food spoilage activity). This paper reports the use, analysis and interpretation of the mid-infrared spectra of different plant parts (fruits and leaves) from an Australian native tropical plant, Terminalia ferdinandiana Exell [Combretaceae]. The use of infrared spectroscopy together with chemometric techniques will allow to obtain different levels of information about the chemical composition of leaf and fruit samples associated with maturity. Freeze-dried powder and puree of Terminalia ferdinandiana is commercially available as a functional food ingredient, whereas leaves or any other tissues are not considered as functional ingredients. The use of mid-infrared spectroscopy can provide an initial screening tool for the discovery and development of new ingredients and products. This technology can be an easy to use, cost-effective and high throughout method to ensure quality and authenticity of food products throughout the value chain. The incorporation of these techniques might be considered the base of bio spectroscopy analysis as proxies to study tropical species with distinctive bioactive properties and nutritional value such as Terminalia ferdinandiana.
Access options
Buy single article
Instant access to the full article PDF.
USD 39.95
Price excludes VAT (USA)
Tax calculation will be finalised during checkout.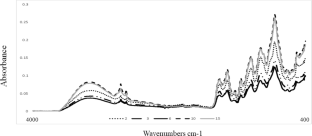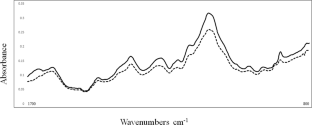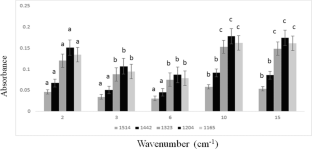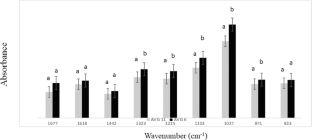 References
Arendse E, Fawole OA, Magwaza LS, Nieuwoudt H, Opara UL (2018) Fourier transform near infrared diffuse reflectance spectroscopy and two spectral acquisition modes for evaluation of external and internal quality of intact pomegranate fruit. Postharvest Biol Technol 138:91–98

Baranska M, Schulz H, Rösch P, Strehle MA, Popp J (2004) Identification of secondary metabolites in medicinal and spice plants by NIR-FT-Raman microspectroscopic mapping. Analyst 129:926–930

Baranska M, Schulz H (2006) Application of infrared and Raman spectroscopy for analysis of selected medicinal and spice plants. J Med Spice Plant (Z Arzn Gew Pfl) 2:72–80

Bureau S, Ruiz D, Reich M, Gouble B, Bertrand D, Audergon JM (2009) Application of ATR-FTIR for a rapid and simultaneous determination of sugars and organic acids in apricot fruit. Food Chem 115:1133–1140

Bureau S, Scibisz I, Bourvellec C, Renard CMGC (2012) Effect of sample preparation on the measurement of sugars, organic acids, and polyphenols in apple fruit by mid-infrared spectroscopy. J Agric Food Chem 60:3551–3563

Cozzolino D (2009) Near infrared spectroscopy in natural products analysis. Planta Med 75:746–757

Cozzolino D (2011) Infrared methods for high throughput screening of metabolites: food and medical applications. Comb Chem High Throughput Screen 14:125–131

Cozzolino D (2015) Infrared spectroscopy as a versatile analytical tool for the quantitative determination of antioxidants in agricultural products, foods and plants. Antioxidants 4:482–497

Cozzolino D, Power A, Chapman J (2019) Interpreting and reporting principal component analysis in food science analysis and beyond. Food Anal Methods 12:2469–2473

Deak K, Szigedi T, Pek Z et al (2015) Carotenoid determination in tomato juice using near infrared spectroscopy. Int Agrophysics 29:275–282

Dembitsky VM, Poovarodom S, Leontowicz H, Leontowicz M, Vearasilp S, Trakhtenberg S et al (2011) The multiple nutrition properties of some exotic fruits: Biological activity and active metabolites. Food Res Int 44:1671–1701

Dong W, Ni Y, Kokot S (2013) A Near-infrared reflectance spectroscopy method for direct analysis of several chemical components and properties of fruit, for example, Chinese Hawthorn. J Agric Food Chem 61:540–546

Fernandez K, Agosin E (2007) Quantitative analysis of red wine tannins using Fourier-transform mid-infrared spectrometry. J Agric Food Chem 55:7294–7300

Giovanelli G, Sinelli N, Beghi R, Guidetti R, Casiraghi E (2014) NIR spectroscopy for the optimization of postharvest apple management. Postharvest Biol Technol 87:13–20

Guaadaoui A, Benaicha S, Elmajdoub N, Bellaoui M, Hamal A (2014) What is a bioactive compound? A combined definition for a preliminary consensus. Int J Food Sci Nutr Sci 3:174–179

Heredia-Guerrero JA, Benítez JJ, Domínguez E, Bayer IS, Cingolani R, Athanassiou A, Heredia A (2014) Infrared and Raman spectroscopic features of plant cuticles: a review. Front Plant Sci 5:305

Ignat I, Volf I, Popa VI (2011) A critical review of methods for characterisation of polyphenolic compounds in fruits and vegetables. Food Chem 126:1821–1835

Kacurakova M, Capek P, Sasinkova V, Wellner N, Ebringerova A (2000) FT-IR study of plant cell wall model compounds: pectic polysaccharides and hemicelluloses. Carbohydr Polym 43:195–203

Karoui R, Downey G, Blecker (2010) Mid-infrared spectroscopy coupled with chemometrics: a tool for the analysis of intact food systems and the exploration of their molecular structure-quality relationships - a review. Chem Rev 110:6144–6168

Kaur C, Kapoor HC (2001) Antioxidants in fruits and vegetables–The millennium's health. Int J Food Sci Technol 36:703–725

Khatib A, Perumal V, Ahmed QU, Uzir BF, Abas F, Murugesu S (2017) Characterization of antioxidant activity of Momordica Charantia fruit by infrared-based fingerprinting. Anal Lett 50:1977–1991

Lam HS, Proctor A, Howard L, Cho MJ (2005) Rapid fruit extracts antioxidant capacity termination by Fourier transform infrared spectroscopy. J Food Sci 70:545–549

McGoverin CM, Weeranantanaphan J, Downey G, Manley M (2010) The application of near infrared spectroscopy to the measurement of bioactive compounds in food commodities. J Near Infrared Spectrosc 18:87–111

Moure A, Cruz JM, Franco D, Domínguez JM, Sineiro J, Domínguez H et al (2001) Natural antioxidants from residual sources. Food Chem 72:145–170

Oliveira-Folador G; de Bicudo M, de Oliveira Andrade EF; et al. (2018) Quality traits prediction of the passion fruit pulp using NIR and MIR spectroscopy. LWT-Food Sci Technol.

Rungpichayapichet P, Mahayothee B, Khuwijitjaru P et al (2015) Non-destructive determination of beta-carotene content in mango by near-infrared spectroscopy compared with colorimetric measurements. J Food Compos Anal 38:32–41.95 172-178

Ruiz D, Reich M, Bureau S, Renard CM, Audergon JM (2008) Application of reflectance colorimeter measurements and infrared spectroscopy methods to rapid and nondestructive evaluation of carotenoids content in apricot (Prunus armeniaca L). J Agric Food Chem 56:4916–4922

Saad AG, Pek Z, Szuvandzsiev P et al (2017) Determination of carotenoids in tomato products using VIS/NIR spectroscopy. Jounal of Micro. Biotechnol Food Sci 7:27–31

Savitzky A, Golay MJE (1964) Smoothing and differentiation of data by simplified least squares procedures. Anal Chem 36:1627–1639

Schieber A, Stintzing F, Carle R (2001) By-products of plant food processing as a source of functional compounds—Recent developments. Trends Food Sci Technol 12:401–413

Skolik P, McAinsh M, Martin FL (2019) ATR-FTIR spectroscopy non-destructively detects damage-induced sour rot infection in whole tomato fruit. Planta 249:925–939

Song SY, Kim CH, Im SJ et al (2018) Discrimination of citrus fruits using FT-IR fingerprinting by quantitative prediction of bioactive compounds. Food Sci Biotechnol 27:367–374

Sultanbawa Y, Chaliha M, Cusack A, Edwards D, Williams D. (2018) Monitoring quality and bioactivity of Kakadu plum in the Northern Territory. AgriFutures Australia.

Tamburini E, Costa S, Rugiero I et al (2017) Quantification of lycopene, beta-carotene, and total soluble solids in intact red-flesh watermelon (Citrullus lanatus) using on-line near-infrared spectroscopy. Sensors 17:4

Tilahun S, Park DS, Seo MH et al (2018) Prediction of lycopene and beta-carotene in tomatoes by portable chroma-meter and VIS/NIR spectra. Postharvest Biol Technol 136:50–56

Trevisan J, Angelov PP, Carmichael PL, Scott AD, Martin FL (2012) Extracting biological information with computational analysis of Fourier-transform infrared (FTIR) biospectroscopy datasets: current practices to future perspectives. Analyst 137:3202–3215

Türker-Kaya S, Huck CW (2017) A review of mid-infrared and near-infrared imaging: principles, concepts and applications in plant tissue analysis. Molecules 22:168

Woods BA, (1995) A study of the intra-specific variations and commercial potential of Terminalia ferdinandiana (the Kakadu plum). Northern Territory University, Northern Territory, Australia

Zheng X, Hu Y, Anggreani E et al (2017) Determination of total phenolic content and antioxidant capacity of blueberries using Fourier transformed infrared (FT-IR) spectroscopy and Raman spectroscopy. J Food Measur Charact 11:1909–1918
Acknowledgements
The authors acknowledge the Traditional Owners of the lands on which the Terminalia ferdinandiana was harvested and respect the knowledge and experience the Traditional Owners hold regarding the care, harvest and use of these plants. The authors thank Dr. Julian Gorman, Research Institute for the Environment and Livelihoods, Charles Darwin University, Darwin, NT, Australia.
Funding
Funding support from CRC for Developing Northern Australia Limited Project AT.2.1718031 – Improving the efficiency of Kakadu plum value chains to grow a robust and sustainable industry and the Australian Research Council (ARC) Industrial Transformation Training Centre (ITTC) for Uniquely Australian Foods (Grant number: IC180100045.
Ethics declarations
Conflict of Interest
Author Yasmina Sultanbawa declares that she has no conflict of interest. Author Mridusmita Chaliha declares that she has no conflict of interest. Author Anh Dao T. Phan declares that she has no conflict of interest. Author Sandra M. Olarte Mantilla declares that she has no conflict of interest. Author Gaby Netzel declares that she has no conflict of interest. Author Michael E. Netzel declares that he has no conflict of interest. Author Heather Smyth declares that she has no conflict of interest. Author Daniel Cozzolino declares that he has no conflict of interest.
Ethical Approval
This article does not contain any studies with human participants or animals performed by any of the authors.
Informed Consent
Informed consent not applicable.
Additional information
Publisher's Note
Springer Nature remains neutral with regard to jurisdictional claims in published maps and institutional affiliations.
About this article
Cite this article
Sultanbawa, Y., Chaliha, M., Phan, A.D.T. et al. An Infrared Analysis of Terminalia ferdinandiana Exell [Combretaceae] Fruit and Leaves—Towards the Development of Biospectroscopy Tools to Characterise Uniquely Australian Foods. Food Anal. Methods 14, 423–429 (2021). https://doi.org/10.1007/s12161-020-01915-z
Received:

Accepted:

Published:

Issue Date:

DOI: https://doi.org/10.1007/s12161-020-01915-z
Keywords
Infrared

High throughput

Maturity

Terminalia ferdinandiana

Kakadu plum

Bioactivity