Abstract
A gas chromatography with mass spectrometric detection in selected ion monitoring mode (GC/qMS-SIM) method, preceded by comprehensive two-dimensional gas chromatography with a time-of-flight mass spectrometric detector (GC×GC/TOFMS) analyses to identify possible coelutions, was validated for the simultaneous determination of formaldehyde, acetaldehyde, acrolein, furfural, and ethyl carbamate in must and wines. Derivatized acetaldehyde and acrolein coeluted with other compounds and were resolved in the second chromatographic dimension (2D) of GC×GC/TOFMS. The most intense ions of the mass spectra of the analytes that were not present in the mass spectra of interfering compounds were used in GC/qMS-SIM. Figures of merit demonstrated the appropriateness of the developed GC/qMS-SIM method, including recovery (90–102%), relative standard deviation obtained in repeatability, and precision assays that were lower than 9 and 12%, respectively. Limits of detection and quantification for all compounds demonstrated the adequate sensitivity of the method for the quantification of carbonyl compounds (values lower than 0.8 and 1.5 μg L−1, respectively). Results confirmed that furan-containing compounds may be impartially analyzed using HS-SPME-qGC/MS without interference of artifact formation during extraction/desorption. In addition, the importance of adjusting ethanol content according to the level of ethanol in samples has been demonstrated. Ethyl carbamate was not detected in analyzed samples, while formaldehyde was found in levels lower than LOQ (0.6 μg L−1). Acetaldehyde (19.9 to 44.0 μg L−1) and furfural (1.1 to 6.9 μg L−1) were found in all samples. Acrolein was detected in 75% of samples in levels ranging from 0.7 to 50.2 μg L−1.
This is a preview of subscription content, log in to check access.
Access options
Buy single article
Instant access to the full article PDF.
US$ 39.95
Price includes VAT for USA
Subscribe to journal
Immediate online access to all issues from 2019. Subscription will auto renew annually.
US$ 99
This is the net price. Taxes to be calculated in checkout.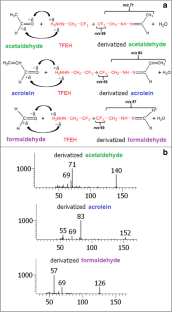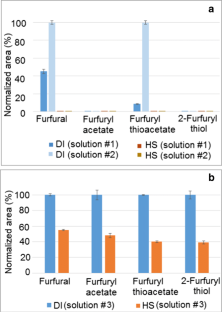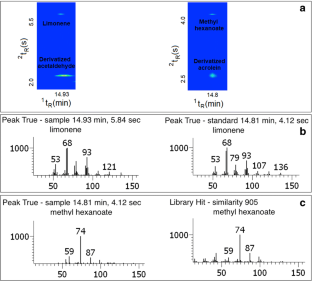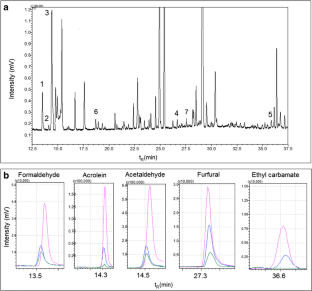 References
Ambaw A, Zheng L, Tambe MA, Strathearn KE, Acosta G, Hubers SA, Liu F, Herr SA, Tang J, Truong A, Walls E, Pond A, Rochet JC, Shi R (2018) Acrolein-mediated neuronal cell death and alpha-synuclein aggregation: implications for Parkinson's disease. Mol cell Neurosci 88:70–82. https://doi.org/10.1016/j.mcn.2018.01.006

Arcari SG, Caliari V, Sganzerla M, Godoy HT (2017) Volatile composition of Merlot red wine and its contribution to the aroma: optimization and validation of analytical method. Talanta 174:752–766. https://doi.org/10.1016/j.talanta.2017.06.074

Arts JHE, Muijser H, Appel MJ, Kuper CF, Bessems JGM, Woutersen RA (2004) Subacute (28-day) toxicity of furfural in Fischer 344 rats: a comparison of the oral and inhalation route. Food Chem Toxicol 42:1389–1399. https://doi.org/10.1016/j.fct.2004.03.014

Arumugam S, Subbiah KG, Kemparaju K, Thirunavukkarasu C (2018) Neutrophil extracellular traps in acrolein promoted hepatic ischemia reperfusion injury: therapeutic potential of NOX2 and p38MAPK inhibitors. J Cell Physiol 233:3244–3261. https://doi.org/10.1002/jcp.26167

Bauer R, Hiten F, Crouch AM, Kossman J, Burger BV (2012) Acrolein dimer as a marker for direct detection of acrolein in wine. S Afr J Enol Vitic 33:72–79. https://doi.org/10.21548/33-1-1308

Brasil (2014). Decree n° 8.198, February 20, 2014. IOP Publishing PhysicsWeb. http://www.planalto.gov.br/ccivil_03/_ato2011-2014/2014/decreto/d8198.htm. Accessed 24 march 2018

Burcham PC (2017) Acrolein and human disease: untangling the knotty exposure scenarios accompanying several diverse disorders. Chem res Toxicol 30:145–161. https://doi.org/10.1021/acs.chemrestox.6b00310

Canuti V, Conversano M, Calzi LM, Heymann H, Matthews MA, Ebeler SE (2009) Headspace solid-phase microextraction–gas chromatography–mass spectrometry for profiling free volatile compounds in Cabernet Sauvignon grapes and wines. J Chromatogr A 1216:3012–3022. https://doi.org/10.1016/j.chroma.2009.01.104

Câmara JS, Alves MA, Marques JC (2006) Changes in volatile composition of Madeira wines during their oxidative ageing. Anal Chim Acta 563:188–197 https://doi.org/10.1016/j.aca.2005.10.031

Chung H, Yoon MK, Han J, Kim Y-S (2015) Evaluation of volatile organic compounds in alcoholic beverages consumed in Korea. J Korean Soc Appl biol Chem 58:423–432. https://doi.org/10.1007/s13765-015-0059-1

Duchowicz PR, Giraudo MA, Castro EA, Pomilio AB (2013) Amino acid profiles and quantitative structure-property relationship models as markers for Merlot and Torrontés wines. Food Chem 140:210–216. https://doi.org/10.1016/j.foodchem.2013.02.064

Eriksson CJP (2015) Genetic-epidemiological evidence for the role of acetaldehyde in cancers related to alcohol drinking. In: Vasiliou V, Zakhari S, Seitz H, Hoek J (eds) Biological basis of alcohol-induced cancer. Springer, New York

Francisquetti EL, Vanderlinde R, Carrau JL, Moyna P (2002) Ethyl carbamate content in wines produced and commercialized in Southern Brazil. Acta Farm Bonaer 21:201–204

Geffroy O, Lopez R, Serrano E, Dufourcq T, Gracia-Moreno E, Cacho J, Ferreira V. (2015) Changes in analytical and volatile compositions of red wines induced by pre-fermentation heat treatment of grapes. Food Chem 187:243–53. https://doi.org/10.1016/j.foodchem.2015.04.105

Herrero P, Sáenz-Navajas MP, Avizcuri JM, Culleré L, Balda P, Antón EC, Ferreira V, Escudero A (2016) Study of Chardonnay and Sauvignon blanc wines from D.O.Ca Rioja (Spain) aged in different French oak wood barrels: chemical and aroma quality aspects. Food res Int 89:227–236. https://doi.org/10.1016/j.foodres.2016.08.002

Ho P, Hogg TA, Silva MCM (1999) Application of a liquid chromatographic method for the determination of phenolic compounds and furans in fortified wines. Food Chem 64:115–122. https://doi.org/10.1016/S0308-8146(98)00115-0

IARC (2018) International Agency for Research on Cancer. Monograhs on the evaluation of carcinogenic risks to humans. Accessed 30 march 2018. http://monographs.iarc.fr/ENG/Classification/index.php

ICH (2002) International Conference on Harmonization of Technical Requirements for Registration of Pharmaceuticals for Human Use. IOP Publishing PhysicsWeb. http://www.ich.org/fileadmin/Public_Web_Site/ICH_Products/Guidelines/Quality/Q2_R1/Step4/Q2_R1__Guideline.pdf. Accessed 29 march 2018

IPCS (2002) International Programme on Chemical Safety). Formaldehyde. http://www.who.int/ipcs/publications/en. Accessed 30 march 2018

Jendral JA, Monakhova YB, Lachenmeier DW (2011) Formaldehyde in alcoholic beverages: large chemical survey using purpald screening followed by chromotropic acid spectrophotometry with multivariate curve resolution. Int J anal Chem 1-11. https://doi.org/10.1155/2011/797604

Jeong HS, Chung H, Song SH, Kim CI, Lee JG, Kim YS (2015) Validation and determination of the contents of acetaldehyde and formaldehyde in foods. Toxicol res 31:273–278. https://doi.org/10.5487/TR.2015.31.3.273

Kächele M, Monakhova YB, Kuballa T, Lachenmeier DW (2014) NMR investigation of acrolein stability in hydroalcoholic solution as a foundation for the valid HS-SPME/GC-MS quantification of the unsaturated aldehyde in beverages. Anal Chim Acta 820:112–118. https://doi.org/10.1016/j.aca.2014.02.030

Lago LO, Nicolli KP, Marques AB, Zini CA, Welke JE (2017) Influence of ripeness and maceration of the grapes on levels of furan and carbonyl compounds in wine- Simultaneous quantitative determination and assessment of the exposure risk to these compounds. Food Chem. 230:594–603. https://doi.org/10.1016/j.foodchem.2017.03.090

Lachenmeier DW, Sohnius E (2008) The role of acetaldehyde outside ethanol metabolism in the carcinogenicity of alcoholic beverages: evidence from a large chemical survey. Food Chem Toxicol 46:2903–2911. https://doi.org/10.1016/j.fct.2008.05.034

Ledauphin J, Saint-Clair J-F, Lablanquie O, Guichard H, Founier N, Guichard E, Barillier D (2004) Identification of trace volatile compounds in freshly distilled calvados and cognac using preparative separations coupled with gas chromatography-mass spectrometry. J Agric Food Chem 52:5124–5134

Liu H, Cui B, Xu Y, Hu C, Liu Y, Qu G, Li D, Wu Y, Zhang D, Quan S, Shi J (2017) Ethyl carbamate induces cell death through its effects on multiple metabolic pathways. Chem-biol interact 277:21–32. https://doi.org/10.1016/j.cbi.2017.08.008

Nicolli KP, Biasoto ACT, Souza-Silva EA, Guerra CC, Santos HP, Welke JE, Zini CA (2018) Sensory, olfactometry and comprehensive two-dimensional gas chromatography analyses as appropriate tools to characterize the effects of vine management on wine aroma. Food Chem 243:103–117. https://doi.org/10.1016/j.foodchem.2017.09.078

Nóbrega ICC, Pereira GE, Silva M, Pereira EVS, Medeiros MM, Telles DL, Lachenmeier DW (2015) Improved sample preparation for GC–MS–SIM analysis of ethyl carbamate in wine. Food Chem 177:23–28. https://doi.org/10.1016/j.foodchem.2014.12.031

Osman AS, Labib DA, Kamel MM (2017) Carvedilol can attenuate histamine-induced paw edema and formaldehyde-induced arthritis in rats without risk of gastric irritation. Int Immunopharmacol 50:243–250. https://doi.org/10.1016/j.intimp.2017.07.004

Paiano V, Bianchi G, Davoli E, Negri E, Fanelli R, Fattore E (2014) Risk assessment for the Italian population of acetaldehyde in alcoholic and non-alcoholic beverages. Food Chem 154:26–31. https://doi.org/10.1016/j.foodchem.2013.12.098

Pawliszyn J (2009) Handbook of solid phase microextraction. Chemical Industry Press of China, Waterloo

Pereira V, Albuquerque FM, Ferreira AC, Cacho J, Marquesa JC (2011) Evolution of 5-hydroxymethylfurfural (HMF) and furfural (F) in forti fi ed wines submitted to overheating conditions. Food Res Int 44:71–76. https://doi.org/10.1016/j.foodres.2010.11.011

Perestrelo R, Petronilho S, Câmara JS, Rocha SM (2010) Comprehensive two-dimensional gas chromatography with time-of-flight mass spectrometry combined with solid phase microextraction as a powerful tool for quantification of ethyl carbamate in fortified wines. The case study of Madeira wine. J Chromatogr A 1217:3441–3445. https://doi.org/10.1016/j.chroma.2010.03.027

Perestrelo R, Silva CL, Câmara JS (2015) Quantification of furanic derivatives in fortified wines by a highly sensitive and ultrafast analytical strategy based on digitally controlled microextraction by packed sorbent combined with ultrahigh pressure liquid chromatography. J Chromatogr A 1381:54–63. https://doi.org/10.1016/j.chroma.2015.01.020

Picariello L, Gambuti A, Petracca F, Rinaldi A, Moio L (2017) Enological tannins affect acetaldehyde evolution, colour stability and tannin reactivity during forced oxidation of red wine. Int J food Sci Technol 53:228–236 https://doi.org/10.1111/ijfs.13577

Ribéreau-Gayon P, Dubourdieu D, Donéche B, Lonvaud A (2006) Handbook of enology: the microbiology of wine and vinifications. John Wiley & Sons Ltd, Chichester

Risticevic S, Souza-Silva EA, DeEll JR, Cochran J, Pawliszyn J (2016) Capturing plant metabolome with direct-immersion in vivo solid phase microextraction of plant tissues. Anal Chem 88:1266–1274. https://doi.org/10.1021/acs.analchem.5b03684

Sheridan MK, Elias RJ (2016) Reaction of acetaldehyde with wine flavonoids in the presence of sulfur dioxide. J. Agr. Food Chem 64:8615–8624. https://doi.org/10.1021/acs.jafc.6b03565

Soares RD, Welke JE, Nicolli KP, Zanus M, Caramão EB, Manfroi V, Zini CA (2015) Monitoring the evolution of volatile compounds using gas chromatography during the stages of production of Moscatel sparkling wine. Food Chem 183:291–304. https://doi.org/10.1016/j.foodchem.2015.03.013

Wang Q, O'Reilly J, Pawliszyn J (2005) Determination of low-molecular mass aldehydes by automated headspace solid-phase microextraction with in-fibre derivatization. J Chromatogr A 1071:147–154. https://doi.org/10.1016/j.chroma.2004.09.031

Wang J, Capone DL, Wilkinson KL, Jeffery DW (2016) Rosé wine volatile composition and the preferences of Chinese wine professionals. Food Chem 202:507–517. https://doi.org/10.1016/j.foodchem.2016.02.042

Welke JE, Manfroi V, Zanus M, Lazarotto M, Zini CA (2012) Characterization of the volatile profile of Brazilian Merlot wines through comprehensive two dimensional gas chromatography time-of-flight mass spectrometric detection. J Chromatogr A 1226:124–139. https://doi.org/10.1016/j.chroma.2012.01.002

Welke JE, Zanus M, Lazzarotto M, Pulgati FH, Zini CA (2014) Main differences between volatiles of sparkling and base wines accessed through comprehensive two dimensional gas chromatography with time-of-flight mass spectrometric detection and chemometric tools. Food Chem 164:427–437. https://doi.org/10.1016/j.foodchem.2014.05.025

Welke JE, Nicolli KP, Barbará JA, Biasoto ACT, Zini CA (2018) Understanding wine aroma: challenges posed by chromatographic coelutions of volatile compounds. J Braz Chem Soc (submitted)

Zhang M, Pan Q, Yan G, Duan C (2011a) Using headspace solid phase micro-extraction for analysis of aromatic compounds during alcoholic fermentation of red wine. Food Chem 125:743–749. https://doi.org/10.1016/j.foodchem.2010.09.008

Zhang D, Zhang J, Li M, Li W, Aimaiti G, Tuersun G, Ye J, Chu Q (2011b) A novel miniaturized electrophoretic method for determining formaldehyde and acetaldehyde in food using 2-thiobarbituric acid derivatisation. Food Chem 129:206–212. https://doi.org/10.1016/j.foodchem.2011.04.025

Zhang J, Liu G, Zhang Y, Gao Q, Wang D, Liu H (2014) Simultaneous determination of ethyl carbamate and urea in alcoholic beverages by high-performance liquid chromatography coupled with fluorescence detection. J Agric Food Chem 62:2797–2802. https://doi.org/10.1021/jf405400y
Funding
This study was funded by the National Council of Technological and Scientific Development (Conselho Nacional de Desenvolvimento Científico e Tecnológico, CNPq. Project BJT 401581/2014-4; CNPq project Pq 306067/2016-1), the Coordination for the Improvement of Higher Education Personnel (Coordenação de Aperfeiçoamento de Pessoal de Nível Superior, CAPES), and Research Support Foundation of Rio Grande do Sul (Fundação de Amparo à Pesquisa do Estado do Rio Grande do Sul, FAPERGS, Edital Pesquisador Gaúcho, Project 1995-2551/13-7).
Ethics declarations
Conflict of Interest
Daiani F. Cecchin declares that she has no conflict of interest. Karolina C. Hernandes declares that she has no conflict of interest. Karine P. nicolli declares that she has no conflict of interest. Érica A. Souza-Silva declares that she has no conflict of interest. Vitor Manfroi declares that he has no conflict of interest. Claudia A. Zini declares that she has no conflict of interest. Juliane Elisa Welke declares that she has no conflict of interest.
Ethical Approval
This article does not contain any studies with human participants or animals performed by any of the authors.
Informed Consent
Not applicable.
About this article
Cite this article
Ferreira, D.C., Hernandes, K.C., Nicolli, K.P. et al. Development of a Method for Determination of Target Toxic Carbonyl Compounds in Must and Wine Using HS-SPME-GC/MS-SIM After Preliminary GC×GC/TOFMS Analyses. Food Anal. Methods 12, 108–120 (2019). https://doi.org/10.1007/s12161-018-1343-6
Received:

Accepted:

Published:

Issue Date:
Keywords
HS-SPME

Vinification

GC/qMS

Toxic compounds

Comprehensive two-dimensional gas chromatography