Abstract
A NMR-based metabolomics method was developed to semiautomatically quantify the main components of wine. The method was applied to discriminate wines from two regions of China, Shanxi and Ningxia, which were produced by 6 wineries and for 6 vintages. Two different cultivars, Cabernet Sauvignon and Beihong, were used for winemaking. The method allowed the quantification of 33 metabolites including sugars, amino acids, organic acids, alcohols, and phenolic compounds. Depending on the compounds, the LOD values were in the range of 0.6 to 116 mg/L. The results showed that NMR-based metabolomics combined with multivariate statistical analysis allowed wine separation as a function of terroir and cultivar. Nevertheless, wine differentiation as a function of wineries and ageing would need to be examined more carefully.
Access options
Buy single article
Instant access to the full article PDF.
US$ 39.95
Tax calculation will be finalised during checkout.
Subscribe to journal
Immediate online access to all issues from 2019. Subscription will auto renew annually.
US$ 79
Tax calculation will be finalised during checkout.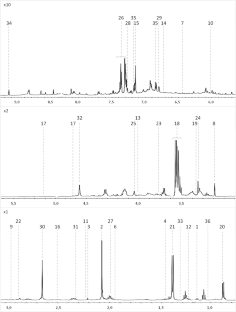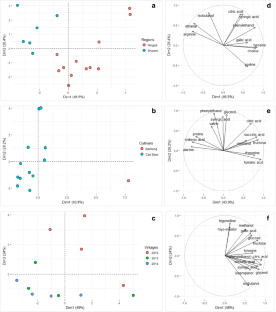 References
Ali K, Maltese F, Toepfer R, Choi YH, Verpoorte R (2011) Metabolic characterization of palatinate German white wines according to sensory attributes, varieties, and vintages using NMR spectroscopy and multivariate data analyses. J Biomol NMR 49:255–266

Amargianitaki M, Spyros A (2017) NMR-based metabolomics in wine quality control and authentication. Chem Biol Technol Agric 4:9. https://doi.org/10.1186/s40538-017-0092-x

Anastasiadi M, Zira A, Magiatis P, Haroutounian SA, Skaltsounis AL, Mikros E (2009) 1H NMR-based Metabonomics for the classification of Greek wines according to variety, region, and vintage. Comparison with HPLC data. J Agric Food Chem 57:11067–11074

Ando I, Hirose T, Nemoto T, Totsune K, Imai Y, Takeuchi K, Fujiwara M (2010) Quantification of molecules in 1H-NMR metabolomics with formate as a concentration standard. J Toxicol Sci 35:253–256

Chabreyrie D, Chauvet S, Guyon F, Salagoïty M-H, Antinelli J-F, Medina B (2008) Characterization and quantification of grape variety by means of Shikimic acid concentration and protein fingerprint in still white wines. J Agric Food Chem 56:6785–6790

Cobas C, Seoane F, Domínguez S, Sykora S, Davies AN (2011) A new approach to improving automated analysis of proton NMR spectra through global spectral deconvolution (GSD). Spectrosc Eur 23:26–30

Consonni R, Cagliani LR, Guantieri V, Simonato B (2011) Identification of metabolic content of selected Amarone wine. Food Chem 129:693–699

Cubero-Leon E, Peñalver R, Maquet A (2014) Review on metabolomics for food authentication. Food Res Int 60:95–107

De Pascali SA, Coletta A, Del Coco L, Basile T, Gambacorta G, Fanizzi FP (2014) Viticultural practice and winemaking effects on metabolic profile of Negroamaro. Food Chem 161:112–119

Duarte IF, Barros A, Almeida C, Spraul M, Gil AM (2004) Multivariate analysis of NMR and FTIR data as a potential tool for the quality control of beer. J Agric Food Chem 52:1031–1038

Fotakis C, Kokkotou K, Zoumpoulakis P, Zervou M (2013) NMR metabolite fingerprinting in grape derived products: an overview. Food Res Int 54:1184–1194

Godelmann R, Fang F, Humpfer E, Schütz B, Bansbach M, Schäfer H, Spraul M (2013) Targeted and nontargeted wine analysis by 1H NMR spectroscopy combined with multivariate statistical analysis. Differentiation of important parameters: grape variety, geographical origin, year of vintage. J Agric Food Chem 61:5610–5619

Godelmann R, Kost C, Patz C-D, Ristow R, Wachter H (2016) Quantitation of compounds in wine using 1H NMR spectroscopy: description of the method and collaborative study. J AOAC Int 99:1295–1304

Guyon F, Gaillard L, Salagoïty M-H, Médina B (2011) Intrinsic ratios of glucose, fructose, glycerol and ethanol 13C/12C isotopic ratio determined by HPLC-co-IRMS: toward determining constants for wine authentication. Anal Bioanal Chem 401:1551–1558. https://doi.org/10.1007/s00216-011-5012-5

Hu B, Yue Y, Zhu Y, Wen W, Zhang F, Hardie JW (2015) Proton nuclear magnetic resonance-spectroscopic discrimination of wines reflects genetic homology of several different grape (V. vinifera L.) cultivars. PLoS One 10:e0142840. https://doi.org/10.1371/journal.pone.0142840

Larive CK, Barding GA, Dinges MM (2015) NMR spectroscopy for metabolomics and metabolic profiling. Anal Chem 87:133–146

Lee J-E, Hwang G-S, Van Den Berg F, Lee C-H, Hong Y-S (2009) Evidence of vintage effects on grape wines using 1H NMR-based metabolomic study. Anal Chim Acta 648:71–76

López-Rituerto E, Cabredo S, López M, Avenoza A, Busto JH, Peregrina JM (2009) A thorough study on the use of quantitative 1H NMR in Rioja red wine fermentation processes. J Agric Food Chem 57:2112–2118

López-Rituerto E, Savorani F, Avenoza A, Busto JH, Peregrina JM, Engelsen SB (2012) Investigations of la Rioja terroir for wine production using 1H NMR metabolomics. J Agric Food Chem 60:3452–3461

Pauli GF (2000) Higher order and substituent chemical shift effects in the proton NMR of glycosides. J Nat Prod 63:834–838

Schoenberger T, Menges S, Bernstein MA, Pérez M, Seoane F, Sýkora S, Cobas C (2016) Improving the performance of high-precision qNMR measurements by a double integration procedure in practical cases. Anal Chem 88:3836–3843

Šelih VS, Šala M, Drgan V (2014) Multi-element analysis of wines by ICP-MS and ICP-OES and their classification according to geographical origin in Slovenia. Food Chem 153:414–423

Simmler C, Napolitano JG, McAlpine JB, Chen S-N, Pauli GF (2014) Universal quantitative NMR analysis of complex natural samples. Curr Opin Biotechnol 0:51–59. https://doi.org/10.1016/j.copbio.2013.08.004

Son H-S, Kim KM, van den Berg F, Hwang G-S, Park W-M, Lee C-H, Hong Y-S (2008) 1H nuclear magnetic resonance-based Metabolomic characterization of wines by grape varieties and production areas. J Agric Food Chem 56:8007–8016

Son H-S, Hwang GS, Kim KM, Ahn HJ, Park WM, van den Berg F, Hong YS, Lee CH (2009) Metabolomic studies on geographical grapes and their wines using 1H NMR analysis coupled with multivariate statistics. J Agric Food Chem 57:1481–1490

Stoyanova R, Nicholls AW, Nicholson JK, Lindon JC, Brown TR (2004) Automatic alignment of individual peaks in large high-resolution spectral data sets. J Magn Reson 170:329–335

Viggiani L, Morelli MAC (2008) Characterization of wines by nuclear magnetic resonance: a work study on wines from the Basilicata region in Italy. J Agric Food Chem 56:8273–8279
Acknowledgements
The work was supported by the Bordeaux Metabolome Facility and MetaboHUB (ANR-11-INBS-0010 project).
Funding
This study was funded by the Conseil Régional d'Aquitaine, Conseil Interprofessionnel du Vin de Bordeaux (CIVB) and FranceAgriMer program (grant number 2014–0785).
Ethics declarations
Conflict of Interest
Louis Gougeon declares that he has no conflict of interest. Gregory Da Costa declares that he has no conflict of interest. Inès Le Mao declares that she has no conflict of interest. Wen Ma declares that she has no conflict of interest. Pierre-Louis Teissedre declares that he has no conflict of interest. François Guyon declares that he has no conflict of interest. Tristan Richard declares that he has no conflict of interest.
Ethical Approval
This article does not contain any studies with human participants or animals performed by any of the authors.
Informed Consent
Not applicable.
About this article
Cite this article
Gougeon, L., Da Costa, G., Le Mao, I. et al. Wine Analysis and Authenticity Using 1H-NMR Metabolomics Data: Application to Chinese Wines. Food Anal. Methods 11, 3425–3434 (2018). https://doi.org/10.1007/s12161-018-1310-2
Received:

Accepted:

Published:

Issue Date:
Keywords
Wine composition

Wine analysis

qNMR

Authenticity

Traceability

NMR-based metabolomics