Abstract
Data on different therapeutic classes of pharmaceutical compounds (PhCs) in clams or other bivalves living in natural conditions are scarce. The aim of this work was the optimization and validation of a method for the determination of PhCs in clams for further evaluation of any potential human exposure risk due to their consumption. A quick, easy, cheap, effective, rugged, and safe (QuEChERS) approach is proposed for sample clean-up and concentration of 24 PhCs in clams, with subsequent analysis by liquid chromatography-tandem mass spectrometry. This method showed a good linear range for all PhCs with determination coefficients (r2) between 0.9949 and 0.9993 and coefficients of variation (CVm) lower than 5.5%. This method allowed the quantification of target compounds at trace concentration levels (ng g−1), being the most abundant PhC in clam caffeine. This PhC was detected in more than 70% of samples with concentrations ranging from 0.10 to 12 ng g−1 wet weight.
This is a preview of subscription content, log in to check access.
Access options
Buy single article
Instant access to the full article PDF.
US$ 39.95
Price includes VAT for USA
Subscribe to journal
Immediate online access to all issues from 2019. Subscription will auto renew annually.
US$ 99
This is the net price. Taxes to be calculated in checkout.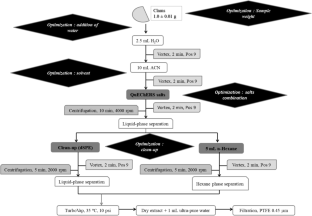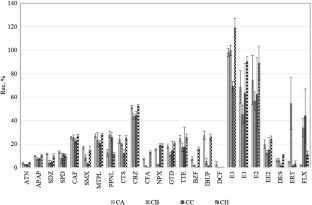 References
Alvarez-Munoz D, Huerta B, Fernandez-Tejedor M, Rodriguez-Mozaz S, Barcelo D (2015a) Multi-residue method for the analysis of pharmaceuticals and some of their metabolites in bivalves. Talanta 136:174–182

Alvarez-Munoz D, Rodriguez-Mozaz S, Maulvault A, Tediosi A, Fernandez-Tejedor M, Van den Heuvel F, Kotterman M, Marques A, Barcelo D (2015b) Occurrence of pharmaceuticals and endocrine disrupting compounds in macroalgaes, bivalves, and fish from coastal areas in Europe. Environ Res 143:56–64

AOAC (2007) Official method 2007.01 pesticide residues in foods by acetonitrile extraction and partitioning with magnesium sulfate gas chromatography/mass spectrometry and liquid chromatography/tandem mass spectrometry first action 2007

Brozinski J, Lahti M, Meierjohann A, Oikari A, Kronberg L (2013) The anti-inflammatory drugs diclofenac, naproxen and ibuprofen are found in the bile of wild fish caught downstream of a wastewater treatment plant. Environ Sci Technol 47(1):342–348

Chang G-R, Chen H-S, Lin F-Y (2016) Analysis of banned veterinary drugs and herbicide residues in shellfish by liquid chromatography-tandem mass spectrometry (LC/MS/MS) and gas chromatography-tandem mass spectrometry (GC/MS/MS). Mar Pollut Bull 113:579–584

Cruz D, Almeida Â, Calisto V, Esteves VI, Schneider RJ, Wrona FJ, Soares AMVM, Figueira E, Freitas R (2016) Caffeine impacts in the clam Ruditapes philippinarum: alterations on energy reserves, metabolic activity and oxidative stress biomarkers. Chemosphere 160:95–103

Directive (2000) Directive 2000/60/EC of the European Parliament and of the Council of 23 October 2000 establishing a framework for Community action in the field of water policy. Off J Eur Union L 327

Directive (2008) Directive 2008/105/EC of the European Parliament and of the Council of 16 December 2008 on environmental quality standards in the field of water policy. Off J Eur Union L 384/84

Directive (2013) Directive 2013/39/EU of the European Parliament and of the Council of 12 August 2013 regarding prioritary substances in the field of water policy. Off J Eur Union L 226/1

ESM (2008) European Standard Method EN 15662:2008. Foods of plant origin – determination of pesticide residues using GC-MS and/or LC-MS/MS following acetonitrile extraction/partitioning and cleanup by dispersive SPE–QuEChERS-method

Fusco G, Aprea G, Galiero G, Guarino A, Viscardi M (2013) Escherichia coli, Salmonella spp., hepatitis a virus and norovirus in bivalve molluscs in Southern Italy. Vet Ital 49(1):55–58

Gaffney V, Cardoso V, Cardoso E, Teixeira A, Martins J, Benoliel M, Almeida C (2017) Occurrence and behaviour of pharmaceutical compounds in a Portuguese wastewater treatment plant: removal efficiency through conventional treatment processes. Environ Sci Pollut Res 24(17):14717–14734

Gaw S, Thomas KV, Hutchinson TH (2014) Sources, impacts and trends of pharmaceuticals in the marine and coastal environment. Phil Trans R Soc B 369:20130572

INE (2016) Statistical yearbook of Portugal 2016. Instituto Nacional de Estatística, IP, Portugal

Infarmed (2011). Monitorization of the market. Available at: 〈http://www.infarmed.pt/portal/page/portal/infarmed/monitorizacao_do_mercado/observatorio/estatistica_do_medicamento/estmed-2011.pdf〉. Accessed on 05.10.12

Infarmed (2013) Infarmed (Autoridade Nacional do Medicamento e Produtos de Saúde, I.P.), Medicines Statistic. In. Ministério da Saúde, Infarmed, Lisboa

Jakimska A, Huerta B, Barganska Z, Kot-Wasik A, Rodriguez-Mozaz S, Barcelo D (2013) Development of a liquid chromatography-tandem mass spectrometry procedure for determination of endocrine disrupting compounds in fish from Mediterranean rivers. J Chromatogr A 1306:44–58

Kasiotis K, Emmanouil C (2015) Advanced PAH pollution monitoring by bivalves. Environ Chem Lett 13(4):395–411

Klosterhaus S, Grace R, Hamilton M, Yee D (2013) Method validation and reconnaissance of pharmaceuticals, personal care products, and alkylphenols in surface waters, sediments, and mussels in an urban estuary. Environ Int 54:92–99

Lahti M, Oikari A (2011) Pharmaceuticals in settleable particulate material in urban and non-urban waters. Chemosphere 85(5):826–831

Lazartigues A, Wiest L, Baudot R, Thomas M, Feidt C, Cren-Olive C (2011) Multiresidue method to quantify pesticides in fish muscle by QuEChERS-based extraction and LC-MS/MS. Anal Bioanal Chem 400(7):2185–2193

Liu J, Cao L, Dou S (2017) Bioaccumulation of heavy metals and health risk assessment in three benthic bivalves along the coast of Laizhou Bay, China. Mar Pollut Bull 117(1–2):98–110

Lopes R, Reyes R, Romero-Gonzalez R, Vidal J, Frenich A (2012) Multiresidue determination of veterinary drugs in aquaculture fish samples by ultra high performance liquid chromatography coupled to tandem mass spectrometry. J Chromatogr B 895:39–47

Matozzo V, Rova S, Marin MG (2012) The nonsteroidal anti-inflammatory drug, ibuprofen, affects the immune parameters in the clam Ruditapes philippinarum. Mar Environ Res 79:116–121

Memmert U, Peither A, Burri R, Weber K, Schmidt T, Sumpter J, Hartmann A (2013) Diclofenac: new data on chronic toxicity and bioconcentration in fish. Environ Toxicol Chem 32(2):442–452

Milan M, Pauletto M, Patarnello T, Bargelloni L, Marin M, Matozzo V (2013) Gene transcription and biomarker responses in the clam Ruditapes philippinarum after exposure to ibuprofen. Aquat Toxicol 126:17–29

Moreno-Gonzalez R, Rodriguez-Mozaz S, Huerta B, Barcelo D, Leon V (2016) Do pharmaceuticals bioaccumulate in marine molluscs and fish from a coastal lagoon? Environ Res 146:282–298

Munari M, Mann M, Matozzo V (2014) Effects of the antidepressant fluoxetine on the immune parameters and acetylcholinesterase activity of the clam Venerupis philippinarum. Mar Environ Res 94:32–37

Negreira N, Cobas J, Carro N (2015) Optimization of Soxtec extraction procedure for determination of polybrominated diphenyl ethers in bivalve mollusc. J Anal Chem 70(7):804–813

Phillips P, Schubert C, Argue D, Fisher I, Furlong E, Foreman W, Gray J, Chalmers A (2015) Concentrations of hormones, pharmaceuticals and other micropollutants in groundwater affected by septic systems in New England and New York. Sci Total Environ 512:43–54

Porte C, Janer G, Lorusso L, Ortiz-Zarragoitia M, Cajaraville M, Fossi M, Canesi L (2006) Endocrine disruptors in marine organisms: approaches and perspectives. Comp Biochem Physiol C Pharmacol Toxicol 143(3):303–315

Ramirez AJ, Brain RA, Usenko S, Mottaleb MA, O'Donnell JG, Stahl LL, Wathen JB, Snyder BD, Pitt JL, Perez-Hurtado P, Dobbins LL, Brooks BW, Chambliss CK (2009) Occurrence of pharmaceuticals and personal care products in fish: results of a national pilot study in the United States. Environ Toxicol Chem 28(12):2587–2597

Rocha M, Cruzeiro C, Reis M, Rocha E, Pardal M (2013) Determination of seventeen endocrine disruptor compounds and their spatial and seasonal distribution in Ria Formosa Lagoon (Portugal). Environ Monit Assess 185(10):8215–8226

Stuber M, Reemtsma T (2004) Evaluation of three calibration methods to compensate matrix effects in environmental analysis with LC-ESI-MS. Anal Bioanal Chem 378(4):910–916

Suffredini E, Proroga Y, Di Pasquale S, Di Maro O, Losardo M, Cozzi L, Capuano F, De Medici D (2017) Occurrence and trend of hepatitis a virus in bivalve molluscs production areas following a contamination event. Food Environ Virol 9(4):423–433

Vandermeersch G, Lourenco H, Alvarez-Munoz D, Cunha S, Diogene J, Cano-Sancho G, Sloth J, Kwadijk C, Barcelo D, Allegaert W, Bekaert K, Fernandes J, Marques A, Robbens (2015) Environmental contaminants of emerging concern in seafood - European database on contaminant levels. Environ Res 143:29–45

Verlicchi P, Zambello E (2015) Pharmaceuticals and personal care products in untreated and treated sewage sludge: occurrence and environmental risk in the case of application on soil - a critical review. Sci Total Environ 538:750–767

Vincenzetti S, Felici A, Ciarrocchi G, Pucciarelli S, Ricciutelli M, Ariani A, Polzonetti V, Polidori P (2017) Comparative proteomic analysis of two clam species: Chamelea gallina and Tapes philippinarum. Food Chem 219:223–229

Wade T, Sweet S, Sericano J, DeFreitas D, Lauenstein G (2014) Polychlorinated dibenzo-p-dioxins and dibenzofurans detected in bivalve samples from the NOAA National Status and trends program. Mar Pollut Bull 81(2):317–324

Wang J, Gardinali P (2012) Analysis of selected pharmaceuticals in fish and the fresh water bodies directly affected by reclaimed water using liquid chromatography-tandem mass spectrometry. Anal Bioanal Chem 404:2711–2720
Acknowledgments
The authors would like to thank the financial support from the project co-funded by the European Commission, LIFE Environment Programme, "LIFE Impetus - Improving current barriers for controlling pharmaceutical compounds in urban wastewater treatment plants" (LIFE14 ENV/PT/000739).
Ethics declarations
Conflict of Interest
João Rodrigues declares that he has no conflict of interest. Stephanie Albino declares that she has no conflict of interest. Sofia Silva declares that she has no conflict of interest. Alexandra Cravo declares that she has no conflict of interest. Vitor Cardoso declares that he has no conflict of interest. Maria João Benoliel declares that she has no conflict of interest. Cristina Almeida declares that she has no conflict of interest.
Ethical Approval
This article does not contain any studies with human or animal subjects.
Informed Consents
Not applicable.
Additional information
Publisher's Note
Springer Nature remains neutral with regard to jurisdictional claims in published maps and institutional affiliations.
Electronic supplementary material
About this article
Cite this article
Rodrigues, J., Albino, S., Silva, S. et al. Development of a Multiresidue Method for the Determination of 24 Pharmaceuticals in Clams by QuEChERS and Liquid Chromatography-Triple Quadrupole Tandem Mass Spectrometry. Food Anal. Methods 12, 838–851 (2019). https://doi.org/10.1007/s12161-018-01418-y
Received:

Accepted:

Published:

Issue Date:
Keywords
Pharmaceuticals

Clams

HPLC-MS/MS

QuEChERS