Abstract
In the recent reports, there are contradictory conclusions about the nutritional and health properties of organic and conventionally growing vegetables. We hypothesized that organic cultivation system results in higher quality of asparagus (Asparagus officinalis L.) because of organic manure and effective organisms. Therefore, new analytical methods were applied in order to find the differences in bioactive compounds between the plants growing under various cultivation systems. Total antioxidant capacities (TAC) of the conventional and organic greenhouse and conventional open-field farming of asparagus spears were determined by 2,2-azino-bis (3-ethyl-benzothiazoline-6-sulfonic acid) diammonium salt (ABTS), 1,1-diphenyl-2-picryl-hydrazyl (DPPH), and ferric-reducing antioxidant power (FRAP) assays, and UHPLC-PDA-MS was used for identification of some phenolic acids and flavonoids. Total phenolic compounds (TPC), total flavonoids, rutin, vitamin C, chlorophylls, carotenoids, and the values of TAC, determined in organic growing asparagus spears, were higher than in conventional, but not always significant. The applied for the first time FTIR spectroscopy as an estimation of the differences between the investigated samples showed more prominent bands in the region of polyphenols in organic asparagus spears than in conventional and provides a rapid and precise alternative to other methods. The binding properties of extracted polyphenols to HSA determined by 3D-fluorescence were relatively higher in organic asparagus spears than in other samples. Correlation between the amounts of total polyphenols and flavonoids and their quenching properties showed a linear relationship. All proposed analytical methods can be applied to a variety of studied plants.
Access options
Buy single article
Instant access to the full article PDF.
US$ 39.95
Tax calculation will be finalised during checkout.
Subscribe to journal
Immediate online access to all issues from 2019. Subscription will auto renew annually.
US$ 79
Tax calculation will be finalised during checkout.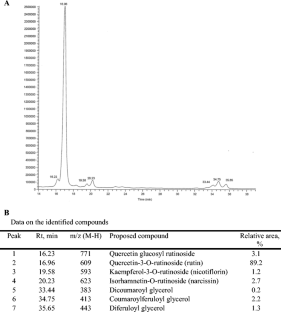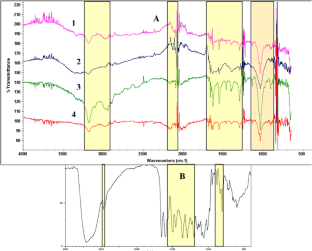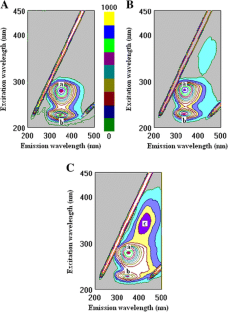 References
Bae JH, Park YJ, Namiesnik J, Gülçin I, Kim TC, Kim HC, Heo BG, Gorinstein S, Ku YG (2016) Effects of artificial lighting on bioactivity of sweet red pepper (Capsicum annuum L.). Inter JFood Sci Tech 51:1378–1385

Benzie IFF, Strain JJ (1996) The ferric reducing ability of plasma (FRAP) as a measure of antioxidant power: the FRAP assay. Anal Biochem 239:70–76

Boo HO, Kim HH, Barasch D, Nemirovski A, Lee MS,·Gorinstein S, Ku YG (2017) Codonopsis lanceolata and Nelumbo nucifera Gaertn. root extracts for functional food: metabolic profiling by MS, FTIR and fluorescence and evaluation of cytotoxicity and anti-obesity properties on 3T3-L1 cell line. Eur Food Res Technol 243:689–700

Boyer RF (1990) Isolation and spectrophotometric characterization of photosynthetic pigments. Biochem Educ 18:203–206

Brand-Williams W, Cuvelier ME, Berset C (1995) Use of a free radical method to evaluate antioxidant activity. Food Sci Tech (Lond) 28:25–30

Caruso G, Villari G, Borrelli C, Russo G (2012) Effects of crop method and harvest seasons on yield and quality of green asparagus under tunnel in southern Italy. Adv Hortic Sci 26:51–58

Challa SR, Akula A, Metla S, Gopal PNV (2011) Partial role of nitric oxide in infarct size limiting effect of quercetin and rutin against ischemia-reperfusion injury in normal nd diabetic rats. Indian J Exp Biol 49:207–210

De la Haba M-J, Pérez-Marín D, Rial-Huerta D, Sánchez M-T (2014) Texture prediction in intact green asparagus by near and non-linear regression strategies. Food Anal Methods 7:606–615

Di Maro A, Pacifico S, Fiorentino A, Galasso S, Gallicchio M, Guida,V, Severino V, Monaco P, Parente A (2013) Raviscanina wild asparagus (Asparagus acutifolius L.): a nutritionally valuable crop with antioxidant and antiproliferative properties. Food Res Int 53:180–188

Dovbeshko GI, Chegel VI, Gridina NY, Repnytska OP, Shirshov YM, Tryndiak VP, Todor IM, Solyanik GI (2002) Surface enhanced IR absorption of nucleic acids from tumor cells: FTIR reflectance study. Biopolymers 67:470–486

Drinkwater JM, Tsao R, Liu R, Defelice C, Wolyn DJ (2015) Effects of cooking on rutin and glutathione concentrations and antioxidant activity of green asparagus (Asparagus officinalis) spears. J Funct Foods 12:342–353

Drzewiecki J, Latocha P, Leontowicz H, Leontowicz M, Park YS, Najman K, Weisz M, Ezra A, Gorinstein S (2016) Analytical methods applied to characterization of Actinidia arguta, Actinidia deliciosa, and Actinidia eriantha Kiwi fruit cultivars. Food Anal Methods 9:1353–1366

Fuentes-Alventosa JM, Jaramillo-Carmona S, Rodríguez-Gutiérrez G, Guillén-Bejarano R, Jiménez-Araujo A, Fernández-Bolaños R (2013) Preparation of bioactive extracts from asparagus by-product. Food Bioprod Process 91:74–82

Gębczyński P (2007) Content of selected antioxidative compounds in green asparagus depending on processing before freezing and on the period and conditions of storage. Pol J Food Nutr Sci 57:209–214

Gorinstein S, Arancibia-Avila P, Toledo F, Namiesnik J, Leontowicz H, Leontowicz M, Ham K-S, Kang S-G, Vearasilp K, Suhaj M (2013) Application of analytical methods for the determination of bioactive compounds in some berries. Food Anal Methods 6:432–444

Guillén-Bejarano R, Rodríguez-Arcos R, Jaramillo-Carmona S, Rodríguez-Gutiérrez G, Espejo-Calvo JA, Fernández- Bolaños J, Heredia A, Jimenez A (2008) Antioxidants from asparagus spears: phenolics. Acta Horticult (Proceedings of the XI International Asparagus Symposium) 776:247–254

Jakobek L, Boc M, Barron AR (2015) Optimization of ultrasonic-assisted extraction of phenolic compounds from apples. Food Anal Methods 8:2612–2625

Jaramillo S, Fuentes J, Rodriguez R, Jimenez A, Rodriguez G, Lama A, Fdez-Bolanos J, Guillen R (2009) Saponin profile of green asparagus genotypes. Czech J Food Sci 27:S212–S212

Jiménez-Sánchez C, Lozano-Sánchez J, Rodríguez-Pérez C, Segura-Carretero A, Fernández-Gutiérrez A (2016) Comprehensive, untargeted, and qualitative RP-HPLC-ESI-QTOF/MS2 metabolite profiling of green asparagus (Asparagus officinalis). J Food Compos Anal 46:78–87

Jing J-J, Liu B, Wang X, Wang X, He L-L, Guo X-Y, M-L X, Li Q-Y, Gao B, Dong B-Y (2017) Binding of fluphenazine with human serum albumin in the presence of rutin and quercetin: an evaluation of food-drug interaction by spectroscopic techniques. Luminescence:1–10. https://doi.org/10.1002/bio.3291

Kulczyński B, Kobus-Cisowska J, Kmiecik D, Gramza-Michałowska A, Golczak D, Korczak J (2016) Antiradical capacity and polyphenol composition of asparagus spears varieties cultivated under different sunlight conditions. Acta Sci Pol Technol Aliment 15:267–279

Lee YH, Cho C, Watawana MI, Jayawardena N, Waisundara VY (2015) An appraisal of eighteen commonly consumed edible plants as functional food based on their antioxidant and starch hydrolase inhibitory activities. J Sci Food Agric 95:2956–2964

Lee JW, Lee JH, IH Y, Gorinstein S, Bae JH, YG K (2014) Bioactive compounds, antioxidant and binding activities and spear yield of Asparagus officinalis L. Plant Foods Hum Nutr 69:175–181

Lee EJ, Yoo KS, Patil BS (2010) Development of a rapid HPLC-UV method for simultaneous quantification of protodioscin and rutin in white and green asparagus spears. J Food Sci 75:C703–C709

Liu B-M, Zhang J, Bai C-L, Wang X, Qiu X-Z, Wang X-L, Ji H, Liu B (2015) Spectroscopic study on flavonoid-drug interactions: competitive binding for human serum albumin between three flavonoid compounds and ticagrelor, a new antiplatelet drug. J Lumin 168:69–76

López A, Fenoll J, Hellín P, Flores P (2013) Physical characteristics and mineral composition of two pepper cultivars under organic, conventional and soilless cultivation. Sci Hortic 150:259–266

Lu G, Shou S, Huang X (2007) Seasonal valuations in nutritional components of green asparagus rising the mother fern cultivation. Sci Hort 112:251–257

Lu D, Zhang Z, Wang S, Cai J, Zhou X, Zhu C (2010) Nutritional characterization and changes in quality of Salicornia bigelovii Torr. during storage. LWT – Food Sci Tech 43:519–524

Lu XN, Wang J, Al-Qadiri HM, Ross CF, Powers JR, Tang J, Rasco BA (2011) Determination of total phenolic content and antioxidant capacity of onion (Allium cepa) and shallot (Allium oschaninii) using infrared spectroscopy. Food Chem 129:637–644

Makris DP, Rossiter JT (2001) Domestic processing of onion bulbs (Allium cepa) and asparagus spears (Asparagus officinalis): effect of flavonol content and antioxidant status. J Agric Food Chem 49:3216–3222

Martins D, Barros L, Carvalho AM, Ferreira ICFR (2011) Nutritional and in vitro antioxidant properties of edible wild greens in Iberian. Peninsula traditional diet. Food Chem 125:488–494

Motoki S, Kitazawa H, Maeda T, Suzuki T, Chiji H, Nishihara E, Shinohara Y (2012) Effects of various asparagus production methods on rutin and protodioscin contents in spears and cladophylls. Biosci Biotechnol Biochem 76:1047–1050

Murcia A, Jimenez A, Martinez T (2009) Vegetables antioxidant losses during industrial processing and refrigerated storage. Food Res Int 42:1046–1052

Nindo CI, Sun T, Wang SW, Tang J, Powers JR (2003) Evaluation of drying technologies for retention of physical quality and antioxidants in asparagus (Asparagus officinalis L.) Lebensm Wiss Technol 36:507–516

Ozyurek M, Guclu K, Bektasoglu B, Apak R (2007) Spectrophotometric determination of ascorbic acid by the modified CUPRAC method with extractive separation of flavonoids – la (III) complexes. Anal Chim Acta 588:88–95

Re R, Pellegrini N, Proteggente A, Pannala A, Yang M, Rice-Evans C (1999) Antioxidant activity applying an improved ABTS radical cation decolorization assay. Free Radic Biol Med 26:1231–1237

Rodríguez R, Jaramillo S, Rodríguez G, Espejo GR, Guillén R, Fernández-Bolaños J, Heredia A, Jiménez A (2005) Antioxidant activity of ethanolic extracts from several asparagus cultivars. J Agric Food Chem 53:5212–5217

Sánchez M-T, Garrido-Varo A, Guerrero J-E, Pérez-Marín D (2013) NIRS technology for fast authentication of green asparagus grown under organic and conventional production systems. Postharvest Biol Technol 85:116–123

Schulz H, Baranska M (2007) Identification and quantification of valuable plant substances by IR and Raman spectroscopy. Vib Spectrosc 43:13–25

Schuelter BJ, Oliveira Barizão E, Costa e Silva B, Fernandes Montanher P, Almeida d C, Visentainer VJ (2014) Evaluation of solvent effect on the extraction of phenolic compounds and antioxidant capacities from the berries: application of principal component analysis. Chem Cent J 8:48

Singleton VL, Orthofer R, Lamuela-Raventos RM (1999) Analysis of total phenols and other oxidation substrates and antioxidants by means of Folin-Ciocalteu reagent. Methods Enzymol 299:152–158

Solana M, Boschiero I, Dall'Acqua S, Bertucco A (2015) A comparison between supercritical fluid and pressurized liquid extraction methods for obtaining phenolic compounds from Asparagus officinalis L. J Supercrit Fluids 100:201–208

Soobrattee MA, Neergheen VS, Luximon-Ramma A, Aruoma OI, Bahorun T (2005) Phenolics as potential antioxidant therapeutic agents: mechanism and actions. Mut Res 579:200–213

Stratil P, Klejdus B, Kuban V (2006) Determination of total content of phenolics compounds and their antioxidant activity in vegetables—evaluation of spectrophotometric methods. J Agric Food Chem 54:607–616

Takacs-Hajos M, Zsombik L (2015) Total polyphenol, flavonoid and other bioactive materials in different asparagus cultivars. Not Bot Horti Agrobot Cluj Napoca 43:59–63

Varliklioz Er S, Eksi-Kocak H, Yetim H, Hakki Boyaci I (2017) Novel spectroscopic method for determination and quantification of saffron adulteration. Food Anal Methods 10:1547–1555

Wang B, Chang L, Wu H, Huang S, Chu H, Huang M (2011) Antioxidant and antityrosinase activity of aqueous extract of green asparagus. Food Chem 127:141–146

Wang X, Liu Y, He L-L, Liu B, Si-Yi Z, Ye X, Jing J-J, Zhang J-F, Gao M (2015) Spectroscopic investigation on the food components-drug interaction: The influence of flavonoids on the affinity of nifedipine to human serum albumin. Food Chem Toxic 78:42–51
Funding
This research was supported by the Wonkwnag University research grants in 2017.
Ethics declarations
Conflict of Interest
Yang Gyu Ku declares that he/she has no conflict of interest. Jong Hyang Bae declares that he has no conflict of interest. Jacek Namieśnik declares that he has no conflict of interest. Dinorah Barasch declares that she has no conflict of interest. Alina Nemirovski declares that she has no conflict of interest. Elena Katrich declares that she has no conflict of interest. Shela Gorinstein declares that she has no conflict of interest.
Ethical Approval
Informed consent is not applicable in this paper.
About this article
Cite this article
Ku, Y.G., Bae, J.H., Namieśnik, J. et al. Detection of Bioactive Compounds in Organically and Conventionally Grown Asparagus Spears. Food Anal. Methods 11, 309–318 (2018). https://doi.org/10.1007/s12161-017-1074-0
Received:

Accepted:

Published:

Issue Date:
Keywords
Asparagus

Polyphenols

Flavonoids

Rutin, quenching

FTIR