A New Electrochemical Sensing Platform Based on Binary Composite of Graphene Oxide-Chitosan for Sensitive Rutin Determination
Abstract
A new, simple, and low-cost voltammetric sensor was designed by covering a layer of graphene oxide/chitosan (GO–Cs) nanocomposite on a glassy carbon electrode (GCE). The synthesized GO nanosheets and GO–Cs nanocomposite were characterized by different techniques such as Fourier transform infrared spectroscopy (FT–IR), scanning electron microscopy (SEM), and transmission electron microscopy (TEM). The electrochemical behavior of rutin at the modified electrode was investigated, and the results demonstrated that the GO–Cs nanocomposite film could remarkably increase the redox peak current of rutin. The effects of supporting electrolyte, pH, accumulation parameters, and interference on the response of rutin were studied. Using differential pulse voltammetry (DPV) under optimized conditions, the analytical curve was linear in rutin concentration range from 0.9 to 90 μmol/L with a detection limit of 0.56 μmol/L. The GO–Cs/GCE exhibited good selectivity and sensitivity for the determination of rutin content in real samples with satisfactory results.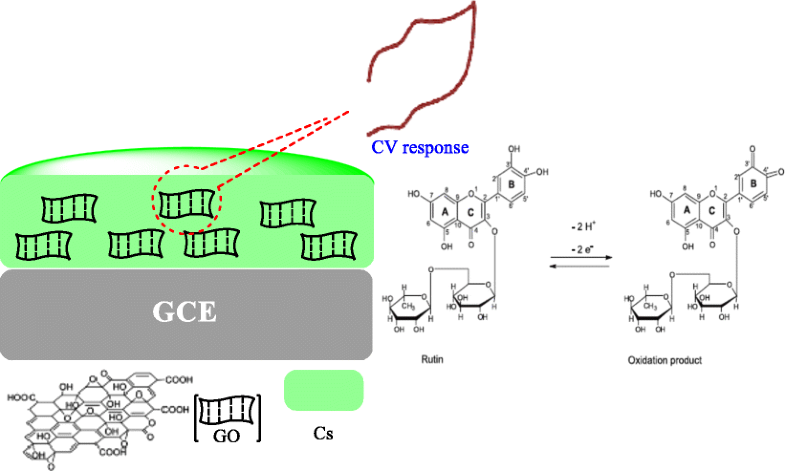 Keywords
Rutin 
Graphene oxide 
Chitosan 
Nanocomposite 
Film-modified electrode 
Voltammetry 
Notes
Acknowledgements
The authors are thankful to the post-graduate office of Guilan University for the support of this work.
Compliance with Ethical Standards
Funding
This study was funded by Guilan University.
Conflict of interest
M. Arvand declares that he/she has no conflict of interest. A. Shabani declares that he/she has no conflict of interest. M. Sayyar Ardaki declares that he/she has no conflict of interest.
Ethical Approval
All procedures performed in studies were in accordance with the ethical standards of the institutional and/or national research committee and with the 1964 Helsinki declaration and its later amendments or comparable ethical standards. This article does not contain any studies with human or animal subjects performed by any of the authors.
Informed Consent
Not applicable.
Copyright information
© Springer Science+Business Media New York 2017