Abstract
Tocopherols are natural fluorophores of great importance for the characterization and authentication of virgin olive oil. Herein, a single automatic multicommuted flow method has been developed for the determination of total tocopherol content as well as the semi-quantitative estimation of α-tocopherol in extra virgin olive oil (EVOO) samples. Only appropriate dilution of samples with 2-propanol was necessary for their direct analysis by a multicommuted flow injection (MCFIA) manifold based on three solenoid valves with fluorescence detection. The peak height at λ em = 330 nm (emission) with λ exc at 296 nm was used as analytical signal. Linear response was observed within the range from 50 to 350 mg of tocopherols (expressed as α-tocopherol kg−1 olive oil), suitable to cover the usual range for tocopherols in (extra) virgin olive oil ((E)VOO)). The results were consistent with those obtained by reversed-phase HPLC reference method, whereas the analysis time was significantly reduced. The sample frequency of the proposed automatic method was close to 40 samples h−1, in contrast to typically 15–30 min required by HPLC. The method is fast, straightforward, cost-effective, and easy to implement in routine laboratories for screening purposes.
Access options
Buy single article
Instant access to the full article PDF.
USD 39.95
Price excludes VAT (USA)
Tax calculation will be finalised during checkout.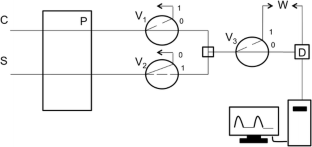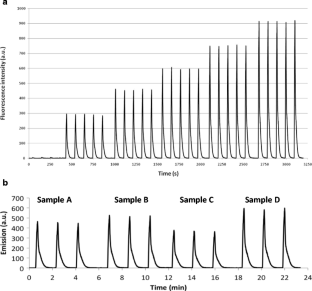 References
Aparicio R, Harwood J (eds) (2013) Handbook of olive oil. Analysis and properties, 2nd edn. Springer, New York

Boskou D (ed) (1996) Olive oil chemistry and technology. AOCS Press, Champaign

Boskou D (Editor) (2015) Olive oil. In Olive chemistry and technology. 2nd ed. AOCS Press

Cheikhousman R, Zude M, Bouveresse DJR, Léger CL, Rutledge DN, Birlouez-Aragon (2005) Fluorescence spectroscopy for monitoring deterioration of extra virgin olive oil during heating. Anal Bioanal Chem 382:1438–1443

Chen H, Angiulli M, Ferrari C, Tombari E, Salvetti G, Bramanti E (2011) Tocopherol speciation as first screening for the assessment of extra virgin olive oil quality by reversed-phase high-performance liquid chromatography/fluorescence detector. Food Chem 125:1423–1429

Cho IK, Rima J, Chang CL, Li QX (2007) Spectrofluorometric and high performance liquid chromatographic determination of all-rac-α-tocopheryl acetate in virgin olive oil. J Food Comp Anal 20:57–62

Cunha SC, Amaral JS, Fernandes JO, Oliveira MBPP (2006) Quantification of tocopherols and tocotrienols in Portuguese olive oil using HPLC with three different detection systems. J Agric Food Chem 54:3351–3356

Escuderos ME, Sayago A, Morales MT, Aparicio R (2009) Evaluation of α-tocopherol in virgin olive oil by a luminiscent method. Grasas Aceites 60:336–342

García-González DL, Aparicio-Ruiz R, Aparicio R (2008) Olive oil. In: Kamal-Eldin A, Moreau R (eds) Gourmet and health-promoting oils. AOCS Press, Champaign, pp 1–40

Giungato P, Aveni M, Rana R, Notarnicola L (2004) Modifications induced by extra virgin olive oil frying processes. Ind Aliment-Italy 43:369–375

Guimet F, Ferré J, Boqué R, Rius FX (2004) Application of unfold principal component analysis and parallel factor analysis to the exploratory analysis of olive oils by means of excitation–emission matrix fluorescence spectroscopy. Anal Chim Acta 515:75–85

Guimet F, Ferré J, Boqué R, Vidal M, García J (2005) Excitation-emission fluorescence spectroscopy combined with three-way methods of analysis as a complementary technique for olive oil characterization. J Agric Food Chem 53:9319–9328

Guzmán E, Baeten V, Fernández Pierna JA, García-Mesa JA (2015) Evaluation of the overall quality of olive oil using fluorescence spectroscopy. Food Chem 173:927–934

IUPAC International Union of Pure and Applied Chemistry (1987) Method 2.432, determination of tocopherols and tocotrienols in vegetable oils and fats by HPLC. In: Paquot C, Haufenne A (eds) Standard methods for the analysis of oils, fats and derivatives, 7th edn. Blackwell Scientific Publications, Oxford, pp 2432/1–2432/7

Pinheiro-Sant'Ana HM, Guinazi M, Oliveira DS, Della Lucia CM, Reis BDL, Brandão SCC (2011) Method for simultaneous analysis of eight vitamin E isomers in various foods by high performance liquid chromatography and fluorescence detection. J Chromatogr A 1218:8496–8502

Psomiadou E, Tsimidou M, Boskou D (2000) α-Tocopherol content of Greek virgin olive oils. J Agric Food Chem 48:1770–1775

San Andrés MP, Otero J, Vera S (2011) High performance liquid chromatography method for the simultaneous determination of α-, γ- and δ-tocopherol in vegetable oils in presence of hexadecyltrimethylamonium bromide/n-propanol in mobile phase. Food Chem 126:147–1474

Sánchez-B PL, Camacho-L M, Aparıcio R (2003) A comprehensive study of hazelnut oil composition with comparison to other vegetable oils, particularly olive oil. Eur Food Res Technol 218:13–19

Satue MT, Huang SW, Frankel EN (1995) Effects of natural antioxidants in virgin olive oil on oxidative stability of refined, bleached, and deodorized olive oil. J Am Oil Chem Soc 72:1131–1137

Sayago A, Marín MI, Aparicio R, Morales MT (2007) Vitamin E and vegetable oils. Grasas Aceites 58:74–86

Schneider (2013) Quality analysis of virgin olive oils. Part 4. Application note. https://www.agilent.com/cs/library/applications/5991-2180EN.pdf

Sikorska E, Romaniuk A, Khmelinskii IV, Herance R, Bourdelande JL, Sikorski M, Koziol J (2004) Characterization of edible oils using total luminescence spectroscopy. J Fluoresc 14:23–25

Sikorska E, Gliszczyń-Świglo A, Khmelinskii IV, Sikorski M (2005) Synchronous fluorescence spectroscopy of edible vegetable oils. Quantification of Tocopherols. J Agric Food Chem 53:6988–6994

Wong YF, Makahleh A, Saad B, Ibrahim MNM, Rahim AA, Brosse N (2014) UPLC method for the determination of vitamin E homologues and derivatives in vegetable oils, margarines and supplement capsules using pentafluorophenyl column. Talanta 130:299–306

Zandomeneghi M, Carbonaro L, Caffarata C (2005) Fluorescence of vegetable oils: olive oils. J Agric Food Chem 53:759–766

Zarrouk W, Carrasco-Pancorbo A, Zarrouk M, Segura-Carretero A, Fernández-Gutiérrez A (2009) Multi-component analysis (sterols, tocopherols and triterpenic dialcohols) of the unsaponifiable fraction of vegetable oils by liquid chromatography-atmospheric pressure chemical ionization-ion trap mass spectrometry. Talanta 80:924–934
Acknowledgements
The authors acknowledge funding support from the Regional Government of Andalusia (Spain), Junta de Andalucía (Project AGR-6066 and Research Group FQM323). F.J.L.-O. acknowledges a PhD student scholarship from MINECO (Ref. BES-2013-064014). B.G.L. acknowledges MINECO for her Juan de la Cierva postdoctoral research contract (ref. JCI-2012-12972).
Ethics declarations
Conflict of Interest
Felipe J. Lara-Ortega declares that he has no conflict of interest. Bienvenida Gilbert-López declares that she has no conflict of interest. Juan F. García-Reyes declares that he has no conflict of interest. Antonio Molina-Díaz declares that he has no conflict of interest.
Ethical Approval
This article does not contain any studies with human participants or animals performed by any of the authors.
Informed Consent
Not applicable.
Electronic supplementary material
About this article
Cite this article
Lara-Ortega, F.J., Gilbert-López, B., García-Reyes, J.F. et al. Fast Automated Determination of Total Tocopherol Content in Virgin Olive Oil Using a Single Multicommuted Luminescent Flow Method. Food Anal. Methods 10, 2125–2131 (2017). https://doi.org/10.1007/s12161-016-0784-z
Received:

Accepted:

Published:

Issue Date:

DOI: https://doi.org/10.1007/s12161-016-0784-z
Keywords