Abstract
In this paper, the results of a study on lipid fraction from goji berries are reported. A rapid and simple method based on magnetic stirring with chloroform/methanol mixture and final clean-up with deionized water was developed, which avoided the presence of polar substances in the final extract. The proposed method was compared with conventional (Folch and Soxhlet methods) and unconventional (hexane/2-propanol or methyl-tert-butyl ether extraction) procedures. Sixteen commercial goji samples have been extracted by the developed method; then, the fatty acid composition was determined by high-resolution gas chromatography-flame ionization detector (HRGC-FID) analysis of derivatized samples. Generally, the results obtained underlined the important role of goji berry as a natural source of unsaturated fatty acids (78.0–86.0 %) with a high content of n-6 polyunsaturated fatty acids (PUFA, 48.2–60.2 %), a satisfactory n-6/n-3 PUFA ratio, and a good PUFA/saturated fatty acid ratio.
This is a preview of subscription content, log in to check access.
Access options
Buy single article
Instant access to the full article PDF.
US$ 39.95
Price includes VAT for USA
Subscribe to journal
Immediate online access to all issues from 2019. Subscription will auto renew annually.
US$ 99
This is the net price. Taxes to be calculated in checkout.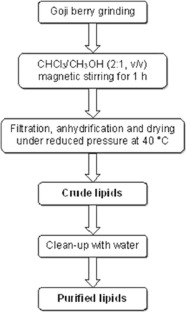 References
Altintas A, Kosar M, Kirimer N, Baser KHC, Demirci B (2006) Composition of the essential oils of Lycium barbarum and L. ruthenicum fruits. Chem Nat Comp 42:24–25

Amagase H, Farnsworth NR (2011) A review of botanical characteristics, phytochemistry, clinical relevance in efficacy and safety of Lycium barbarum fruit (goji). Food Res Inter 44:1702–1717

Amol SS, Kallangouda AR (2011) Anti-inflammatory, analgesic and antipyretic properties of Thespesia populnea Soland ex. Correa seed extracts and its fractions in animal models. J Ethnopharmacol 137:1504–1509

AOAC (1995) Official methods of analysis, 16th edn. AOAC International, Arlington

Blasi F, Montesano D, De Angelis M, Maurizi A, Ventura F, Cossignani L, Simonetti MS, Damiani P (2008) Results of stereospecific analysis of triacylglycerol fraction from donkey, cow, ewe, goat and buffalo milk. J Food Comp Anal 21:1–7

Boulila A, Bejaoui A (2015) Lycium intricatum Boiss.: an unexploted and rich source of unsaturated fatty acids, 4-desmethylsterols and other valuable phytochemicals. Lipids Health. doi:10.1186/s12944-015-0055-9

Caprioli G, Giusti F, Ballini R, Sagratini G, Vila-Donat P, Vittori S, Fiorini D (2016) Lipid nutritional value of legumes: evaluation of different extraction methods and determination of fatty acid composition. Food Chem 192:965–971

Christie WW (2003) Lipid Analysis, 3rd edn. The Oily Press, Bridgwater

Chung M, Nagella P, Ahn YS, Kim SJ, Ahmad A (2011) Composition of the essential oil and petroleum ether extract of Lycium chinense Miller fruits and antioxidant activity of its several extracts. J Med Plants Res 5:5973–5981

Donno D, Beccaro GL, Mellano MG, Cerutti AK, Bounous G (2015) Goji berry fruit (Lycium spp.): antioxidant compound fingerprint and bioactivity evaluation. J Funct Foods 18(Part B):1070–1085

Endes Z, Uslu N, Özcan MM, Er F (2015) Physico-chemical properties, fatty acid composition and mineral contents of goji berry (Lycium barbarum L.) fruit. J Agroaliment Process Technol 21:36–40

FAO/WHO (Food and Agriculture Organisation of the United Nations and World Health Organization) (2010) Fats and fatty acids in human nutrition. Report of an expert consultation. FAO Food and Nutrition Paper 91, Rome

Folch JB, Lees M, Sloane Stanley GH (1957) A simple method for the isolation and purification of total lipids from animal tissues. J Biol Chem 226:497–509

Forino M, Tartaglione L, Dell'Aversano C, Ciminiello P (2016) NMR-based identification of the phenolic profile of fruits of Lycium barbarum (goji berries). Isolation and structural determination of a novel N-feruloyl tyramine dimer as the most abundant antioxidant polyphenol of goji berries. Food Chem 194:1254–1259

Gan L, Zhang SH, Yang XL, HB X (2004) Immunomodulation and antitumor activity by a polysaccharide-protein complex from Lycium barbarum. Int Immunopharmacol 4:563–569

Gao Z, Ali Z, Khan IA (2008) Glycerogalactolipids from the fruit of Lycium barbarum. Phytochem 69:2856–2861

Guoliang L, Junyou S, Yourui S, Zhiwei S, Lian X, Jie Z, Jinmao Y, Yongjun L (2011) Supercritical CO2 cell breaking extraction of Lycium barbarum seed oil and determination of its chemical composition by HPLC/APCI/MS and antioxidant activity. LWT - Food Sci Technol 44:1172–1178

Inbaraj BS, Lu H, Hung CF, WB W, Lin CL, Chen BH (2008) Determination of carotenoids and their esters in fruits of Lycium barbarum Linnaeus by HPLC-DAD-APCI-MS. J Pharm Biomed Anal 47:812–818

Karioti A, Bergonzi MC, Vincieri FF, Bilia AR (2014) Validated method for the analysis of goji berry, a rich source of zeaxanthin dipalmitate. J Agric Food Chem 62:12529–12535

Li G, You J, Suo Y, Song C, Sun Z, Xia L, Zhao H, Shi J (2011) A developed pre-column derivatization method for the determination of free fatty acids in edible oils by reversed-phase HPLC with fluorescence detection and its application to Lycium barbarum seed oil. Food Chem 125:1365–1372

Liang B, Jin M, Liu H (2011) Water-soluble polysaccharide from dried Lycium barbarum fruits: isolation, structural features and antioxidant activity. Carbohyd Polym 83:1947–1951

Lim TK (ed) (2013) Lycium barbarum. In: Edible medicinal and non-medicinal plants: volume 6, fruits. Springer, London, 240–266

Matyash V, Liebisch G, Kurzchalia TV, Shevchenko A, Schwudke D (2008) Lipid extraction by methyl-tert-butyl ether for high-throughput lipidomics. J Lipid Res 49:1137–1146

Mikulic-Petkovsek M, Schmitzer V, Slatnar A, Stampar F, Veberic R (2012) Composition of sugars, organic acids, and total phenolics in 25 wild or cultivated berry species. J Food Sci 77:1064–1070

Montesano D, Cossignani L, Giua L, Urbani E, Simonetti MS, Blasi F (2016) A simple HPLC-ELSD method for sugar analysis in goji berry. J Chem Article ID 6271808. doi:10.1155/2016/6271808

Nguyen TT, Zhang W, Barber RA, Su P, He S (2015) Significant enrichment of polyunsaturated fatty acids (PUFAs) in the lipids extracted by supercritical CO2 from the livers of Australian rock lobsters (Jasus edwardsii). J Agric Food Chem 63:4621–4628

Potterat O (2010) Goji (Lycium barbarum and L. chinense): phytochemistry, pharmacology and safety in the perspective of traditional uses and recent popularity. Planta Med 76:7–19

Ranjan A, Patil C, Moholkar VS (2010) Mechanistic assessment of microalgal lipid extraction. Ind Eng Chem Res 49:2979–2985

Ryan E, Galvin K, O'Connor TP, Maguire AR, O'Brien NM (2007) Phytosterol, squalene, tocopherol content and fatty acid profile of selected seeds, grains, and legumes. Plant Food Hum Nutr 62:85–91

Toyoda-Ono Y, Maeda M, Nakao M, Yoshimura M, Sugiura-Tomimori N, Fukami H (2004) 2-O-(β-D-Glucopyranosyl)ascorbic acid, a novel ascorbic acid analogue isolated from Lycium fruit. J Agric Food Chem 52:2092–2096

Ulbricht TLV, Southgate DAT (1991) Coronary heart disease. Seven dietary factors. Lancet 338:985–992

Wu HT, He XJ, Hong YK, Ma T, Xu YP, Li HH (2010) Chemical characterization of Lycium barbarum polysaccharides and its inhibition against liver oxidative injury of high-fat mice. Int J Biol Macromol 46:540–543

Yuan Y, Wang YB, Jiang Y, Prasad KN, Yang J, Qua H, Wang Y, Jia Y, Mo H, Yang B (2016) Structure identification of a polysaccharide purified from Lycium barbarium fruit. Int J Biol Macromol 82:696–701
Ethics declarations
Conflict of Interest
Francesca Blasi declares that she has no conflict of interest. Domenico Montesano declares that he has no conflict of interest. Maria Stella Simonetti declares that she has no conflict of interest. Lina Cossignani declares that she has no conflict of interest.
Ethical Approval
This article does not contain any studies with human participants or animals performed by any of the authors.
Informed Consent
Not applicable.
About this article
Cite this article
Blasi, F., Montesano, D., Simonetti, M.S. et al. A Simple and Rapid Extraction Method to Evaluate the Fatty Acid Composition and Nutritional Value of Goji Berry Lipid. Food Anal. Methods 10, 970–979 (2017). https://doi.org/10.1007/s12161-016-0652-x
Received:

Accepted:

Published:

Issue Date:
Keywords
Goji berry

Lipid extraction

Clean-up

HRGC

Fatty acid composition