Abstract
The characteristics of the starch granule such as swelling, breakdown and retrogradation in large determines the texture and stability of starchy foods. However, other characteristics of the grain and/or the presence or addition of chemical compounds to the grain/food matrix can modify or alter these properties. The aim of this study was to evaluate the effect of the addition of an emulsifier (Tween 20 and 80) on the pasting properties of barley grain and malt using the rapid visco analyser (RVA). A decrease in peak viscosity (PV, cP), breakdown (B, cP) and final viscosity (FV, cP), while an increase in time to peak (TTP, min) and pasting temperature (PT, °C) as consequence of the addition of Tween 20 was observed. However, this trend was not the same for all the varieties analysed. Overall, these results showed that complex between sugars and lipids are present in barley flour and malt. The practical implications of this study are related with the fact that starch alone (amylose and amylopectin) might not be necessarily the only main driver of malt quality in barley.
Access options
Buy single article
Instant access to the full article PDF.
US$ 39.95
Tax calculation will be finalised during checkout.
Subscribe to journal
Immediate online access to all issues from 2019. Subscription will auto renew annually.
US$ 79
Tax calculation will be finalised during checkout.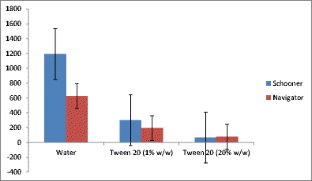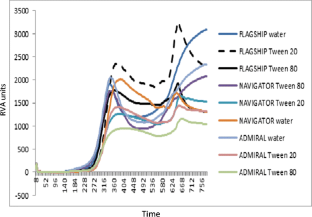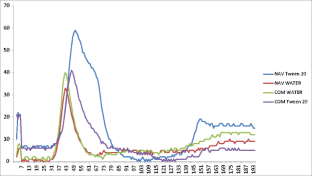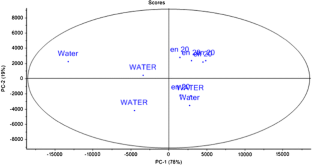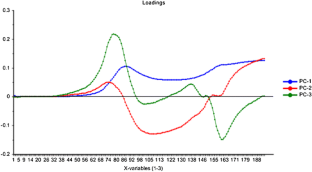 References
Addo K, Slepak M, Akoh CC (1995) Effects of sucrose fatty acid ester andblends on alveograph characteristics of wheat flour doughs. J Cereal Sci 22:123–127

Azizi MH, Rao GV (2005) Effect of surfactants in pasting characteristics of various starches. Food Hydrocoll 19:739–743

Bason ML, Ronalds JA, Wrigley CW, Hubbard LJ (1993) Testing for sprout damage in malting barley using the Rapid Visco Analyser. Cereal Chem 70:269–272

Batey IL (2007) Interpretation of RVA curves. In: Ross AS (ed) Crosbie, G.B. The RVA Handbook, AACC International, pp 19–31

BeMiller JN (2011) Pasting, paste, and gel properties of starch-hydrocolids combinations. Carbohydr Polym 86:386–423

Blazek J, Copeland L (2009) Effect of monopalmitin on pasting properties of wheat starches with varying amylose content. Carbohydr Polym 78:131–136

Booth R, Bason ML (2007) Principles of operation and experimental techniques. In: Crosbie GB, Ross AS (eds) The RVA Handbook. AACC international, pp.1-19

Choy AL, Hughes JG, Small DM (2010) The effects of microbial transglutaminase, sodium stearoyl lactylate and water on the quality of instant fried noodles. Food Chem 122:957–964

Copeland L, Blazek J, Salman H, Tang MC (2009) Form and functionality of starch. Food Hydrocoll 23:1527–1534

Cozzolino D, Allder K, Roumeliotis S, Eglinton J (2012) Feasibility study on the use of multivariate data methods and derivatives to enhance information from the Rapid Visco Analyser. J Cereal Sci 56:610–614

Cozzolino D, Roumeliotis S, Eglinton J (2014) Combining partial least squares (PLS) discriminant analysis and Rapid Visco Analyser (RVA) to classify barley samples according to year of harvest and locality. Food Anal Methods 7:887–892

Cozzolino D, Roumeliotis S, Eglinton J (2015) Relationships between fatty acids content and malt quality in barley grain, malt and wort. Cereal Chem 92:93–97

Deffenbaugh LB, Walker CE (1990) Use of the rapid visco analyzer to measure starch pasting properties. II: Effects of emulsifiers and sugar-emulsifier interactions. Starch 42:89–95

Dickinson E (2009) Hydrocolloids as emulsifiers and emulsion stabilizers. Food Hydrocoll 23:1473–1482

Fox G, Visser J, Skov T, Meijering I, Manley M (2014) Effect of different analysis conditions on Rapid Visco Analyser malt viscograms in relation to malt of varying fermentability. J Inst Brew 120:183–192

Fu Z, Chen J (2015) Shun-Jing Luo, Liu, Ch-M., Liu, W. Effect of food additives on starch retrogradation: A review. Starch-Starke 67:69–78

Gelders GG, Vanderstukken TC, Goesaert H, Delcour JA (2004) Amylose-lipid complexation: a new fractionation method. Carbohydr Polym 56(4):447–458

Ghiasi K, Hoseney RC, Varriano-Marston E (1982) Gelatinization of Wheat Starch 1, Excess Water Systems.". Cereal Chem 59:81–85

Gunaratne A, Ranaweera S, Corke H (2007) Thermal, pasting, and gelling properties of wheat and potato starches in the presence of sucrose, glucose, glycerol, and hydroxypropyl b-cyclodextrin. Carbohydr Polym 70:112–122

Jovanovich C, Añon MC (1999) Amylose–lipid complex dissociation. A study of the kinetic parameters biopolymers. 49:81–89

Juhasz R, Salgo A (2008) Pasting behaviour of amylose, amylopectin and their mixtures determined by RVA curves and first derivatives. Starch 60:70–78

Kaewprapan K, Baros F, Marie E, Inprakhon P, Durand A (2012) Macromolecular surfactants synthesized by lipase-catalyzed transesterification of dextran with vinyl decanoate. Carbohydr Polym 88:313–320

Krog N (1973) Influence of food emulsifiers on pasting temperature and viscosity of various starches. Starch 25:22–27

Meadows F (2002) Pasting process in rice flour using rapid visco analyser curves and first derivatives. Cereal Chem 79:559–562

Meng YC, Sun MH, Fang S, Chen J, Li YH (2014) Effect of sucrose fatty acid esters on pasting, rheological properties and freeze-thaw stability of rice flour. Food Hydrocoll 40:64–70

Mira I, Eliasson A-C, Persson K (2005) Effect of surfactant structure on the pasting properties of wheat flour and starch suspensions. Cereal Chem 82(1):44–52

Morris VJ (1990) Starch gelation and retrogradation. Trends Food Sci Technol 1:2–6

Naes T, Isaksson T, Fearn T, Davies T (2002) A User-friendly guide to multivariate calibration and classification. NIR Publications, Chichester

Ross AS, Walker CE, Booth RI, Orth RA, Wrigley CW (1987) The Rapid Visco Analyser: a new technique for the evaluation of sprout damage. Cereal Foods World 32:827–829

Sadtler VM, Imbert P, Dellacherie E (2002) Ostwald ripening of oil-in-water emulsions stabilized by phenoxy-substituted dextrans. J Colloid Interface Sci 254:355–361

Sharma P, Gujral HS (2014) Anti-staling effects of b-glucan and barley flour in wheat flour chapatti. Food Chem 145:102–108

Tang MC, Copeland L (2007) Analysis of complexes between lipids and wheat starch. Carbohydr Polym 67:80–85

van den Broek LAM, Boeriu CG (2013) Enzymatic synthesis of oligo- and polysaccharide fatty acid esters. Carbohydr Polym 93:65–72

Yuan Y, Gao YX, Mao LK, Zhao J (2008) Food Res Int 41:61–68
Acknowledgments
The authors thank technical staff of the Barley Quality Laboratory and Barley Breeding Program, University of Adelaide. This project (UA00126) is supported by Australia's grain growers through their investment body the Grain Research and Development Corporation (GRDC), with matching funds from the Australian government.
Compliance with Ethical Standards
ᅟ
Funding
This study was funded by project UA00126, supported by Australia's grain growers through their investment body the Grain Research and Development Corporation (GRDC), with matching funds from the Australian government.
Conflict of Interest
Daniel Cozzolino declares that he has no conflict of interest. Sophia Degner declares that she has no conflict of interest. Jason Eglinton declares that he has no conflict of interest.
Ethical Approval
This article does not contain any studies with human participants performed by any of the authors.
Informed Consent
Not applicable.
About this article
Cite this article
Cozzolino, D., Degner, S. & Eglinton, J. The Effect of the Addition of Emulsifiers on the Pasting Properties of Barley Grain and Malt. Food Anal. Methods 9, 664–669 (2016). https://doi.org/10.1007/s12161-015-0235-2
Received:

Accepted:

Published:

Issue Date:
Keywords
RVA

Barley

Malt

Principal components

Emulsifier

Pasting