Abstract
Some species of actinomycetes, fungi, and blue-green algae produce semivolatile off-flavor compounds responsible for earthy-musty odorants in water from aquaculture facilities and tend to bioaccumulate within fish flesh. Although these off-flavor compounds are harmless to human health, high levels within fish tissue lead to an undesirable taste leading to an unmarketable consumption quality. Preharvest processes such as depuration can be used to eliminate most of these off-flavor compounds and ultimately enhance salmon quality. This study examined the potential of near infrared spectroscopy (NIRS) to discriminate depurated from nondepurated salmon fillets (n = 62). Partial least squares discriminant analysis based on NIR spectra correctly classified 100 % of non-depurated and depurated salmon fillets. The successful classification was likely a consequence of statistically significant differences in the content of off-flavor compounds between both samples, which could have been detected by NIR spectra. Thus, NIRS is a fast, inexpensive, solvent-free, and non-destructive technology that can be used for the authentication of salmon with enhanced quality for marketing purposes.
Access options
Buy single article
Instant access to the full article PDF.
USD 39.95
Price excludes VAT (USA)
Tax calculation will be finalised during checkout.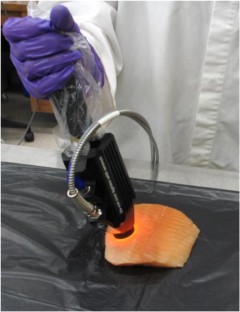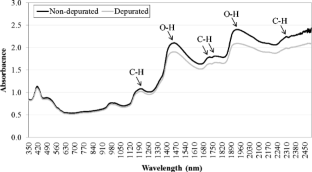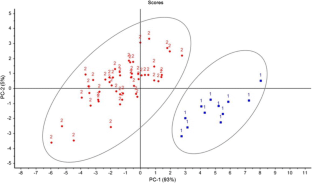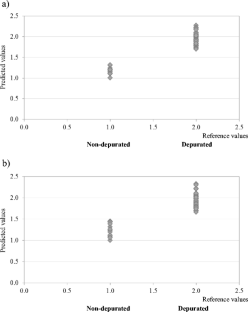 References
Auffret M, Pilote A, Proulx É, Proulx D, Vandenberg G, Villemur R (2011) Establishment of a real-time PCR method for quantification of geosmin-producing Streptomyces spp. in recirculating aquaculture systems. Water Res 45(20):6753–6762

Burr GS, Wolters WR, Schrader KK, Summerfelt ST (2012) Impact of depuration of earthy-musty off-flavors on fillet quality of Atlantic salmon, Salmo salar, cultured in a recirculating aquaculture system. Aquac Eng 50:28–36

Davidson J, Schrader K, Ruan E, Swift B, Aalhus J, Juarez M, Wolters W, Burr G, Good C, Summerfelt ST (2014) Evaluation of depuration procedures to mitigate the off-flavor compounds geosmin and 2-methylisoborneol from Atlantic salmon Salmo salar raised to market-size in recirculating aquaculture systems. Aquac Eng 61:2–34

Downey G, Hildrum KI (2004) Analysis of meats. In: Al-Amoodi L, Craig R, Workman J, Reeves III J (eds) Near-infrared spectroscopy in agriculture. American Society of Agronomy Inc., Crop Science Society of America Inc., Soil Science Society of America Inc., Madison, WI, USA, pp 599–632

Elmasry G, Barbin DF, Sun DW, Allen P (2012) Meat quality evaluation by hyperspectral imaging technique: an overview. Crit Rev Food Sci Nutr 52(8):689–711

Johnsen PB, Lloyd SW (1992) Influence of fat content on uptake and depuration of off-flavor 2-methylisoborneol by channel catfish (Ictalurus punctatus). Can J Fish Aquat Sci 49:2406–2411

Johnsen PB, Lloyd SW, Vinyard BT, Dionigi CP (1996) Effects of temperature on the uptake and depuration of 2-methylisoborneol (MIB) in channel catfish Ictalurus punctatus. J World Aquacult Soc 27:15–20

Kankaanpää HT, Holliday J, Schröder H, Goddard TJ, von Fister R, Carmichael WW (2005) Cyanobacteria and prawn farming in northern New South Wales, Australia—a case study on cyanobacteria diversity and hepatotoxin bioaccumulation. Toxicol Appl Pharmacol 203(3):243–256

Kubitza F (1999) Calidad de pescado. Panorama da Aqüacultura, Secretaría de Agricultura, Ganadería, Pesca y Alimentos (SAGPyA), Brasil. http://www.produccion-animal.com.ar/produccion_peces/piscicultura/43-Calidad_Pescado.pdf. Accessed 1 December 2014

Naes T, Isaksson T, Fearn T, Davies T (2002) A user-friendly guide to multivariate calibration and classification. NIR Publications, Chichester, UK

Osborne BG, Fearn T, Hindle PH (1993) Near infrared spectroscopy in food analysis. Longman Scientific and Technical, Harlow, Essex, UK

Prieto N, Roehe R, Lavín P, Batten G, Andrés S (2009) Application of near infrared reflectance spectroscopy to predict meat and meat products quality: a review. Meat Sci 83:175–186

Robertson RF, Jauncey K, Beveridge MCM, Lawton LA (2005) Depuration rates and the sensory threshold concentration of geosmin responsible for earthy-musty taint in rainbow trout, Onchorhynchus mykiss. Aquaculture 245(1):89–99

Ruan ED, Aalhus JL, Summerfelt ST, Davidson J, Swift B, Juárez M (2013) Determination of off-flavor compounds, 2-methylisoborneol and geosmin, in salmon fillets using stir bar sorptive extraction–thermal desorption coupled with gas chromatography–mass spectrometry. J Chromatogr A 1321:133–136

Smith JL, Boyer GL, Zimba PV (2008) A review of cyanobacterial odorous and bioactive metabolites: Impacts and management alternatives in aquaculture. Aquaculture 280(1):5–20

Tidwell JH (2012) Aquaculture production systems, 1st edn. John Wiley and Sons, Inc., Iowa, USA

Tucker CS (2000) Off-flavor problems in aquaculture. Rev Fish Sci 8(1):45–88

Williams PC, Norris KH (1987) Near-infrared technology in the agricultural and food industries. American Association of Cereal Chemists, St. Paul, MN, USA
Acknowledgments
Financial support from the NRC-CHRC Industrial Research Assistance Program is gratefully acknowledged. Dr. N. Prieto thanks the Alberta Crop Industry Development Fund (ACIDF, 2011C313F) for funding support. The Conservation Fund Freshwater Institute's research on the kinetics of off-flavor depuration in Atlantic salmon was supported by the Atlantic Salmon Federation (St. Andrews, New Brunswick, Canada), the Gordon and Betty Moore Foundation (Palo Alto, CA), and the USDA Agricultural Research Service under Agreement No.59-1930-5-510.
Compliance with Ethics Requirements
ᅟ
Conflict of Interest
All the authors declare that they have no conflict of interest.
All institutional and national guidelines for the care and use of laboratory animals were followed.
About this article
Cite this article
Prieto, N., Swift, M.L., Summerfelt, S.T. et al. A Feasibility Study on the Use of Near Infrared Spectroscopy for the Authentication of Depurated Salmon Fillets. Food Anal. Methods 8, 2660–2664 (2015). https://doi.org/10.1007/s12161-015-0168-9
Received:

Accepted:

Published:

Issue Date:

DOI: https://doi.org/10.1007/s12161-015-0168-9
Keywords