Abstract
In the present study, hybrid amine-functionalized titania/silica nanoparticles were employed as a new and novel adsorbent for solid-phase extraction of Pb2+, Cu2+, and Zn2+ ions prior to their determination using flame atomic absorption spectrometry. Under the best conditions (including adsorbent, 0.4 g; eluent, 5.0 mL nitric acid (HNO3), 3.0 mol L−1, 1.0 mL min−1; and sample, pH 5.0, 3.0 mL min−1), detection limits, adsorption capacities, and preconcentration factors were 0.12–0.24 μg L−1, 7.1–20.7 mg g−1, and 200, respectively. To predict the adsorption isotherms, different isotherm models were studied and the obtained results showed that the Langmuir model is the most suitable one to explain the experimental data. The kinetics of the reaction followed pseudo-second-order kinetic model. Thermodynamic parameters like free energy (ΔG 0) and enthalpy (ΔH 0) confirmed the spontaneous and exothermic nature of the process. The method was successfully applied for determination of the analytes in different food and water samples.
Access options
Buy single article
Instant access to the full article PDF.
USD 39.95
Price excludes VAT (USA)
Tax calculation will be finalised during checkout.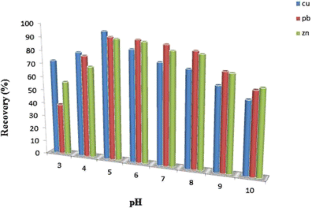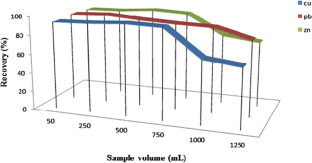 References
Asghari A, Mohammadi B (2013) Nano-alumina coated with sodium dodecyl sulfate and modified with 4-(2-pyridylazo) resorcinol for extraction of heavy metals in different matrixes. J Ind Eng Chem 20:824–829

Broos K, Warne MSJ, Heemsbergen DA, Stevens D, Barnes MB, Correll RL, McLaughlin MJ (2007) Soil factors controlling the toxicity of copper and zinc to microbial processes in Australian soils. Environ Toxicol Chem 26:583–590

Camel V (2003) Solid phase extraction of trace elements. Spectrochim Acta Part B: Atomic Spectroscopy 58:1177–1233

Choi CG, Bae BS (2007) Organic–inorganic hybrid materials as solution processible gate insulator for organic thin film transistors. Org Electron 8:743–748

Ciftci H (2010) Solid-phase extraction method for the determination of cobalt in water samples on duolite XAD761 resin using 4-(2-pyridylazo) resorcinol by FAAS. Curr Anal Chem 6:154–160

Cong HP, Yu SH (2009) Self-assembly of functionalized inorganic–organic hybrids. Curr Opin Colloid Interface Sci 14:71–80

Das D, Gupta U, Das AK (2012) Recent developments in solid phase extraction in elemental speciation of environmental samples with special reference to aqueous solutions. Trends Anal Chem 38:163–171

Elinder CG, Friberg L, Nordberg GF, Vouk V (1986) Handbook on the toxicology of metals, 2nd edn. Elsevier, Amsterdam

Ghaedi M, Ahmadi F, Soylak M (2007) Preconcentration and separation of nickel, copper and cobalt using solid phase extraction and their determination in some real samples. J Hazard Mater 147:226–231

Ghaedi M, Tavallali H, Shokrollahi A, Zahedi M, Montazerozohori M, Soylak M (2009) Flame atomic absorption spectrometric determination of zinc, nickel, iron and lead in different matrixes after solid phase extraction on sodium dodecyl sulfate (SDS)-coated alumina as their bis (2-hydroxyacetophenone)-1,3-propanediimine chelates. J Hazard Mater 166:1441–1448

Ghaedi M, Niknam K, Taheri K, Hossainian H, Soylak M (2010) Flame atomic absorption spectrometric determination of copper, zinc and manganese after solid-phase extraction using 2,6-dichlorophenyl-3,3-bis(indolyl)methane loaded on Amberlite XAD-16. Food Chem Toxic 48:891–897

Ghaedi M, Montazerozohori M, Rahimi N, Biysreh MN (2013a) Chemically modified carbon nanotubes as efficient and selective sorbent for enrichment of trace amount of some metal ions. J Ind Eng Chem 19:1477–1482

Ghaedi M, Montazerozohori M, Sajedi M, Roosta M, Jahromi MN, Asghari A (2013b) Comparison of novel sorbents for preconcentration of metal ions prior to their flame atomic absorption spectrometry determination. J Ind Eng Chem 19:1781–1787

Ghaedi M, Mokhtari P, Montazerozohori M, Asghari A, Soylak M (2014) Multiwalled carbon nanotube impregnated with bis(5-bromosalicylidene)-1,3-propandiamine for enrichment of Pb2+ ion. J Ind Eng Chem 20:638–643

Kazi TG, Jalbani N, Baig JA, Arain M, Afridi HI, Jamali MK, Shah AQ, Memon AN (2010) Evaluation of toxic elements in baby foods commercially available in Pakistan. Food Chem 119:1313–1317

Khayatian G, Hassanpoor S (2012) Simultaneous separation and extraction of Ag(I), Pb(II) and Pd(II) ions by solid phase method and determination of these ions by flame atomic absorption spectrometry. J Incl Phenom Macrocycl Chem 73:151–159

Knopfel M, Smith C, Solioz M (2005) ATP-driven copper transport across the intestinal brush border membrane. Biochem Biophys Res Commun 330:645–652

Korn MG, Andrade JB, Jesus DS, Lemos VA, Bandeira MLSF, Santos WNL, Bezerra MA, Amorim FAC, Souza AS, Ferreira SLC (2006) Separation and preconcentration procedures for the determination of lead using spectrometric techniques: a review. Talanta 69:16–24

Kumar M, Rathore DPS, Singh AK (2000) Amberlite XAD-2 functionalized with o-aminophenol: synthesis and applications as extractant for copper(II), cobalt(II), cadmium(II), nickel(II), zinc(II) and lead(II). Talanta 51:1187–1196

Mahmoodi NM, Najafi F (2012) Synthesis, amine functionalization and dye removal ability of titania/silica nano-hybrid. Micropor Mesopor Mat 156:153–160

Mahmoud ME, Kenawy IMM, Hafez MMAH, Lashein RR (2010) Removal, preconcentration and determination of trace heavy metal ions in water samples by AAS via chemically modified silica gel N-(1-carboxy-6-hydroxy) benzylidenepropylamine ion exchanger. Desalination 250:62–70

Medeiros RJ, Santos LMG, Freire AS, Santelli RE, Braga AMCB, Krauss T (2012) Determination of inorganic trace elements in edible marine fish from Rio de Janeiro State, Brazil. Food Control 23:535–541

Mertens J, Wakelin SA, Broos K, McLaughlin MJ, Smolders E (2010) Extent of copper tolerance and consequences for functional stability of the ammonia-oxidizing community in long-term copper-contaminated soils. Environ Toxicol Chem 29:27–37

Ozcelik G, Imamoglu M, Yildiz SZ, Kara D (2012) Chemically modified silica gel with N-(2-aminoethyl)-salicylaldimine for simultaneous solid phase extraction and preconcentration of Cu(II), Ni(II), Cd(II) and Zn(II) in waters. Water, Air, Soil Pollut 223:5391–5399

Ozturk N, Bulut VN, Duran C, Soylak M (2011) Coprecipitation of palladium(II) with 1,5-diphenylcarbazite–copper(II) and determination by flame atomic absorption spectrometry. Desalination 270:130–134

Rajabi M, Asemipour S, Barfi B, Jamali MR, Behzad M (2014) Ultrasound-assisted ionic liquid-based dispersive liquid–liquid microextraction and flame atomic absorption spectrometry of cobalt, copper, and zinc in environmental water samples. J Mol Liq 194:166–171

Soylak M, Yilmaz E, Ghaedi M, Montazerozohori M (2011) Solid phase extraction on multiwalled carbon nanotubes and flame atomic absorption spectrometry combination for determination of some metal ions in environmental and food samples. Toxicol Environ Chem 93:873–885

Umeda J, Moriya M, Sakamoto W, Yogo T (2009) Synthesis of proton conductive membranes based on inorganic–organic hybrid structure bound with phosphonic acid. Electrochim Acta 55:298–304

USEPA (1997) Preliminary remediation goals. In (Vol. Region 9)

USEPA (2002a) Preliminary remediation goals. In (Vol. Region 9)

USEPA (2002b) Risk-based concentration table. In. Washington DC: United States Environmental Protection Agency

Wadhwa SK, Tuzen M, Kazi TG, Soylak M, Hazer B (2014) Polyhydroxybutyrate-b-polyethyleneglycol block copolymer for the solid phase extraction of lead and copper in water, baby foods, tea and coffee samples. Food Chem 152:75–80

Wang Y, Gao S, Zang X, Li J, Ma J (2012) Graphene-based solid-phase extraction combined with flame atomic absorption spectrometry for a sensitive determination of trace amounts of lead in environmental water and vegetable samples. Anal Chim Acta 716:112–118

Welna M, Szymczycha-Madeja A, Pohl P (2013) A comparison of samples preparation strategies in the multi-elemental analysis of tea by spectrometric methods. Food Res Int 53:922–930

WHO (1990) Methyl mercury. In GEH Criteria (Ed.)

WHO (1992) Cadmium. In GEH Criteria (Ed.)

WHO (1995) Lead. In GEH Criteria (Ed.)

Yildiz O, Citak D, Tuzen M, Soylak M (2011) Determination of copper, lead and iron in water and food samples after column solid phase extraction using 1-phenylthiosemicarbazide on Dowex Optipore L-493 resin. Food ChemToxic 49:458–463

Yilmaz V, Kartal S (2012) Determination of some trace metals by FAAS after solid-phase extraction with Amberlite XAD-1180/TAN chelating resin. Anal Sci 28:515–521

Zub YL, Melnyk IV, Stolyarchuk NV, Dobryanska HI, Barczak M, Dabrowski A (2005) Comparative characteristics of texture and properties of hybrid organic-inorganic adsorbents functionalized by amine and thiol groups. Prog Solid State Chem 33:179–186
Compliance with Ethics Requirements
Conflict of Interest
Maryam Rajabi declares that she has no conflict of interest. Behruz Barfi declares that he has no conflict of interest. Alireza Asghari declares that he has no conflict of interest. Reza Aran declares that he has no conflict of interest. Farhood Najafi declares that he has no conflict of interest. This article does not contain any studies with human or animal subjects.
About this article
Cite this article
Rajabi, M., Barfi, B., Asghari, A. et al. Hybrid Amine-Functionalized Titania/Silica Nanoparticles for Solid-Phase Extraction of Lead, Copper, and Zinc from Food and Water Samples: Kinetics and Equilibrium Studies. Food Anal. Methods 8, 815–824 (2015). https://doi.org/10.1007/s12161-014-9964-x
Received:

Accepted:

Published:

Issue Date:

DOI: https://doi.org/10.1007/s12161-014-9964-x
Keywords