Abstract
A novel water-soluble 1,8-naphthalimide probe 1, bearing two acetic carboxylic groups, exhibited high selectivity and sensitivity for recognition of casein with the aggregation-induced synchronous emission, based on which, a new casein assay method was developed. This method exhibited a good linear range from 0.1 to 20.0 μg mL−1 and 0.1 to 16.0 μg mL−1, with the correlation coefficient of 0.9975 and 0.9982. The detection limits were estimated to be 4.5 and 6.7 ng mL−1. The proposed method was applied to the determination of casein in milk powder samples and the results were in good agreement with the result of Buiret method.
Access options
Buy single article
Instant access to the full article PDF.
US$ 39.95
Tax calculation will be finalised during checkout.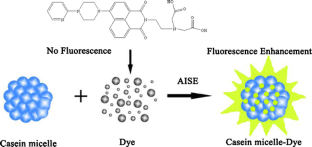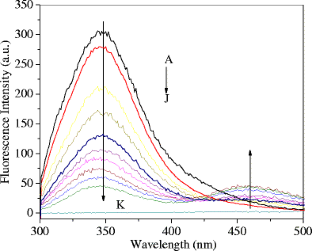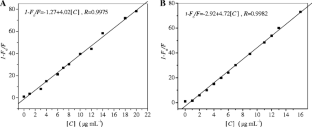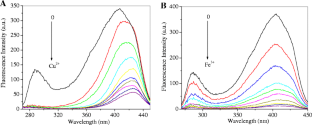 References
Rowland SJJ (1938) The determination of the nitrogen distribution in milk. Dairy Res 9:42–46

Beatriz M, Begoña B, Mercedes R, Lourdes A (2000) Determination of whey protein to total protein ratio in UHT milk using fourth derivative spectroscopy. Int Dairy J 10:191–197

Christoph C, Lukáš M, Wolfgang L (2010) Detection of the adulteration of water buffalo milk and mozzarella with cow's milk by liquid chromatography–mass spectrometry analysis of β-lactoglobulin variants. Food Chem 122:901–908

Restani P, Ballabio C, Mottini M, Tarantino C (2009) Development of ELISA methods to detect the presence of milk and egg proteins in wine after fining. Le Bulletin de l'OIV 82:387–394

European Commission Regulation (2008) Reference method for the detection of cows' milk and caseinate in cheeses from ewes' milk, goats milk and buffaloes' milk or mixtures of ewes' milk, goats milk and buffaloes' milk. Off J Eur Communities L 88:53–61

Qiu B, Jiang XF, Guo LH, Lin ZY, Cai ZW, Chen GN (2011) A highly sensitive method for detection of protein based on inhibition of Ru(bpy)32+/TPrA electrochemiluminescent system Electrochim. Acta 56:6962–6965

Ambroz KLH (2006) Improving quantification accuracy for Western blots. Image Anal Suppl 9:33–39

Ramos-Vara JA (2005) Technical aspects of immunohistochemistry. Vet Pathol 42:405–426

Alexandros A, Guillaume H, Claire A, Yves G, Tijani G (2011) Simple method for detection of extremely diluted anti beta-casein antibodies from glass bead based receptors. Talanta 84:632–637

Hellman LM, Fried MG (2007) Electrophoretic mobility shift assay (EMSA) for detecting protein–nucleic acid interactions. Fried, Nat Protoc 2:1849–1861

Hefle SL, Lambrecht DM (2004) Validated enzyme-linked immunosorbent assay for casein and its application to retail and milk-allergic complaint foods. J Food Protection 67:1933–1938

Umrethia M, Kett VL, Andrews GP, Malcolm RK, Woolfson AD (2010) Selection of an analytical method for evaluating bovine serum albumin concentrations in pharmaceutical polymeric formulations. J Pharm Biomed Anal 51:1175–1179

Liu YY, Wang Z, Zhang GX, Zhang W, Zhang DQ, Jiang XY (2012) Rapid casein quantification in milk powder with aggregation induced emission character of tetraphenylethene derivative. Analyst 137(20):4654–7. doi:10.1039/c2an35892a

Sun Y, Liang XH, Wei S, Fan J, Yang XH (2012a) Fluorescent turn-on detection and assay of water based on 4-(2-dimethylaminoethyloxy)-N-octadecyl-1,8-naphthalimide with aggregation-induced emission enhancement. Spectrochim Acta A 97:352–358

Sun Y, Wei S, Zhao YY, Fan J (2012b) Characterization of the interaction between 4-(tetrahydro-2-furanmethoxy)-N-octadecyl-1,8-naphthalimide and human serum albumin by molecular spectroscopy and its analytical application. App Spect 66:464–469

Sun Y, Wei S, Yin C, Zhao YY, Fan J (2011) Synthesis and spectroscopic characterisation of 4-butoxyethoxy-N-octadecyl-1,8-naphthalimide as a new fluorescent probe for the determination of proteins. Bioo Med Chem Lett 21:3798–3804

Sun Y, Wei S, Zhao YY, Fan J (2012c) Interactions between 4-(2-dimethylaminoethyloxy)-N-octadecyl-1,8-naphthalimide and human serum albumin: investigation by spectroscopic approach. J Lumin 132:879–886

Liu Y, Guo R (2008) pH-dependent structures and properties of casein micelles. Biophys Chem 136:67–73

Farrell HM, Malin EL, Brown EM, Qi PX (2006) Casein micelle structure: what can be learned from milk synthesis and structural biology. Current Opinion in Colloid and Interface Science 11(2–3):135–147

Horne DS (2008) Casein micelle structure and stability. In: Thompson A, Boland M, Singh H (eds) Milk proteins-from expression to food. Academic, New York, pp 133–162

Xu JP, Fang Y, Song ZG, Mei J, Jia L, Qin AJ, Sun JZ, Ji J, Tang BZ (2011) Analyst 136:2315–2321

Georgiev NI, Bojinov VB, Nikolov PS (2011) Dyes Pigments 88:350–357

Goa J (1953) Scand J Clin Lab Invest 5:218–222
Acknowledgments
This study was supported in part from the Doctoral Initiate Foundation of Xi'an University of Arts and Science (90506) and National Scientific Foundation of China (Nos. 81001622).
Electronic Supplementary Material
Below is the link to the electronic supplementary material.
About this article
Cite this article
Sun, Y., Liang, X., Zhao, Y. et al. Studies on the Aggregation-Induced Synchronous Emission of 1,8-Naphthalimide Derivative to Casein and Its Analytic Application. Food Anal. Methods 6, 1253–1257 (2013). https://doi.org/10.1007/s12161-012-9530-3
Received:

Accepted:

Published:

Issue Date:
Keywords
1, 8-Naphthalimide

Casein

Aggregation-induced synchronous emission (AISE)

Analytic application