Abstract
The aim of this study was to determine the experimental conditions for extracting volatile compounds present in the headspace of a salami sample by solid phase microextraction (Carboxen/PDMS fiber), monitoring the individual aromas of the extracts directly in order to maintain the original aroma of the product. Additionally, extracts were analyzed in gas chromatograph equipped with flame ionization detector and mass spectrometer (GC-FID and GC/MS). Volatile compounds were separated in polar phase capillary column (DB-Wax). Response Surface Methodology was used to explain the effects of both time and temperature on the salami aroma and on the instrumental measurements. Trained judges analyzed the intensity of a characteristic aroma from 12 salami extracts directly in olfactometer coupled with a gas chromatograph. The sensory results generated a multivariate statistical model (R 2 = 0.72, p < 0.05) that included linear time and temperature terms. The optimal conditions were determined to be an extraction period of 45 min at 50 °C, as the resulting extract received a mean sensory score of 7.15. This method allowed us to obtain a highly representative aroma of the product in an adequate time.
This is a preview of subscription content, log in to check access.
Access options
Buy single article
Instant access to the full article PDF.
US$ 39.95
Tax calculation will be finalised during checkout.
Subscribe to journal
Immediate online access to all issues from 2019. Subscription will auto renew annually.
US$ 99
Tax calculation will be finalised during checkout.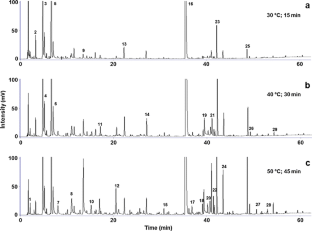 References
Andrés AI, Cava R, Ruiz J (2002) J Chromatogr A 963:83–88

Ansorena D, Gimeno O, Astiasarán I, Bello J (2001) Food Res. Int 34:67–75

AOAC (2005) Official methods of analysis. Association of Official Analytical Chemist, Washington, D.C

Brunton NP, Cronin DA, Monahan FJ, Durcan R (2000) Food Chem 68:339–345

Campagnol PCB, Santos BA, Wagner R, Terra NN, Pollonio MAR (2011) Meat Sci 87:290

Campagnol PCB, Santos BA, Wagner R, Terra NN, Pollonio MAR (2012) Meat Sci 90:36

Demeyer D, Raemaekers M, Rizzo A, Holck A, De Smedt A, TenBrink B, Hagen B, Montel C, Zanardi E, Murbrekk E, Leroy F, Vandendriessche F, Lorentse K, Venena K, Sunesen L, Stahnke LH, De Vuyst L, Talon R, Chizzolini R, Eerola S (2000) Food Res. Int 33:171–180

Dirinck P, Opstaele FV, Vandendriessche F (1997) Food Chem 59:511–521

Elmore JS, Mottram DS, Hierro E (2000) J Chromatogr A 905:233–240

Garcia-Esteban M, Ansorena D, Astiasarán I, Ruiz J (2004) Talanta 64:458–466

Garruti DS, Franco MRB, Da Silva MAAP, Janzantti NS, Alves GL (2003) J Sci Food Agric 83:1455–1462

Gianelli MP, Flores M, Toldrá F (2002) J Agric Food Chem 82:1703–1709

Kataoka H, Lord HL, Pawliszyn L (2000) J Chromatogr A 880:35–62

Marco A, Navarro JL, Flores M (2004) Food Chem 84:633–641

Moon S, Li-Chan ECY (2004) Food Chem 88:141–149

Olivares A, Navarro JL, Flores M (2011) Meat Sci 87:267

Ordóñez JA, Hierro EM, Bruna JM, De La Hoz L (1999) Crit Rev Food Sci Nutr 39:329–367

Ruiz J, Cava R, Ventanas J, Jensen MT (1998) J Agric Food Chem 46:4688–4694

Schmidt S, Berger RG (1998) Lebensm Wiss. Technol 31:559–567

Sunesen LO, Dorigoni V, Zanardi E, Stahnke LH (2001) Meat Sci 58:93–97

Tjener K, Stahnke LH, Andersen L, Martinussen I (2004) Meat Sci 67:447–452

Zhang Z, Pawliszyn J (1993) Anal Chem 65:1843–1852
Acknowledgements
The authors are grateful to the Conselho Nacional de Desenvolvimento Científico e Tecnológico (CNPq) for its financial support.
About this article
Cite this article
Wagner, R., Franco, M.R.B. Effect of the Variables Time and Temperature on Volatile Compounds Extraction of Salami by Solid Phase Microextraction. Food Anal. Methods 5, 1186–1195 (2012). https://doi.org/10.1007/s12161-012-9362-1
Received:

Accepted:

Published:

Issue Date:
Keywords
Aroma

Sensory

Volatile profile

Salami

Meat product