Abstract
The capabilities of inductively coupled plasma atomic emission spectrometry (ICP-AES) for the determination of water-soluble vitamins after high-performance liquid chromatography (HPLC) separation have been evaluated for the first time in the present work. Thanks to the multielemental capability of ICP-AES, it has been possible to develop a method for the joint determination of several water-soluble vitamins and minerals. The vitamin chromatograms were obtained by plotting the carbon corrected emission intensity against time. Meanwhile, minerals were determined through the measurement of the emission intensity at their characteristic wavelengths. The established method was applied to the determination of thiamine, riboflavin, pantothenic acid, nicotinamide, ascorbic acid, Cr, Mo, Se, Mn, Zn, Fe, Mg, Ca, and K in multivitamin complexes. Good linearities were obtained, with correlation coefficients above 0.999 for all the vitamins and metals. The detection limits using ICP-AES for vitamins were lower than 10 mg L−1 except for biotin (18 mg L−1) and ascorbic acid (35 mg L−1). Moreover, the limits of detection for metals ranged from 0.3 mg L−1 for K and 0.02 mg L−1 for Mo. Even though the ICP is less sensitive than PDA and MS for vitamin determination, the HPLC-ICP-AES allows determination of vitamins and minerals in a period of time not much higher than that required for the simple determination of the minerals, and it is less sensitive to interferences in trace quantities.
This is a preview of subscription content, log in to check access.
Access options
Buy single article
Instant access to the full article PDF.
US$ 39.95
Price includes VAT for USA
Subscribe to journal
Immediate online access to all issues from 2019. Subscription will auto renew annually.
US$ 99
This is the net price. Taxes to be calculated in checkout.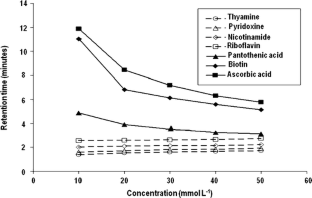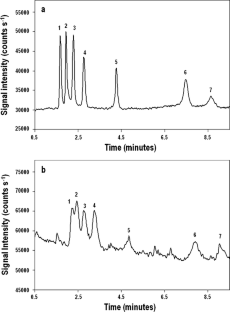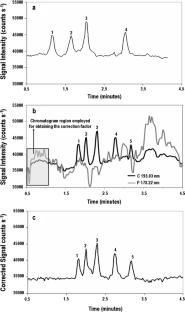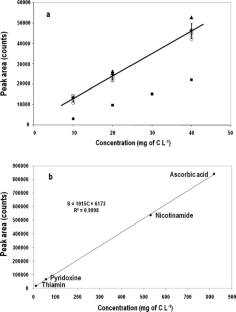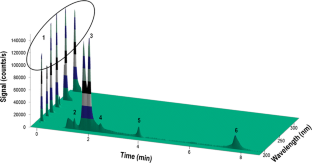 References
Almagro I, San Andres MP, Vera S (2002) Chromatographia 55:185

CEM Corporation (2006) MARS user's manual. CEM Corporation, Matthews

Chatzimichalakis PF, Samanidou VF, Verpoorte R, Papadoyanis IN (2004) J Sep Sci 27:1181

Chen Z, Chen B, Yao S (2006) Anal Chim Acta 569:169

Garden ML, Marshall J, Littlejohn D (1991) J Anal At Spectrom 6:159

Goulden PD, Anthony DHJ (1984) Anal Chem 56:2327

Grotti M, Frache R (2003) J Anal At Spectrom 18:1192

Grotti M, Paredes E, Maestre S, Todolí JL (2008) Spectrochim Acta Part B63:571

Heudi O, Kilinc T, Fontannaz P (2005) J Chromatogr A 1070:49

Höller U, Brodhag C, Knöbel A, Hofmann P, Spitzer V (2003) J Pharm Biomed Anal 31:151

Jinno K, Nakanishi S, Nagoshi T (1984) Anal Chem 56:1977

Jinno K, Nakanishi S, Fujimoto C (1985) Anal Chem 57:2229

Klejdus B, Petrlová J, Potesil D, Adam V, Mikelová R, Vacek J, Kizek R, Kubán V (2004) Anal Chim Acta 520:57

Krampitz PD, Barnes KW (1998) At Spectrosc 19:43

Li K (2002) Biomed Chromatogr 16:504

Li HB, Chen F (2001) Chromatographia 54:270

Luo X, Chen B, Ding L, Tang F, Yao S (2006) Anal Chim Acta 562:185

Markopoulou CK, Kagkadis KA, Koundourellis JE (2002) J Pharm Biomed Anal 30:1403

Marszall ML, Lebiedzinska A, Czarnowski W, Szefer P (2005) J Chromatogr A 1094:91

Monferrer-Pons L, Capella-Peiró ME, Gil-Agustí M, Esteve-Romero J (2003) J Chromatogr A 984:223

Morita M, Uehiro T, Fuwa K (1980) Anal Chem 52:349

Paredes E, Maestre SE, Prats S, Todolí JL (2006) Anal Chem 78:6774

Paredes E, Maestre SE, Prats MS, Todoli JL (2008) J Chromatogr A 1185:178

Peters HL, Jones BT (2003) Appl Spectrosc Rev 38:71

Peters HL, Levine KE, Jones BT (2001) Anal Chem 73:453

Peters HL, Hou X, Jones BT (2003) Appl Spectrosc 57:1162

Peters HL, Davis AC, Jones BT (2004) Microchem J 76:85

Spacil Z, Folbrova J, Megoulas N, Solich P, Koupparis M (2007) Anal Chim Acta 583:239

Wongyai SJ (2000) J Chromatogr A 870:217

Yoshida K, Hasegawa T, Haraguchi H (1983) Anal Chem 55:2106
Acknowledgments
The authors would like to thank to the Spanish Education Ministry (Projects PETRI95-0980-OP and CTQ2009-14063) and to the Vicerrectorado de Investigación of the University of Alicante for the financial support. E.P. also thank the Generalitat Valenciana for the FPI grant.
About this article
Cite this article
Paredes, E., Prats, M.S., Maestre, S.E. et al. Development of an Analytical Method for the Combined Determination of Water-Soluble Vitamins and Minerals Through High-Performance Liquid Chromatography–Inductively Coupled Plasma Atomic Emission Spectrometry Hyphenation. Food Anal. Methods 5, 897–908 (2012). https://doi.org/10.1007/s12161-011-9327-9
Received:

Accepted:

Published:

Issue Date:
Keywords
Water-soluble vitamins

Minerals

Dietary supplements

Inductively coupled plasma atomic spectrometry

High-performance liquid chromatography