Abstract
The effect of commonly used techniques and solvents in the antioxidant activities of Pomegranate leaves and stems were studied. The extraction techniques compared were successive, individual (cold percolation), and decoction methods in both parts using solvents viz. petroleum ether, toluene, ethyl acetate, acetone, and water. The antioxidant activity of all the different solvent extracts of leaves and stem was evaluated using antioxidant assays like 2,2-diphenyl-1-picryl hydrazyl free radical scavenging assay, superoxide anion radical scavenging assay and ferric-reducing antioxidant power. Total phenol and flavonoid content was also measured. Successive extraction was a better technique to extract the antioxidants from pomegranate than other techniques evaluated in the present study. For the aqueous extraction, decoction method was found to be the best method to extract the antioxidants and it is the most convenient, exhaustive, and time-saving extraction technique for both parts of pomegranate. The results showed that the extracting solvent significantly altered the antioxidant property estimations of pomegranate leaf and stem. High correlations between phenolic compositions and antioxidant activities of pomegranate extracts were observed. High levels of antioxidant activities were detected in pomegranate leaf as compared to stem indicating that the leaf may serve as an excellent source of natural antioxidants.
Access options
Buy single article
Instant access to the full article PDF.
US$ 39.95
Tax calculation will be finalised during checkout.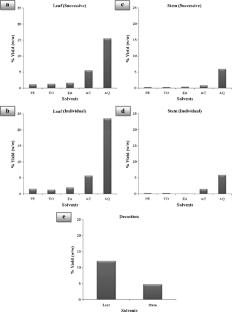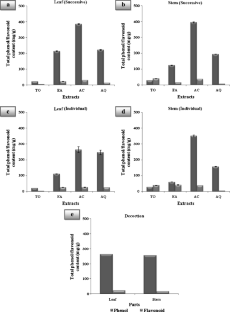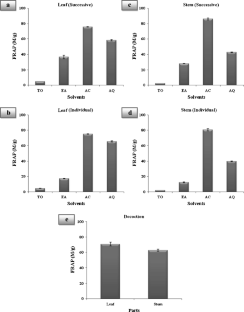 References
Adiga S, Trivedi P, Ravichandra V, Deb D, Mehta F (2010) Asian Pac J Trop Med 3:687

Alper N, Acar J (2004) Die Nahrung 48:184

Al-Reza SM, Bajpai VK, Kang SC (2009) Food Chem Toxicol 47:2374

Amirghofran Z (2010) Iranian J Immunol 7:65

Bae EA, Han MJ, Choo MK, Park SY, Kim DH (2002) Biol Pharm Bull 25:58

Baravalia Y, Kaneria M, Vaghasiya Y, Parekh J, Chanda S (2009) Turk J Biol 33:159

Barlow S, Schlatter J (2010) Toxicol Appl Pharmacol 2:180

Benzie IF, Strain JJ (1996) Anal Biochem 239:70

Benzie IFF, Chung WY, Strain JJ (1999) J Nutr Biochem 10:146

Bloknina O, Virolainen E, Fagerstedt KV (2003) Ann Bot 91:179

Bors W, Michel C, Stettmaier K (2001) Method Enzymol 335:166

Chanda S, Dave R (2009) Afr J Microbiol Res 3:981

Chanda SV, Nagani KV (2010) Nature Sci 8:260

Chang CC, Yang MH, Wen HM, Chern JC (2002) J Food Drug Anal 10:178

Chi M, Zhang C, Zheng G, Mei X (2003) China J Tradit Chinese Med Pharm 18:567

Endo EH, Cortez DAG, Ueda-Nakamura T, Nakamura CV, Filho BPD (2010) Res Microbiol 161:534

Franke SIR, Ckless K, Silveira JD, Rubensam G, Brendel M, Erdtmann B, Henriques JAP (2004) Food Chem 88:45

Gulcin I, Huyut Z, Elmastas M, Aboul HYE (2010) Arab J Chem 3:43

Halliwell B (2000) Lancet 355:1179

Jeong C, Kwak JH, Kim JH, Choi GN, Kim D, Heo HJ (2011) Food Chem 125:417

Kalaivani T, Mathew L (2010) Food Chem Toxicol 48:298

Kaneria M, Baravalia Y, Vaghasiya Y, Chanda S (2009) Indian J Pharm Sci 71:406

Kaur G, Jabbar Z, Athar M, Alam AS (2006) Food Chem Toxicol 44:984

Khan N, Afaq F, Kweon MH, Kim K, Mukhtar H (2007) Cancer Res 67:3475

Lansky EP, Newman RA (2007) J Ethnopharmacol 109:177

Lee J, Koo N, Min DB (2004) Compr Rev Food Sci Food Safety 3:21

Lee CJ, Chen LG, Liang WL, Wang CC (2010) Food Chem 118:315

Li HB, Jiang Y, Wong CC, Cheng KW, Chen F (2007) Anal Bioanal Chem 388:483

Liu J, Wang C, Wang Z, Zhang C, Lu S, Liu J (2011) Food Chem 126:261

Maillard MN, Soum MH, Boivia P, Berset C (1996) Lebensm Wissenschaft Technol 29:238

Mantena RKR, Wijburg OLC, Vindurampulle C, Bennett-Wood VR, Walduck A, Drummond GR, Davies JK, Robins-Browne RM, Strugnell RA (2008) Cell Microbiol 10:1058

Mc Cune LM, Johns T (2002) J Ethnopharmacol 82:197

Mc Donald S, Prenzler PD, Autolovich M, Robards K (2001) Food Chem 73:73

Melov S (2002) Int J Biochem Cell Biol 34:1395

Menezes SM, Cordeiro LN, Viana GS (2006) J Herbal Pharmacother 6:79

Miller HE, Rigelhof F, Marquart L, Prakash A, Kanter M (2000) Cereal Foods World 45:59

Nair R, Chanda S (2005a) Indian J Pharm Sci 67:239

Nair R, Chanda S (2005b) Pharm Biol 43:21

Nair R, Vaghaisya Y, Gogvani N, Solanki A, Baluja S, Chanda S (2008) Plant Arch 8:671

Naveen A (2010) J Pharm Res 3:1119

Oktay M, Gulcin I, Kufrevioglu OI (2003) Lebensm Wissenschaft Technol 36:263

Parekh J, Chanda S (2007) Braz J Microbiol 38:204

Perez MB, Banek SA, Croci CA (2011) Food Chem 126:121

Prakash D, Upadhayay G, Singh BN, Singh HB (2007) Food Chem 104:783

Raj RK (1975) Indian J Physiol Pharmacol 19:47

Rakholiya K, Kaneria M, Chanda S (2011) J Med Plants Res 5:63

Reddy MK, Gupta SK, Jacob MR, Khan SI, Ferreira D (2007) Planta Med 73:461

Robak J, Gryglewski RJ (1988) Biochem Pharmacol 37:837

Robards K, Prenzler PD, Tucker G, Swatsitang P, Glower W (1999) Food Chem 66:401

Sachindra NM, Airanthi MKWA, Hosokawa M, Miyashita K (2010) J Food Sci Technol 47:94

Shimada K, Fujikawa K, Yahara K, Nakamura T (1992) J Agric Food Chem 40:945

Sikorski ZE (2001) Chemical and Functional Properties of Food Components. CRC Press, New York

Singh RP, Chidamara-Murthy KN, Jayaprakasha GK (2002) J Agric Food Chem 50:81

Staszewski M, Pilosof MR, Jagus RJ (2011) Food Chem 125:186

Sturgeon SR, Ronnenberg AG (2010) Nutr Rev 68:122

Su X, Sangster MY, D'Souza DH (2010) Foodborne Pathog Dis 7:1473

Surh Y, Ferguson LR (2003) Mutat Res 9485:1

Thondre PS, Ryan L, Henry CJK (2011) Food Chem 126:72

Toklu HZ, Dumlu MU, Sehirli O, Ercan F, Gedik N, Gokmen V, Sener G (2007) J Pharm Pharmacol 59:1287

Toklu HZ, Sehirli O, Ozyurt H, Mayadagli AA, Eksioglu-Demiralp E, Cetinel S, Sahin H, Yegen BC, Ulusoylu-Dumlu M, Gokmen V, Sener G (2009) J Radiat Res 50:345

Wiart C, Hannah A, Yassim M, Hamimah H, Sulaiman M (2004) J Ethnopharmacol 95:285

Yang D, Wang Q, Ke L, Jiang J, Ying T (2007) Asia Pac J Clin Nutr 16:158

Young IS, Woodside JV (2001) J Clin Pathol 54:176
Acknowledgments
The authors thank Prof. S.P. Singh, Head, Department of Biosciences, Saurashtra University, Rajkot, Gujarat, India for providing excellent research facilities. One of the authors, Mr. Mital Kaneria, is thankful to University Grants Commission, New Delhi, India for providing financial support as Junior Research Fellow.
About this article
Cite this article
Kaneria, M.J., Bapodara, M.B. & Chanda, S.V. Effect of Extraction Techniques and Solvents on Antioxidant Activity of Pomegranate (Punica granatum L.) Leaf and Stem. Food Anal. Methods 5, 396–404 (2012). https://doi.org/10.1007/s12161-011-9257-6
Received:

Accepted:

Published:

Issue Date:
Keywords
Punica granatum

Antioxidant

Successive extraction

Individual extraction

Decoction extraction

DPPH

FRAP

Superoxide