Abstract
The first successful application of the ELISA reverse method and device (ER m&d), in the context of food safety and traceability, was developed in our laboratories to detect and quantify CP4EPSPS and Cry1AB genetically modified related proteins in soy and maize samples, respectively. To prove the versatility and the transferability of the technology, the ER was here applied to assess the presence of mycotoxins in cereals. Appropriate protocols were developed to assess the presence of deoxynivalenol and ochratoxin A and the ER was tested on contaminated wheat samples. In particular, deoxynivalenol (DON) and ochratoxin A (OTA) were detected in a range of values from 430 to 5,000 µg kg−1 and from 1.7 to 10 µg kg−1, respectively. The assays were optimized to reach a limit of quantification equal to 550 and 1.8 µg kg−1 for DON and OTA, respectively.
Access options
Buy single article
Instant access to the full article PDF.
US$ 39.95
Tax calculation will be finalised during checkout.
Subscribe to journal
Immediate online access to all issues from 2019. Subscription will auto renew annually.
US$ 79
Tax calculation will be finalised during checkout.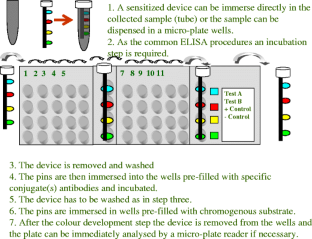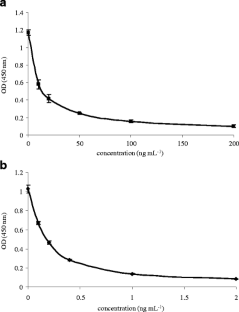 References
AOAC International (2005) Official methods of analysis of AOAC international, 18th edn. AOAC International, Gaithersburg

Council of Agricultural Science and Technology (CAST) (2003) Mycotoxins: risks in plant, animal and human systems. Task force Report No. 139. CAST, Ames, Iowa

Ermolli M, Prospero A, Balla B, Querci M, Mazzeo A, Van den Eede G (2006) Food Addit Contam 23:876–882

European Commission (2006) Commission Regulation 401/2006 Off JL 70:12–34

European Commission (2006) Commission Regulation 1881/2006 Off JL 364, 5–24

European Commission (2006) Commission Recommendation 576/2006 Off JL229, 7–9

European Commission (2007) Commission Regulation 1126/2007 Off JL 225, 14–17

Findlay JWA, Dillard RF (2007) AAPS J 9:260–267

Food and Agriculture Organization of the United Nations (2004) Worldwide regulations for mycotoxins in food and feed in 2003. FAO Food and Nutrition Paper N. 81. FAO, Rome, Italy. Available at http://www.fao.org/docrep/007/y5499e/y5499e00.HTM

Goryacheva IY, De Saeger S, Eremin SA, Van Peteghem CH (2007) Food Addit Contam 24:1169–1183

Kraska R, Baumgartner S, Josephs R (2001) Fresenius J Anal Chem 371:285–299

Krska R, Molinelli A (2007) Anal Bioanal Chem 387:145–148

Ono EYS, Ono MA, Funo FY, Medina AE, Oliveira TCRM, Kawamura O, Ueno Y, Hirooka EY (2001) Food Addit Contam 18:719–729

Park JW, Kim EK, Shon DH, Kim YB (2002) Food Addit Contam 19:1073–1080

Schneider E, Curtui V, Seidler C, Dietrich R, Usleber E, Märtlbauer E (2004) Toxicol Lett 153:113–121

Shephard GS (2008) Chem Soc Rev 37(11):2468–2477

Turner NW, Subrahmanyam S, Piletsky SA (2009) Anal Chim Acta 632:168–180

van Egmond HP, Schothorst RC, Jonker MA (2007) Anal Bioanal Chem 389:147–157

Zheng MZ, Hanneken J, Houchins D, King R, Lee P, Richard J (2005) Mycopathologia 159:265–272

Zheng MZ, Richard JL, Binder J (2006) Mycopathologia 161:261–273
Acknowledgements
The on-going collaboration between DG-Joint Research Centre (JRC) and University of Molise was enhanced by the ENEA-Innovation Relay Centre IRIDE as part of the IRC NETWORK created by the European Commission. Authors wish to acknowledge the colleagues of IRMM DG-JRC in Geel (Belgium) for valuable discussions as Community Reference Laboratory (CRL) for mycotoxins by Regulation 2006/776/EC.
About this article
Cite this article
Folloni, S., Bellocchi, G., Kagkli, DM. et al. Development of an ELISA Reverse-Based Assay to Assess the Presence of Mycotoxins in Cereal Flour. Food Anal. Methods 4, 221–227 (2011). https://doi.org/10.1007/s12161-010-9150-8
Received:

Accepted:

Published:

Issue Date:
Keywords
ELISA Reverse

Deoxynivalenol

Ochratoxin A

Food Safety