Abstract
The effect of commonly used techniques and solvents in the antioxidant activities of pink-flesh guava fruit were studied. The extraction techniques compared were homogenization, shaking, sonication, magnetic stirring, and maceration for 1, 2, and 3 days. The solvent systems used were methanol, ethanol, and acetone at three different concentrations (50%, 70%, and 100%) and with 100% distilled water. The antioxidant activity of the fruit was evaluated using Folin–Ciocalteu index, ferric-reducing antioxidant power assay, and 1,1-diphenyl-2-picrylhydrazyl free radical-scavenging capacity. Ultrasonic and homogenization were the best techniques to extract the antioxidant from guava fruit. Homogenization technique was found to be the most convenient exhaustive and time-saving extraction technique. Results showed that the extracting solvent significantly (P < 0.05) altered the antioxidant property estimations of pink-flesh guava fruit. Pure solvents were inefficient extraction media for antioxidant. Enhanced extraction yields were obtained from solvent containing higher water concentrations and 50% acetone is a recommended solvent for extracting antioxidants compounds from pink-flesh guava fruit. High correlations between phenolic compositions and antioxidant activities of pink-flesh guava extracts were observed. High levels of antioxidant activities were detected in pink-flesh guava, indicating that the fruit may serve as an excellent dietary source of natural antioxidants.
Access options
Buy single article
Instant access to the full article PDF.
USD 39.95
Price excludes VAT (USA)
Tax calculation will be finalised during checkout.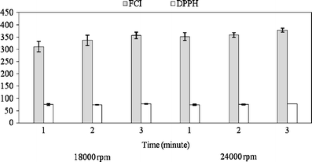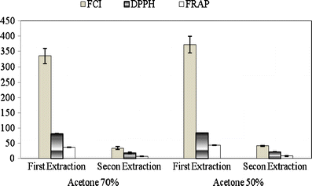 References
Ahn HS, Jeon TI, Lee JY, Hwang SG, Lim Y, Park DK (2002) Antioxidative activity of persimmon and grape seed extract: in vitro and in vivo. Nutr Res 22:1265–1273

Akowuah GA, Ismail Z, Norhayati I, Sadikun A (2005) The effects of different extraction solvents of varying polarities on polyphenols of Orthosiphon stamineus and evaluation of the free radical-scavenging activity. Food Chem 93:311–317

Alothman M, Baht R, Karim AA (2009) Antioxidant capacity and phenolic content of selected tropical fruits from Malaysia, extracted with different solvents. Food Chem 115:785–788

Arnao MA, Cano A, Acosta M (2001) The hydrophilic and lipophilic contribution to total antioxidant activity. Food Chem 73:239–244

Benzie IF, Strain JJ (1996) The ferric reducing ability of plasma (FRAP) as a measure of antioxidant power the FRAP assay. Anal Biochem 239:70–76

Chirinos R, Rogez H, Campos D, Pedreschi R, Larondelle Y (2007) Optimization of extraction conditions of antioxidant phenolic compounds from mashua (Tropaeolum tuberosum Ruız and Pavon) tubers. Sep Purification Technology 55:217–225

Contini M, Baccelloni S, Massantini R, Anelli G (2008) Extraction of natural antioxidants from hazelnut (Corylus avellana L.) shell and skin wastes by long maceration at room temperature. Food Chem 110:659–669

Hemwimon S, Pavasant P, Shotipruk A (2007) Microwave-assisted extraction of antioxidative anthraquinones from roots of Morinda citrifolia. Separ Purif Tech 54:44–50

Jacques RA, Freitas LS, Perez VF, Dariva C, Oliveira AP, Oliveira JVO, Caramao EB (2007) The use of ultrasound in the extraction of Ilex paraguariensis leaves: a comparison with maceration. Ultrason Sonochem 14:6–12

Jimenez-Escrig A, Rincon M, Pulido R, Saura-Calixto F (2001) Guava fruit (Psidium guajava L.) as a new source of antioxidant dietary fiber. J Agr Food Chem 49:5489–5493

Kahkonen MP, Hopia AI, Heikki JV, Ranha JP, Pihleja K, Kujalal TS (1999) Antioxidant level of plant extracts containing phenolic compounds. J Agric Food Chem 47:3954–3962

Koo MH, Mohamed S (2001) Flavonoid (myricetin, quercetin, kaempferol, luteolin and apigenin) content of edible tropical plants. J Agric Food Chem 49:3106–3112

Lapornik B, Prosek M, Wondra AG (2005) Comparison of extracts prepared from plant by-products using different solvents and extraction time. J Food Eng 71:214–222

Lim YY, Lim TT, Tee JJ (2007) Antioxidant properties of several tropical fruits: a comparative study. Food Chem 103:1003–1008

Luximon-Ramma A, Bahorun T, Crozier A (2003) Antioxidant actions and phenolic and vitamin C contents of common Mauritian exotic fruits. J Sci Food Agric 83:496–502

Naczk M, Wanasundara PKJPD, Shahidi F (1992) Spectrophotometric quantification method of sinapic acid in hexane-extracted and methanol-ammonia-water-treated mustard and rapeseed meals. J Agr Food Chem 40:444–448

Palma M, Taylor LT (1999) Extraction of polyphenolic compounds from grape seeds with near critical carbon dioxide. J Chromatogr 849:117–124

Slinkard K, Singleton V (1977) Total phenol analysis; automation and comparison with manual methods. AJEV 28:49–55

Spigno G, Tramelli L, De Faveri DM (2007) Effects of extraction time, temperature and solvent on concentration and antioxidant activity of grape marc phenolics. J Food Eng 81:200–208

Tachakittirungrod S, Okonogi S, Sombat Chowwanapoonpohn S (2007) Study on antioxidant activity of certain plants in Thailand: mechanism of antioxidant action of guava leaf extract. Food Chem 103:381–388

Temple NJ (2000) Antioxidants and disease: more questions than answers. Nutr Res 20:449–459

Thaipong K, Boonprakob U, Crosby K, Cisneros-Zevallos L, Byrne DH (2006) Comparison of ABTS, DPPH, FRAP, and ORAC assays for estimating antioxidant activity from guava fruit extracts. J Food Compos Anal 19:669–675

Turkmen N, Sari F, Velioglu YS (2006) Effects of extraction solvents on concentration and antioxidant activity of black and black mate tea polyphenols determined by ferrous tartrate and Folin–Ciocalteu methods. Food Chem 99:835–841

Vasco C, Ruales J, Kamal-Eldin A (2008) Total phenolic compounds and antioxidant capacities of major fruit from Ecuador. Food Chem 111:816–823

Velioglu YS, Mazza G, Gao L, Oomah BD (1998) Antioxidant level and total phenolics in selected fruits, vegetables and grain products. J Agric Food Chem 46:4113–4117

Vinatoru M (2001) An overview of the ultrasonically assisted extraction of bioactive principles from herbs. Ultrason Sonochem 8(2001):303–313

Xu SK, Chang C (2007) A comparative study on phenolic profiles and antioxidant activities of legumes as affected by extraction solvents. J Food Sci 72:S159–S166

Yu L, Haley S, Perret J, Harris M, Wilson J, Qian M (2002) Free radical scavenging properties of wheat extracts. J Agric Food Chem 50:1619–1624

Zielinski H, Kozlowska H (2000) Antioxidant activity and total phenolics in selected cereal grains and their different morphological fractions. J Agric Food Chem 48:2008–2016
Acknowledgment
This research was supported by National University of Malaysia under project nos. STGL 004-2006 and FRGS-ST-01-2006. The authors thank Ms. Zaidah Abu Bakar and Mr. Johar Puteh for technical advice during sample collection.
About this article
Cite this article
Musa, K.H., Abdullah, A., Jusoh, K. et al. Antioxidant Activity of Pink-Flesh Guava (Psidium guajava L.): Effect of Extraction Techniques and Solvents. Food Anal. Methods 4, 100–107 (2011). https://doi.org/10.1007/s12161-010-9139-3
Received:

Accepted:

Published:

Issue Date:

DOI: https://doi.org/10.1007/s12161-010-9139-3
Keywords