Abstract
The determination of 18 elements (V, Cr, Cu, Co, Se, Sr, Sn, Sb, Ba, Bi, Pb, Cd, As, Ni, Mn, Fe, Mg and Zn) in leaves, flowers and the infusion from Salvia fruticosa, a sage grown in Greece, is described. For this purpose, flame atomic absorption spectrometry has been used for the determination of Fe, Mg, Zn and inductively coupled plasma-mass spectrometry has been used for the determination of V, Cr, Cu, Co, Se, Sr, Sn, Sb, Ba, Bi, Pb, Cd, As, Ni, Mn using 45Sc 72Ge, 115In and 232Th as internal standards. The elemental content was found to be in the range of 0.01 (Bi)-30.8 (Mn) mg/Kg (leaves), 0.30 (Bi)-39.1 (Mn) mg/Kg (flowers), 0.003 (Sb)-20.4 (Mn) mg/Kg (infusion) for V, Cr, Cu, Co, Se, Sr, Sn, Sb, Ba, Bi, Pb, Cd, As, Ni, Mn and in the range of 0.07 (Zn)-3.21 (Mg) g/kg (leaves) for Fe, Mg and Zn. The majority of the samples were collected from six sites in the island Crete and transplanted and grown in a model farm. Chemometric techniques were used to investigate the original site classification according to their elemental content, and it was proved that the initial cultivation sites were characterized by only five elements (Sb, V, Zn, Cd and Cr). The application of factor analysis revealed significant correlation between certain elements, denoting their common sources. In addition, the total antioxidant activity of the herbal preparation was determined by measuring the 1,1-diphenyl-2-picrylhydrazyl (DPPH) scavenging activity. Microwave-assisted extraction (MAE) was used to extract total antioxidants and the effect of temperature, time and solvent in the extraction efficiency was investigated. The determination of the antioxidant activity was based on the % inhibition of the absorbance signal of the radical DPPH at 515 nm, after the addition of herbal's extract. The IC50 values were found to be in the range of 10.6–40.1 mg/L.
Access options
Buy single article
Instant access to the full article PDF.
USD 39.95
Price includes VAT (USA)
Tax calculation will be finalised during checkout.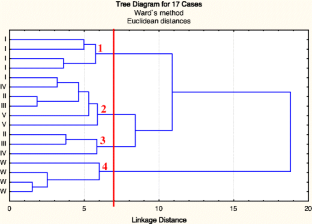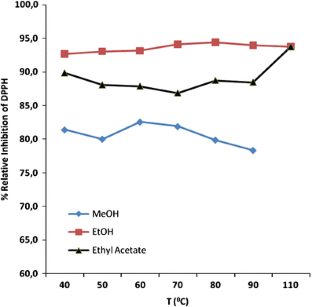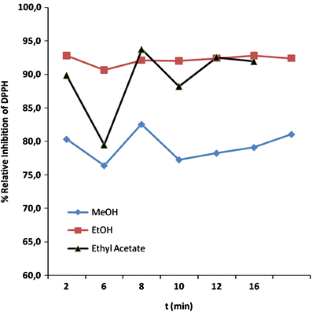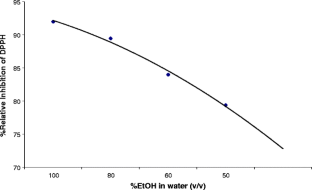 References
Adams JM (2004) In: Barnett NW (ed) Chemometrics in analytical spectroscopy. RSC analytical spectroscopy monographs, 2nd edn. The Royal Society of Chemistry, Cambridge, UK

Ajasa AMO, Bello MO, Ibrahim AO, Ogunwande IA, Olawore NO (2004) Heavy trace metals and macronutrients status in herbal plants of Nigeria. Food Chem 85:67

Anesini C, Ferraro E, Filip RG (2008) Total polyphenol content and antioxidant capacity of commercially available tea (Camellia sinensis) in Argentina. J Agr Food Chem 56:9225

Arnao BM (2000) Some methodological problems in the determination of antioxidant activity using chromogen radicals: a practical case. Trends Food Sci Technol 11:419

Atmani D, Chaher N, Berboucha M, Ayouni K, Lounis H, Boudaoud H, Debbache N, Atmani D (2009) Antioxidant capacity and phenol content of selected Algerian medicinal plants. Food Chem 112:303

Başgel S, Erdemoğlu BS (2006) Determination of mineral and trace elements in some medicinal herbs and their infusions consumed in Turkey. Sci Total Envi 359:82

Caldas DE, Machado LL (2004) Cadmium, mercury and lead in medicinal herbs in Brazil. Food Chem Toxicol 42:599

Gao M, Song ZB, Liu ZC (2006) Dynamic microwave-assisted extraction of flavonoids from Saussurea medusa Maxim cultured cells. Biochem Eng J 32:79

Grzegorczyk I, Matkowski A, Wysokińska H (2007) Antioxidant activity of extracts from in vitro cultures of Salvia officinalis L. Food Chem 104:536

Guo Z, Jin Q, Fan G, Duan Y, Qin C, Wen M (2001) Microwave-assisted extraction of effective constituents from a Chinese herbal medicine Radix puerariae. Anal Chim Acta 436:41

Hemwimon S, Pavasant P, Shotipruk A (2007) Microwave-assisted extraction of antioxidative anthraquinones from roots of Morinda citrifolia. Sep Purif Technol 54:44

Issa AY, Volate SR, Wargovich MJ (2006) The role of phytochemicals in inhibition of cancer and inflammation: new directions and perspectives. J Food Compos Anal 19:405

Karadag A, Ozcelik B, Saner S (2009) Review of methods to determine antioxidant capacities. Food Anal Methods 2:41

Kumar A, Krishnaswarny K (1997) Selenium content of common Indian cereals, pulses and spices. J Agric Food Chem 45:2565

Labrinea EP, Georgiou CA (2004) Stopped-flow method for assessment of pH and timing effect on the ABTS total antioxidant capacity assay. Anal Chim Acta 526:63

Liazid A, Palma M, Brigui J, Barroso CG (2007) Investigation on phenolic compounds stability during microwave-assisted extraction. J Chromatogr A 1140:29

Lu Y, Foo Y (2000) Flavonoid and phenolic glycosides from Salvia officinalis. Phytochemistry 55:263

Maisuthisakul P, Pasuk S, Ritthiruangdej P (2008) Relationship between antioxidant properties and chemical composition of some Thai plants. J Food Compos Anal 21:229

Massart LD, Vandeginste MGB, Deming NS, Michotte Y, Kaufman L (1988) Chemometrics: a textbook. Elsevier, Amsterdam, The Netherlands

Nardi EP, Evangelista FS, Tormen L, SaintPierre TD, Curtius AJ, de Souza SS, Barbosa F Jr (2009) The use of inductively coupled plasma mass spectrometry (ICP-MS) for the determination of toxic and essential elements in different types of food samples. Food Chem 112:727

Narin I, Colak H, Turkoglu O, Soylak M, Dogan M (2004) Heavy metals in black tea samples produced in Turkey. Bull Environ Contam Toxicol 72:844

Nookabkaew S, Rangkadilok N, Satayavivad J (2006) Determination of trace elements in herbal tea products and their infusions consumed in Thailand. J Agr Food Chem 54:6939

Özcan MM, Ünver A, Uçar T, Arslan D (2008) Mineral content of some herbs and herbal teas by infusion and decoction. Food Chem 106:1120

Pan X, Niu G, Liu H (2002) Comparison of microwave-assisted extraction and conventional extraction techniques for the extraction of tanshinones from Salvia miltiorrhiza bunge. Biochem Eng J 12:71

Pan X, Niu G, Liu H (2003) Microwave-assisted extraction of tea polyphenols and tea caffeine from green tea leaves. Chem Eng Process 42:129

Perry LSN, Bollen C, Perry KE, Ballard C (2003) Salvia for dementia therapy: review of pharmacological activity and pilot tolerability clinical trial. Pharmacol Biochem Behav 75:651

Proestos C, Boziaris SI, Nychas EG-J, Komaitis M (2006) Analysis of flavonoids and phenolic acids in Greek aromatic plants: Investigation of their antioxidant capacity and antimicrobial activity. Food Chem 95:664

Reilly C (1996) Selenium in Food and Health. Blackie Academic & Professional, London, UK

Sartoros C, Salin ED (1999) Automatic selection of internal standards in inductively coupled plasma-mass spectrometry. Spectrochim Acta B 54:1557

Scherer R, Godoy HT (2009) Antioxidant activity index (AAI) by the 2, 2-diphenyl-1-picrylhydrazyl method. Food Chem 112:654

Seenivasan S, Manikandan N, Muraleedharan NN, Selvasundaram R (2008) Heavy metal content of black teas from south India. Food Control 19:746

Suhaj M (2006) Spice antioxidants isolation and their antiradical activity: a review. J Food Compos Anal 19:531

Tepe B, Sokmen M, Akpulat AH, Sokmen A (2006) Screening of the antioxidant potentials of six Salvia species from Turkey. Food Chem 95:200

Thaipong K, Boonprakob U, Crosby K, Cisneros-Zevallos L, Byrne DH (2006) Comparison of ABTS, DPPH, FRAP and ORAC assays for estimating antioxidant activity from guava fruit extracts. J Food Compos Anal 19:669
Acknowledgments
The authors thank Dr. C.D. Economakis from Subtropical Plants and Olive Tree's Institute in Chania, Crete, Greece, for providing the S. fruticosa samples, P.V. Nisianakis (MSc) from the Military Center of Biological Researches in Penteli, Athens for providing the ICP-MS instrumentation and the Special Research Account of the University of Athens for financial support.
About this article
Cite this article
Pasias, I.N., Farmaki, E.G., Τhomaidis, N.S. et al. Elemental Content and Total Antioxidant Activity of Salvia fruticosa . Food Anal. Methods 3, 195–204 (2010). https://doi.org/10.1007/s12161-009-9122-z
Received:

Accepted:

Published:

Issue Date:
Keywords
Sage (Salvia fruticosa)

Herbs

Metal Contents

Elemental Correlations

ICP-MS

FAAS

Microwave-Assisted Extraction

DPPH Radical-Scavenging Method

Antioxidant Activity Index