Abstract
Pistachio is one of the most important non-oil export items for Iran and also has the ability to adapt itself to adverse conditions including salinity, moisture stress, soil, and low water irrigation. It is one of the economical crops of desertic and dry areas and is recommended for such places. In this research, the effect of different packaging materials including five layers of compound film, modified polypropylene and metallized plastic, and packaging atmosphere on the quality of roasted pistachio nut were investigated. Atmospheric conditions were N2/CO2, vacuum, and ambient air at temperatures of 20 °C and 40 °C. Samples were tested in defined time intervals and then data were statistically analyzed. Results showed that packaging pistachio nut in metallized film and five-layer films with gases N2/CO2 and vacuum conditions kept the quality of pistachio better and lengthened shelf-life. A temperature of 40 °C compared to 20 C was a favorable condition for pistachio quality.
Access options
Buy single article
Instant access to the full article PDF.
USD 39.95
Price excludes VAT (USA)
Tax calculation will be finalised during checkout.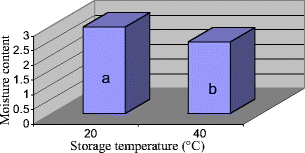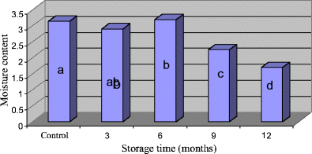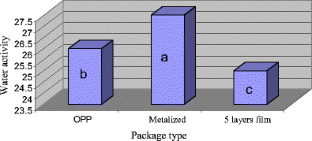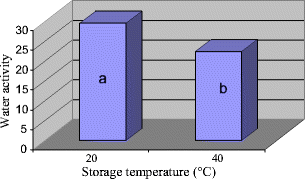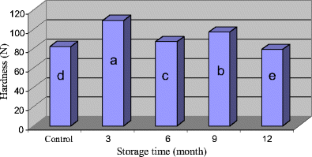 References
Cardello AV (1998) In: Taub IA, Singh RP (eds) Perception of food quality in food storage stability. CRC, Boca Ration, FL, pp 1–34

Dorner JW, Cole RJ (1997) A method for determining kernel moisture content and aflatoxin concentrations in peanuts. J Am Oil Chem Soc 74(3):285–288 doi:10.1007/s11746-997-0137-6

Elltalout A, Deberer JM (1997) Effect of water activity, modified atmosphere packaging and storage temperature on spore germination of mould isolated from prunes. Int J Food Micr 35:41–48

Farg RS, Badei AZMA, Hewedei FM, EL-Baroty GSA (1999) Antioxidation activity of some spice essential oils on linoleic acid oxidation in aqueous media. J Am Oil Chem Soc 66:800–804 doi:10.1007/BF02653671

Goode JE, Soutar AM (1995) Rancidity in packaging nuts. J Plast Film Sheeting 11:235–247

Handorn H, Kerne T, Kleinert J, Messerli M, Zuercher K (1995) Behavior of oil seed under various conditions. Zucker-und-suesswaren wirtschaft 33(101):317–318

Jewers K, Bradburn N, Sharkey AJ (1988) Aflatoxin distribution studies on a four tonne batch of maize. Int Biodeterior 24(4–5):393–398 doi:10.1016/0265-3036(88)90026-7

Kader AA, Heintz CM, Labavitch JM, Raee HL (1982) Studies related to the description and evaluation of pistachio nuts. Qual J Am Soc Hortic Sci 107(5):812–816

Kilcast D, Subramaniam P (2000) In: Kilcast D, Subramaniam P (eds) Introduction in the stability and shelf-life of food. CRC, Boca Raton, FL, pp 1–19

Kuckoner E, Yurt B (2001) Chemical composition and fatty acids contents of pistachio-nuts produced in Turkey. Gap II Agricultural Congress Book, Sanliurfa

Labuza RP, Schmid MK (1985) Accelerated shelf-life testing of food. Food Technol 39(9):57

Maskan M, Karatas S (1997) Sorption characteristics of whole pistachio nuts. Dry Technol 15:119–139

Northolt MD, Bullerman LB (1982) Prevention of mould growth and toxin production through control of environmental conditions. J Food Prot 45:516–526

NSI (1995) Methods of pistachio tests. National Standard of Iran. No. 4290

Piringer OG, Brandsch J (2000) Characteristics plastic materials. In: Piringer OG, Baner AL (eds) Plastic packaging material for food. Barrier, function, mass transport, quality, quality assurance and legislation. Wiley, Weinheim, pp 9–45

Raei M, Mortazavi A (2004) Effect of modified atmospheric conditions for storage of salted pistachio. Unpublished report, Khorasan Research Center for Technology Development, Mashhad, Iran

Robertson GL (1993) Food packaging principles and practice. Marcel Dekker, USA

Rudolph CJ, Odell GV (1992) Chemical changes in pecan oils during pistachio oxidation. J Food Qual 15:279–293 doi:10.1111/j.1745-4557.1992.tb00992.x

Yaman A (2004) Determination of shelf-life of pistachio nut kernel at different packaging material and warehouse condition. PhD thesis, Pistachio Institute of Gaziantep, Turkey

Yanniotis S, Zarmboutis I (1996) Water sorption isotherms of pistachio nuts. Food Sci Technol-Lebensm-Wiss Technol 29(4):372–375 doi:10.1006/fstl.1996.0057
About this article
Cite this article
Raei, M., Mortazavi, A. & Pourazarang, H. Effects of Packaging Materials, Modified Atmospheric Conditions, and Storage Temperature on Physicochemical Properties of Roasted Pistachio Nut. Food Anal. Methods 3, 129–132 (2010). https://doi.org/10.1007/s12161-009-9076-1
Received:

Accepted:

Published:

Issue Date:

DOI: https://doi.org/10.1007/s12161-009-9076-1
Keywords
Pistachio

Packaging

Metallized Film

Shelf-Life

Qualitative Properties