Abstract
Background
Health-risk information is increasingly being conveyed through accounts of personal experiences or narrative information. However, whether self-affirmation can enhance the ability of such messages to promote behavior change has yet to be established.
Purpose
This study aims to test whether self-affirmation (a) promotes behavior change following exposure to narrative information about the risks of excessive alcohol consumption and (b) boosts message acceptance by increasing narrative engagement.
Methods
In an experimental design, female drinkers (N = 142) reported their baseline alcohol consumption and were randomly allocated to condition (Self-Affirmation, Control). All participants next watched an extract of a genuine narrative piece in which the central character discussed her liver disease and its link with her previous alcohol consumption. Then, participants completed measures assessing engagement with the narrative and message acceptance. The primary outcome was alcohol consumption, assessed at 7-day follow-up.
Results
Self-affirmed participants reported consuming significantly less alcohol at follow-up compared to baseline (mean 7-day decrease = 5.43 units); there was no change in alcohol consumption for the control group. Immediately post-manipulation, self-affirmed participants (vs. control) showed more message acceptance and reported greater engagement with the information. The impact of self-affirmation on message acceptance was mediated by narrative engagement.
Conclusions
Self-affirmation can promote behavior change following exposure to health information, even when presented in narrative form.
Clinical Trial Registration
The trial is registered at ClinicalTrials.gov, number NCT02681900, (https://clinicaltrials.gov/show/NCT02681900).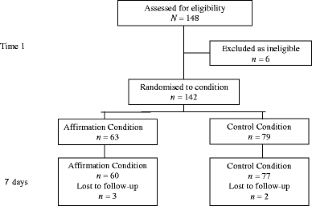 References
1.

Kontis V, Mathers C, Rehm J, et al. Contribution of six risk factors to achieving the 25×25 non-communicable disease mortality reduction target: a modelling study. Lancet. 2014; 384: 427–437.

2.

Keller PA. Converting the unconverted: the effect of inclination and opportunity to discount health-related fear appeals. J Appl Psychol. 1999; 84: 403–415.

3.

Rothman AJ, Salovey P. The reciprocal relation between principles and practice: social psychology and health behavior. In: Kruglanski AW, Higgins ET, eds. Social Psychology: Handbook of Basic Principles. 2nd ed. New York: Guilford Press; 2007: 826–849.

4.

Epton T, Harris PR, Kane R, van Koningsbruggen GM, Sheeran P. The impact of self-affirmation on health-behavior change: a meta-analysis. Heal Psychol. 2015; 34: 187–196.

5.

Johnson BT, Scott-Sheldon LAJ, Carey MP. Meta-synthesis of health behavior change meta-analyses. Am J Public Health. 2010; 100: 2193–2198.

6.

Ziebland S, Wyke S. Health and illness in a connected world: how might sharing experiences on the internet affect people's health? Milbank Q. 2012; 90: 219–249.

7.

de Wit JBF, Das E, Vet R. What works best: objective statistics or a personal testimonial? An assessment of the persuasive effects of different types of message evidence on risk perception. Heal Psychol. 2008; 27: 110–115.

8.

Green MC, Brock TC. The role of transportation in the persuasiveness of public narratives. J Pers Soc Psychol. 2000; 79: 701–721.

9.

McQueen A, Kreuter MW, Kalesan B, Alcaraz K. Understanding narrative effects: the impact of breast cancer survivor stories on message processing, attitudes, and beliefs among African American women. Heal Psychol. 2011; 30: 674–682.

10.

Sherman DK, Cohen GL. The psychology of self-defense: self-affirmation theory. In: Zanna M, ed. Advances in Experimental Social Psychology. Vol 26; 2006: 183–242.

11.

Correll J, Spencer SJ, Zanna MP. An affirmed self and an open mind: self-affirmation and sensitivity to argument strength. J Exp Soc Psychol. 2004; 40: 350–356.

12.

Kim HK, Niederdeppe J. Effects of self-affirmation, narratives, and informational messages in reducing unrealistic optimism about alcohol-related problems among college students. Hum Commun Res. 2016; 42: 246–268.

13.

Sherman DK, Nelson LD, Steele CM. Do messages about health risks threaten the self? Increasing the acceptance of threatening health messages via self-affirmation. Personal Soc Psychol Bull. 2000; 26: 1046–1058.

14.

Rehm J, Mathers C, Popova S, Thavorncharoensap M, Teerawattananon Y, Patra J. Global burden of disease and injury and economic cost attributable to alcohol use and alcohol-use disorders. Lancet. 2009; 373: 2223–2233.

15.

Lim SS, Vos T, Flaxman AD, et al. A comparative risk assessment of burden of disease and injury attributable to 67 risk factors and risk factor clusters in 21 regions, 1990–2010: systematic analysis for the Global Burden of Disease Study 2010. Lancet. 2012; 380: 2224–2260.

16.

Office of National Statistics. Drinking Habits Amongst Adults, 2012. Office of National Statistics. Newport, UK; 2013.

17.

Smith S, White J, Nelson C, Davies M, Lavers J, Sheron N. Severe alcohol-induced liver disease and the alcohol dependence syndrome. Alcohol Alcohol. 2006; 41: 274–277.

18.

Armitage CJ, Harris PR, Arden MA. Evidence that self-affirmation reduces alcohol consumption: randomized exploratory trial with a new, brief means of self-affirming. Heal Psychol. 2011; 30: 633–641.

19.

Faragher C, Hindley H. Cherry Healey: Old Before My Time. UK: BBC; 2013.

20.

Napper LE, Harris PR, Epton T. Developing and testing a self-affirmation manipulation. Self Identity. 2009; 8: 45–62.

21.

Allen NE, Beral V, Casabonne D, et al. Moderate alcohol intake and cancer incidence in women. J Natl Cancer Inst. 2009; 101: 296–305.

22.

Del Boca FK, Noll JA. Truth or consequences: the validity of self-report data in health services research on addictions. Addiction. 2000; 95: S347–360.
Acknowledgements
This work was supported by the Economic and Social Research Council (grant number ES/J500173/1). The funders had no role in study design, data collection and analysis, decision to publish, or preparation of the manuscript.
Ethics declarations
Authors' Statement of Conflict of Interest and Adherence to Ethical Standards
K.J.F., P.R.H., and D.C.J. declare that they have no conflicts of interest.
This study involved human participants; all research procedures, including the informed consent process, were conducted in accordance with the ethical standards of the responsible committee (institutional and national) and the 1964 Helsinki declaration and its later amendments or comparable ethical standards.
Electronic supplementary material
About this article
Cite this article
Fox, K.J., Harris, P.R. & Jessop, D.C. Experimentally Manipulated Self-Affirmation Promotes Reduced Alcohol Consumption in Response to Narrative Information. ann. behav. med. 51, 931–935 (2017). https://doi.org/10.1007/s12160-017-9912-2
Keywords
Self-affirmation

Narrative information

Defensive processing

Alcohol

Health-risk information