Abstract
Background
Psychosocial stress contributes to heart disease in part by adversely affecting maintenance of health behaviors, while exercise can reduce stress. Assessing the bi-directional relationship between stress and exercise has been limited by lack of real-time data and theoretical and statistical models. This lack may hinder efforts to promote exercise maintenance.
Purpose
We test the bi-directional relationship between stress and exercise using real-time data for the average person and the variability—individual differences—in this relationship.
Methods
An observational study was conducted within a single cohort randomized controlled experiment. Healthy young adults, (n = 79) who reported only intermittent exercise, completed 12 months of stress monitoring by ecological momentary assessment (at the beginning of, end of, and during the day) and continuous activity monitoring by Fitbit. A random coefficients linear mixed model was used to predict end-of-day stress from the occurrence/non-occurrence of exercise that day; a logistic mixed model was used to predict the occurrence/non-occurrence of exercise from ratings of anticipated stress. Separate regression analyses were also performed for each participant. Sensitivity analysis tested all models, restricted to the first 180 days of observation (prior to randomization).
Results
We found a significant average inverse (i.e., negative) effect of exercise on stress and of stress on exercise. There was significant between-person variability. Of N = 69, exercise was associated with a stress reduction for 15, a stress increase for 2, and no change for the remainder. We also found that an increase in anticipated stress reported the previous night or that morning was associated with a significant 20–22% decrease (OR = 0.78–0.80) in the odds of exercising that day. Of N = 69, this increase in stress reduced the likelihood of exercise for 17, increased the odds for 1, and had no effect for the remainder. We were unable to identify psychosocial factors that moderate the individual differences in these effects.
Conclusions
The relationship of stress to exercise can be uni- or bi-directional and varies from person to person. A precision medicine approach may improve exercise uptake.
This is a preview of subscription content, log in to check access.
Access options
Buy single article
Instant access to the full article PDF.
US$ 39.95
Price includes VAT for USA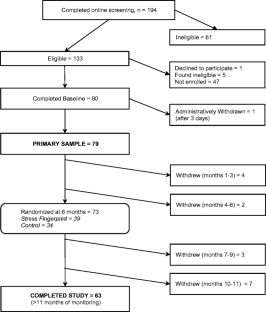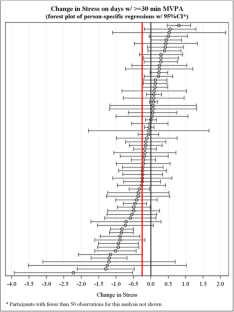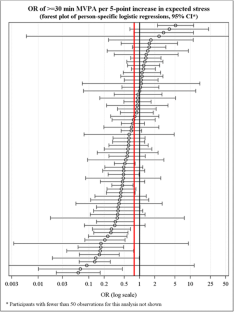 References
1.

Dimsdale JE. Psychological stress and cardiovascular disease. J Am Coll Cardiol. 2008;51(13):1237–1446.

2.

Ng DM, Jeffrey RW. Relationships between perceived stress and health behaviors in a sample of working adults. Health Psychol. 2003;22(6):638–642.

3.

Stetson BA, Rahn JM, Dubbert PM, Wilner BI, Mercury MG. Prospective evaluation of the effects of stress on exercise adherence in community residing women. Health Psychol. 1997;16(6):515–520.

4.

Mokdad AH, Marks JS, Stroup DF, Gerberding JL. Actual causes of death in the United States, 2000. JAMA. 2004;291(10):1238–1245.

5.

Lee IM, Hsieh CC, Paffenbarger RS, Jr. Exercise intensity and longevity in men. The Harvard alumni health study. JAMA. 1995;273(15):1179–1184.

6.

Leon AS, Connett J, Jacobs DR, Jr., Rauramaa R. Leisure-time physical activity levels and risk of coronary heart disease and death: The Multiple Risk Factor Intervention Trial. JAMA. 1987;258(17):2388–2395.

7.

Paffenbarger RS, Jr., Hyde RT, Wing AL, Steinmetz CH. A natural history of athleticism and cardiovascular health. JAMA. 1984;252(4):491–495.

8.

Paffenbarger RS, Jr., Hyde RT, Wing AL, Lee IM, Jung DL, Kampert JB. The association of changes in physical-activity level and other lifestyle characteristics with mortality among men. N Engl J Med. 1993;328(8):538–545.

9.

Warburton DE, Nicol CW, Bredin SS. Health benefits of physical activity: The evidence. CMAJ. 2006;174(6):801–809.

10.

Salmon P. Effects of physical exercise on anxiety, depression, and sensitivity to stress: A unifying theory. Clin Psychol Rev. 2001;21(1):33–61.

11.

Scully D, Kremer J, Meade MM, Graham R, Dudgeon K. Physical exercise and psychological well-being: A critical review. Br J Sports Med. 1998;32(2):111–120.

12.

Kasapis C, Thompson P. The effects of physical activity on serum C-reactive protein and inflammatory markers. J Am Coll Cardiol. 2005;45(10):1563–1569.

13.

Hamer M, Taylor A, Steptoe A. The effect of acute aerobic exercise on stress related blood pressure responses: A systematic review and meta-analysis. Biol Psychol. 2006a;71(2):183–190.

14.

Crews DJ, Landers DM. A meta-analytic review of aerobic fitness and reactivity to psychosocial stressors. Med Sci Sports Exerc. 1987;19(5 Suppl):S114–120.

15.

Hamer M, Taylor A, Steptoe A. The effect of acute aerobic exercise on stress related blood pressure responses: A systematic review and meta-analysis. Biol Psychol. 2006b;71(2):183–190.

16.

Edenfield T, Blumenthal JA. Exercise and stress reduction. In: Contrada RJ, Baum A, eds. The handbook of stress science: Biology, psychology and health. New York: Springer Publishing Company, LLC; 2011:301–319.

17.

Smith TW. Concepts and methods in the study of anger, hostility, and health. In: Siegman AW, Smith TW, eds. Anger, hostility, and the heart. Hillsdale: Lawrence Erlbaum Associates, Inc 1994:23–42.

18.

Gerin W, Davidson KW, Christenfeld NJ, Goyal T, Schwartz JE. The role of angry rumination and distraction in blood pressure recovery from emotional arousal. Psychosom Med. 2006;68(1):64–72.

19.

Marcus BH, Forsyth LH, Stone EJ, Dubbert PM, McKenzie TL, Dunn AL, Blair SN. Physical activity behavior change: Issues in adoption and maintenance. Health Psychol. 2000;19(1 Suppl):32–41.

20.

Linke SE, Gallo LC, Norman GJ. Attrition and adherence rates of sustained vs. intermittent exercise interventions. Ann Behav Med. 2011;42(2):197–209.

21.

Dishman R. Introduction: consensus, problems, and prospects. In: Dishman R, ed. Advances in exercise adherence. Champaign: Human Kinetics,1994:1–27.

22.

Van Dulmen S, Sluijs E, Van Dijk L, De Ridder D, Heerdink R, Bensing J. Patient adherence to medical treatment: A review of reviews. BMC Health Serv Res. 2007;7:55

23.

Chao D, Foy CG, Farmer D. Exercise adherence among older adults: Challenges and strategies. Control Clin Trials. 2000(5 Suppl);21:212–217.

24.

McAuley E, Mullen SP, Szabo AN, et al. Self-regulatory processes and exercise adherence in older adults: Executive function and self-efficacy effects. Am J Prev Med. 2011(3);41:284–290.

25.

Oman RF, King AC. The effect of life events and exercise program format on the adoption and maintenance of exercise behavior. Health Psychol. 2000;19(6):605–612.

26.

Stults-Kolehmainen MA. The interplay between stress and physical activity in the prevention and treatment of cardiovascular disease. Front Physiol 2013;4:1–4.

27.

Stults-Kolehmainen MA, Sinha R. The effects of stress on physical activity and exercise. Sports Med 2015;44(1):81–121.

28.

Roemmich JN,Gurgol CM, Epstein LH. Influence of an interpersonal laboratory stressor on youths' choice to be physically active. Obes.Res 2003;11(9):1080–1087.

29.

Schwartz JE, Stone AA. Strategies for analyzing ecological momentary assessment data. Health Psychol. 1998;17(1):6–16.

30.

Brondolo E, Rosen RC, Kostis JB, Schwartz JE. Relationship of physical symptoms and mood to perceived and actual blood pressure in hypertensive men: A repeated-measures design. Psychosom Med. 1999;61(3):311–318.

31.

Kamarck TW, Schwartz JE, Janicki DL, Shiffman S, Raynor DA. Correspondence between laboratory and ambulatory measures of cardiovascular reactivity: A multilevel modeling approach. Psychophysiology. 2003;40(5):675–683.

32.

Burg MM, King R, Stoney CM, Troxel W. Insights from the OppNet initiatives on psychosocial stress and sleep: Themes for multidisciplinary team science research. Sleep Health: J Nat Sleep Foundation. (in press).

33.

Diaz K, Krupka DJ, Chang MJ, et al. Fitbit®: An accurate and reliable device for wireless physical activity tracking. Int J Cardiol. 2015;185:138–140.

34.

Cohen S, Kamarck T, Mermelstein R. A global measure of perceived stress. J Health Soc Behav. 1983;24(4):385–396.

35.

Scheier MF, Carver CS, Bridges MW. Distinguishing optimism from neuroticism (and trait anxiety, self-mastery, and self-esteem): A re-evaluation of the Life Orientation Test. J Pers Soc Psychol. 1994;67(6):1063–1078.

36.

Berkman LF, Blumenthal J, Burg M, et al. Enhancing Recovery in Coronary Heart Disease Patients Investigators (ENRICHD). JAMA. 2003;289(23):3106–3116.

37.

Pearlin LI, Lieberman MA, Menaghan EG, Mullan JT. The stress process. J Health Soc Behav. 1981;22(4):337–356.

38.

Taylor S, Zvolensky MJ, Cox BJ, et al. Robust dimensions of anxiety sensitivity: Development and initial validation of the Anxiety Sensitivity Index-3. Psychol Assess. 2007;19(2):176–188.

39.

DS Ward, KR Evenson, A Vaughn, AB Rodgers, RP Troiano. Accelerometer use in physical activity: Best practices and research recommendations. Med Sci Sports Exerc. 2005; 37(suppl 11):S582–S588.

40.

Collins FS. A new initiative on precision medicine. N Engl J Med. 2015;372(9):793–795.

41.

Glaser KM, Emery CF, Frid DJ, Banyasz RE. Psychological predictors of adherence and outcomes among patients in cardiac rehabilitation. J Cardiopulm Rehab. 2002;22(1):40–46.

42.

Scheier MF, Matthew KA, Owens JF, Magovern GJ, Lefebvre RC, Abbott RA, Carver CS. Dispositional optimism and recovery from coronary artery bypass surgery: The beneficial effects on physical and psychological well-being. J Pers Soc Psychol. 1989;57(6):1024–1040.

43.

Uchino BN. Social support and health: A review of physiological processes potentially underlying links to disease outcomes. J Behav Med. 2006;29(4):377–87.

44.

Steptoe A, Wardle J, Pollard TM, Canaan L, Davies GJ. Stress, social support and health-related behavior: A study of smoking, alcohol consumption and physical exercise. J Psychosom Res. 1996;41(2):171–180.

45.

Oka RK, King AC, Young DR. Sources of social support as predictors of exercise adherence in women and men age 50 to 65 years. Womens Health. 1995;1(2):161–175.

46.

Resnick B, Orwig D, Magaziner J, Wynne C. The effect of social support on exercise behavior in older adults. Clin Nursing Res. 2002;11(1):52–70.

47.

Spicer J, Shimbo D, Johnston N, Harlapur M, Purdie-Vaughns V, Cook J, Fu J, Burg MM, Wager TD. Prevention of stress-provoked endothelial injury by values affirmation: A proof of principle study. Ann Behav Med, 2016;50(3):471–9.

48.

Vitolins MZ, Rand CS, Rapp SR, Rbisl PM, Sevick MA. Measuring adherence to behavioral and medical interventions. Control Clin Trials. 2000;21(5 Suppl):S188–194.

49.

Kronish IM, Ye S. Adherence to cardiovascular medications: Lessons learned and future directions. Prog Cardiovasc Dis. 2013;55(6):590–600.

50.

Schlotz W, Yim IS, Zoccola PM, Jansen L, Schulz P. The Perceived Stress Reactivity Scale: Measurement invariance, stability, and validity in three countries. Psychol Assess. 2011;23(1):80–94.

51.

Jamison RN, Raymond SA, Slawsby EA, McHugo, GJ, Baird JC. Pain assessment in patients with low back pain: Comparison of weekly recall and momentary electronic data. J Pain 2006;7(3):192–9.

52.

Lampert R, Jamner L, Burg M, Dziura J, Brandt C, Liu H, Li F, Donovan T, Soufer R. Triggering of symptomatic atrial fibrillation by negative emotion. J Am Coll Cardiol 2014;64(4):1533–4.

53.

Eijsvogels TMH, Thompson PD. Exercise is medicine at any dose? JAMA. 2015;314(18):1915–1916.
Ethics declarations
Authors' Statement of Conflict of Interest and Adherence to Ethical Standards
Karina Davidson is the co-owner of MJBK, a small business that provides mhealth technology solutions to consumers and the co-owner of IOHealthWorks, a small consulting services company. No other potential conflicts of interest relevant to this article were reported.
Funding
This work was supported by a grant from the National Institutes of Health (R01HL115941) to Drs. Burg and Davidson.
Ethical Approval
All procedures performed in studies involving human participants were in accordance with the ethical standards of the institutional and/or national research committee and with the 1964 Helsinki Declaration and its later amendments or comparable ethical standards.
Informed Consent
Informed consent was obtained from all individual participants included in the study.
About this article
Cite this article
Burg, M.M., Schwartz, J.E., Kronish, I.M. et al. Does Stress Result in You Exercising Less? Or Does Exercising Result in You Being Less Stressed? Or Is It Both? Testing the Bi-directional Stress-Exercise Association at the Group and Person (N of 1) Level. ann. behav. med. 51, 799–809 (2017). https://doi.org/10.1007/s12160-017-9902-4
Keywords