Abstract
Background
Sleep is intricately tied to emotional well-being, yet little is known about the reciprocal links between sleep and psychosocial experiences in the context of daily life.
Purpose
The aim of this study is to evaluate daily psychosocial experiences (positive and negative affect, positive events, and stressors) as predictors of same-night sleep quality and duration, in addition to the reversed associations of nightly sleep predicting next-day experiences.
Methods
Daily experiences and self-reported sleep were assessed via telephone interviews for eight consecutive evenings in two replicate samples of US employees (131 higher-income professionals and 181 lower-income hourly workers). Multilevel models evaluated within-person associations of daily experiences with sleep quality and duration. Analyses controlled for demographics, insomnia symptoms, the previous day's experiences and sleep measures, and additional day-level covariates.
Results
Daily positive experiences were associated with improved as well as disrupted subsequent sleep. Specifically, positive events at home predicted better sleep quality in both samples, whereas greater positive affect was associated with shorter sleep duration among the higher-income professionals. Negative affect and stressors were unrelated to subsequent sleep. Results for the reversed direction revealed that better sleep quality (and, to a lesser degree, longer sleep duration) predicted emotional well-being and lower odds of encountering stressors on the following day.
Conclusions
Given the reciprocal relationships between sleep and daily experiences, efforts to improve well-being in daily life should reflect the importance of sleep.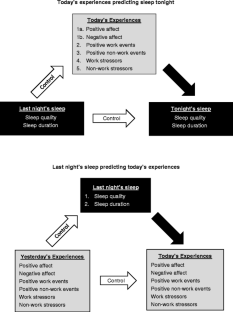 References
1.

Baglioni C, Spiegelhalder K, Lombardo C, Riemann D. Sleep and emotions: A focus on insomnia. Sleep Med Rev. 2010;14(4):227–38.

2.

Goldstein AN, Walker MP. The Role of Sleep in Emotional Brain Function. Annu Rev Clin Psychol. 2014;10(1):679–708.

3.

Walker MP, van der Helm E. Overnight therapy? The role of sleep in emotional brain processing. Psychol Bull. 2009;135(5):731–48.

4.

Mezick EJ, Matthews KA, Hall M, Kamarck TW, Buysse DJ, Owens JF, et al. Intra-individual variability in sleep duration and fragmentation: Associations with stress. Psychoneuroendocrinology. 2009;34(9):1346–54.

5.

Knutson KL, Rathouz PJ, Yan LL, Liu K, Lauderdale DS. Intra-Individual Daily and Yearly Variability in Actigraphically Recorded Sleep Measures: The CARDIA Study. Sleep. 2007;30(6):793–6.

6.

Åkerstedt T, Garefelt J, Richter A, Westerlund H, Magnusson Hanson LL, Sverke M, et al. Work and Sleep—A Prospective Study of Psychosocial Work Factors, Physical Work Factors, and Work Scheduling. SLEEP. 2015;38(7):1129–36.

7.

Eid M, Diener E. Intraindividual variability in affect: Reliability, validity, and personality correlates. J Pers Soc Psychol. 1999;76(4):662–76.

8.

McCrae CS, McNamara JPH, Rowe MA, Dzierzewski JM, Dirk J, Marsiske M, et al. Sleep and affect in older adults: Using multilevel modeling to examine daily associations. J Sleep Res. 2008;17(1):42–53.

9.

Wild-Hartmann, JA de, Wichers M, Bemmel, AL van, Derom C, Thiery E, Jacobs N, et al. Day-to-day associations between subjective sleep and affect in regard to future depression in a female population-based sample. Br J Psychiatry. 2013;202(6):407–12.

10.

Scott BA, Judge TA. Insomnia, Emotions, and Job Satisfaction: A Multilevel Study. J Manag. 2006;32(5):622–45.

11.

Kalmbach DA, Pillai V, Roth T, Drake CL. The interplay between daily affect and sleep: A 2-week study of young women. J Sleep Res. 2014;23(6):636–45.

12.

Talbot LS, Stone S, Gruber J, Hairston IS, Eidelman P, Harvey AG. A test of the bidirectional association between sleep and mood in bipolar disorder and insomnia. J Abnorm Psychol. 2012;121(1):39–50.

13.

Totterdell P, Reynolds S, Parkinson B, Briner RB. Associations of sleep with everyday mood, minor symptoms and social interaction experience. Sleep. 1994;17(5):466–75.

14.

Winzeler K, Voellmin A, Schäfer V, Meyer AH, Cajochen C, Wilhelm FH, et al. Daily stress, presleep arousal, and sleep in healthy young women: A daily life computerized sleep diary and actigraphy study. Sleep Med. 2014;15(3):359–66.

15.

Zohar D, Tzischinsky O, Epstein R, Lavie P. The effects of sleep loss on medical residents' emotional reactions to work events: A cognitive-energy model. Sleep. 2005;28(1):47–54.

16.

Almeida DM. Resilience and Vulnerability to Daily Stressors Assessed via Diary Methods. Curr Dir Psychol Sci. 2005;14(2):64–8.

17.

Crain TL, Hammer LB, Bodner T, Kossek EE, Moen P, Lilienthal R, et al. Work–family conflict, family-supportive supervisor behaviors (FSSB), and sleep outcomes. J Occup Health Psychol. 2014;19(2):155.

18.

Lawson KM, Davis KD, McHale SM, Hammer LB, Buxton OM. Daily positive spillover and crossover from mothers' work to youth health. J Fam Psychol. 2014;28(6):897.

19.

Hobfoll SE. Conservation of resources: A new attempt at conceptualizing stress. Am Psychol. 1989;44(3):513–24.

20.

ten Brummelhuis LL, Bakker AB. A resource perspective on the work–home interface: The work–home resources model. Am Psychol. 2012;67(7):545–56.

21.

Barnes CM, Wagner DT, Ghumman S. Borrowing from Sleep to Pay Work and Family: Expanding Time-Based Conflict to the Broader Nonwork Domain. Pers Psychol. 2012;65(4):789–819.

22.

Morin CM, Rodrigue S, Ivers H. Role of stress, arousal, and coping skills in primary insomnia. Psychosom Med. 2003;65(2):259–67.

23.

Burgard SA, Ailshire JA. Putting work to bed: Stressful experiences on the job and sleep quality. J Health Soc Behav. 2009;50(4):476–92.

24.

Berkman LF, Buxton O, Ertel K, Okechukwu C. Managers' practices related to work–family balance predict employee cardiovascular risk and sleep duration in extended care settings. J Occup Health Psychol. 2010;15(3):316–29.

25.

Garde AH, Albertsen K, Persson R, Hansen ÅM, Rugulies R. Bi-Directional Associations Between Psychological Arousal, Cortisol, and Sleep. Behav Sleep Med. 2012;10(1):28–40.

26.

Sonnentag S, Binnewies C, Mojza EJ. "Did you have a nice evening?" A day-level study on recovery experiences, sleep, and affect. J Appl Psychol. 2008;93(3):674–84.

27.

Uchino BN. Social Support and Health: A Review of Physiological Processes Potentially Underlying Links to Disease Outcomes. J Behav Med. 2006;29(4):377–87.

28.

Sin NL, Graham-Engeland JE, Almeida DM. Daily positive events and inflammation: Findings from the National Study of Daily Experiences. Brain Behav Immun. 2015;43:130–8.

29.

Zautra AJ, Affleck GG, Tennen H, Reich JW, Davis MC. Dynamic approaches to emotions and stress in everyday life: Bolger and Zuckerman reloaded with positive as well as negative affects. J Pers. 2005;73(6):1511–38.

30.

Jain S, Mills PJ, Von Känel R, Hong S, Dimsdale JE. Effects of perceived stress and uplifts on inflammation and coagulability. Psychophysiology. 2007;44(1):154–60.

31.

Bajaj A, John-Henderson NA, Cundiff JM, Marsland AL, Manuck SB, Kamarck TW. Daily social interactions, close relationships, and systemic inflammation in two samples: Healthy middle-aged and older adults. Brain Behav Immun. 2016.

32.

Tomfohr L, Ancoli-Israel S, Pung MA, Natarajan L, Dimsdale JE. Uplifts and sleep. Behav Sleep Med. 2011;9(1):31–7.

33.

Hobfoll SE. Conservation of Resources Theory: Its implication for stress, health, and resilience. In: Folkman S, editor. The Oxford Handbook of Stress, Health, and Coping. New York, NY: Oxford University Press; 2011. p. 127–47.

34.

Franzen PL, Gianaros PJ, Marsland AL, Hall MH, Siegle GJ, Dahl RE, et al. Cardiovascular reactivity to acute psychological stress following sleep deprivation. Psychosom Med. 2011;73(8):679–82.

35.

Yoo S-S, Gujar N, Hu P, Jolesz FA, Walker MP. The human emotional brain without sleep—a prefrontal amygdala disconnect. Curr Biol. 2007;17(20):R877–8.

36.

Hamilton NA, Affleck G, Tennen H, Karlson C, Luxton D, Preacher KJ, et al. Fibromyalgia: The role of sleep in affect and in negative event reactivity and recovery. Health Psychol. 2008;27(4):490–7.

37.

Wrzus C, Wagner GG, Riediger M. Feeling good when sleeping in? Day-to-day associations between sleep duration and affective well-being differ from youth to old age. Emotion. 2014;14(3):624–8.

38.

Bray JW, Kelly EL, Hammer LB, Almeida DM, Dearing JW, King RB, et al. An Integrative, Multilevel, and Transdisciplinary Research Approach to Challenges of Work, Family, and Health. Methods Rep RTI Press. 2013;1–38.

39.

Kelly EL, Moen P, Oakes JM, Fan W, Okechukwu C, Davis KD, et al. Changing Work and Work-Family Conflict: Evidence from the Work, Family, and Health Network. Am Sociol Rev. 2014;79(3):485–516.

40.

Kossek EE, Hammer LB, Kelly EL, Moen P. Designing Work, Family & Health Organizational Change Initiatives. Organ Dyn. 2014;43(1):53–63.

41.

Watson D, Clark LA, Tellegen A. Development and validation of brief measures of positive and negative affect: The PANAS scales. J Pers Soc Psychol. 1988;54(6):1063–70.

42.

Charles ST, Luong G, Almeida DM, Ryff C, Sturm M, Love G. Fewer ups and downs: Daily stressors mediate age differences in negative affect. J Gerontol B Psychol Sci Soc Sci. 2010;65B(3):279–86.

43.

Ong AD, Exner-Cortens D, Riffin C, Steptoe A, Zautra A, Almeida DM. Linking stable and dynamic features of positive affect to sleep. Ann Behav Med. 2013;46(1):52–61.

44.

Almeida DM, Wethington E, Kessler RC. The daily inventory of stressful events: An interview-based approach for measuring daily stressors. Assessment. 2002;9(1):41–55.

45.

Buysse DJ, Reynolds III CF, Monk TH, Berman SR, Kupfer DJ. The Pittsburgh Sleep Quality Index: A new instrument for psychiatric practice and research. Psychiatry Res. 1989;28(2):193–213.

46.

Snijders TA, Bosker RJ. Multilevel Analysis: An Introduction to Basic and Advanced Multilevel Modeling. 2nd ed. SAGE; 2011.

47.

Curran PJ, Bauer DJ. The disaggregation of within-person and between-person effects in longitudinal models of change. Annu Rev Psychol. 2011;62:583–619.

48.

Benjamini Y, Hochberg Y. On the adaptive control of the false discovery rate in multiple testing with independent statistics. J Educ Behav Stat. 2000;25(1):60–83.

49.

Åkerstedt T, Orsini N, Petersen H, Axelsson J, Lekander M, Kecklund G. Predicting sleep quality from stress and prior sleep--a study of day-to-day covariation across six weeks. Sleep Med. 2012;13(6):674–9.

50.

Flueckiger L, Lieb R, Meyer AH, Witthauer C, Mata J. The importance of physical activity and sleep for affect on stressful days: Two intensive longitudinal studies. Emotion. 2016;16(4):488–97.

51.

van Zundert RMP, van Roekel E, Engels RCME, Scholte RHJ. Reciprocal Associations Between Adolescents' Night-Time Sleep and Daytime Affect and the Role of Gender and Depressive Symptoms. J Youth Adolesc. 2015;44(2):556–69.

52.

Pressman SD, Matthews KA, Cohen S, Martire LM, Scheier M, Baum A, et al. Association of enjoyable leisure activities with psychological and physical well-being. Psychosom Med. 2009;71(7):725.

53.

Ong AD, Kim S, Young S, Steptoe A. Positive affect and sleep: A systematic review. Sleep Med Rev. 2016.

54.

Sin NL, Moskowitz JT, Whooley MA. Positive Affect and Health Behaviors Across 5 Years in Patients With Coronary Heart Disease: The Heart and Soul Study. Psychosom Med. 2015;77(9):1058–66.

55.

Bower B, Bylsma LM, Morris BH, Rottenberg J. Poor reported sleep quality predicts low positive affect in daily life among healthy and mood-disordered persons. J Sleep Res. 2010;19(2):323–32.

56.

Minkel JD, Banks S, Htaik O, Moreta MC, Jones CW, McGlinchey EL, et al. Sleep deprivation and stressors: Evidence for elevated negative affect in response to mild stressors when sleep deprived. Emotion. 2012;12(5):1015–20.
Ethics declarations
Authors' Statement of Conflict of Interest and Adherence to Ethical Standards
Authors Sin, Almeida, Crain, Kossek, Berkman, and Buxton declare that they have no conflict of interest. All procedures, including the informed consent process, were conducted in accordance with the ethical standards of the responsible committee on human experimentation (institutional and national) and with the Helsinki Declaration of 1975, as revised in 2000.
Funding
This research was conducted as part of the Work, Family, and Health Network (www.WorkFamilyHealthNetwork.org), which is funded by a cooperative agreement through the National Institutes of Health and the Centers for Disease Control and Prevention: Eunice Kennedy Shriver National Institute of Child Health and Human Development (U01HD051217, U01HD051218, U01HD051256, U01HD051276), National Institute on Aging (U01AG027669), Office of Behavioral and Social Sciences Research, and National Institute for Occupational Safety and Health (U01OH008788, U01HD059773). Grants from the National Heart, Lung and Blood Institute (R01HL107240), William T. Grant Foundation, Alfred P. Sloan Foundation, and the Administration for Children and Families provided additional funding. Dr. Sin was supported by National Institute on Aging grant F32AG048698. The contents of this publication are solely the responsibility of the authors and do not necessarily represent the official views of these institutes and offices.
Ethical Approval
All procedures performed in studies involving human participants were in accordance with the ethical standards of the institutional and/or national research committee and with the 1964 Helsinki declaration and its later amendments or comparable ethical standards.
Informed Consent
Informed consent was obtained from all individual participants included in the study.
Electronic supplementary material
About this article
Cite this article
Sin, N.L., Almeida, D.M., Crain, T.L. et al. Bidirectional, Temporal Associations of Sleep with Positive Events, Affect, and Stressors in Daily Life Across a Week. ann. behav. med. 51, 402–415 (2017). https://doi.org/10.1007/s12160-016-9864-y
Keywords
Sleep

Daily stress

Positive events

Positive affect

Negative affect