Abstract
Background
Although higher psychological well-being has been linked with a range of positive biological processes and health outcomes, the prospective association between psychological well-being and physical activity among older adults has been understudied.
Purpose
We tested whether higher baseline psychological well-being predicted higher levels of physical activity over time.
Methods
Prospective data were from the English Longitudinal Study of Aging, a nationally representative sample of English adults over the age of 50. Our sample included 9986 adults who were assessed up to six times across an average of 11 years.
Results
After adjusting for sociodemographic factors, each standard deviation increase in baseline psychological well-being was associated with higher median physical activity in linear regression models that examined physical activity across all six waves (β = 0.20; 95% confidence interval [CI] 0.18–0.21) and in linear mixed effect models that examined repeated measures of physical activity over the entire follow-up period (β = 0.20; 95% CI 0.19–0.21). Further, higher baseline psychological well-being was associated with a slower rate of decline in physical activity among people who were active at baseline (hazard ratio [HR] = 0.79, 95% CI 0.76–0.82) and increasing physical activity among people who were inactive at baseline (HR = 1.28, 95% CI 1.22–1.35). Findings were maintained after adjusting for baseline health status and depression.
Conclusions
Psychological well-being was independently associated with attaining and maintaining higher physical activity levels over 11 years, suggesting that it may be a valuable target for interventions aimed at helping older adults acquire more physical activity.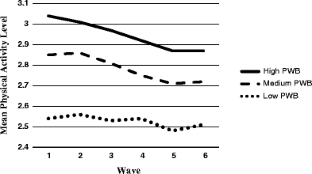 References
1.

Spring B, King AC, Pagoto SL, Van Horn L, Fisher JD. Fostering multiple healthy lifestyle behaviors for primary prevention of cancer. Am Psychol. 2015;70:75–90.

2.

Sattelmair J, Pertman J, Ding EL, Kohl HW, Haskell W, Lee I-M. Dose response between physical activity and risk of coronary heart disease: A meta-analysis. Circulation. 2011;124:789–795.

3.

Lee I-M, Shiroma EJ, Lobelo F, Puska P, Blair SN, Katzmarzyk PT. Effect of physical inactivity on major non-communicable diseases worldwide: An analysis of burden of disease and life expectancy. Lancet. 2012;380:219–229.

4.

Reiner M, Niermann C, Jekauc D, Woll A. Long-term health benefits of physical activity—a systematic review of longitudinal studies. BMC Public Health. 2013;13:813.

5.

Department of Health, Physical Activity, Health Improvement and Protection. Start active, stay active: A report on physical activity for health from the four home countries' Chief Medical Officers. London: Physical Activity Team; 2011.

6.

Townsend N, Wickramasinghe K, Williams J, Bhatnagar P, Rayner M. Physical Activity Statistics 2015. London: British Heart Foundation; 2015.

7.

National population projections, 2012-based statistical bulletin. Office for National Statistics. 2013. http://www.ons.gov.uk/ons/rel/npp/national-population-projections/2012-based-projections/stb-2012-based-npp-principal-and-key-variants.html. Accessed Jul 28, 2015.

8.

Belsky DW, Caspi A, Houts R, Cohen HJ, Corcoran DL, Danese A, et al. Quantification of biological aging in young adults. Proc Natl Acad Sci. 2015;112:E4104–E110.

9.

Hamer M, Lavoie KL, Bacon SL. Taking up physical activity in later life and healthy ageing: The English longitudinal study of ageing. Br J Sports Med. 2014;48:239–243.

10.

Azevedo, D S M, Singh-Manoux A, Brunner, EJ, Kaffashian S, Shipley, MJ, Kivimäki M, et al.. Bidirectional association between physical activity and symptoms of anxiety and depression: The Whitehall II study. Eur J Epidemiol. 2012;27:537–546.

11.

Pressman SD, Cohen S. Does positive affect influence health? Psychol Bull. 2005;131:925–971.

12.

Boehm JK, Kubzansky LD. The heart's content: The association between positive psychological well-being and cardiovascular health. Psychol Bull. 2012;138:655–691.

13.

Gawronski KAB, Kim ES, Langa KM, Kubzansky LD. Dispositional optimism and incidence of cognitive impairment in older adults. Psychosom Med. 2016;78:819–828.

14.

Kim ES, Sun JK, Park N, Peterson C. Purpose in life and reduced incidence of stroke in older adults: The Health and Retirement Study. J Psychosom Res. 2013;74:427–432.

15.

Ryff CD, Love GD, Urry HL, Muller D, Rosenkranz MA, Friedman EM, et al. Psychological well-being and ill-being: Do they have distinct or mirrored biological correlates? Psychother Psychosom. 2006;75:85–95.

16.

Kim ES, Sun JK, Park N, Kubzansky LD, Peterson C. Purpose in life and reduced risk of myocardial infarction among older U.S. adults with coronary heart disease: A two-year follow-up. J Behav Med. 2013;36:124–133.

17.

Charles ST, Piazza JR, Mogle J, Sliwinski MJ, Almeida DM. The wear-and-tear of daily stressors on mental health. Psychol Sci. 2013;24:733–741.

18.

Tugade MM, Fredrickson BL. Resilient individuals use positive emotions to bounce back from negative emotional experiences. J Pers Soc Psychol. 2004;86:320–333.

19.

Fredrickson BL, Mancuso RA, Branigan C, Tugade MM. The undoing effect of positive emotions. Motiv Emot. 2000;24:237–258.

20.

Nes LS, Segerstrom SC. Dispositional optimism and coping: A meta-analytic review. Pers Soc Psychol Rev. 2006;10:235–251.

21.

DeSteno D, Gross JJ, Kubzansky L. Affective science and health: The importance of emotion and emotion regulation. Health Psychol. 2013;32:474–486.

22.

van Stralen MM, De Vries H, Mudde AN, Bolman C, Lechner L. Determinants of initiation and maintenance of physical activity among older adults: A literature review. Health Psychol Rev. 2009;3:147–207.

23.

Strine TW, Chapman DP, Balluz LS, Moriarty DG, Mokdad AH. The associations between life satisfaction and health-related quality of life, chronic illness, and health behaviors among U.S. community-dwelling adults. J Community Health. 2008;33:40–50.

24.

Stubbe JH, de Moor MHM, Boomsma DI, de Geus EJC. The association between exercise participation and well-being: A co-twin study. Prev Med. 2007;44:148–152.

25.

Giltay EJ, Geleijnse JM, Zitman FG, Buijsse B, Kromhout D. Lifestyle and dietary correlates of dispositional optimism in men: The Zutphen Elderly Study. J Psychosom Res. 2007;63:483–490.

26.

Hoogwegt MT, Versteeg H, Hansen TB, Thygesen LC, Pedersen SS, Zwisler AD. Exercise mediates the association between positive affect and 5-year mortality in patients with ischemic heart disease. Circ Cardiovasc Qual Outcomes. 2013;6:559–566.

27.

Baruth M, Lee D-C, Sui X, Church TS, Marcus BH, Wilcox S, et al. Emotional outlook on life predicts increases in physical activity among initially inactive men. Health Educ Behav. 2011;38:150–158.

28.

Baker SR. Dispositional optimism and health status, symptoms and behaviours: Assessing idiothetic relationships using a prospective daily diary approach. Psychol Health. 2007;22:431–455.

29.

Rangul V, Holmen TL, Bauman A, Bratberg GH, Kurtze N, Midthjell K. Factors predicting changes in physical activity through adolescence: The Young-HUNT Study, Norway. J Adolesc Health. 2011;48:616–624.

30.

Koopmans TA, Geleijnse JM, Zitman FG, Giltay EJ. Effects of happiness on all-cause mortality during 15 years of follow-up: The Arnhem Elderly Study. J Happiness Stud. 2008;11:113–124.

31.

Blank L, Grimsley M, Goyder E, Ellis E, Peters J. Community-based lifestyle interventions: Changing behaviour and improving health. J Public Health (Oxf). 2007;29:236–245.

32.

Sin NL, Moskowitz JT, Whooley MA. Positive affect and health behaviors across 5 years in patients with coronary heart disease: The Heart and Soul Study. Psychosom Med. 2015;77:1058–1066.

33.

Steptoe A, Breeze E, Banks J, Nazroo J. Cohort profile: The English longitudinal study of ageing. Int J Epidemiol. 2013;42:1640–1648.

34.

Hyde M, Wiggins RD, Higgs P, Blane DB. A measure of quality of life in early old age: The theory, development and properties of a needs satisfaction model (CASP-19). Aging Ment Health. 2003;7:186–194.

35.

Shrive FM, Stuart H, Quan H, Ghali WA. Dealing with missing data in a multi-question depression scale: A comparison of imputation methods. BMC Med Res Methodol. 2006;6:57.

36.

Wiggins RD, Netuveli G, Hyde M, Higgs P, Blane D. The evaluation of a self-enumerated scale of quality of life (CASP-19) in the context of research on ageing: A combination of exploratory and confirmatory approaches. Soc Indic Res. 2007;89:61–77.

37.

Wareham NJ, Jakes RW, Rennie KL, Schuit J, Mitchell J, Hennings S, et al. Validity and repeatability of a simple index derived from the short physical activity questionnaire used in the European Prospective Investigation into Cancer and Nutrition (EPIC) study. Public Health Nutr. 2003;6:407–413.

38.

Joint Health Surveys Unit. Health Survey for England Physical Activity Validation Study: Substantive Report. Leeds: Information Centre for Health and Social Care; 2007.

39.

Allied Dunbar National Fitness Survey: Main Findings. London: Sports Council and Health Education Authority; 1992.

40.

Bauer, DJ, Sterba, SK. Fitting multilevel models with ordinal outcomes: Performance of alternative specifications and methods of estimation. Psychol Methods. 2011;16:373–390.

41.

Cnaan A, Laird NM, Slasor P. Using the general linear mixed model to analyse unbalanced repeated measures and longitudinal data. Stat Med. 1997;16:2349–2380.

42.

Kleinbaum DG, Klein M. Survival Analysis: A Self-Learning Text. 3rd ed. New York, NY: Springer; 2011.

43.

Chantala K, Blanchette D, Suchindran CM. Software to Compute Sampling Weights for Multilevel Analysis. Carolina Population Center, University of North Carolina at Chapel Hill. 2011. http://www.cpc.unc.edu/research/tools/data_analysis/ml_sampling_weights. Accessed Nov 7, 2015.

44.

Martin CK, Church TS, Thompson AM, Earnest CP, Blair SN. Exercise dose and quality of life: A randomized controlled trial. Arch Intern Med. 2009;169:269–278.

45.

Kim ES, Smith J, Kubzansky LD. Prospective study of the association between dispositional optimism and incident heart failure. Circ Heart Fail. 2014;7:394–400.

46.

Steptoe A, de Oliveira C, Demakakos P, Zaninotto P. Enjoyment of life and declining physical function at older ages: A longitudinal cohort study. Can Med Assoc J. 2014;186:E150–E156.

47.

Boehm JK, Peterson C, Kivimaki M, Kubzansky LD. Heart health when life is satisfying: Evidence from the Whitehall II cohort study. Eur Heart J. 2011;32:2672–2677.

48.

Kim ES, Kubzansky LD, Smith J. Life satisfaction and use of preventive health care services. Health Psychol. 2015;34:779–782.

49.

Sin NL, Lyubomirsky S. Enhancing well-being and alleviating depressive symptoms with positive psychology interventions: A practice-friendly meta-analysis. J Clin Psychol. 2009;65:467–487.

50.

Bolier L, Haverman M, Westerhof GJ, Riper H, Smit F, Bohlmeijer E. Positive psychology interventions: A meta-analysis of randomized controlled studies. BMC Public Health. 2013;13:119.

51.

Weiss LA, Westerhof GJ, Bohlmeijer ET. Can we increase psychological well-being? The effects of interventions on psychological well-being: A meta-analysis of randomized controlled trials. PLoS One. 2016;11:e0158092.

52.

Proyer RT, Gander F, Wellenzohn S, Ruch W. Positive psychology interventions in people aged 50–79 years: Long-term effects of placebo-controlled online interventions on well-being and depression. Aging Ment Health. 2014;18:997–1005.

53.

Friedman EM, Ruini C, Foy R, Jaros L, Sampson H, Ryff CD. Lighten UP! A community-based group intervention to promote psychological well-being in older adults. Aging Ment Health. 2015;1–7.

54.

Peterson JC, Charlson ME, Hoffman Z, Wells MT, Wong SC, Hollenberg JP, et al. A randomized controlled trial of positive-affect induction to promote physical activity after percutaneous coronary intervention. Arch Intern Med. 2012;172:329–336.

55.

Rutledge T, Loh C. Effect sizes and statistical testing in the determination of clinical significance in behavioral medicine research. Ann Behav Med. 2004;27:138–145.

56.

Wen CP, Wai JPM, Tsai MK, Yang YC, Cheng TYD, Lee M-C, et al. Minimum amount of physical activity for reduced mortality and extended life expectancy: A prospective cohort study. Lancet. 2011;378:1244–1253.
Ethics declarations
Authors' Statement of Conflict of Interest and Adherence to Ethical Standards
Eric Kim has worked as a consultant with AARP/Life Reimagined on an unrelated project. All procedures, including the informed consent process, were conducted in accordance with the ethical standards of the responsible committee on human experimentation (institutional and national) and with the Helsinki Declaration of 1975, as revised in 2000.
Funding
This study was funded by the National Institute on Aging (R03AG046342) and the National Heart, Lung, and Blood Institute (T32 HL 098048) of the National Institutes of Health. Funding for the English Longitudinal Study of Aging is provided by the National Institute of Aging (2RO1AG7644-01A1 and 2RO1AG017644) and a consortium of UK government departments coordinated by the Office for National Statistics.
Electronic Supplementary Material
About this article
Cite this article
Kim, E.S., Kubzansky, L.D., Soo, J. et al. Maintaining Healthy Behavior: a Prospective Study of Psychological Well-Being and Physical Activity. ann. behav. med. 51, 337–347 (2017). https://doi.org/10.1007/s12160-016-9856-y
Keywords
Psychological well-being

Physical activity

Exercise

Epidemiology

Health psychology