Meta-Analysis of the Reasoned Action Approach (RAA) to Understanding Health Behaviors
Open Access
Original Article
Abstract
Background
Reasoned action approach (RAA) includes subcomponents of attitude (experiential/instrumental), perceived norm (injunctive/descriptive), and perceived behavioral control (capacity/autonomy) to predict intention and behavior.
Purpose
To provide a meta-analysis of the RAA for health behaviors focusing on comparing the pairs of RAA subcomponents and differences between health protection and health-risk behaviors.
Methods
The present research reports a meta-analysis of correlational tests of RAA subcomponents, examination of moderators, and combined effects of subcomponents on intention and behavior. Regressions were used to predict intention and behavior based on data from studies measuring all variables.
Results
Capacity and experiential attitude had large, and other constructs had small-medium-sized correlations with intention; all constructs except autonomy were significant independent predictors of intention in regressions. Intention, capacity, and experiential attitude had medium-large, and other constructs had small-medium-sized correlations with behavior; intention, capacity, experiential attitude, and descriptive norm were significant independent predictors of behavior in regressions.
Conclusions
The RAA subcomponents have utility in predicting and understanding health behaviors.
Keywords
Reasoned action approach 
Theory of planned behavior 
Meta-analysis 
Health behavior 
Protection behaviors 
Risk behaviors 
Identifying the factors predicting engagement in health behaviors has been the focus of considerable research in health psychology. A variety of social cognition models purporting to delineate the key determinants of behavior [
1
] have been applied to health behaviors. These prominently include the theory of planned behavior (TPB; [
2
]), an extension of the theory of reasoned action (TRA; [
3
]). The TPB is a parsimonious model applied to a wide range of health behaviors (for reviews, see [
4
,
5
,
6
,
7
,
8
,
9
,
10
]). In recent years, researchers have sought to develop the TPB by differentiating subcomponents of the model [
11
,
12
]. Despite including very similar constructs, this expanded model (Fig. 
1
) has been given a variety of names (e.g., two-factor model; [
12
]). We here refer to this model as the reasoned action approach (RAA; [
13
]). The present paper provides a meta-analytic review of the RAA subcomponents to health behaviors, test of health behavior type (protection vs. risk) as a moderator, and test of the power of the subcomponents to independently predict intention and behavior.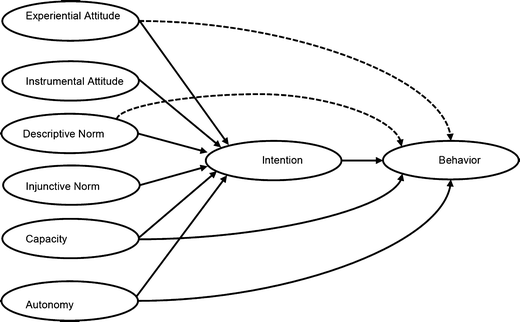 Notes
Acknowledgments
The authors would like to thank Chandani Nekitsing for assistance in collating included studies and to the authors who provided additional information to allow their studies to be included.
Compliance with Ethical Standards
Conflict of Interest
The authors declare that they have no conflict of interest.
Ethical Approval
As a meta-analysis, no ethical approval was sought for this work.
Copyright information
© The Author(s) 2016
Open Access This article is distributed under the terms of the Creative Commons Attribution 4.0 International License (http://creativecommons.org/licenses/by/4.0/), which permits unrestricted use, distribution, and reproduction in any medium, provided you give appropriate credit to the original author(s) and the source, provide a link to the Creative Commons license, and indicate if changes were made.