Abstract
Background
Psychological stress is a well-known risk factor for poor health, and recent research has suggested that the emotion-focused coping process of forgiveness may help mitigate these effects. To date, however, no studies have examined how levels of forgiveness, stress, and health fluctuate and interrelate over time.
Purpose
We addressed this issue by examining how forgiveness, stress, and mental and physical health symptoms change and relate to one another over 5 weeks. We hypothesized that increases in state levels of forgiveness would be associated with decreases in perceptions of stress, which would in turn be related to decreases in mental and physical health symptoms. A reverse effects model was also tested.
Methods
We recruited a large, community-based sample of 332 young, middle-aged, and older adults (16–79 years old; M age = 27.9). Each week for 5 weeks, participants reported on their levels of state forgiveness, perceived stress, and mental and physical health symptoms.
Results
Levels of forgiveness, stress, and mental and physical health symptoms each showed significant change and individual variability in change over time. As hypothesized, increases in forgiveness were associated with decreases in stress, which were in turn related to decreases in mental (but not physical) health symptoms (i.e., forgiveness → stress → health). The reverse effects model (i.e., health → stress → forgiveness) provided a relatively poorer fit.
Conclusions
This study is the first to provide prospective, longitudinal evidence showing that greater forgiveness is associated with less stress and, in turn, better mental health. Strategies for cultivating forgiveness may thus have beneficial effects on stress and health.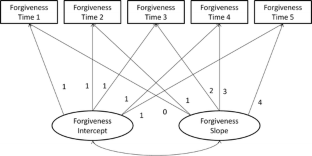 References
1.

McCullough ME, Root LM. Forgiveness as change. In: Worthington EL, ed. Handbook of Forgiveness. New York: Brunner-Routledge; 2005: 91-107.

2.

Rye MS, Loiacono DM, Folck CD, et al. Evaluation of the psychometric properties of two forgiveness scales. Curr Psychol. 2001; 20(3): 260-277.

3.

Berry JW, Worthington EL Jr, O'Connor LE, et al. Forgivingness, vengeful rumination, and affective traits. J Pers. 2005; 73(1): 183-226.

4.

Lawler KA, Younger JW, Piferi RL, et al. The unique effects of forgiveness on health: An exploration of pathways. J Behav Med. 2005; 28(2): 157-167.

5.

McCullough ME, Fincham FD, Tsang J-A. Forgiveness, forbearance, and time: The temporal unfolding of transgression-related interpersonal motivations. J Pers Soc Psychol. 2003; 84(3): 540-557.

6.

McCullough ME, Bono G, Root LM. Rumination, emotion, and forgiveness: Three longitudinal studies. J Pers Soc Psychol. 2007; 92(3): 490-505.

7.

McCullough ME, Luna LR, Berry JW, et al. On the form and function of forgiving: Modeling the time-forgiveness relationship and testing the valuable relationships hypothesis. Emotion. 2010; 10(3): 358-376.

8.

Lazarus RS, Folkman S. Stress, appraisal, and coping. New York: Springer; 1984.

9.

Strelan P, Covic T. A review of forgiveness process models and a coping framework to guide future research. J Soc Clin Psychol. 2006; 25(10): 1059-1085.

10.

Worthington EL. Forgiving and reconciling: Bridges to wholeness and hope. Downers Grove: InterVarsity Press; 2003.

11.

Worthington EL, Scherer M. Forgiveness is an emotion-focused coping strategy that can reduce health risks and promote health resilience: Theory, review, and hypotheses. Psychol Health. 2004; 19(3): 385-405.

12.

Cohen S, Janicki-Deverts D, Miller GE. Psychological stress and disease. JAMA. 2007; 298(14): 1685-1687.

13.

Slavich GM, Irwin MR. From stress to inflammation and major depressive disorder: A social signal transduction theory of depression. Psychol Bull. 2014; 140: 774-815.

14.

Baum A, Trevino LA, Dougall AL. Stress and the cancers. In: Contrada RJ, Baum A, eds. The Handbook of Stress Science: Biology, psychology, and health. New York: Springer; 2011: 411-423.

15.

Phillips AC, Carroll D, Der G. Negative life events and symptoms of depression and anxiety: Stress causation and/or stress generation. Anxiety Stress Coping. 2015; 28(4): 357-371.

16.

Enright RD, Fitzgibbons RP. Forgiveness in depressive disorders. In: Enright RD, Fitzgibbons RP, eds. Helping clients forgive: An empirical guide for resolving anger and restoring hope. Washington, DC: American Psychological Association; 2000: 113-133.

17.

Toussaint L, Friedman P. Forgiveness, gratitude, and well-being: The mediating role of affect and beliefs. J Happiness Stud. 2009; 10(6): 635-654.

18.

Toussaint L, Webb JR. Theoretical and empirical connections between forgiveness and mental health and well-being. In: Worthington EL, ed. Handbook of Forgiveness. New York: Brunner-Routledge; 2005: 349-362.

19.

Witvliet CV, Ludwig TE, Vander Laan KL. Granting forgiveness or harboring grudges: Implications for emotion, physiology, and health. Psychol Sci. 2001; 12(2): 117-123.

20.

Worthington EL Jr, Witvliet CV, Pietrini P, et al. Forgiveness, health, and well-being: A review of evidence for emotional versus decisional forgiveness, dispositional forgivingness, and reduced unforgiveness. J Behav Med. 2007; 30(4): 291-302.

21.

Toussaint L, Shields GS, Dorn G, et al. Effects of lifetime stress exposure on mental and physical health in young adulthood: How stress degrades and forgiveness protects health. J Health Psychol. 2014. doi:10.1177/1359105314544132.

22.

Orcutt HK. The prospective relationship of interpersonal forgiveness and psychological distress symptoms among college women. J Couns Psychol. 2006; 53(3): 350-361.

23.

Seawell AH, Toussaint LL, Cheadle ACD. Prospective associations between unforgiveness and physical health and positive mediating mechanisms in a nationally representative sample of older adults. Psychol Health. 2014; 29(4): 375-389.

24.

Toussaint LL, Marschall JC, Williams DR. Prospective associations between religiousness/spirituality and depression and mediating effects of forgiveness in a nationally representative sample of United States adults. Depress Res Treat. 2012. doi:10.1155/2012/267820.

25.

Ortha U, Berking M, Walkerc N, et al. Forgiveness and psychological adjustment following interpersonal transgressions: A longitudinal analysis. J Res Pers. 2008; 42(2): 365-385.

26.

Cohen S. Perceived stress in a probability sample of the United States. In: Spacapan S, Oskamp S, eds. The Social Psychology of Health. Thousand Oaks: Sage Publications; 1988: 31-67.

27.

Cohen ST, Kamarck T, Mermelstein R. A global measure of perceived stress. J Health Soc Behav. 1983; 24(4): 385-396.

28.

Kessler RC, Andrews G, Colpe LJ, et al. Short screening scales to monitor population prevalences and trends in non-specific psychological distress. Psychol Med. 2002; 32(6): 959-976.

29.

Kessler RC, Green JG, Gruber MJ, et al. Screening for serious mental illness in the general population with the K6 screening scale: Results from the WHO World Mental Health (WMH) survey initiative. Int J Methods Psychiatr Res. 2010; 19(S1): 4-22.

30.

Schat ACH, Kelloway EK, Desmarais S. The Physical Health Questionnaire (PHQ): Construct validation of a self-report scale of somatic symptoms. J Occup Health Psychol. 2005; 10(4): 363-381.

31.

Spence JT, Helmreich RL, Pred RS. Impatience versus achievement strivings in the type A pattern: Differential effects on students' health and academic achievement. J Appl Psychol. 1987; 72(4): 522-528.

32.

Kline RB. Principles and practice of structural equation modeling. Guilford: New York, NY; 2005.

33.

Slater MD, Hayes AF. The influence of youth music television viewership on changes in cigarette use and association with smoking peers: A social identity, reinforcing spirals perspective. Commun Res. 2010; 37(6): 751-773.

34.

Little RJA. A test of missing completely at random for multivariate data with missing values. J Am Stat Assoc. 1988; 83(404): 1198-1202.

35.

Burnham KP, Anderson DR. Model selection and multimodel inference: A practical information-theoretic approach. New York: Springer Science & Business Media; 2002.

36.

Conway CC, Slavich GM, Hammen C. Daily stress reactivity and serotonin transporter gene (5-HTTLPR) variation: Internalizing responses to everyday stress as a possible transdiagnostic phenotype. Biol Mood Anxiety Disord. 2014; 4: 2.

37.

Conway CC, Slavich GM, Hammen C. Dysfunctional attitudes and affective responses to daily stressors: Separating cognitive, genetic, and clinical influences on stress reactivity. Cogn Ther Res. 2015; 39(3): 366-377.

38.

Halfon N, Hochstein M. Life course health development: An integrated framework for developing health, policy, and research. Milbank Q. 2002; 80: 433-479.

39.

Slavich GM, Cole SW. The emerging field of human social genomics. Clin Psychol Sci. 2013; 1: 331-348.

40.

Green M, DeCourville N, Sadava S. Positive affect, negative affect, stress, and social support as mediators of the forgiveness-health relationship. J Soc Psychol. 2012; 152(3): 288-307.

41.

Seybold KS, Hill PC, Neumann JK, et al. Physiological and psychological correlates of forgiveness. J Psychol Christ. 2001; 20(3): 250-259.

42.

Lutgendorf SK et al. Non-cancer life stressors contribute to impaired quality of life in ovarian cancer patients. Gynecol Oncol. 2013; 131(3): 667-673.

43.

Lépine J-P, Briley M. The increasing burden of depression. Neuropsychiatr Dis Treat. 2011; 7(Suppl 1): 3-7.

44.

Monroe SM, Slavich GM, Georgiades K. The social environment and depression: The roles of life stress. In: Gotlib IH, Hammen CL, eds. Handbook of Depression. 3rd ed. New York: The Guilford Press; 2014: 296-314.

45.

Antonovsky A. The salutogenic model as a theory to guide health promotion. Health Promot Int. 1996; 11(1): 11-18.

46.

Bandura A. Self-efficacy: Toward a unifying theory of behavioral change. Psychol Rev. 1977; 84(2): 191-215.

47.

Maier SF, Seligman ME. Learned helplessness: Theory and evidence. J Exp Psychol Gen. 1976; 105(1): 3-46.

48.

Schrepf A et al. Diurnal cortisol and survival in epithelial ovarian cancer. Psychoneuroendocrinology. 2015; 53: 256-267.

49.

Miller G, Chen E, Cole SW. Health psychology: Developing biologically plausible models linking the social world and physical health. Annu Rev Psychol. 2009; 60: 501-524.

50.

Slavich GM, Thornton T, Torres LD, et al. Targeted rejection predicts hastened onset of major depression. J Soc Clin Psychol. 2009; 28(2): 223-243.
Acknowledgments
This research was supported by a University of California, Davis Provost's Fellowship to Grant S. Shields, and by National Institutes of Health grant K08 MH103443 and a Society in Science—Branco Weiss Fellowship to George M. Slavich.
Ethics declarations
Authors' Statement of Conflict of Interest and Adherence to Ethical Standards
Authors Toussaint, Shields and Slavich declare that they have no conflicts of interest. All study procedures were carried out in accordance with the ethical standards of the University's Institutional Review Board, and with the 1964 Helsinki declaration and its later amendments.
About this article
Cite this article
Toussaint, L.L., Shields, G.S. & Slavich, G.M. Forgiveness, Stress, and Health: a 5-Week Dynamic Parallel Process Study. ann. behav. med. 50, 727–735 (2016). https://doi.org/10.1007/s12160-016-9796-6
Keywords
Forgiveness

Stress

Coping

Individual differences

Trajectories

Symptoms

Risk

Mechanism

Development

Health

Disease