Abstract
Background
Cancer survivors treated with hematopoietic stem cell transplant rely on their social network for successful recovery. However, some survivors have negative attitudes about using social resources (negative social network orientation) that are critical for their recovery.
Purpose
We examined the association between survivors' social network orientation and health-related quality of life (HRQoL) and whether it was mediated by social resources (network size, perceived support, and negative and positive support-related social exchanges).
Methods
In a longitudinal study, 255 survivors completed validated measures of social network orientation, HRQoL, and social resources. Hypotheses were tested using path analysis.
Results
More negative social network orientation predicted worse HRQoL (p < .001). This association was partially mediated by lower perceived support and more negative social exchanges.
Conclusions
Survivors with negative social network orientation may have poorer HRQoL in part due to deficits in several key social resources. Findings highlight a subgroup at risk for poor transplant outcomes and can guide intervention development.
Access options
Buy single article
Instant access to the full article PDF.
USD 39.95
Price excludes VAT (USA)
Tax calculation will be finalised during checkout.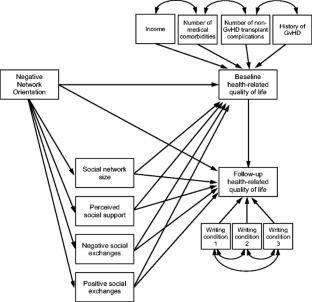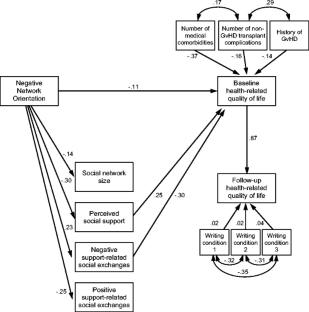 References
Gyurkocza B, Sandmaier BM. Conditioning regimens for hematopoietic cell transplantation: One size does not fit all. Blood. 2014; 124: 344-353.

McQuellon RP, Andrykowski M. Psychosocial issues in hematopoietic cell transplantation. Thomas' Hematopoietic Cell Transplantation: Stem Cell Transplantation, 4th Edition. 2009:488–501.

Copelan EA. Hematopoietic stem-cell transplantation. N Engl J Med. 2006; 354: 1813-1826.

Austin J, Rini C. Bone marrow and stem cell transplant. In: Block AR, Sarwer DB, eds. Presurgical Psychological Screening: Understanding Patients, Improving Outcomes. Washington, DC: American Psychological Association; 2013: 103-125.

Hamadani M, Craig M, Awan F, Devine S. How we approach patient evaluation for hematopoietic stem cell transplantation. Bone Marrow Transplant. 2010; 45: 1259-1268.

Braamse AMJ, Gerrits MMJG, van Meijel B, et al. Predictors of health-related quality of life in patients treated with auto- and allo-SCT for hematological malignancies. Bone Marrow Transplant. 2011; 47: 757-769.

Rodrigue JR, Pearman TP, Moreb J. Morbidity and mortality following bone marrow transplantation: Predictive utility of pre-BMT affective functioning, compliance, and social support stability. Int J Behav Med. 1999; 6: 241-254.

Kettmann JDJ, Altmaier EM. Social support and depression among bone marrow transplant patients. J Health Psychol. 2008; 13: 39-46.

Syrjala KL, Langer SL, Abrams JR, et al. Recovery and long-term function after hematopoietic cell transplantation for leukemia or lymphoma. JAMA. 2004; 291: 2335-2343.

Tolsdorf CC. Social networks, support, and coping: An exploratory study. Fam Process. 1976; 15: 407-417.

Vaux A, Burda P, Stewart D. Orientation toward utilization of support resources. J Community Psychol. 1986; 14: 159-170.

Cohen S, Wills TA. Stress, social support, and the buffering hypothesis. Psychol Bull. 1985; 98: 310.

Cohen S, Doyle WJ, Skoner DP, Rabin BS, Gwaltney JM. Social ties and susceptibility to the common cold. JAMA. 1997; 277: 1940-1944.

Gottlieb BH, Bergen AE. Social support concepts and measures. J Psychosom Res. 2010; 69: 511-520.

Mitchell PH, Powell L, Blumenthal J, et al. A short social support measure for patients recovering from myocardial infarction: the ENRICHD social support inventory. J Cardiopulm Rehabil Prev. 2003; 23: 398-403.

Newsom JT, Rook KS, Nishishiba M, Sorkin DH, Mahan TL. Understanding the relative importance of positive and negative social exchanges: Examining specific domains and appraisals. J Gerontol B Psychol Sci Social Sci. 2005; 60: P304-P312.

Pinquart M, Duberstein PR. Associations of social networks with cancer mortality: A meta-analysis. Crit Rev Oncol Hematol. 2010; 75: 122-137.

Sapp AL, Trentham-Dietz A, Newcomb PA, et al. Social networks and quality of life among female long-term colorectal cancer survivors. Cancer. 2003; 98: 1749-1758.

Soares A, Biasoli I, Scheliga A, et al. Association of social network and social support with health-related quality of life and fatigue in long-term survivors of Hodgkin lymphoma. Support Care Cancer. 2013; 21: 2153-2159.

Cohen S. Social relationships and health. Am Psychol. 2004; 59: 676.

Berkman LF, Glass T, Brissette I, Seeman TE. From social integration to health: Durkheim in the new millennium. Soc Sci Med. 2000; 51: 843-857.

Taylor SE. Social support. Foundations of health psychology. 2007:145–171.

Thoits PA. Mechanisms linking social ties and support to physical and mental health. J Health Soc Behav. 2011; 52: 145-161.

Newsom JT. Another side to caregiving: Negative reactions to being helped. Curr Dir Psychol Sci. 1999; 8: 183-187.

Rook KS. The negative side of social-interaction: Impact on psychological well-being. J Pers Soc Psychol. 1984; 46: 1097-1108.

Rini C, Redd WH, Austin J, et al. Effectiveness of partner social support predicts enduring psychological distress after hematopoietic stem cell transplantation. J Consult Clin Psychol. 2011; 79: 64.

Rini C, Dunkel Schetter C. The effectiveness of social support transactions in intimate relationships. In: Sullivan KT, Davila J, eds. Support Processes in Intimate Relationships. New York: Oxford University Press; 2010: 26-67.

Haber MG, Cohen JL, Lucas T, Baltes BB. The relationship between self-reported received and perceived social support: A meta-analytic review. Am J Community Psychol. 2007; 39: 133-144.

Uchino BN. Understanding the links between social support and physical health: A life-span perspective with emphasis on the separability of perceived and received support. Perspect Psychol Sci. 2009; 4: 236-255.

Dunkel-Schetter C, Bennett TL. Differentiating the cognitive and behavioral aspects of social support. In: Sarason BR, Sarason IG, Pierce GR, eds. Social Support: An Interactional View. New York: John Wiley & Sons; 1990: 267-296.

Norris FH, Kaniasty K. Received and perceived social support in times of stress: A test of the social support deterioration deterrence model. J Pers Soc Psychol. 1996; 71: 498-511.

Thoits PA. Multiple identities and psychological well-being—A reformulation and test of the social-isolation hypothesis. Am Sociol Rev. 1983; 48: 174-187.

Brissette I, Cohen S, Seeman TE. Measuring social integration and social networks. In: Cohen S, Underwood LG, Gottlieb BH, eds. Social Support Measurement and Intervention. Oxford University Press: New York; 2000: 53-85.

Vaux A. Factor structure of the network orientation scale. Psychol Rep. 1985; 57: 1181-1182.

Eckenrode J. The mobilization of social supports: Some individual constraints. Am J Community Psychol. 1983; 11: 509-528.

Hobfoll SE, Lerman M. Predicting receipt of social support: A longitudinal study of parents' reactions to their child's illness. Health Psychol. 1989; 8: 61.

Kaniasty K, Norris FH. Help-seeking comfort and receiving social support: The role of ethnicity and context of need. Am J Community Psychol. 2000; 28: 545-581.

Nadler A. Personality and help seeking. Sourcebook of social support and personality: Springer 1997:379–407.

Rini C, Schetter CD, Hobel CJ, Glynn LM, Sandman CA. Effective social support: Antecedents and consequences of partner support during pregnancy. Pers Relatsh. 2006; 13: 207-229.

Rini C, Austin J, Wu LM, et al. Harnessing benefits of helping others: A randomized controlled trial testing expressive helping to address survivorship problems after hematopoietic stem cell transplant. Health Psychol. 2014; 33: 1541-1551.

Derogatis LR, Spencer P. Brief Symptom Inventory: BSI. NJ: Pearson Upper Saddle River; 1993.

Horowitz M, Wilner N, Alvarez W. Impact of event scale: A measure of subjective stress. Psychosom Med. 1979; 41: 209-218.

McQuellon R, Russell G, Cella D, et al. Quality of life measurement in bone marrow transplantation: Development of the functional assessment of cancer therapy-bone marrow transplant (FACT-BMT) scale. Bone Marrow Transplant. 1997; 19: 357-368.

Cella D. Manual of the Functional Assessment of Chronic Illness Therapy (FACIT) Measurement System, Version 4. Evanston: Center on Outcomes, Research and Education (CORE), Evanston Northwestern Healthcare and Northwestern University; 1997.

Scheier MF, Wrosch C, Baum A, et al. The life engagement test: Assessing purpose in life. J Behav Med. 2006; 29: 291-298.

Leger CS, Nevill TJ. Hematopoietic stem cell transplantation: A primer for the primary care physician. CMAJ. 2004; 170: 1569-1577.

Sangha O, Stucki G, Liang MH, Fossel AH, Katz JN. The self‐administered comorbidity questionnaire: A new method to assess comorbidity for clinical and health services research. Arthritis Care Res. 2003; 49: 156-163.

Bentler P. EQS 6 Structural Equations Program Manual. Encino: Multivariate Software, Inc.; 2008.

Browne MW, Cudeck R. Alternative ways of assessing model fit. In: Bollen KA, Long JS, eds. Testing Structural Equation Models. Newbury Park: Sage; 1993: 136-162.

Hu LT, Bentler PM. Cutoff criteria for fit indexes in covariance structure analysis: Conventional criteria versus new alternatives. Struct Equ Modeling. 1999; 6: 1-55.

Wallace JL, Vaux A. Social support network orientation: The role of adult attachment style. J Soc Clin Psychol. 1993; 12: 354-365.

Clapp JD, Gayle Beck J. Understanding the relationship between PTSD and social support: The role of negative network orientation. Behav Res Ther. 2009; 47: 237-244.

Pidala J, Kurland B, Chai X, et al. Patient-reported quality of life is associated with severity of chronic graft-versus-host disease as measured by NIH criteria: Report on baseline data from the Chronic GVHD Consortium. Blood. 2011; 117: 4651-4657.

O'Mara-Eves A, Brunton G, Oliver S, et al. The effectiveness of community engagement in public health interventions for disadvantaged groups: A meta-analysis. BMC Public Health. 2015; 15: 129.

Anders SL, Tucker JS. Adult attachment style, interpersonal communication competence, and social support. Pers Relatsh. 2000; 7: 379-389.

Hazan C, Shaver P. Romantic love conceptualized as an attachment process. J Pers Soc Psychol. 1987; 52: 511-524.

Collins NL, Feeney BC. Working models of attachment shape perceptions of social support: Evidence from experimental and observational studies. J Pers Soc Psychol. 2004; 87: 363-383.

Selig JP, Preacher KJ. Mediation models for longitudinal data in developmental research. Res Hum Dev. 2009; 6: 144-164.

Uchino BN. Social Support and Physical Health: Understanding the Health Consequences of Relationships. New Haven: Yale University Press; 2004.

Holt-Lunstad J, Smith TB, Layton JB. Social relationships and mortality risk: A meta-analytic review. PLoS Med. 2010; 7: e1000316.

Preacher KJ. Advances in mediation analysis: A survey and synthesis of new developments. Annu Rev Psychol. 2015; 66: 825-852.

Joshua TV, Rizzo JD, Zhang M-J, et al. Access to hematopoietic stem cell transplantation. Cancer. 2010; 116: 3469-3476.
Acknowledgments
This research was supported by the American Cancer Society, grant #RSGPB-07-285-01-CPPB (PI: Rini). We thank the study staff and all the transplant survivors who participated in this study for their time and dedication.
Authors' Contributions
All authors contributed significantly to the manuscript and have seen and approved it.
Ethics declarations
Christine Rini, PhD, Yael Symes, MSPH, Rebecca A. Campo, PhD, Jane Austin, PhD, Lisa M. Wu, PhD declare that they have no conflict of interest. All procedures, including the informed consent process, were conducted in accordance with the ethical standards of the responsible committee on human experimentation (institutional and national) and with the Helsinki Declaration of 1975, as revised in 2000.
About this article
Cite this article
Rini, C., Symes, Y., Campo, R.A. et al. I Keep my Problems to Myself: Negative Social Network Orientation, Social Resources, and Health-Related Quality of Life in Cancer Survivors. ann. behav. med. 50, 385–396 (2016). https://doi.org/10.1007/s12160-015-9765-5
Published:

Issue Date:

DOI: https://doi.org/10.1007/s12160-015-9765-5
Keywords