Abstract
Introduction
Nearly 50 % of patients with chronic medical illness exhibit poor treatment adherence. When making treatment decisions, these patients must balance the probability of current side effects against the probability of long-term benefits. This study examines if the behavioral economic construct of probability discounting can be used to explain treatment decisions in chronic disease.
Methods
Thirty-eight nonadherent and 39 adherent patients with multiple sclerosis (MS) completed a series of hypothetical treatment scenarios with varied risk and benefit probabilities.
Results
As described by a hyperbolic probability discounting model, all patients reported decreased medication initiation as the probability of treatment efficacy decreased and the probability of treatment side effects increased. When compared to adherent patients, nonadherent patients significantly devalued treatment efficacy and inflated treatment risk.
Discussion
The methods in this study can be used to identify optimal risk/benefit ratios for treatment development and inform the process by which patients make treatment decisions.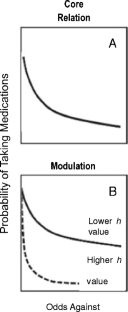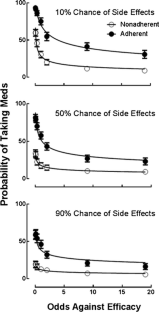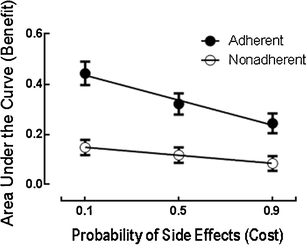 References
1.

Petri M, Perez-Gutthann S, Longenecker J, et al. Morbidity of systemic lupus erythematosus: role of race and socio-economic status. Am J Med. 1991; 91: 345-53.

2.

Harrison T, Derose S, Cheetham C, et al. Primary nonadherence to statin therapy: patients' perceptions. Am J Manag Care. 2013; 19(4): e133-e9.

3.

Ferrari C, de Sousa R, Castro L. Factors associated with treatment non-adherence in patients with epilepsy in Brazil. Seizure. 2013; 22(5): 384-9.

4.

Sabate E. Adherence to Long-Term Therapies - Evidence for Action. Geneva: World Health Organziation; 2003.

5.

Benedict RHB, Wahlig E, Bakshi R, et al. Predicting quality of life in multiple sclerosis: accounting for physical disability, fatigue, cognition, mood disorder, personality, and behavior change. J Neurol Sci. 2005; 231(1–2): 29-34.

6.

Bruce JM, Hancock L, Arnett P, et al. Treatment adherence in multiple sclerosis: association with emotional status, personality and cognition. J Behav Med. 2010; 33(3): 219-27.

7.

Rao SM, Leo GJ, Ellington L, et al. Cognitive dysfunction in multiple sclerosis. II. Impact on employment and social functioning. Neurology. 1991; 41(5): 692-6.

8.

Kieseier BC, Wiendl H, Leussink VI, et al. Immunomodulatory treatment strategies in multiple sclerosis. J Neurol. 2008; 255(Suppl 6): 15-21.

9.

Margolis JM, Fowler R, Johnson BH, et al. Disease-modifying drug initiation patterns in commercially insured multiple sclerosis patients: a retrospective cohort study. BMC Neurol. 2011; 11: 122.

10.

Bruce JM, Lynch S. Multiple Sclerosis: MS treatment adherence- how to keep patients on medication? Nat Rev Neurol. 2011; 7(8): 421-2.

11.

Wong J, Gomes T, Mamdani M, et al. Adherence to Multiple Sclerosis Disease-Modifying Therapies in Ontario is Low. Can J Neurol Sci. 2011; 38(3): 429-33.

12.

Reynolds MW, Stephen R, Seaman C, et al. Persistence and adherence to disease modifying drugs among patients with multiple sclerosis. Curr Med Res Opin. 2010; 26(3): 663-74.

13.

Pozzilli C, Schweikert B, Ecari U, et al. Supportive strategies to improve adherence to IFN Beta-1b in multiple sclerosis - results of the BPlus observational cohort study. J Neurol Sci. 2011; 307(1–2): 120-6.

14.

Daugherty K, Butler J, Mattingly M, et al. Factors leading patients to discontinue multiple sclerosis therapies. J Am Pharm Assoc. 2005; 45(3): 371-5.

15.

Shead NW, Hodgins DC. Probability discounting of gains and losses: implications for risk attitudes and impulsivity. J Exp Anal Behav. 2009; 92(1): 1-16.

16.

Yi R, Chase WD, Bickel WK. Probability discounting among cigarette smokers and nonsmokers: molecular analysis discerns group differences. Behav Pharmacol. 2007; 18(7): 633-9.

17.

Rasmussen EB, Lawyer SR, Reilly W. Percent body fat is related to delay and probability discounting for food in humans. Behav Processes. 2010; 83(1): 23-30.

18.

Lawyer SR, Schoepflin FJ. Predicting domain-specific outcomes using delay and probability discounting for sexual versus monetary outcomes. Behav Processes. 2013; 96: 71-8.

19.

Polman CH, Reingold SC, Edan G, et al. Diagnostic criteria for multiple sclerosis: 2005 revisions to the "McDonald Criteria". Ann Neurol. 2005; 58(6): 840-6.

20.

Bruce JM, Hancock L, Arnett P, et al. Objective adherence monitoring in MS: Initial validation and association with self-report. Mult Scler. 2010; 16(1): 112-20.

21.

Fisk JD, Pontefract A, Ritvo PG, et al. The impact of fatigue on patients with multiple sclerosis. Can J Neurol Sci. 1994; 21: 9-14.

22.

Veit CT, Ware JE Jr. The structure of psychological distress and well-being in general populations. J Consult Clin Psychol. 1983; 51(5): 730-42.

23.

Kurtzke JF. Rating neurologic impairment in multiple sclerosis: an expanded disability status scale (EDSS). Neurology. 1983; 33: 1444-52.

24.

Mazur J. An adjusting procedure for studying delayed reinforcement. In: Mazur J, Commons M, Nevin J, Rachlin H, eds. Quantitative Analyses of Behavior, Vol 5: The effect of delay and of intervening events on reinforcement value. Hillsdale: Erlbaum; 1987.

25.

Green L, Myerson J. A discounting framework for choice with delayed and probabilistic rewards. Psychol Bull. 2004; 130(5): 769-92.

26.

Myerson J, Green L, Warusawitharana M. Area under the curve as a measure of discounting. J Exp Anal Behav. 2001; 76(2): 235-43.

27.

Rachlin H, Raineri A, Cross D. Subjective probability and delay. J Exp Anal Behav. 1991; 55(2): 233-44.

28.

Green L, Myerson J, Holt DD, et al. Discounting of delayed food rewards in pigeons and rats: is there a magnitude effect? J Exp Anal Behav. 2004; 81(1): 39-50.

29.

Bickel W, Vuchinich RE, editors. Reframing health behavior change with behavioral economics: Psychology Press; 2000.

30.

Jarmolowicz DP, Cherry JB, Reed DD, et al. Robust relation between temporal discounting rates and body mass. Appetite. 2014; 78: 63-7.

31.

Odum AL, Madden GJ, Badger GJ, et al. Needle sharing in opioid-dependent outpatients: psychological processes underlying risk. Drug Alcohol Depend. 2000; 60(3): 259-66.

32.

Bickel WK, Jarmolowicz DP, Mueller ET, et al. Altruism in time: social temporal discounting differentiates smokers from problem drinkers. Psychopharmacology (Berl). 2012; 224(1): 109-20.

33.

Johnson MW, Bruner NR. The Sexual Discounting Task: HIV risk behavior and the discounting of delayed sexual rewards in cocaine dependence. Drug Alcohol Depend. 2012; 123(1–3): 15-21.

34.

Fagerlin A, Ubel PA, Smith DM, et al. Making numbers matter: present and future research in risk communication. Am J Health Behav. 2007; 31(Suppl 1): S47-56.

35.

Nelson WL, Han PK, Fagerlin A, et al. Rethinking the objectives of decision aids: a call for conceptual clarity. Med Decis Making. 2007; 27(5): 609-18.

36.

Fagerlin A, Zikmund-Fisher BJ, Ubel PA. "If I'm better than average, then I'm ok?": Comparative information influences beliefs about risk and benefits. Patient Educ Couns. 2007; 69(1–3): 140-4.

37.

Tversky A, Kahneman D. The framing of decisions and the psychology of choice. Science. 1981; 211(4481): 453-8.

38.

Critchfield TS, Reed DD. What are we doing when we translate from quantitative models? Behav Anal. 2009; 32: 339-361.
Acknowledgments
This project was supported in part by grant to J. Bruce from the National Multiple Sclerosis (HC 0138) and a grant to M. Glusman from the University of Missouri-Kansas City School of Graduate Studies.
Ethics declarations
Authors' Statement of Conflict of Interest and Adherence to Ethical Standards
Dr. J. Bruce is a member of the Novartis Unbranded Speakers Bureau and the Novartis MS Cognition Medical Advisory Board. He is also a consultant to the National Hockey League. Authors A. Bruce, Catley, Lynch, Goggin, Reed, Lim, Strober, Glusman, Ness, and Jarmolowicz declare that they have no conflict of interest. All procedures, including the informed consent process, were conducted in accordance with the ethical standards of the responsible committee on human experimentation (institutional and national) and with the Helsinki Declaration of 1975, as revised in 2000.
Appendix
Appendix
Medical Decision Making Questionnaire
When thinking about whether to take or not to take a Disease Modifying Medication, patients must weigh the potential costs and benefits associated with each decision. Please indicate how likely you would be to take a Disease Modifying Medication if each of the following statements were true.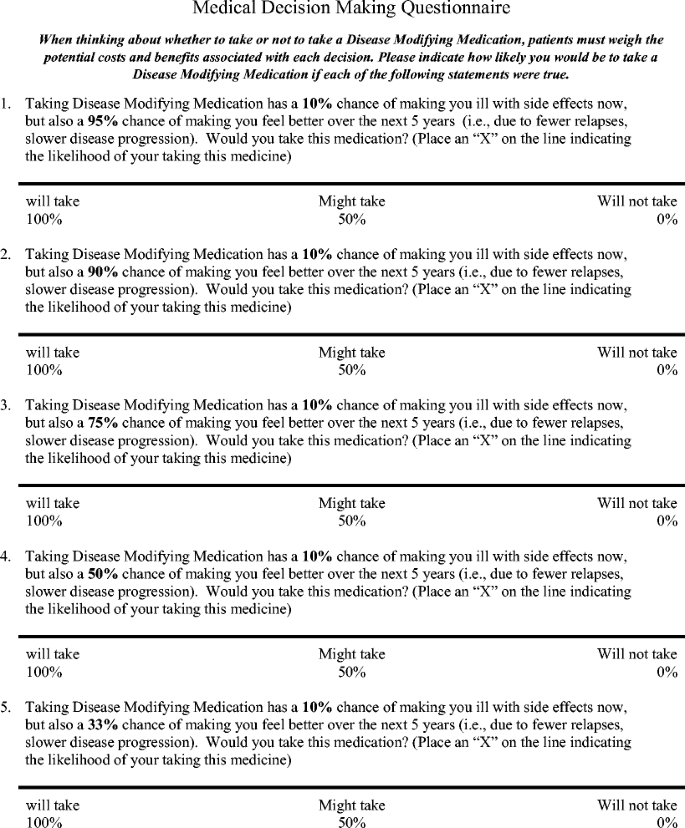 About this article
Cite this article
Bruce, J.M., Bruce, A.S., Catley, D. et al. Being Kind to Your Future Self: Probability Discounting of Health Decision-Making. ann. behav. med. 50, 297–309 (2016). https://doi.org/10.1007/s12160-015-9754-8
Keywords
Probability discounting

Multiple sclerosis

Temporal discounting

Medical decision-making

Behavioral economics

Treatment adherence

Compliance