Abstract
Background
Given the popularity of mobile applications (apps) designed to increase exercise participation, it is important to understand their effects on psychological predictors of exercise behavior.
Purpose
This study tested a performance feedback-based app compared to a game-based app to examine their effects on aspects of immediate response to an exercise bout.
Methods
Twenty-eight participants completed a 30-min treadmill run while using one of two randomly assigned mobile running apps: Nike + Running, a performance-monitoring app which theoretically induces an associative, goal-driven state, or Zombies Run!, an app which turns the experience of running into a virtual reality game, theoretically inducing dissociation from primary exercise goals.
Results
The two conditions did not differ on primary motivational state outcomes; however, participants reported more associative attentional focus in the performance-monitoring app condition compared to more dissociative focus in the game-based app condition.
Conclusions
Game-based and performance-tracking running apps may not have differential effects on goal motivation during exercise. However, game-based apps may help recreational exercisers dissociate from exercise more readily. Increasing the enjoyment of an exercise bout through the development of new and innovative mobile technologies is an important avenue for future research.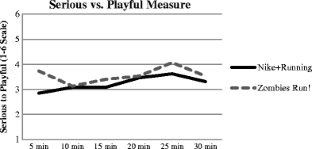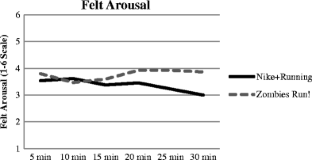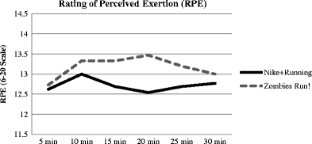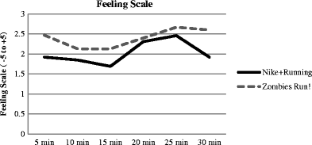 References
1.

Schoenborn CA, Adams PF, Peregoy JA. Health behaviors of adults: United States, 2008-2010. Vital Health Stat 10. 2013;(257):1-184.

2.

American College of Sports Medicine. ACSM's Guidelines for Exercise Testing and Prescription. Lippincott Williams & Wilkins; 2013.

3.

Ekkekakis P, Petruzzello SJ. Acute Aerobic Exercise And Affect: Current Status, Problems And Prospects Regarding Dose Response. Sport Med. 1999;28:337-374. http://0-search.proquest.com.libraries.colorado.edu/docview/18905611?accountid=14503.

4.

Thatcher J, Kuroda Y, Thatcher R, Legrand F. Perceptual and cognitive responses during exercise: Relationships with metamotivational state and dominance. Eur J Sports Sci. 2010; 10(3): 199-207.

5.

Svebak S, Murgatroyd S. Metamotivational dominance: a multimethod validation of reversal theory constructs. J Pers Soc Psychol. 1985; 48(1): 107.

6.

Mann T, de Ridder D, Fujita K. Self-regulation of health behavior: social psychological approaches to goal setting and goal striving. Heal Psychol. 2013; 32(5): 487.

7.

Morgan WP, Horstman DH, Cymerman A, Stokes J. Facilitation of physical performance by means of a cognitive strategy. Cogn Ther Res. 1983; 7(3): 251-264.

8.

Cohen J. Statistical Power Analysis for the Behavioral Sciences (2nd Ed.). 2nd ed. Hillsdale, NJ: Erlbaum; 1988.

9.

Hardy CJ, Rejeski WJ. Not what, but how one feels: The measurement of affect during exercise. J Sport Exerc Psychol. 1989; 11(3): 304-317.

10.

Baden DA, Warwick-Evans L, Lakomy J. Am I nearly there? The effect of anticipated running distance on perceived exertion and attentional focus. J Sport Exerc Psychol. 2004; 26(2): 215-231.

11.

Morgan WP, Pollock ML. Psychologic characterization of the elite distance runner. Ann N Y Acad Sci. 1977; 301(1): 382-403.

12.

Stevinson CD, Biddle SJ. Cognitive orientations in marathon running and "hitting the wall". Br J Sports Med. 1998; 32(3): 229-234.

13.

Borg GA. Psychophysical bases of perceived exertion. Med sci Sport Exerc. 1982; 14(5): 377-381.

14.

Ekkekakis P, Parfitt G, Petruzzello SJ. The pleasure and displeasure people feel when they exercise at different intensities. Sport Med. 2011; 41(8): 641-671.

15.

Kerr JH, Els Van den Wollenberg A. High and low intensity exercise and psychological mood states. Psychol Heal. 1997;12(5):603-618

16.

Beaver WL, Wasserman K, Whipp BJ. A new method for detecting anaerobic threshold by gas exchange. J Appl Physiol. 1986; 60(6): 2020-2027.

17.

LaCaille RA, Masters KS, Heath EM. Effects of cognitive strategy and exercise setting on running performance, perceived exertion, affect, and satisfaction. Psychol Sports Exerc. 2004; 5(4): 461-476.

18.

Padgett VR, Hill AK. Maximizing Athletic Performance in Endurance Events: A Comparison of Cognitive Strategies 1. J Appl Soc Psychol. 1989; 19(4): 331-340.

19.

Brick N, MacIntyre T, Campbell M. Attentional focus in endurance activity: new paradigms and future directions. Int Rev Sports Exerc Psychol. 2014; 7(1): 106-134.
Authors' Statement of Conflict of Interest and Adherence to Ethical Standards
Authors Arielle S. Gillman and Angela D. Bryan declare that they have no conflict of interest. All procedures, including the informed consent process, were conducted in accordance with the ethical standards of the responsible committee on human experimentation (institutional and national) and with the Helsinki Declaration of 1975, as revised in 2000.
About this article
Cite this article
Gillman, A.S., Bryan, A.D. Effects of Performance Versus Game-Based Mobile Applications on Response to Exercise. ann. behav. med. 50, 157–162 (2016). https://doi.org/10.1007/s12160-015-9730-3
Keywords
Exercise

Mobile apps

Reversal theory

Goals

Motivation