Abstract
Background
Exposure to smoking-related cues leads to increased urge to smoke in regular cigarette smokers and resisting these urges requires considerable self-control.
Purpose
Adopting a resource depletion model, two studies tested the hypothesis that resisting smoking urges depletes self-control resources.
Methods
Adopting a within-participants randomized cross-over design, participants (study 1, N = 19; study 2, N = 32) were exposed to smoking-related (study 1: smoking images; study 2: cigarette cue-exposure task) and neutral (study 1: neutral images; study 2: drinking-straw task) cues with presentation order randomized. After each cue set, participants completed self-control tasks (study 1: handgrip task; study 2: handgrip and Stroop tasks), performance on which constituted dependent measures of self-control.
Results
Self-control task performance was significantly impaired when exposed to smoking-related cues compared to neutral cues. No significant presentation-order effects, or interaction effects between stimulus and presentation order, were found.
Conclusions
Findings corroborate our hypothesis that resisting smoking urges depletes cigarette smokers' self-control resources and suggests that self-control capacity is governed by a limited resource.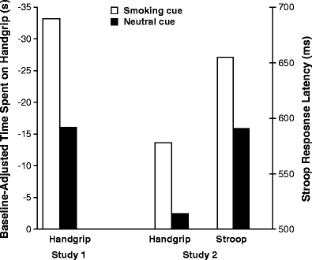 Notes
1.

We omitted the data of one participant from the original sample (N = 20) as the data were incomplete as she opted to withdraw from the experiment early.

2.

In reality, the cigarettes in each pile were from the same brand and therefore identical in order to control for brand preference.

3.

The protocols for the cigarette and drinking-straw evaluation (cue exposure) tasks are available from the first author on request.

4.

We also tested for differences across smoking and neutral cue exposure on critical single items from the brief Questionnaire of Smoking Urges scale shown to have equal sensitivity to abstinence and reliability to the full scale. Specifically, we found significant differences on item 5 "All I want right now is a cigarette" (study 1: smoking image exposure M = 2.58, SE = 0.30, neutral image exposure M = 2.00, SE = 0.24, t(18) = 3.64, p = .002, d = 1.67; study 2: smoking cue exposure M = 3.41, SE = 0.28, neutral cue exposure, M = 2.13, SE = 0.18, t(31) = 5.57, p < .001, d = 1.97) and item 6 "I have an urge for a cigarette" (Study 1: smoking image exposure M = 3.68, SE = 0.45, neutral image exposure, M = 3.11, SE = 0.41, t(18) = 2.25, p = .037, d = 1.03; Study 2: smoking cue exposure M = 4.63, SE = 0.26, neutral cue exposure, M = 3.00, SE = 0.28, t(31) = 7.59, p < .001, d = 2.68).

5.

We adjusted the time participants spent on the handgrip task after exposure to each image set for baseline strength by subtracting baseline handgrip duration from handgrip task duration after each image set. The more negative the scores, the greater the level of self-control resource depletion

6.

We repeated the ANOVAs with Tobacco Dependence Screener scores as a covariate to control for tobacco dependence. The pattern of findings was identical to the analyses with Tobacco Dependence Screener scores excluded and there were no significant main or interaction effects for Tobacco Dependence Screener scores on the handgrip (both studies) and Stroop (study 2) dependent variables. We therefore report the ANOVA results with the Tobacco Dependence Screener scores excluded.
References
1.

Borland R. Slip-ups and relapse in attempts to quit smoking. Addictive Behaviors. 1990;15:235-245.

2.

Chornock WM, Stitzer ML, Gross J, Leischow S. Experimental-model of smoking reexposure—Effects on relapse Psychopharmacology. 1992;108:495-500.

3.

Shadel WG, Martino SC, Setodji C, et al. Lapse-induced surges in craving influence relapse in adult smokers: An experimental investigation. Health Psychology. 2011;30:588-596.

4.

Shiffman S. Responses to smoking cues are relevant to smoking and relapse. Addiction. 2009;104:1617-1618.

5.

Ferguson SG, Shiffman S. The relevance and treatment of cue-induced cravings in tobacco dependence. Journal of Substance Abuse Treatment. 2009;36:235-243.

6.

O'Connell KA, Schwartz JE, Shiffman S. Do resisted temptations during smoking cessation deplete or augment self-control resources? Psychology of Addictive Behaviors. 2008;22:486-495.

7.

West R. The Multiple facets of cigarette addiction and what they mean for encouraging and helping smokers to stop. Journal of Chronic Obstructive Pulmonary Disease. 2009;6:277-283.

8.

Baumeister RF, Bratslavsky E, Muraven M, Tice DM. Ego depletion: Is the active self a limited resource? Journal of Personality and Social Psychology. 1998;74:1252-1265.

9.

Muraven M, Tice DM, Baumeister RF. Self-control as a limited resource: Regulatory depletion patterns. Journal of Personality and Social Psychology. 1998;74:774-789.

10.

Hagger MS, Wood C, Stiff C, Chatzisarantis NLD. Ego depletion and the strength model of self-control: A meta-analysis. Psychological Bulletin. 2010;136:495-525.

11.

Muraven M, Shmueli D. The self-control costs of fighting the temptation to drink. Psychology of Addictive Behaviors. 2006;20:154-160.

12.

Shmueli D, Prochaska JJ. Resisting tempting foods and smoking behavior: Implications from a self-control theory perspective. Health Psychology. 2009;28:300-306.

13.

Heckman BW, Ditre JW, Brandon TH. The restorative effects of smoking upon self-control resources: A negative reinforcement pathway. Journal of Abnormal Psychology. 2012;121:244-249.

14.

Muraven M, Baumeister RF. Self-regulation and depletion of limited resources: Does self-control resemble a muscle? Psychological Bulletin. 2000;126:247-259.

15.

Nordgren LF, Chou EY. The push and pull of temptation: The bidirectional influence of temptation on self-control. Psychological Science. 2011;22(11):1386-1390.

16.

Webb TL, Sniehotta FF, Michie S. Using theories of behaviour change to inform interventions for addictive behaviours. Addiction. 2010;105:1879-1892.

17.

Baxter BW, Hinson RE. Is smoking automatic? Demands of smoking behavior on attentional resources. Journal of Abnormal Psychology. 2001;110:59-66.

18.

Cox LS, Tiffany ST, Christen AG. Evaluation of the brief questionnaire of smoking urges (QSU-brief) in laboratory and clinical settings. Nicotine & Tobacco Research. 2001;3:7-16.

19.

Morgan MJ, Davies GM, Willner P. The Questionnaire of Smoking Urges is sensitive to abstinence and exposure to smoking-related cues. Behavioural Pharmacology. 1999;10:619-626.

20.

LaRowe SD, Saladin ME, Carpenter MJ, Upadhyaya HP. Reactivity to nicotine cues over repeated cue reactivity sessions. Addictive Behaviors. 2007;32:2888-2899.

21.

Kawakami N, Takatsuka N, Inaba S, Shimizu H. Development of a screening questionnaire for tobacco/nicotine dependence according to ICD-10, DSM-III-r, and DSM-IV. Addictive Behaviors. 1999;24:155-166.

22.

Gilbert DG, Rabinovitch NE. International Smoking Image Series with neutral counterparts (1.2 Ed.). Carbondale, IL: Southern Illinois University at Carbondale; 1998.

23.

Attwood AS, O'Sullivan H, Leonards U, Mackintosh B, Munafo MR. Attentional bias training and cue reactivity in cigarette smokers. Addiction. 2008;103:1875-1882.

24.

Waters AJ, Shiffman S, Sayette MA, et al. Cue-provoked craving and nicotine replacement therapy in smoking cessation. Journal of Consulting and Clinical Psychology. 2004;72:1136-1143.

25.

Sayette MA, Hufford MR. Effects of cue exposure and deprivation on cognitive resources in smokers. Journal of Abnormal Psychology. 1994;103:812-818.

26.

Mayer JD, Gaschke YN. The experience and meta-experience of mood. Journal of Personality and Social Psychology. 1988;55:102-111.

27.

Baumeister RF, Vohs KD, Tice DM. The strength model of self-control. Current Directions in Psychological Science. 2007;16:351-355.

28.

Hagger MS, Wood C, Stiff C, Chatzisarantis NLD. The strength model of self-regulation failure and health-related behavior. Health Psychology Review. 2009;3:208-238.

29.

Soar K, Dawkins L, Begum H, Parrott AC. The effects of cigarette smoking and abstinence on auditory verbal learning. Human Psychopharmacology-Clinical and Experimental. 2008;23:621-627.

30.

Hughes JR, Keenan RM, Yellin A. Effect of tobacco withdrawal on sustained attention. Addictive Behaviors. 1989;14:577-580.

31.

Muraven M, Baumeister RF, Tice DM. Longitudinal improvement of self-regulation through practice: Building self-control strength through repeated exercise. Journal of Social Psychology. 1999;139:446-457.

32.

Hagger MS, Chatzisarantis NLD. The sweet taste of success: The presence of glucose in the oral cavity moderates the depletion of self-control resources. Personality and Social Psychology Bulletin. 2013;39:27-41.

33.

Knauper B, Pillay R, Lacaille J, McCollam A, Kelso E. Replacing craving imagery with alternative pleasant imagery reduces craving intensity. Appetite. 2011;57:173-178.

34.

Hagger MS, Lonsdale A, Koka A, et al. An intervention to reduce alcohol consumption in undergraduate students using implementation intentions and mental simulations: A cross-national study. International Journal of Behavioral Medicine. 2012;19:82-96.

35.

Erblich J, Bovbjerg DH. In vivo versus imaginal smoking cue exposures: Is seeing believing? Experimental and Clinical Psychopharmacology. 2004;12:208-215.
Conflict of Interest
The authors have no conflict of interest to disclose.
About this article
Cite this article
Hagger, M.S., Leaver, E., Esser, K. et al. Cue-Induced Smoking Urges Deplete Cigarette Smokers' Self-Control Resources. ann. behav. med. 46, 394–400 (2013). https://doi.org/10.1007/s12160-013-9520-8
Keywords
Strength model

Self-regulation

Tobacco

Smoking urge

Dual-task procedure