Abstract
Background
CONSORT guidelines call for precise reporting of behavior change interventions: we need rigorous methods of characterizing active content of interventions with precision and specificity.
Objectives
The objective of this study is to develop an extensive, consensually agreed hierarchically structured taxonomy of techniques [behavior change techniques (BCTs)] used in behavior change interventions.
Methods
In a Delphi-type exercise, 14 experts rated labels and definitions of 124 BCTs from six published classification systems. Another 18 experts grouped BCTs according to similarity of active ingredients in an open-sort task. Inter-rater agreement amongst six researchers coding 85 intervention descriptions by BCTs was assessed.
Results
This resulted in 93 BCTs clustered into 16 groups. Of the 26 BCTs occurring at least five times, 23 had adjusted kappas of 0.60 or above.
Conclusions
"BCT taxonomy v1," an extensive taxonomy of 93 consensually agreed, distinct BCTs, offers a step change as a method for specifying interventions, but we anticipate further development and evaluation based on international, interdisciplinary consensus.
Access options
Buy single article
Instant access to the full article PDF.
USD 39.95
Price excludes VAT (USA)
Tax calculation will be finalised during checkout.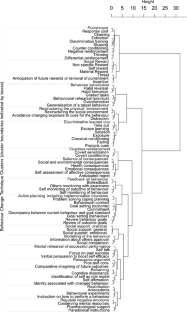 References
Craig P, Dieppe P, Macintyre S, et al. Developing and evaluating complex interventions: The new Medical Research Council guidance. BMJ. 2008:337.

Michie S, Fixsen D, Grimshaw JM, Eccles MP. Specifying and reporting complex behavior change interventions: The need for a scientific method. Implement Sci. 2009;40:1-6.

Davidson KW, Goldstein M, Kaplan RM, et al. Evidence-based behavioral medicine: What is it and how do we achieve it? Ann Behav Med. 2003;26:161-171.

Boutron I, Moher D, Altman DG, et al. Extending the CONSORT statement to randomized trials of non-pharmacologic treatment: Explanation and elaboration. Ann Intern Med. 2008;148:295-309.

Michie S, Johnston M, Francis J, Hardeman W, Eccles M. From theory to intervention: Mapping theoretically derived behavioral determinants to behavior change techniques. Appl Psychol 2008;57:660-680.

Michie S, Hardeman W, Fanshawe T, Provost TA. Investigating theoretical explanations for behavior change: The case study of ProActive. Psychol Health. 2008;23:25-39.

Albarracin D, Gillette J, Earl AN, Glasman LR. A test of major assumptions about behavior change: A comprehensive look at the effects of passive and active HIV-prevention interventions since the beginning of the epidemic. Psychol Bull. 2005;131:856-897.

Hardeman W, Griffin S, Johnston M, Kinmonth AL, Wareham NJ. Interventions to prevent weight gain: A systematic review of psychological models and behavior change methods. Int J Obesity. 2000;24:131-143.

Mischel W. Presidential address. Washington: Association for Psychological Science Annual Convention; 2012.

West R, Walia A, Hyder N, Shahab L, Michie S. Behavior change techniques used by the English Stop Smoking Services and their associations with short-term quit outcomes. Nicotine Tob Res. 2010;12:742-747.

Abraham C, Michie S. A taxonomy of behavior change techniques used in interventions. Health Psychol. 2008;27:379-387.

Michie S, Abraham C, Eccles MP, et al. Strengthening evaluation and implementation by specifying components of behavior change interventions: A study protocol. Implement Sci. 2011;6:10.

Michie S, Johnston M. Behavior change techniques. In: Gellman MD, Turner JR, eds. Encyclopedia of behavioral medicine. New York: Springer; 2011.

Michie S, Abraham C, Whittington C, McAteer J, Gupta S. Effective techniques in healthy eating and physical activity interventions: A meta-regression. Health Psychol 2009;28:690-701.

Michie S, Hyder N, Walia A, West R. Development of a taxonomy of behavior change techniques used in individual behavioral support for smoking cessation. Addict Behav. 2011;36:315-319.

Michie S, Whittington C, Hamoudi Z, et al. Identification of behavior change techniques to reduce excessive alcohol consumption. Addiction. 2012;107:1431-1440.

Abraham C, Good A, Warren MR, Huedo-Medina T, Johnson B. Developing and testing a SHARP taxonomy of behavior change techniques included in condom promotion interventions. Psychol Health. 2011;26(Supplement 2):299.

Ivers N, Jamtvedt G, Flottorp S, Young JM, et al. Audit and feedback: Effects on professional practice and patient outcomes. Cochrane Database Syst Rev. 2012; (6): CD000259.

Araujo-Soares V, MacIntyre T, MacLennan G, Sniehotta FF. Development and exploratory cluster-randomized opportunistic trial of a theory-based intervention to enhance physical activity among adolescents. Psychol Health 2009;24:805-822.

Gardner B, Whittington C, McAteer J, Eccles MP, Michie S. Using theory to synthesize evidence from behavior change interventions: The example of audit and feedback. Soc Sci Med. 2010;70:1618-1625.

Michie S, Jochelson K, Markham WA, Bridle C. Low-income groups and behavior change interventions: A review of intervention content, effectiveness and theoretical frameworks. J Epidemiol Community Health 2009;63:610-622.

Quinn F. On integrating biomedical and behavioral approaches to activity limitation with chronic pain: Testing integrated models between and within persons. Aberdeen: University of Aberdeen; 2010.

Cahill K, Moher M, Lancaster T. Workplace interventions for smoking cessation. Cochrane Database Syst Rev. 2008; (4): CD003440.

Michie S, Churchill S, West R. Identifying evidence-based competences required to deliver behavioral support for smoking cessation. Ann Behav Med. 2011;41:59-70.

Dixon D, Johnston M. Health behavior change competency framework: Competences to deliver interventions to change lifestyle behaviors that affect health. Edinburgh: Scottish Government; 2012.

Abraham C. Mapping change mechanisms and behaviour change techniques: A systematic approach to promoting behaviour change through text. In: Abraham C, Kools M, eds. Writing Health Communication: An Evidence-Based Guide for Professionals. London: SAGE Publications; 2011.

Stavri Z, Michie S. Classification systems in behavioral science: Current systems and lessons from the natural, medical and social sciences. Health Psychol Rev. 2012;6:113-140.

de Bruin M, Viechtbauer W, Hospers HJ, Schaalma HP, Kok G. Standard care quality determines treatment outcomes in control groups of HAART-adherence intervention studies: Implications for the interpretation and comparison of intervention effects. Health Psychol. 2009;28:668-674.

Dombrowski SU, Sniehotta FF, Avenell A, et al. Identifying active ingredients in complex behavioral interventions for obese adults with obesity-related co-morbidities or additional risk factors for co-morbidities: A systematic review. Health Psychol Rev 2012;6:7-32.

Michie S, Johnston M. Theories and techniques of behavior change: Developing a cumulative science of behavior change. Health Psychol Rev 2012;6:1-6.

Pill J. The Delphi method: Substance context, a critique and the annotated bibliography. Socioecon Planning Sci. 1991;5:57-71.

Vandenbos GR. APA dictionary of psychology. Washington, DC: American Psychological Association; 2006.

Brock G, Pihur V, Datta S, Datta S. Package 'clvalid': Validation of clustering results. J Statistical Software. 2008;25:1-22.

Suzuki R, Shimodaira H. Pvclust: An R package for assessing the uncertainty in hierarchical clustering. Bioinformatics. 2006;22:1540-1542.

Byrt T, Bishop J, Carlin JB. Bias, prevalence and kappa. J Clin Epidemiol. 1993;46:423-429.

Lantz CA, Nebenzahl E. Behavior and interpretation of the kappa statistic: Resolution of the two paradoxes. J Clin Epidemiol. 1996;49:431-434.

Landis JR, Koch GG. Measurement of observer agreement for categorical data. Biometrics. 1977;33:159-174.

Michie S, Johnston M. Changing clinical behavior by making guidelines specific. BMJ. 2004;328:343-345.

American Psychiatric Association. Diagnostic and Statistical Manual of Mental Disorders. 4th ed. Text Revision. Washington, DC: American Psychiatric Association; 2000.

World Health Organisation. ICD-10 international statistical classification of diseases and related health problems. Geneva, Switzerland: Illu; 1992.

Miller GA. The magical number seven, plus or minus two: Some limits on our capacity for processing information. Essential Sources in the Scientific Study of Consciousness. Cambridge: A Bradford Book; 2003:357-372.

Baddeley A. Short-term memory for word sequences as a function of acoustic, semantic and formal similarity. Q J Exp Psychol. 1966;18:362-365.

Polyn SM, Erlikhman G, Kahana MJ. Semantic cuing and the scale insensitivity of recency and contiguity. J Exp Psychol Learn Mem Cogn. 2011;37:766-775.

Tulving E, Pearlsto Z. Availability versus accessibility of information in memory for words. J Verb Learn Verb Behav. 1966;5:381-391.

Michie S, Johnston M, Abraham C, et al. Making psychological theory useful for implementing evidence based practice: A consensus approach. Qual Saf Health Care. 2005;14:26-33.

Kok G, Schaalma H, Ruiter RAC, Van Empelen P, Brug J. Intervention mapping: A protocol for applying health psychology theory to prevention programmes. J Health Psychol. 2004;9:85-98.

Michie S, van Stralen MM, West R. The behavior change wheel: A new method for characterising and designing behavior change interventions. Implement Sci. 2011;6:42.

Kolehmainen N, Francis JJ. Specifying content and mechanisms of change in interventions to change professionals' practice: An illustration from the Good Goals study in occupational therapy. Implement Sci. 2012;7:100.
Acknowledgments
The present work carried out as part of the BCT Taxonomy project was funded by the Medical Research Council. We are grateful to the very helpful input from Felicity Roberts, Members of the BCT Taxonomy project International Advisory Board (IAB), and expert coders.
Conflicts of Interest
The authors have no conflicts of interest to disclose.
Electronic Supplementary Material
Below is the link to the electronic supplementary material.
About this article
Cite this article
Michie, S., Richardson, M., Johnston, M. et al. The Behavior Change Technique Taxonomy (v1) of 93 Hierarchically Clustered Techniques: Building an International Consensus for the Reporting of Behavior Change Interventions. ann. behav. med. 46, 81–95 (2013). https://doi.org/10.1007/s12160-013-9486-6
Published:

Issue Date:

DOI: https://doi.org/10.1007/s12160-013-9486-6
Keywords