Abstract
Background
Marital status is associated with survival.
Purpose
The aims of this study are to evaluate marital history and timing on mortality during midlife, test the role of pre-marital personality, and quantify the role of health risk behaviors.
Methods
Cox proportional hazard models were run with varying classifications of marital history and sets of covariates.
Results
In fully adjusted models compared to the currently married, lifetime marital history predicts premature mortality with never married at 2.33 times risk of death and ever married at 1.64 risk of death. Midlife marital history shows that not having a partner during midlife (hazard ratio (HR) = 3.10 formerly married; HR = 2.59 remaining single) has the highest risk of death. Controlling for personality and health risk behaviors reduces but does not eliminate the impact of marital status.
Conclusion
Consistency of marital status during midlife suggests that lack of a partner is associated with midlife mortality.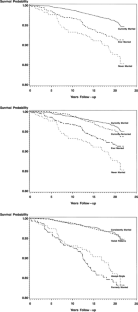 References
1.

Internal Revenue Service. Publication 590. Table 1. Single Life Expectancy. 2009: P. 90.

2.

Heron M, Hoyert DL, Murphy SL, Xu J, Kochanek KD, Tejada-Vera BS. Deaths: Final data for 2006. Natl Vital Stat Rep. 2009;57(14):11-12. Available at http://www.cdc.gov/nchs/data/nvsr/nvsr57/nvsr57_14.pdf. Accessibility verified October 10, 2011.

3.

Ben-Shlomo Y, Smith GD, Shipley M, Marmot MG. Magnitude and causes of mortality differences between married and unmarried men. J Epidemiol Commun Health. 1993;47:200-205.

4.

Tucker JS, Friedman HS, Wingard DL, Schwartz JE. Marital history at midlife as a predictor of longevity: Alternative explanations of the protective effect of marriage. Health Psychol. 1996;15:94-101.

5.

Johnson NJ, Backlund E, Sorlie PD, Loveless CA. Marital status and mortality: The National Longitudinal Mortality Study. Ann Epidemiol. 2000;10:224-238.

6.

Lund R, Holstein BE, Osler M. Marital history from age 15 to 40 years and subsequent 10-year mortality: A longitudinal study of Danish males born in 1953. Int J Epidemiol. 2003;33:389-397.

7.

Dupre ME, Beck AN, Meadows SO. Marital trajectories and mortality among US adults. Am J Epidemiol. 2009;170:546-555.

8.

Carstensen LL, Hartel CR, eds. When I'm 64. Washington DC: National Academy Press; 2006.

9.

Pruchno R. Not your mother's old age: Baby Boomers at age 65. Gerontologist. 2012;52:149-52.

10.

Schaie KW. Developmental influences on adult intelligence: The Seattle Longitudinal Study. New York: Oxford University Press; 2005.

11.

Rosow I. What is a cohort and why? Hum Dev. 1978;21:65-75.

12.

Williams RB. Psychological factors, health and disease: The impact of aging and the lifecycle. In: Manuck SB, Jennings R, Rabin BS, Baum A, eds. Behavior, health and aging. Mahwah: Lawrence Erlbaum Associates; 2000:135-151.

13.

Siegler IC, Peterson BL, Barefoot JC, et al. Using college alumni populations in epidemiologic research: The UNC Alumni Heart Study. J Clin Epidemiol. 1992;45:1243-1250.

14.

Siegler IC, Costa PT, Brummett BH, et al. Patterns of change in hostility from college to midlife in the UNC Alumni Heart Study predict high-risk status. Psychosom Med. 2003;65:738-745.

15.

Hooker K, Hoppmann C, Siegler IC. Personality: Life span compass for health. In: Whitfield KE, ed. Annual review of gerontology and geriatrics: Focus on behavioral prospective on health in later life. New York: Springer; 2010:201-232.

16.

Siegler IC, Peterson BL, Barefoot JC, Williams RB. Hostility during late adolescence predicts coronary risk factors at midlife. Am J Epidemiol. 1992;136:146-154.

17.

Siegler IC, Feaganes JR, Rimer BK. Predictors of adoption of mammography in women under the age of 50. Health Psychol. 1995;14:274-78.

18.

Hathaway SR, McKinley JC. Booklet for the Minnesota Multiphasic Personality Inventory. Minneapolis: University of Minnesota Press; 1943.

19.

Dahlstrom WG, Welsh GS, Dahlstrom LE. An MMPI handbook: Research applications. Minneapolis: University of Minnesota Press; 1975.

20.

Cook WW, Medley DM. Proposed hostility and pharisaic-virtue scales for the MMPI. J Appl Psychol. 1954;38:414-418.

21.

Colligan RC, Offord KP, Malinchoc M, Schulman P, Seligman ME. CAVEing the MMPI for an optimism-pessimism scale: Seligman's attributional model and the assessment of explanatory style. J Clin Psychol. 1994;50:71-95.

22.

Malinchoc M, Offord KP, Colligan RC. PSM-R: Revised optimism-pessimism scale for the MMPI2 and the MMPI. J Clin Psychol. 1995;51:205-214.

23.

Maruta T, Colligan RC, Malinchoc M, Offord KP. Optimists vs. pessimists: Survival rate among medical patients over a 30-year period. Mayo Clin Proc. 2002;75:140-143.

24.

Brummett BH, Helms MJ, Dahlstrom WG, Siegler IC. Prediction of all-cause mortality by the Minnesota Multiphasic Personality Inventory Optimism-Pessimism Scale scores: Study of a college sample during a 40-year follow-up period. Mayo Clin Proc. 2006;81:1541-1544.

25.

Tindle HA, Chang YF, Kuller LH, et al. Optimism, cynical hostility and incident coronary heart disease and mortality in the women's health initiative. Circulation. 2009;120:656-662.

26.

Siegler IC, Zonderman AB, Barefoot JC, Williams RB, Costa PT, McCrae RR. Predicting personality in adulthood from College MMPI Scores: Implications for follow-up studies in psychosomatic medicine. Psychosom Med. 1990;52:644-652.

27.

Henretta JC. Lifetime marital history and mortality after age 50. J Aging Health. 2010;22:1198-1212.

28.

Mortensen LH, Siegler IC, Barefoot JC, Gronbaek M, Sorensen TIA. Prospective associations between sedentary lifestyle and BMI in midlife. Obesity. 2006;14:1462-1471.

29.

Brummett BH, Babyak MA, Williams RB, Barefoot JC, Costa PT, Siegler IC. NEO personality domains and gender predict levels and trends in Body Mass Index over 14 years during midlife. J Res Pers. 2006;40:222-236.

30.

SAS v. 9.1. SAS Institute, Cary NC.

31.

Hughes ME, Waite LJ. Marital biography and health at midlife. J Health Soc Beh. 2009;50:344-358.

32.

Joung IMA, van de Mheen HD, Stronks K, van Poppel FWA, Mackenbach JP. A longitudinal study of health selection in marital transitions. Soc Sci Med. 1998;46:425-435.

33.

U. S. Census. Selected characteristics of Baby Boomers 42–60 years old in 2006. Available at http://www.census.gov/population/www/socdemo/age/2006%20Baby%20Boomers.pdf. Accessibility verified November 10, 2010.

34.

Merrill SS, Verbrugge LM. Health and disease at midlife. In: Willis SL, Reid JD, eds. Life in the Middle. San Diego: Academic; 1999:78-103.

35.

Holt-Lunstad J, Smith TB, Layton JB. Social relationships and mortality risk: A meta-analytic review. PLoS Med. 2010;7:1-20.

36.

Krieger N, Rehkopf DH, Chen JT, et al. The fall and rise of US inequities in premature mortality: 1960–2002. PLoS Med. 2008;5:0227-0241.

37.

Von Dras DD, Williams RB, Kaplan BH, Siegler IC. Correlates of perceived social support and equality of interpersonal relationships at midlife. Int J Aging Hum Dev. 1996;43:199-217.

38.

Brodhead WE, Kaplan BH, James SA, et al. The epidemiologic evidence for a relationship between social support and health. Am J Epidemiol. 1983;117:521-537.

39.

Kiecolt-Glaser JK, Newton TL. Marriage and health: His and hers. Psychol Bull. 2001;127:472-503.

40.

Croezen S, Havenman-Nies A, Picavet HSJ, et al. Positive and negative experiences of social support and long-term mortality among middle aged Dutch people. Am J Epidemiol. 2010; 173–179.

41.

Miller G. Why Loneliness is hazardous to your health. Science. 2011;331:138-140.

42.

Hawkley LW, Cacioppo JT. Loneliness matters: A theoretical and empirical review of consequences and mechanisms. Ann Behav Med. 2010;40:218-227.

43.

Roelfs DJ, Shor E, Yogev T. The rising relative risk of mortality for singles: Meta-analysis and meta-regression. Am J Epidemiol. 2011;174:379-389.
Acknowledgments
This study has been funded by Marchionne Foundation, R01-HL55356 from the National Heart Lung and Blood Institute with co-funding from the National Institute on Aging, R01 AG12458 from the National Institute on Aging, P01 HL36587 from National Heart, Lung and Blood Institute and from the Duke Behavioral Medicine Research Center. We would like to thank Christin Ogle for her comments on this manuscript.
Conflict of Interest
The authors have no conflict of interest to disclose.
About this article
Cite this article
Siegler, I.C., Brummett, B.H., Martin, P. et al. Consistency and Timing of Marital Transitions and Survival During Midlife: the Role of Personality and Health Risk Behaviors. ann. behav. med. 45, 338–347 (2013). https://doi.org/10.1007/s12160-012-9457-3
Keywords
Marital history

Midlife mortality

Longitudinal study

UNC Alumni Heart Study