Abstract
Background
Although a number of cross-sectional studies document the distress experienced by partners and caregivers of cancer survivors, few have considered their potential differential patterns of adjustment over time.
Purpose
Identify distinct trajectories of anxiety and depression among partners and caregivers of cancer survivors and predictors of these trajectories.
Methods
Participants completed a survey to examine the impact of caring for, or living with, a cancer survivor at 6, 12, and 24 months post-survivor diagnosis. Anxiety and depression were measured using the Hospital Anxiety and Depression Scale (N anxiety = 510; N depression = 511).
Results
Anxiety trajectories included: no anxiety (15.1% scored <3; 37.8% scored 3–5); chronic, borderline anxiety (33.2%); and chronic, clinical anxiety (13.9%). The depression trajectories were: no depression (38.9% scored <2; 31.5% scored around 3); a sustained score of 7 (25.5%); and chronic, clinical depression (4.1%). Variables associated with the trajectories included most of the psychosocial variables.
Conclusions
Findings highlight that most caregivers maintained their baseline level of distress, which is particularly concerning for participants reporting chronic anxiety or depression.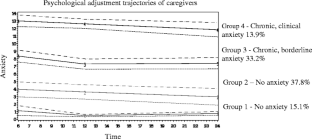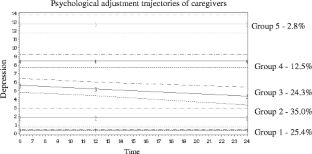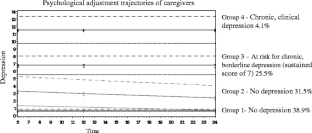 References
1.

Girgis A, Lambert SD. Caregivers of cancer survivors: The state of the field. Cancer Forum. 2009;33:167-171.

2.

Pitceathly C, Maguire P. The psychological impact of cancer on patients' partners and other key relatives: A review. Eur J Cancer. 2003;39:1517-1524.

3.

Chambers SK, Girgis A, Occhipinti S, et al. Psychological distress and unmet supportive care needs in cancer patients and carers who contact cancer helplines. Eur J Cancer Care. 2012;21:213-223.

4.

Couper J, Bloch S, Love AW, Duchesne G, Macvean M, Kissane DW. The psychosocial impact of prostate cancer on patients and their partners. Med J Aust. 2006;185:428-432.

5.

Northouse LL, Mood D, Templin T, Mellon S, George T. Couples' patterns of adjustment to colon cancer. Soc Sci Med. 2000;50:271-284.

6.

Boyes A, Girgis A, D'Este C, Zucca A. Flourishing or floundering? Prevalence and correlates of anxiety and depression among a population-based sample of adult cancer survivors 6 months after diagnosis. J Affect Disord. 2011;135:184-192.

7.

Lambert S, Girgis A, Lecathelinais C, Stacey F. (2012) Walking a mile in their shoes: Anxiety and depression among caregivers of cancer survivors at six and 12 months post-diagnosis. Support Care in Cancer. doi:10.1007/s00520-012-1495-7.

8.

Braun M, Mikulincer M, Rydall A, Walsh A, Rodin G. Hidden morbidity in cancer: Spouse caregivers. J Clin Oncol. 2007;25:4829-4834.

9.

Bigatti SM, Wagner CD, Lydon-Lam JR, Steiner JL, Miller KD. Depression in husbands of breast cancer patients: Relationships to coping and social support. Support Care Cancer. 2011;19:455-466.

10.

Hagedoorn M, Sanderman R, Bolks H, Tuinstra J, Coyne JC. Distress in couples coping with cancer: A meta-analysis and critical review of role and gender effects. Psychol Bull. 2008;134:1-30.

11.

Segrin C, Badger T, Dorros SM, Meek P, Lopez AM. Interdependent anxiety and psychological distress in women with breast cancer and their partners. Psychooncology. 2007;16:634-643.

12.

Kurtz M, Kurtz JC, Given C, Given B. Depression and physical health among family caregivers of geriatric patients with cancer—A longitudinal view. Med Sci Monit. 2004;10:447-456.

13.

Choi C-W, Stone R, Kim K, et al. Group-based trajectory modeling of caregiver psychological distress over time. Ann Behav Med. 2012; doi:10.1007/s12160-012-9371-8.

14.

Lazarus R, Folkman S. Stress, appraisal, and coping. New York: Springer Publishing Company Inc; 1984.

15.

Iconomou G, Viha A, Kalofonos HP, Kardamakis D. Impact of cancer on primary caregivers of patients receiving radiation therapy. Acta Oncol. 2001;40:766-771.

16.

Papastravrou E, Charalambous A, Tasangari H. Exploring the other side of cancer care: The informal caregiver. Eur J Oncol Nurs. 2009;13:128-136.

17.

Carter PA, Acton GJ. Personality and coping: Predictors of depression and sleep problems among caregivers of individuals who have cancer. J Gerontol Nurs. 2006;32:9.

18.

Dalton WT, Nelson DV, Brobst JB, Lindsay JE, Friedman LC. Psychosocial variables associated with husbands' adjustment three months following wives' diagnosis of breast cancer. J Cancer Educ. 2007;22:245-249.

19.

Price MA, Butow PN, Costa DS, et al. Prevalence and predictors of anxiety and depression in women with invasive ovarian cancer and their caregivers. Med J Aust. 2010;193:S52-57.

20.

Ownsworth T, Henderson L, Chambers SK. Social support buffers the impact of functional impairments on caregiver psychological well-being in the context of brain tumor and other cancers. Psychooncology. 2010;19:1116-1122.

21.

Thomas C, Morris S, Soothill K, McIllmurray M, Francis B, Harman J. What are the psychosocial needs of cancer patients and their main carers? Available at http://www.lancs.ac.uk/fass/apsocsci/cancer/complete. Accessibility verified March 10, 2009.

22.

Hodgkinson K, Butow P, Hunt G, Wyse R, Hobbs KM, Wain G. Life after cancer: Couples' and partners' psychological adjustment and supportive care needs. Support Care Cancer. 2007;15:405-415.

23.

Zigmond AS, Snaith RP. The hospital anxiety and depression scale. Acta Psychiatr Scand. 1983;67:361-370.

24.

Lambert SD, Pallant JF, Girgis A. Rasch analysis of the Hospital Anxiety and Depression Scale among caregivers of cancer survivors: Implications for its use in psycho-oncology. Psychooncology. 2011;20:919-925.

25.

Ware JE, Kosinski M, Turner-Bowker DM, Gandeck B. User's manual for the SF-12v2 TM health survey with a supplement documenting SF-12 R health survey Lincoln. RI: QualityMetric Incorporated; 2002.

26.

Kershaw T, Mood D, Newth G, et al. Longitudinal analysis of a model to predict quality of life in prostate cancer patients and their spouses. Ann Behav Med. 2008;36:117-128.

27.

Mitchell G, Girgis A, Jiwa M, Sibbritt D, Burridge L. A GP caregiver needs toolkit versus usual care in the management of the needs of caregivers of patients with advanced cancer: A randomized controlled trial. Trials. 2010;11:115.

28.

Sanderson K, Andrews G. The SF-12 in the Australian population: Cross-validation of item selection. Aust N Z J Public Health. 2002;26:343-345.

29.

Currow D, Abernethy AP, Fazekas BS. Specialist palliative care needs of whole populations: A feasibility study using a novel approach. Palliat Med. 2004;18:239-247.

30.

Reilly MC, Zbrozek AS, Dukes EM. The validity and reproducibility of a work productivity and activity impairment instrument. Pharmacoeconomics. 1993;4:353-365.

31.

Carver CS. You want to measure coping but your protocol's too long: Consider the Brief COPE. Int J Behav Med. 1997;4:92-100.

32.

Kershaw T, Northouse L, Kritpracha C, Schafenacker A, Mood D. Coping strategies and quality of life in women with advanced breast cancer and their family caregivers. Psychol Health. 2004;19:139-155.

33.

Sherbourne C, Stewart A. The MOS Social Support Survey. Soc Sci Med. 1991;32:705-714.

34.

Girgis A, Lambert SD, Lecathelinais C. The supportive care needs survey for partners and caregivers of cancer survivors: Development and psychometric evaluation. Psychooncology. 2011;20:387-393.

35.

Janda M, Steginga S, Dunn J, Langbecker D, Walker D, Eakin E. Unmet supportive care needs and interest in services among patients with a brain tumour and their carers. Patient Educ Couns. 2008;71:251-258.

36.

Girgis A, Boyes A, Sanson-Fisher RW, Burrows S. Perceived needs of women diagnosed with breast cancer: A focus on rural versus urban location. Aust N Z J Public Health. 2000;24:166-173.

37.

Harrison J, Young J, Price M, Butow P, Solomon M. What are the unmet supportive care needs of people with cancer? A systematic review. Support Care Cancer. 2009;17:1117-1128.

38.

Sanson-Fisher R, Girgis A, Boyes A, Bonevski B, Burton L, Cook P. The unmet supportive care needs of patients with cancer. Cancer. 2000;88:226-237.

39.

McDowell ME, Occhipinti S, Ferguson M, Dunn J, Chambers SK. Predictors of change in unmet supportive care needs in cancer. Psychooncology. 2009;19:508-516.

40.

Soothill K, Morris S, Harman J, Francis B, Thomas C, McIllmurray MB. The significant unmet needs of cancer patients: Probing psychosocial concerns. Support Care Cancer. 2001;9:597-605.

41.

Park SM, Kim YJ, Kim S, et al. Impact of caregivers' unmet needs for supportive care on quality of terminal cancer care delivered and caregiver's workforce performance. Support Care Cancer. 2010;18:699-706.

42.

Jones BL, Nagin DS, Roeder K. A SAS procedure based on mixture models for estimating developmental trajectories. Sociol Methods Res. 2001;29:374-393.

43.

Nagin DS. Analyzing developmental trajectories: A semiparametric, group-based approach. Psychol Methods. 1999;4:139-157.

44.

Hosmer D, Lemeshow S. Applied logistic regression. New York: Wiley; 1989.

45.

Helgeson VS, Snyder P, Seltman H. Psychological and physical adjustment to breast cancer over 4 years: Identifying distinct trajectories of change. Health Psychol. 2004;23:3-15.

46.

Lambert SD, Harrison JD, Smith E, et al. The unmet needs of partners and caregivers of adults diagnosed with cancer: A systematic review. BMJ Supportive and Palliative Care. Submitted.

47.

Mellon S, Northouse L, Weiss L. A population-based study of the quality of life of cancer survivors and their family caregivers. Cancer Nur. 2006;29:120-130.

48.

Vanderwerker L, Laff R, Kadan-Lottick N, McColl S, Pigerson H. Psychiatric disorders and mental health service use among caregivers of advanced cancer patients. J Clin Oncol. 2005;23:6899-6907.

49.

Donnelly JM, Kornblith AB, Fleishman S, et al. A pilot study of interpersonal psychotherapy by telephone with cancer patients and their partners. Psychooncology. 2000;9:44-56.

50.

Bakas T, Lewis RR, Parsons JE. Caregiving tasks among family caregivers of patients with lung cancer. Oncol Nurs Forum. 2001;28:847-854.

51.

Kim Y, Carver CS. Frequency and difficulty in caregiving among spouses of individuals with cancer: Effects of adult attachment and gender. Psychooncology. 2007;16:714-723.

52.

Nijboer C, Tempelaar R, Triemstra M, van den Bos GA, Sanderman R. The role of social and psychologic resources in caregiving of cancer patients. Cancer. 2001;91:1029-1039.

53.

Fitzell A, Pakenham KI. Application of a stress and coping model to positive and negative adjustment outcomes in colorectal cancer caregiving. Psychooncology. 2010;19:1171-1178.
Acknowledgment
The Partners and Caregivers Study was supported by the Cancer Council NSW and received infrastructure support from the Honda Foundation and Hunter Medical Research Institute (HMRI). Also, Dr. Lambert is supported by a National Health and Medical Research Council Research Fellowship (APP1012869) and Prof. Girgis by a Cancer Institute New South Wales Grant. Our sincere thanks go to the caregivers who provided the survey data. We are also grateful to Sandra Dowley, Fiona Stacey, Raelene Monahan, and Alexander Cameron for their support of the Partners and Caregivers Study.
Conflict of interest statement
The authors have no conflict of interest to disclose
About this article
Cite this article
Lambert, S.D., Jones, B.L., Girgis, A. et al. Distressed Partners and Caregivers Do Not Recover Easily: Adjustment Trajectories Among Partners and Caregivers of Cancer Survivors. ann. behav. med. 44, 225–235 (2012). https://doi.org/10.1007/s12160-012-9385-2
Keywords
Anxiety

Depression

Longitudinal study

Caregivers

Trajectories

Psychological adjustment