Abstract
Introduction
Excessive pain during medical procedures is a widespread problem but is especially problematic during daily wound care of patients with severe burn injuries.
Methods
Burn patients report 35–50% reductions in procedural pain while in a distracting immersive virtual reality, and fMRI brain scans show associated reductions in pain-related brain activity during VR. VR distraction appears to be most effective for patients with the highest pain intensity levels. VR is thought to reduce pain by directing patients' attention into the virtual world, leaving less attention available to process incoming neural signals from pain receptors.
Conclusions
We review evidence from clinical and laboratory research studies exploring Virtual Reality analgesia, concentrating primarily on the work ongoing within our group. We briefly describe how VR pain distraction systems have been tailored to the unique needs of burn patients to date, and speculate about how VR systems could be tailored to the needs of other patient populations in the future.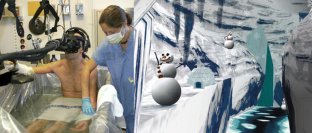 Notes
1.

SnowWorld is made available free of charge to eligible medical centers by the Hoffman and Patterson via Hunthoff@uw.edu. The most recent build of SnowWorld 2006 was designed by our UW team with creative input and worldbuilding by Firsthand Inc, Seattle.
References
1.

American Burn Association: Burn Incidence and Treatment in the US: 2007 Fact Sheet. Available from: http://www.ameriburn.org/resources_factsheet.php

2.

Hoffman HG, Patterson DR, Seibel E, et al.: Virtual reality pain control during burn wound debridement in the hydrotank. Clin J Pain. 2008, 24:299–304.

3.

Perry S, Heidrich G, Ramos E: Assessment of pain by burn patients. Journal of Burn Care and Rehabilitation. 1981, 2:322–326.

4.

Ptacek J, Patterson D, Doctor J: Describing and predicting the nature of procedural pain after thermal injuries: Implications for research. Journal of Burn Care and Rehabilitation. 2000, 21:318–326.

5.

Melzack R: The tragedy of needless pain. Scientific American. 1990, 262:27–33.

6.

Berger AC, Whistler JL: How to design an opioid drug that causes reduced tolerance and dependence. Ann Neurol. 2010, 67:559–569.

7.

Cherny N, Ripamonti C, Pereira J, et al.: Strategies to manage the adverse effects of oral morphine: An evidence-based report. Journal of Clinical Oncology. 2001, 19:2542–2554.

8.

Shang AB, Gan TJ: Optimising postoperative pain management in the ambulatory patient. Drugs. 2003, 63:855–867.

9.

Ward R: Physical Rehabilitation. In G. Carrougher (ed), Burn Care and Therapy. New York: Mosby, 1998, 293–327.

10.

Montgomery GH, DuHamel KN, Redd WH: A meta-analysis of hypnotically induced analgesia: How effective is hypnosis? Int J Clin Exp Hypn. 2000, 48:138–153.

11.

Patterson DR: Is hypnotic pain control effortless or effortful? Hypnos. 2001, 28:132–134.

12.

Patterson DR: Clinical Hypnosis for Pain Control. Washington, DC: American Psychological Association, 2010.

13.

Patterson DR, Jensen MP: Hypnosis and Clinical Pain. Psychological Bulletin. 2003, 129:495–521.

14.

Fernandez E, Turk DC: The utility of cognitive coping strategies for altering pain perception: A meta-analysis. Pain. 1989, 38:123–135.

15.

Klassen JA, Liang Y, Tjosvold L, Klassen TP, Hartling L: Music for pain and anxiety in children undergoing medical procedures: A systematic review of randomized controlled trials. Ambul Pediatr. 2008, 8:117–128.

16.

Cepeda MS, Carr DB, Lau J, Alvarez H: Music for pain relief. Cochrane Database of Systematic Reviews (Vol. Issue 2), 2006.

17.

Eccleston C: Role of psychology in pain management. Br J Anaesth. 2001, 87:144–152.

18.

Eccleston C, Crombez G: Pain demands attention: A cognitive-affective model of the interruptive function of pain. Psychological Bulletin. 1999, 125:356–366.

19.

Kahneman D: Attention and effort. Englewood Cliffs, NJ: Prentice-Hall, 1973.

20.

Hoffman HG, Garcia-Palacios A, Kapa VA, Beecher J, Sharar SR: Immersive virtual reality for reducing experimental ischemic pain. International Journal of Human-Computer Interaction. 2003, 15:469–486.

21.

Hoffman HG: Virtual Reality Therapy. Scientific American. 2004, 291:58–65.

22.

Hoffman HG, Doctor JN, Patterson DR, Carrougher GJ, Furness TA, 3rd: Use of virtual reality as an adjunctive treatment of adolescent burn pain during wound care: A case report. Pain. 2000, 85:305–309.

23.

Hoffman HG, Patterson DR, Magula J, et al.: Water-friendly virtual reality pain control during wound care. Journal of Clinical Psychology. 2004, 60:189–195.

24.

van Twillert B, Bremer M, Faber AW: Computer-generated virtual reality to control pain and anxiety in pediatric and adult burn patients during wound dressing changes. J Burn Care Res. 2007, 28:694–702.

25.

Carrougher GJ, Hoffman HG, Nakamura D, et al.: The effect of virtual reality on pain and range of motion in adults with burn injuries. J Burn Care Res. 2009, 30:785–791.

26.

Hoffman HG, Patterson DR, Carrougher GJ: Use of virtual reality for adjunctive treatment of adult burn pain during physical therapy: A controlled study. Clin J Pain. 2000, 16:244–250.

27.

Hoffman HG, Patterson DR, Carrougher GJ, Sharar SR: Effectiveness of virtual reality-based pain control with multiple treatments. Clin J Pain. 2001, 17:229–235.

28.

Schmitt YS, Hoffman HG, Blough DK, et al.: A randomized, controlled trial of immersive virtual reality analgesia, during physical therapy for pediatric burns. Burns. 2010.

29.

Sharar SR, Carrougher GJ, Nakamura D, et al.: Factors influencing the efficacy of virtual reality distraction analgesia during postburn physical therapy: Preliminary results from 3 ongoing studies. Arch Phys Med Rehabil. 2007, 88:S43–49.

30.

McCaul KD, Malott JM: Distraction and coping with pain. Psychological Bulletin. 1984, 95:516–533.

31.

Crombez G, Eccleston C, Baeyens F, Eelen P: When somatic information threatens, catastrophic thinking enhances attentional interference. Pain. 1998, 75:187–198.

32.

Jensen MP: The validity and reliability of pain measures in adults with cancer. Journal of Pain. 2003, 4:2–21.

33.

Jensen MP, Karoly P: Self-report scales and procedures for assessing pain in adults. In D. C. Turk and R. Melzack (eds), Handbook of pain assessment. New York: Guilford Publications, 2001, 15–34.

34.

Gracely RH, McGrath P, Dubner R: Ratio scales of sensory and affective verbal pain descriptors. Pain. 1978, 5:5–18.

35.

Slater M, Wilbur S: A framework for immersive virtual environments (FIVE): speculations on the role of presence in virtual environments. Presence Teleoper Virtual Environ. 1997, 6:603–616.

36.

Hoffman HG, Seibel EJ, Richards TL, et al.: Virtual reality helmet display quality influences the magnitude of virtual reality analgesia. J Pain. 2006, 7:843–850.

37.

Hoffman HG, Sharar SR, Coda B, et al.: Manipulating presence influences the magnitude of virtual reality analgesia. Pain. 2004, 111:162–168.

38.

Wender R, Hoffman HG, Hunner HH, et al.: Interactivity Influences the Magnitude of Virtual Reality Analgesia. J Cyber Ther Rehabil. 2009, 2:27–33.

39.

Dahlquist LM, McKenna KD, Jones KK, et al.: Active and passive distraction using a head-mounted display helmet: Effects on cold pressor pain in children. Health Psychol. 2007, 26:794–801.

40.

Hoffman HG, Richards TL, Coda B, et al.: Modulation of thermal pain-related brain activity with virtual reality: Evidence from fMRI. Neuroreport. 2004, 15:1245–1248.

41.

Hoffman HG, Richards TL, Bills AR, et al.: Using fMRI to study the neural correlates of virtual reality analgesia. CNS Spectrums. 2006, 11:45–51.

42.

Hoffman HG, Richards TL, Magula J, et al.: A magnet-friendly virtual reality fiberoptic image delivery system. Cyberpsychol. Behav. 2003, 6:645–648.

43.

Hoffman HG, Richards TL, Van Oostrom T, et al.: The analgesic effects of opioids and immersive virtual reality distraction: Evidence from subjective and functional brain imaging assessments. Anesth Analg. 2007, 105:1776–1783, table of contents.

44.

Patterson DR, Hoffman HG, Palacios AG, Jensen MP: Analgesic effects of posthypnotic suggestions and virtual reality distraction on thermal pain. J Abnorm Psychol. 2006, 115:834–841.

45.

Maani C, Hoffman HG, DeSocio PA, et al.: Pain control during wound care for combat-related burn injuries using custom articulated arm mounted virtual reality goggles. Journal of CyberTherapy and Rehabilitation. 2008, 1:193–198.

46.

Hoffman HG, Patterson DR, Soltani M, et al.: Virtual reality pain control during physical therapy range of motion exercises for a patient with multiple blunt force trauma injuries. Cyberpsychol Behav. 2008, 19:47–49.

47.

Furman E, Jasinevicius TR, Bissada NF, et al.: Virtual reality distraction for pain control during periodontal scaling and root planing procedures. J Am Dent Assoc. 2009, 140:1508–1516.

48.

Hoffman HG, Garcia-Palacios A, Patterson DR, Jensen MP, Furness III TA: The effectiveness of virtual reality for dental pain control: A case study. Cyberpsychol Behav. 2001, 4:527–535.

49.

Garcia-Palacios A, Hoffman HG, Richards TR, Seibel EJ, Sharar SR: Use of virtual reality distraction to reduce claustrophobia symptoms during a mock magnetic resonance imaging brain scan: a case report. Cyberpsychol Behav. 2007, 10:485–488.

50.

Wright JL, Hoffman HG, Sweet RM: Virtual reality as an adjunctive pain control during transurethral microwave thermotherapy. Urology. 2005, 66:1320.

51.

Steele E, Grimmer K, Thomas B, et al.: Virtual reality as a pediatric pain modulation technique: A case study. Cyberpsychol Behav. 2003, 6:633–638.

52.

Gershon J, Zimand E, Pickering M, Rothbaum BO, Hodges L: A pilot and feasibility study of virtual reality as a distraction for children with cancer. J Am Acad Child Adolesc Psychiatry. 2004, 43:1243–1249.

53.

Windich-Biermeier A, Sjoberg I, Dale JC, Eshelman D, Guzzetta CE: Effects of distraction on pain, fear, and distress during venous port access and venipuncture in children and adolescents with cancer. J Pediatr Oncol Nurs. 2007, 24:8–19.

54.

Gold JI, Kim SH, Kant AJ, Joseph MH, Rizzo AS: Effectiveness of virtual reality for pediatric pain distraction during i.v. placement. Cyberpsychol Behav. 2006, 9:207–212.

55.

Chan EA, Chung JW, Wong TK, Lien AS, Yang JY: Application of a virtual reality prototype for pain relief of pediatric burn in Taiwan. J Clin Nurs. 2007, 16:786–793.

56.

Das D, Grimmer K, Sparnon A, McRae S, Thomas B: The efficacy of playing a virtual reality game in modulating pain for children with acute burn injuries: A randomized controlled trial. BMC Pediatric. 2005, 5:1.

57.

Malloy KM, Milling LS: The effectiveness of virtual reality distraction for pain reduction: A systematic review. Clin Psychol Rev. 2010, 30:1011–1018.

58.

Morris LD, Louw QA, Grimmer-Somers K: The effectiveness of virtual reality on reducing pain and anxiety in burn injury patients: A systematic review. Clin J Pain. 2009, 25:815–826.

59.

Schneider SM, Prince-Paul M, Allen MJ, Silverman P, Talaba D: Virtual reality as a distraction intervention for women receiving chemotherapy. Oncol Nurs Forum. 2004, 31:81–88.

60.

Liebovici V, Magora F, Cohen S, Ingber A: Effects of virtual reality immersion and audiovisual distraction techniques for patients with pruritus. Pain Res Manag. 2009, 14:283–286.

61.

Flores A, Hoffman HG, Russell W, et al.: Longer, multiple virtual reality pain distraction treatments of Hispanic and Caucasian children with large severe burns. CyberTherapy Conference. San Diego, CA, 2008.

62.

Patterson DR, Sharar SR: Burn pain. In J. D. Loeser (ed), Bonica's Management of Pain. Philadelphia, PA: Lippincott, Williams & Wilkins, 2001, 780–787.

63.

Malchow RJ, Black IH: The evolution of pain management in the critically ill trauma patient: Emerging concepts from the global war on terrorism. Crit Care Med. 2008, 36:S346–357.

64.

D'Souza AL, Nelson NG, McKenzie LB: Pediatric burn injuries treated in US emergency departments between 1990 and 2006. Pediatrics. 2009, 124:1424–1430.
Acknowledgments
This manuscript was funded by the following NIH grants to Drs. Patterson and Sharar at the UW: NIH HD40954-01, 1R01AR054115-01A1, R01GM042725-17A1, the Scan Design Foundation by Inger and Jens Bruun, and NIH grant RO1 HD049471 to Dr. Oscar E. Suman (UTMB and Shriners Galveston).
Conflicts of Interest Statement
The authors have no conflict of interest to disclose.
Electronic Supplementary Material
Below is the link to the electronic supplementary material.
Left image, an artist's rendition of a patients looking into SnowWorld via magnet-friendly VR goggles during an fMRI brain scan. Right image, with no VR (left head), the brain showed large amounts of pain-related brain activity (where yellow shows high brain activity and orange shows moderate brain activity). The participants reported less pain, and showed large drops in pain-related brain activity during VR, (head on right). (Image credits—left image by Duff Hendrickson, UW; copyright Hunter Hoffman, UW. Right image by Todd Richards and Aric Bills, UW; copyright Hunter Hoffman, UW) (DOC 66 kb)
About this article
Cite this article
Hoffman, H.G., Chambers, G.T., Meyer, W.J. et al. Virtual Reality as an Adjunctive Non-pharmacologic Analgesic for Acute Burn Pain During Medical Procedures. ann. behav. med. 41, 183–191 (2011). https://doi.org/10.1007/s12160-010-9248-7
Keywords
Virtual reality

Pain distraction

Analgesia