Abstract
Background
While the preclinical development of type 2 diabetes is partly explained by obesity and central adiposity, psychosocial research has shown that chronic stressors such as discrimination have health consequences as well.
Purpose
We investigated the extent to which the well-established effects of obesity and central adiposity on nondiabetic glycemic control (indexed by HbA1c) were moderated by a targeted psychosocial stressor linked to weight: perceived weight discrimination.
Methods
The data came from the nondiabetic subsample (n = 938) of the Midlife in the United States (MIDUS II) survey.
Results
Body mass index (BMI), waist-to-hip ratio, and waist circumference were linked to significantly higher HbA1c (p < 0.001). Multivariate-adjusted models showed that weight discrimination exacerbated the effects of waist-to-hip ratio on HbA1c ( p < 0.05), such that people who had higher waist-to-hip ratios and reported weight discrimination had the highest HbA1c levels.
Conclusion
Understanding how biological and psychosocial factors interact at nondiabetic levels to increase vulnerability could have important implications for public health and education strategies. Effective strategies may include targeting sources of discrimination rather than solely targeting the health behaviors and practices of overweight and obese persons.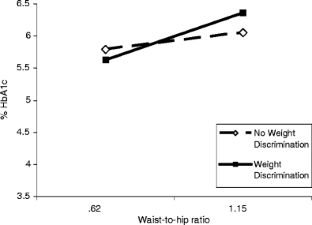 References
1.

National Diabetes Surveillance System. Center for Disease Control and Prevention.

2.

Narayan KM, Boyle JP, Thompson TJ, Sorensen SW, Williamson DF. Lifetime risk for diabetes mellitus in the United States. JAMA. 2003, 290: 1884–1890.

3.

National Diabetes Statistics, 2007 fact sheet. In N. I. o. D. a. D. a. K. Diseases (ed). Bethesda, MD: US Department of Health and Human Services, National Institutes of Health, 2008.

4.

Attie AD. Genetic and genomic studies of type 2 diabetes in mice. Int Congr Ser. 2004, 1262: 220–223.

5.

Glasgow RE, Wagner EH, Kaplan RM, et al. If diabetes is a public health problem, why not treat it as one? A population-based approach to chronic illness. Ann Behav Med. 1999, 21: 159–170.

6.

Netterstrom B, Danborg L, Olesen H. Glycated hemoglobin as a measure of physiological stress. Behav Med. 1988, 14: 13–16.

7.

Kawakami N, Araki S, Hayashi T, Masumoto T. Relationship between perceived job-stress and glycosylated hemoglobin in white-collar workers. Ind Health. 1989, 27: 149–154.

8.

Norberg M, Stenlund H, Lindahl B, et al.: Work stress and low emotional support is associated with increased risk of future type 2 diabetes in women. Diabetes Res Clin Pract. 2007, 76: 368–377.

9.

Dedert EA, Calhoun PS, Watkins LL, Sherwood A, Beckham JC. Posttraumatic stress disorder, cardiovascular, and metabolic disease: A review of the evidence. Ann Behav Med.

10.

Dovidio JF, Major, B., Crocker, J. Stigma: Introduction and overview. In T. F. Heatherton, Neck, R. E., Hebl, M. R., Hill, J. G. (ed). The social psychology of stigma. Guilford, 2000, pp. 1–28.

11.

Crandall CS. Ideology and lay theories of stigma: The justification of stigmatization. In T. F. Heatherton, Neck, R. E., Hebl, M. R., Hill, J. G. (ed). The social psychology of stigma. Guilford, 2000.

12.

Pearlin LI, Schieman S, Fazio EM, Meersman SC. Stress, health, and the life course: Some conceptual perspectives. J Health Soc Behav. 2005, 46: 205–219.

13.

Williams DR, Mohammed SA. Discrimination and racial disparities in health: Evidence and needed research. J Behav Med. 2009, 32: 20–47.

14.

Pascoe EA, Smart Richman L. Perceived discrimination and health: A meta-analytic review. Psychol Bull. 2009, 135: 531–554.

15.

Barnes LL, de Leon CF, Lewis TT, et al. Perceived discrimination and mortality in a population-based study of older adults. Am J Public Health. 2008, 98: 1241–1247.

16.

Brondolo E, Rieppi R, Kelly KP, Gerin W. Perceived racism and blood pressure: A review of the literature and conceptual and methodological critique. Ann Behav Med. 2003, 25: 55–65.

17.

Clark R. Self-reported racism and social support predict blood pressure reactivity in Blacks. Ann Behav Med. 2003, 25: 127–136.

18.

Matthews KA, Salomon K, Kenyon K, Zhou F. Unfair treatment, discrimination, and ambulatory blood pressure in Black and White adolescents. Health Psychol. 2005, 24: 258–265.

19.

Kessler RC, Mickelson KD, Williams DR: The prevalence, distribution, and mental health correlates of perceived discrimination in the United States. J Health Soc Behav. 1999, 40: 208–230.

20.

Hatzenbuehler ML, Keyes KM, Hasin DS. Associations between perceived weight discrimination and the prevalence of psychiatric disorders in the general population. Obesity (Silver Spring), 2009.

21.

Williams DR, Neighbors HW, Jackson JS. Racial/ethnic discrimination and health: Findings from community studies. Am J Public Health. 2008, 98: S29–37.

22.

Rodin M, Price J, Sanchez F, McElliot S. Derogation, exclusion, and unfair treatment of persons with social flaws: Controllability of stigma and the attribution of prejudice. Pers Soc Psychol Bull. 1989, 15: 439–451.

23.

Crandall CS, Martinez, R. Culture, ideology, and antifat attitudes. Pers Soc Psychol Bull. 1997, 22: 1165–1176.

24.

Puhl RM, Andreyeva T, Brownell KD. Perceptions of weight discrimination: Prevalence and comparison to race and gender discrimination in America. Int J Obes (Lond). 2008, 32: 992–1000.

25.

Puhl RM, Heuer CA. The stigma of obesity: A review and update. Obesity (Silver Spring). 2009, 17: 941–964.

26.

Puhl R, Brownell KD. Bias, discrimination, and obesity. Obes Res. 2001, 9: 788–805.

27.

Bray GA, Jablonski KA, Fujimoto WY, et al. Relation of central adiposity and body mass index to the development of diabetes in the Diabetes Prevention Program. Am J Clin Nutr. 2008, 87: 1212–1218.

28.

Mokdad AH, Ford ES, Bowman BA, et al. Prevalence of obesity, diabetes, and obesity-related health risk factors, 2001. JAMA. 2003, 289: 76–79.

29.

Surwit RS, Feinglos MN, Livingston EG, Kuhn CM, McCubbin JA. Behavioral manipulation of the diabetic phenotype in ob/ob mice. Diabetes. 1984, 33: 616–618.

30.

Alam T, Weintraub N, Weinreb J. What is the proper use of hemoglobin A1c monitoring in the elderly? J Am Med Dir Assoc. 2005, 6: 200–204.

31.

Edelman D, Olsen MK, Dudley TK, Harris AC, Oddone EZ. Utility of hemoglobin A1c in predicting diabetes risk. J Gen Intern Med. 2004, 19: 1175–1180.

32.

Muntner P, Wildman RP, Reynolds K, et al. Relationship between HbA1c level and peripheral arterial disease. Diabetes Care. 2005, 28: 1981–1987.

33.

Vitelli LL, Shahar E, Heiss G, et al. Glycosylated hemoglobin level and carotid intimal–medial thickening in nondiabetic individuals. The Atherosclerosis Risk in Communities Study. Diabetes Care. 1997, 20:1454–1458.

34.

Diagnosis and classification of diabetes mellitus, Diabetes Care, 2010 Jan;33 Suppl 1:S62-69.

35.

Fried LP, Kronmal RA, Newman AB, et al. Risk factors for 5-year mortality in older adults: The Cardiovascular Health Study. JAMA. 1998, 279: 585–592.

36.

Love GD, Seeman TE, Weinstein M, Ryff CD. Bioindicators in the MIDUS National Study: Protocol, measures, sample, and comparative context. J Aging Health. 2010, 22(8):1059–1080.

37.

Zander R, Lang W, Wolf HU. Alkaline haematin D-575, a new tool for the determination of haemoglobin as an alternative to the cyanhaemiglobin method. I. Description of the method. Clin Chim Acta. 1984, 136: 83–93.

38.

Wolf HU, Lang W, Zander R. Alkaline haematin D-575, a new tool for the determination of haemoglobin as an alternative to the cyanhaemiglobin method. II. Standardisation of the method using pure chlorohaemin. Clin Chim Acta. 1984, 136: 95–104.

39.

National Heart, Lung and Blood Institute: Clinical Guidelines on the Identification, Evaluation, and Treatment of Overweight and Obesity in adults: The Evidence Report. Bethesda (MD): NIH Publication: National Institute of Health, 1998.

40.

Williams DR, Yu Y, Jackson JS, Anderson NB. Racial differences in physical and mental health: Socioeconomic status, stress and discrimination. J Health Psychol. 1997, 2: 335–351.

41.

Ridgeway C. Interaction and the conservation of gender inequality: Considering employment. Am Sociol Rev. 1997, 62.

42.

Boltri JM, Okosun IS, Davis-Smith M, Vogel RL. Hemoglobin A1c levels in diagnosed and undiagnosed Black, Hispanic, and White persons with diabetes: Results from NHANES 1999–2000. Ethn Dis. 2005, 15: 562–567.

43.

Nuttall FQ. Effect of age on the percentage of hemoglobin A1c and the percentage of total glycohemoglobin in non-diabetic persons. J Lab Clin Med. 1999, 134: 451–453.

44.

Carey VJ, Walters EE, Colditz GA et al. Body fat distribution and risk of non-insulin-dependent diabetes mellitus in women. The Nurses' Health Study. Am J Epidemiol. 1997, 145: 614–619.

45.

Sattar N, Preiss D, Murray HM, et al. Statins and risk of incident diabetes: A collaborative meta-analysis of randomised statin trials. Lancet. 375: 735–742.

46.

Ivy JL. Role of exercise training in the prevention and treatment of insulin resistance and non-insulin-dependent diabetes mellitus. Sports Med. 1997, 24: 321–336.

47.

Pereira MA, Kartashov AI, Ebbeling CB, et al. Fast-food habits, weight gain, and insulin resistance (the CARDIA study): 15-year prospective analysis. Lancet. 2005, 365: 36–42.

48.

Haire-Joshu D, Glasgow RE, Tibbs TL. Smoking and diabetes. Diabetes Care. 1999, 22: 1887–1898.

49.

Cappuccio FP, D'Elia L, Strazzullo P, Miller MA. Quantity and quality of sleep and incidence of type 2 diabetes: A systematic review and meta-analysis. Diabetes Care. 2009.

50.

Andreyeva T, Puhl RM, Brownell KD. Changes in perceived weight discrimination among Americans, 1995–1996 through 2004–2006. Obesity (Silver Spring). 2008, 16: 1129–1134.

51.

Amy NK, Aalborg A, Lyons P, Keranen L. Barriers to routine gynecological cancer screening for White and African–American obese women. Int J Obes (Lond). 2006, 30: 147–155.

52.

Prentice AM, Jebb SA. Beyond body mass index. Obes Rev. 2001, 2: 141–147.

53.

Relationship of body size and shape to the development of diabetes in the diabetes prevention program. Obesity (Silver Spring). 2006, 14: 2107–2117.

54.

Snijder MB, Visser M, Dekker JM, Seidell JC: Re: "Changes in body weight and body fat distribution as risk factors for clinical diabetes in US men". Am J Epidemiol. 2004, 160:1133–1134; author reply 1134–1135.

55.

Seidell JC, Han TS, Feskens EJ, Lean ME. Narrow hips and broad waist circumferences independently contribute to increased risk of non-insulin-dependent diabetes mellitus. J Intern Med. 1997, 242: 401–406.

56.

Frayn KN. Adipose tissue as a buffer for daily lipid flux. Diabetologia. 2002, 45: 1201–1210.

57.

Black PH. The inflammatory consequences of psychologic stress: Relationship to insulin resistance, obesity, atherosclerosis and diabetes mellitus, type II. Med Hypotheses. 2006, 67: 879–891.

58.

McGarry JD. Banting lecture 2001: Dysregulation of fatty acid metabolism in the etiology of type 2 diabetes. Diabetes. 2002, 51: 7–18.

59.

Puhl RM, Brownell KD. Confronting and coping with weight stigma: An investigation of overweight and obese adults. Obesity (Silver Spring). 2006, 14: 1802–1815.

60.

Schwartz MB, Chambliss HO, Brownell KD, Blair SN, Billington C. Weight bias among health professionals specializing in obesity. Obes Res. 2003, 11: 1033–1039.

61.

Foster GD, Wadden TA, Makris AP, et al. Primary care physicians' attitudes about obesity and its treatment. Obes Res. 2003, 11: 1168–1177.

62.

Link B, Phelan J. Conceptualizing stigma. Ann Rev Sociol. 2001, 27.
Acknowledgements
This research was supported by a grant from the National Institute on Aging (P01-AG020166; Carol D. Ryff, Principal Investigator) to conduct a longitudinal follow-up of the MIDUS (Midlife in the US) investigation. The original study was supported by the John D. and Catherine T. MacArthur Foundation Research Network on Successful Midlife Development. We thank the staff of the Clinical Research Center at the University of Wisconsin—Madison, at the University of California—Los Angeles, and at Georgetown University for their support in conducting this study. Data collection was supported by the following grants M01-RR023942 (Georgetown), M01-RR00865 (UCLA) from the General Clinical Research Centers Program, and 1UL1RR025011 (UW) from the Clinical and Translational Science Award (CTSA) program of the National Center for Research Resources, National Institutes of Health. The first author of this study was also supported, in part, by award number T32HD049302 from the Eunice Kennedy Shriver National Institute of Child Health And Human Development. The content is solely the responsibility of the authors and does not necessarily represent the official views of the Eunice Kennedy Shriver National Institute of Child Health and Human Development or the National Institutes of Health.
Conflicts of interest
The authors have no financial disclosures related to products or corporate holdings mentioned in this manuscript.
About this article
Cite this article
Tsenkova, V.K., Carr, D., Schoeller, D.A. et al. Perceived Weight Discrimination Amplifies the Link Between Central Adiposity and Nondiabetic Glycemic Control (HbA1c). ann. behav. med. 41, 243–251 (2011). https://doi.org/10.1007/s12160-010-9238-9
Keywords
Diabetes

Weight discrimination

Obesity

Individual differences