Abstract
Background
Although there is substantial evidence that social relationships and marriage may influence both psychological and physical health, little is known about the influence of children.
Purpose
This study examined the competing predictions regarding the directional influence of parental status and its interaction with gender—given that mothers are typically disproportionately more responsible for everyday care of children—on cardiovascular functioning.
Method
We examined ambulatory blood pressure (ABP) over 24 hours among 198 married males and females.
Results
Couples without children had significantly higher ambulatory SBP and DBP than those with children. Moreover, we found a significant interaction between parental status and gender that suggested women with children showed the lowest ABP, whereas women without children displayed the highest ABP.
Conclusion
These findings suggest that parenthood, and especially motherhood, may be cardioprotective.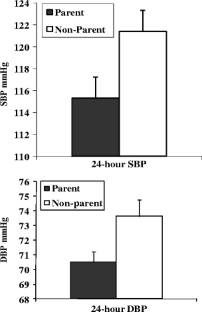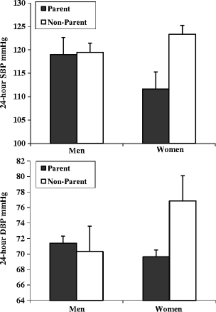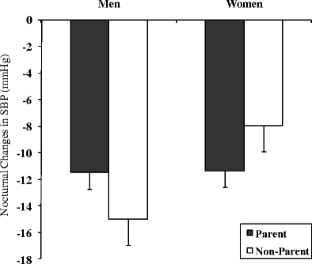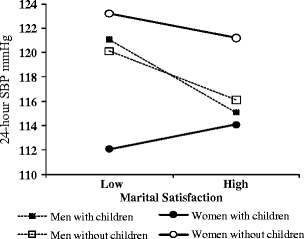 Notes
1.

One couple had 15 children (a blended family). Because this was clearly an outlier, we repeated our analyses deleting this couple's data and none of our findings were altered in significance from what is reported.

2.

There were four couples that had both a teen and adult child. Thus, there was a low frequency of overlapping cases.

3.

Because the role of student takes one out of the home, we repeated our analyses including "student" in the "working" classification. Regardless of whether student was part of the "working" or "non-working" classification, the effect of parental status and the statistical interaction with gender were independent of the effects of employment.
References
1.

Uchino BN. Social support and health: A review of physiological processes potentially underlying links to disease outcomes. J Behav Med. 2006; 29(4): 377–387.

2.

Robles T, Kiecolt-Glaser. The physiology of marriage: Pathways to health. Physiol Behav. 2003; 79: 409–416.

3.

Glaser R, Kiecolt-Glaser JK, Malarkey WB, Sheridan JF. The influence of psychological stress on the immune response to vaccines. Ann N Y Acad Sci. 1998; 840: 649–655.

4.

Kiecolt-Glaser JK, Preacher KJ, MacCallum RC, Atkinson C, Malarkey WB, Glaser R. Chronic stress and age-related increases in the proinflammatory cytokine IL-6. Proc Natl Acad Sci USA. 2003; 100: 9090–9095.

5.

Brown SL, Nesse RM, Vinokur AD, Smith DM. Providing social support may be more beneficial than receiving it: Results from a prospective study of mortality. Psychol Sci. 2003; 14: 320–327.

6.

Brown SL, Smith DM, Schulz R, et al. Caregiving behavior is associated with decreased mortality risk. Psychol Sci. 2009; 20: 488–494.

7.

Twenge JM, Campbell WK, Foster CA. Parenthood and marital satisfaction: A meta-analytic review. J Marriage Fam. 2003; 65: 574–583.

8.

Eaker ED, Sullivan LM, Kelly-Hayes M, D'Agostino Sr RB, Benjamin EJ. Marital status, marital strain, and risk of coronary heart disease or total mortality: The Framingham Offspring Study. Psychosom Med. 2007; 69: 509–513.

9.

Vitaliano PP, Echeverria D, Yi J, Phillips PE, Young H, Siegler IC. Psychophysiological mediators of caregiver stress and differential cognitive decline. Psychol Aging. 2005; 20: 402–411.

10.

Bakas T, Pressler SJ, Johnson EA, Nauser JA, Shaneyfelt T. Family caregiving in heart failure. Nurs Res. 2006; 55: 180–188.

11.

Borg C, Hallberg IR. Life satisfaction among informal caregivers in comparison with non-caregivers. Scand J Caring Sci. 2006; 20: 427–438.

12.

Gouin JP, Hantsoo L, Kiecolt-Glaser JK. Immune dysregulation and chronic stress among older adults: A review. Neuroimmunomodulation. 2008; 15: 251–259.

13.

Kiecolt-Glaser JK, Dura JR, Speicher CE, Trask OJ, Glaser R. Spousal caregivers of dementia victims: Longitudinal changes in immunity and health. Psychosom Med. 1991; 53: 345–362.

14.

Lee S, Colditz GA, Berkman LF, Kawachi I. Caregiving and risk of coronary heart disease in U.S. women: A prospective study. Am J Prev Med. 2003; 24: 113–119.

15.

DeLongis A. Relationship of daily hassles, uplifts, and major life events to health status. Health Psychol. 1982; 1: 119–136.

16.

Crnic KA, Booth CL. Mothers' and fathers' perceptions of daily hassles of parenting across early childhood. J Marriage Fam. 1991; 53: 1042–1050.

17.

Ituarte PH, Kamarck TW, Thompson HS, Bacanu S. Psychosocial mediators of racial differences in nighttime blood pressure dipping among normotensive adults. Health Psychol. 1999; 18: 393–402.

18.

Light KC, Smith TE, Johns JM, Brownley KA, Hofheimer JA, Amico JA. Oxytocin responsivity in mothers of infants: A preliminary study of relationships with blood pressure during laboratory stress and normal ambulatory activity. Health Psychol. 2000; 19: 560–567.

19.

Bartlett E. The effects of fatherhood on the health of men: A review of the literature. Journal of Men's Health & Gender. 2004; 1(2): 159–169.

20.

Steptoe A, Lundwall K, Cropley M. Gender, family structure and cardiovascular activity during the working day and evening. Soc Sci Med. 2000; 50: 531–539.

21.

Bower JE, Kemeny ME, Taylor SE, Fahey JL. Finding positive meaning and its association with natural killer cell cytotoxicity among participants in a bereavement-related disclosure intervention. Annals Behav Med. 2003; 25: 146–155.

22.

Vaananen A, Buunk BP, Kivimäki M, Pentti J, Vahtera J. When it is better to give than to receive: Long-term health effects of perceived reciprocity in support exchange. J Pers Soc Psychol. 2005; 89(2): 176–193.

23.

Litwin H. The provision of informal support by elderly people residing in assisted living facilities. Gerontologist. 1998; 38(2): 239–246.

24.

Piferi RL, Jobe RL, Jones WH. Giving to others during national tragedy: The effects of altruistic and egoistic motivations on long-term giving. J Soc Pers Relatsh. 2006; 23(1): 171–184.

25.

Schwartz CE, Sendor M. Helping others helps oneself: Response shift effects in peer support. Soc Sci Med. 1999; 48(11): 1563–1575.

26.

Taylor J, Turner R. A longitudinal study of the role and significance of mattering to others for depressive symptoms. J Health Soc Behav. 2001; 42: 310–325.

27.

Taylor P, Funk C, Clark A. Generation gap in values, behaviors: As marriage and parenthood drift apart, public is concerned about social impact: Pew Research Center; 2007.

28.

Dolan E, Stanton A, Thijs L, et al. Superiority of ambulatory over clinic blood pressure measurement in predicting mortality: The Dublin outcome study. Hypertension. 2005; 46: 156–161.

29.

Kikuya M, Ohkubo T, Asayama K, et al. Ambulatory blood pressure and 10-year risk of cardiovascular and noncardiovascular mortality: The Ohasama study. Hypertension. 2005; 45: 240–245.

30.

Holt-Lunstad J, Birmingham W, Jones BQ. Is there something unique about marriage? The relative impact of marital status, relationship quality, and network social support on ambulatory blood pressure and mental health. Annals Behav Med. 2008; 35: 239–244.

31.

Cacioppo JT, Malarkey WB, Kiecolt-Glaser JK, et al. Heterogeneity in neuroendocrine and immune responses to brief psychological stressors as a function of autonomic cardiac activation. Psychosom Med. 1995; 57: 154–164.

32.

White WB, Lund-Johansen P, McCabe EJ, Omvik P. Clinical evaluation of the Accutracker II ambulatory blood pressure monitor: Assessment of performance in two countries and comparison with sphygmomanometry and intra-arterial blood pressure at rest and during exercise. J Hypertens. 1989; 7: 967–975.

33.

Kamarck TW, Shiffman SM, Smithline L, et al. Effects of task strain, social conflict, and emotional activation on ambulatory cardiovascular activity: Daily life consequences of recurring stress in a multiethnic adult sample. Health Psychol. 1998; 17: 17–29.

34.

Chobanian AV, Bakris GL, Black HR, et al. Seventh report of the Joint National Committee on Prevention, Detection, Evaluation, and Treatment of High Blood Pressure. Hypertension. 2003; 42: 1206–1252.

35.

Ernst ME, Bergus GR. Noninvasive 24-hour ambulatory blood pressure monitoring: Overview of technology and clinical applications. Pharmacotherapy. 2002; 22: 597–612.

36.

Brotman DJ, Davidson MB, Boumitri M, Vidt DG. Impaired diurnal blood pressure variation and all-cause mortality. Am J Hypertens. 2008; 21: 92–97.

37.

Kikuya M, Ohkubo T, Asayama K, et al. Ambulatory blood pressure and 10-year risk of cardiovascular and noncardiovascular mortality: The Ohasama study. Hypertension. 2005; 45: 240–245.

38.

Routledge FS, Mcfetridge-Durdle JA, Dean CR. Night-time blood pressure patterns and target organ damage: A review. Can J Cardiol. 2007; 23: 132–138.

39.

Li Y, Boggia J, Thijs L, et al. International database on ambulatory blood pressure monitoring in relation to cardiovascular outcomes investigators. Is blood pressure during the night more predictive of cardiovascular outcome than during the day? Blood Press Monit. 2008; 13: 145–147.

40.

Conen D, Bamberg F. Noninvasive 24-h ambulatory blood pressure and cardiovascular disease: A systematic review and meta-analysis. J Hypertens. 2008; 26(7): 1300–1302.

41.

Boggia J, Li Y, Thijs L, et al. Prognostic accuracy of day versus night ambulatory blood pressure: A cohort study. Lancet. 2007; 6: 370.

42.

Spanier G. Measuring dyadic adjustment: New scales for assessing the quality of marriage and similar dyads. J Marriage Fam. 1976; 38: 15–28.

43.

Radloff LS. The CES-D scale: A self-report depression scale for research in the general population. Appl Psychol Meas. 1977; 1: 385–401.

44.

Diener E, Emmons RA, Larsen RJ, Griffin S. The satisfaction with life scale. J Pers Assess. 1985; 49: 71–75.

45.

Cohen S, Kamarck T, Mermelstein R. A global measure of perceived stress. J Health Soc Behav. 1983; 24: 385–396.

46.

Buysse DJ, Reynolds CF, Monk TH, Berman SR. The Pittsburgh sleep quality index: A new instrument for psychiatric practice and research. Psychiatry Res. 1989; 28: 193–213.

47.

Little R, Milliken G, Stroup W, Wolfinger R. SAS system for mixed models. Cary, NC: SAS Institute; 1996.

48.

O'Brien E, Sheridan J, O'Malley K. Dippers and non-dippers. Lancet. 1988; 2: 397.

49.

Shapiro AF, Gottman JM, Carrère S. The baby and the marriage: Identifying factors that buffer against decline in marital satisfaction after the first baby arrives. Journal of Family Psychology: JFP: Journal Of The Division Of Family Psychology Of The American Psychological Association (Division 43). 2000; 14(1): 59–70.

50.

Wartella J, Amory E, Macbeth AH, et al. Single or multiple reproductive experiences attenuate neurobehavioral stress and fear responses in the female rat. Physiol Behav. 2003; 79: 373–381.

51.

Uvnas-Moberg K. Oxytocin linked antistress effects—the relaxation and growth response. Acta Physiol Scand Suppl. 1997; 640: 38–42.

52.

Altemus M, Deuster PA, Galliven E, Carter CS, Gold PW. Suppression of hypothalmic-pituitary-adrenal axis responses to stress in lactating women. J Clin Endocrinol Metab. 1995; 80: 2954–2959.

53.

Shingo T, Gregg C, Enwere E, et al. Pregnancy-stimulated neurogenesis in the adult female forebrain mediated by prolactin. Science. 2003; 299: 117–120.

54.

Theodosis DT, Poulain DA. Maternity leads to morphological synaptic plasticity in the oxytocin system. Prog Brain Res. 2001; 133: 49–58.

55.

Taylor SE, Klein LC, Lewis BP, Gruenewald TL, Gurung RA, Updegraff JA. Biobehavioral responses to stress in females: Tend-and-befriend, not fight-or-flight. Psychol Rev. 2000; 107: 411–429.

56.

Russo J, Moral R, Balogh GA, Mailo D, Russo IH. The protective role of pregnancy in breast cancer. Breast Cancer Res: BCR. 2005; 7: 131–142.

57.

Kelsey JL, Gammon MD, John EM. Reproductive factors and breast cancer. Epidemiol Rev. 1993; 15: 36–47.

58.

Rajkumar L, Guzman RC, Yang J, Thordarson G, Talamantes F, Nandi S. Short-term exposure to pregnancy levels of estrogen prevents mammary carcinogenesis. Proc Natl Acad Sci USA. 2001; 98: 11755–11759.

59.

Martinez G, Chandra A, Abma J, Jones J, Mosher W. Fertility, contraception, and fatherhood: Data on men and women from cycle 6 (2002) of the National Survey of Family Growth; 2006.

60.

LaMastro V. Childless by choice? Attributions and attitudes concerning family size. Soc Behav Pers. 2001; 29: 231–243.

61.

Ishii-Kuntz M, Seccombe K. The impact of children upon social support networks throughout the life course. J Marriage Fam. 1989; 51: 777–790.
Acknowledgements
This research was generously supported by grant number R0502042 from the Marchionne Foundation and a grant from the Family Studies Center at Brigham Young University awarded to Dr. Julianne Holt-Lunstad. We would like to thank Brandon Jones, Shayna Ernhofer, Laura Cummings, Chad Jenson, Brian Mead, and Britta Thunnell for their help running participants through the protocol.
This data was previously presented at the 2008 Society of Behavioral Medicine annual meeting in San Diego, where it received the Citation Award for Excellence in Research.
About this article
Cite this article
Holt-Lunstad, J., Birmingham, W., Howard, A.M. et al. Married With Children: The Influence of Parental Status and Gender on Ambulatory Blood Pressure. ann. behav. med. 38, 170–179 (2009). https://doi.org/10.1007/s12160-009-9152-1
Keywords
Ambulatory blood pressure

Parental status

Marriage

Children

Stress

Cardiovascular