Abstract
Background
Executive functioning (EF) is a multifaceted neuropsychological construct that can be defined as (1) forming, (2) maintaining, and (3) shifting mental sets, corresponding to the abilities to (1) reason and generate goals and plans, (2) maintain focus and motivation to follow through with goals and plans, and (3) flexibly alter goals and plans in response to changing contingencies.
Purpose
Research involving EF has become increasingly popular in a number of disciplines including behavioral medicine and personality research.
Methods
The present article outlines some of the challenges faced by EF researchers, as well as briefly reviews historical perspective and neuroanatomical underpinnings of EF to provide broader context.
Results
Clinical presentations of EF deficits, definitions and operationalization of the contsruct, as well as selection of appropriate assessment methods are provided.
Conclusion
The article concludes with general cautions and guidelines for researchers.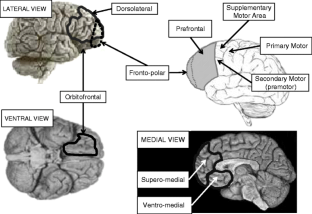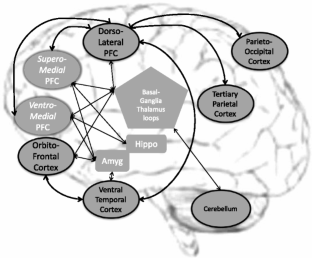 References
1.

Cummings JL, Miller BL. Conceptual and clinical aspects of the frontal lobes. The human frontal lobes: Functions and disorders. 2nd ed. New York, NY, US: Guilford Press; 2007:12–21.

2.

Gazzaley A, D'Esposito M, Miller BL, Cummings JL. Unifying prefrontal cortex function: Executive control, neural networks, and top-down modulation. The human frontal lobes: Functions and disorders. 2nd ed. New York, NY, US: Guilford Press; 2007:187–206.

3.

Fuster JNM. The prefrontal cortex of the primate: A synopsis. Psychobiology. 2000; 28: 125–131.

4.

Bush G, Frazier JA, Rauch SL, et al. Anterior cingulate cortex dysfunction in attention-deficit/hyperactivity disorder revealed by fMRI and the Counting Stroop. Biol Psychiatry. 1999; 45: 1542–1552.

5.

Sewards TV, Sewards MA. Representations of motivational drives in mesial cortex, medial thalamus, hypothalamus and midbrain. Brain Res Bull. 2003; 61: 25–49.

6.

Angrilli A, Palomba D, Cantagallo A, Maietti A, Stegagno L. Emotional impairment after right orbitofrontal lesion in a patient without cognitive deficits. Neuroreport. 1999; 10: 1741–1746.

7.

Mathiesen BB, Farster PLV, Svendsen HA. Affect Regulation and Loss of Initiative in a Case of Orbitofrontal Injury. Neuro-Psychoanal. 2004; 6: 47–62.

8.

Tremblay L, Schultz W. Reward-related neuronal activity during go-nogo task performance in primate orbitofrontal cortex. J Neurophysiol. 2000; 83: 1864–1876.

9.

Moll J, Eslinger PJ, de Oliveira-Souza R. Frontopolar and anterior temporal cortex activation in a moral judgment task. Arq Neuropsiquiatr. 2001; 59: 657–664.

10.

Ruby P, Decety J. How would you feel versus how do you think she would feel? A neuroimaging study of perspective-taking with social emotions. J Cogn Neurosci. 2004; 16: 988–999.

11.

Koechlin E, Basso G, Pietrini P, Panzer S, Grafman J. The role of the anterior prefrontal cortex in human cognition. Nature. 1999; 399: 148–151.

12.

Lezak MD, Howieson DB. Loring DW:. Neuropsychological Assessment: Oxford University Press; 2004.

13.

Stuss DT, Alexander MP, Floden D, et al. Fractionation and localization of distinct frontal lobe processes: Evidence from focal lesions in humans, Principles of frontal lobe function. London: Oxford University Press; 2002:392–407.

14.

Aron AR. Progress in executive-function research: From tasks to functions to regions to networks. Curr Dir Psychol Sci. 2008; 17: 124–129.

15.

Braver TS, Ruge H, Cabeza R, Kingstone A. Functional neuroimaging of executive functions. Handbook of functional neuroimaging of cognition. 2nd ed. Cambridge, MA US: MIT Press; 2006:307–348.

16.

Ottowitz WE, Dougherty DD, Savage CR. The neural network basis for abnormalities of attention and executive function in major depressive disorder: Implications for application of the medical disease model to psychiatric disorders. Harv Rev Psychiatry. 2002; 10: 86–99.

17.

Tekin S, Cummings JL. Frontal-subcortical neuronal circuits and clinical neuropsychiatry: An update. J Psychosom Res. 2002; 53: 647–654.

18.

Moritz S, Birkner C, Kloss M, et al. Executive functioning in obsessive-compulsive disorder, unipolar depression, and schizophrenia. Arch Clin Neuropsychol. 2002; 17: 477–483.

19.

Morgan AB, Lilienfeld SO. A meta-analytic review of the relation between antisocial behavior and neuropsychological measures of executive function. Clin Psychol Rev. 2000; 20: 113–156.

20.

LeGris J, van Reekum R. The Neuropsychological Correlates of Borderline Personality Disorder and Suicidal Behaviour. Can J Psychiatry. 2006; 51: 131–142.

21.

Lyketsos CG, Rosenblatt A, Rabins P. Forgotten frontal lobe syndrome or 'Executive Dysfunction Syndrome'. Psychosomatics. 2004; 45: 247–255.

22.

Macmillan M. An odd kind of fame: Stories of Phineas Gage. Cambridge, MA US: The MIT Press; 2000.

23.

Luria AR. The frontal lobes and the regulation of behavior. Psychophysiology of the frontal lobes. Oxford England: Academic Press; 1973.

24.

Luria AR, Homskaya ED, Blinkov SM. Impaired selectivity of mental processes in association with a lesion of the frontal lobe. Neuropsychologia. 1967; 5: 105–117.

25.

Luria AR, Majovski LV. A frontal lobe syndrome due to a cerebrovascular accident affecting the corpus callosum. Clin Neuropsychol. 1979; 1: 17–19.

26.

Lezak MD. The problem of assessing executive functions. Int J Psychol. 1982; 17: 281–297.

27.

Duffy JD, Campbell JJ III, Salloway SP, Malloy PF. Regional prefrontal syndromes: A theoretical and clinical overview. The frontal lobes and neuropsychiatric illness. Arlington, VA, US: American Psychiatric Publishing, Inc.; 2001:113–123.

28.

Fink GR, Halligan PW, Marshall JC, et al. Neural mechanisms involved in the processing of global and local aspects of hierarchically organized visual stimuli., Brain (Vol. 120). Oxford: Oxford Univ Press, http:\\www.oup.com; 1997: 1779-1791.

29.

Nielson KA, Langenecker SA, Garavan H. Differences in the functional neuroanatomy of inhibitory control across the adult life span. Psychology & Aging (Vol. 17). Washington, DC: American Psychological Assn, http:\\www.apa.org; 2002, 56-71.

30.

Sylvester C-Y, Wagner TD, Lacey SC et al. Switching attention and resolving interference: fMRI measures of executive functions. Neuropsychologia (Vol. 41). Amsterdam: Elsevier Science, http:\\www.elsevier.com; 2003, 357-370.

31.

Carlson SM, Wang TS. Inhibitory control and emotion regulation in preschool children. Cogn Dev. 2007; 22: 489–510.

32.

Knolle-Veentjer S, Huth V, Ferstl R, Aldenhoff JB, Hinze-Selch D. Delay of gratification and executive performance in individuals with schizophrenia: Putative role for eating behavior and body weight regulation. J Psychiatr Res. 2008; 42: 98–105.

33.

Magar ECE, Phillips LH, Hosie JA. Self-regulation and risk-taking. Personality Individ Differ. 2008; 45: 153–159.

34.

Osaka N. The frontal lobe correlates of metacognition: Neural interpretation based on the cognitive neuroscience of working memory. Jpn Psychol Rev. 2007; 50: 216–226.

35.

Suchy Y, Kosson DS. State-dependent executive deficits among psychopathic offenders. J Int Neuropsychol Soc. 2005; 11: 311–321.

36.

Vohs KD, Baumeister RF, Schmeichel BJ, et al. Making choices impairs subsequent self-control: A limited-resource account of decision making, self-regulation, and active initiative. J Pers Soc Psychol. 2008; 94: 883–898.

37.

Posner MI, Dehaene S. Attentional networks. Trends Neurosci. 1994; 17: 75–79.

38.

Stuss DT, Alexander MP. Executive functions and the frontal lobes: A conceptual view. Psychological Research. 2000; 63: 289–298.

39.

Baddeley A, Della Sala S, Roberts AC, Robbins TW, Weiskrantz L. Working memory and executive control. The prefrontal cortex: Executive and cognitive functions. New York, NY US: Oxford University Press; 1998:9–21.

40.

Baddeley A. The central executive: A concept and some misconceptions. J Int Neuropsychol Soc. 1998; 4: 523–526.

41.

Osmon DC. Complexities in the evaluation of executive functions., Forensic neuropsychology: Fundamentals and practice. Lisse, Netherlands: Swets & Zeitlinger Publishers; 1999:185–226.

42.

Osmon DC, Suchy Y. Fractionating frontal lobe functions: Factors of the Milwaukee Card Sorting Test. Arch Clin Neuropsychol. 1996; 11: 541–552.

43.

Suchy Y, Kosson DS. Forming, switching, and maintaining mental sets among psychopathetic offenders during verbal and nonverbal tasks: Another look at the left-hemisphere activation hypothesis. J Int Neuropsychol Soc. 2006; 12: 538–548.

44.

Suchy Y, Blint A, Osmon DS. Behavioral Dyscontrol Scale: Criterion and predictive validity in an inpatient rehabilitation unit population. Clin Neuropsychol. 1997; 11: 258–265.

45.

Jersild AT. Mental set and shift. Archives of Psychology. 1927, Whole number 89.

46.

Heaton RK, Chelune GJ, Talley JL, Kay GG, Curtiss G. Wisconsin Card Sorting Test Manual: Revised and Expanded. Lutz: Psychological Assessment Resources, Inc.; 1993.

47.

Reitan RM. Trail Making Test: Manual for administration, scoring, and interpretation. Indianapolis: Indiana University Medical Center; 1958.

48.

PsyCor. Delis-Kaplan Exucutive Function System. San Antonio: The Psychological Corporation; 2001.

49.

Demakis GJ. A meta-analytic review of the sensitivity of the Wisconsin Card Sorting Test to frontal and lateralized frontal brain damage. Neuropsychology (Vol. 17). Washington, DC: American Psychological Assn, http:\\www.apa.org, 2003, 255-264.

50.

Demakis GJ, Harrison DW. Relationships between verbal and nonverbal fluency measures: implications for assessment of executive functioning. Psychol Rep. 1997; 81: 443–448.

51.

Reitan RM, Wolfson D. Category Test and Trail Making Test as measures of frontal lobe functions. Clin Neuropsychol. 1995; 9: 50–56.

52.

Buss AH. Some determinants of rigidity in discrimination-reversal learning. J Exp Psychol. 1952; 44: 222–227.

53.

Drewe EA. Go-no go learning after frontal lobe lesions in humans. Cortex. 1975; 11: 8–16.

54.

Quinn SOB, Quinn EP. The Stroop Interference Effect in Young Children: A Developmentally Appropriate Approach. Ind Diff Res. 2005; 3: 183–187.

55.

Fan J, McCandliss BD, Sommer T, Raz A, Posner MI. Testing the efficiency and independence of attentional networks. J Cogn Neurosci. 2002; 14: 340–347.

56.

Bechara A, Damasio H, Tranel D, Damasio AR. The Iowa Gambling Task and the somatic marker hypothesis: Some questions and answers. Trends Cogn Sci. 2005; 9: 159–162.

57.

Newman JP, Patterson CM, Howland EW, Nichols SL. Passive avoidance in psychopaths: The effects of reward. Pers Individ Differ. 1990; 11: 1101–1114.

58.

Newman JP, Schmitt WA. Passive avoidance in psychopathic offenders: A replication and extension. J Abnorm Psychol. 1998; 107: 527–532.
Acknowledgment
The author wishes to thank Drs. Paula Williams, Timothy Smith, and Gordon J. Chelune for valuable feedback and suggestions.
About this article
Cite this article
Suchy, Y. Executive Functioning: Overview, Assessment, and Research Issues for Non-Neuropsychologists. ann. behav. med. 37, 106–116 (2009). https://doi.org/10.1007/s12160-009-9097-4
Received:

Published:

Issue Date:
Keywords
Executive functioning

Frontal lobes

Neuropsychological assessment

Frontal-lobe syndrome

Cognition