Abstract
Background
Obesity is a growing epidemic. Weight control interventions can achieve weight loss, but most is regained over time. Stigma and low quality of life are significant problems that are rarely targeted.
Purpose
A new model aimed at reducing avoidant behavior and increasing psychological flexibility, has shown to be relevant in the treatment of other chronic health problems and is worth examining for improving the lives of obese persons.
Methods
Patients who had completed at least 6 months of a weight loss program (N = 84) were randomly assigned to receive a 1-day, mindfulness and acceptance-based workshop targeting obesity-related stigma and psychological distress or be placed on a waiting list.
Results
At a 3-month follow-up, workshop participants showed greater improvements in obesity-related stigma, quality of life, psychological distress, and body mass, as well as improvements in distress tolerance, and both general and weight-specific acceptance and psychological flexibility. Effects on distress, stigma, and quality of life were above and beyond the effects due to improved weight control. Mediational analyses indicated that changes in weight-specific acceptance coping and psychological flexibility mediated changes in outcomes.
Conclusion
Results provide preliminary support for the role of acceptance and mindfulness in improving the quality of life of obese individuals while simultaneously augmenting their weight control efforts.
Access options
Buy single article
Instant access to the full article PDF.
USD 39.95
Price excludes VAT (USA)
Tax calculation will be finalised during checkout.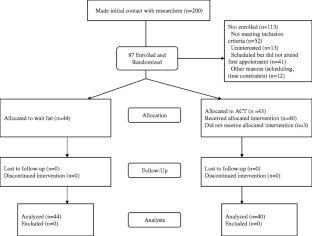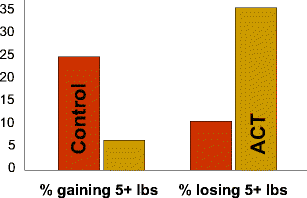 References
Center for Disease Control. Obesity and overweight. 2007; Available at http://www.cdc.gov/nccdphp/dnpa/obesity/trend/index. Accessibility verified on October 11, 2007.

Hedley AA, Odgen CL, Johnson CL, Carroll MD, Curtin LR, Flegal KM. Prevalence of overweight and obesity among US children, adolescents, and adults, 1999-2002. JAMA. 2004; 291: 1847–1850.

Finkelstein EA, Fiebelkorn IC, Wang GJ. National medical spending attributable to overweight and obesity: How much, and who's paying? Health Aff. 2003; 22: W219–W226.

Avenell A, Brown TJ, McGee MA, et al. What are the long-term benefits of weight reducing diets in adults? A systematic review of randomized controlled trials. J. Hum. Nutr. Diet. 2004; 17: 317–335.

Perri MG, Corisca JA. Improving the maintenance of weight loss in behavioral treatment of obesity. In: Wadden TA, Stunkard AJ, eds. Handbook of obesity treatment. New York: Guilford Press; 2002.

Wilson GT, Brownell KD. Behavioral treatment for obesity. In: Fairburn CG, Brownell KD, eds. Eating Disorders and Obesity. New York: Guilford Press; 2002.

Anderson JW, Vichitbandra S, Qian W, Kryscio RJ. Long-term weight maintenance after an intensive weight-loss program. J Am Coll Nutr. 1999; 18: 620–627.

Wadden TA, Frey DL. A multicenter evaluation of a proprietary weight loss program for the treatment of marked obesity: A five-year follow-up. Int J Eat Disord. 1997; 22: 203–212.

Drapkin RG, Wing RR, Shiffman S. Responses to hypothetical high-risk situations: Do they predict weight-loss in a behavioral treatment program or the context of dietary lapses. Health Psychol. 1995; 14: 427–434.

Byrne S, Cooper Z, Fairburn C. Weight maintenance and relapse in obesity: A qualitative study. Int J Obes. 2003; 27: 955–962.

Kayman S, Bruvold W, Stern JS. Maintenance and relapse after weight-loss in women: Behavioral aspects. Am J Clin Nutr. 1990; 52: 800–807.

Fassino S, Leombruni P, Piero A, et al. Temperament and character in obese women with and without binge eating disorder. Compr Psychiatry. 2002; 43: 431–437.

Ryden A, Sullivan M, Torgerson JS, Karlsson J, Lindroos AK, Taft C. Severe obesity and personality: A comparative controlled study of personality traits. Int J Obes. 2003; 27: 1534–1540.

Ganley RM. Emotion and eating in obesity: A review of the literature. Int J Eat Disord. 1989; 8: 343–361.

Ferguson KJ, Brink PJ, Wood M, Koop PM. Characteristics of successful dieters as measured by guided interview responses and restraint scale scores. J Am Diet Assoc. 1992; 92: 1119–1121.

Westenhoefer J. The therapeutic challenge: Behavioral changes for long-term weight maintenance. Int J Obes. 2001; 25: S85–S88.

Bennett GA. Behavior-therapy for obesity: A quantitative review of the effects of selected treatment characteristics on outcome. Behav Ther. 1986; 17: 554–562.

Glenny AM, Omeara S, Melville A, Sheldon TA, Wilson C. The treatment and prevention of obesity: A systematic review of the literature. Int J Obes. 1997; 21: 715–737.

Brownell KD, Puhl RM, Schwartz MB, Rudd L. Weight bias: Nature, consequences, remedies. New York, NY: Guilford Publications; 2005.

Garner DM, Wooley SC. Confronting the failure of behavioral and dietary treatments for obesity. Clin Psychol Rev. 1991; 11: 729–780.

Wooley SC, Garner DM. Controversies in management: Dietary treatments for obesity are ineffective. BMJ. 1994; 309: 655–656.

Falkner NH, French SA, Jeffery RW, Neumark-Sztainer D, Sherwood NE, Morton N. Mistreatment due to weight: Prevalence and sources of perceived mistreatment in women and men. Obes Res. 1999; 7: 572–576.

Puhl R, Brownell KD. Psychosocial origins of obesity stigma: Toward changing a powerful and pervasive bias. Obes Rev. 2003; 4: 213–227.

Puhl R, Brownell KD. Bias, discrimination, and obesity. Obes Res. 2001; 9: 788–805.

Gifford EV, Kohlenberg BS, Hayes SC, et al. Acceptance theory-based treatment for smoking cessation: An initial trial of Acceptance and Commitment Therapy. Behav Ther. 2004; 35: 689–706.

Gifford EV, Ritsher J, McKellar J, Moos R. Acceptance and relationship context: A model of substance use disorder treatment outcome. Addiction. 2006; 101: 1167–1177.

Hayes SC, Wilson KG, Gifford EV, et al. A preliminary trial of Twelve-Step Facilitation and Acceptance and Commitment Therapy with poly-substance abusing methadone-maintained opiate addicts. Behav Ther. 2004; 35: 667–688.

McCracken LM, Vowles KE, Eccleston C. Acceptance-based treatment for persons with complex, long-standing chronic pain: A preliminary analysis of treatment outcome in comparison to a waiting phase. Behav Res Ther. 2005; 43: 1335–1346.

Forman EM, Hoffman KL, McGrath KB, Herbert JD, Brandsma LL, Lowe MR. A comparison of acceptance and control-based strategies for coping with food cravings: An analog study. Behav Res Ther. 2007; 45: 2372–2386.

Brownell KD. The LEARN program for weight management. Dallas, TX: American Health; 2000.

Hayes SC, Strosahl K, Wilson KG. Acceptance and Commitment Therapy: An experiential approach to behavior change. New York, NY: The Guilford Press; 1999.

Hayes SC, Luoma JB, Bond FW, Masuda A, Lillis J. Acceptance and Commitment Therapy: Model, processes, and outcomes. Behav Res Ther. 2006; 44: 1–25.

Hayes SC, Wilson KG, Gifford EV, Follette VM, Strosahl K. Experiential avoidance and behavioral disorders: A functional dimensional approach to diagnosis and treatment. J Consult Clin Psychol. 1996; 64: 1152–1168.

Westenhoefer J, Stunkard AJ, Pudel V. Validation of the flexible and rigid control dimensions of dietary restraint. Int J Eat Disord. 1999; 26: 53–64.

Hayes SC, Bissett R, Roget N, et al. The impact of acceptance and commitment training and multicultural training on the stigmatizing attitudes and professional burnout of substance abuse counselors. Behav Ther. 2004; 35: 821–835.

Luoma JB, Kohlenberg BS, Hayes SC, Bunting K, Rye AK. Reducing the self stigma of substance abuse through acceptance and commitment therapy: Model, manual development, and pilot outcomes. Addiction Res Ther. In press.

Lillis J, Hayes SC. Applying acceptance, mindfulness, and values to the reduction of prejudice. Behav Modif. 2007; 31: 389–411.

Masuda A, Hayes SC, Fletcher LB, et al. The impact of Acceptance and Commitment Therapy versus education on stigma toward people with psychological disorders. Beh Res Ther. In press.

Dahl J, Wilson KG, Nilsson A. Acceptance and Commitment Therapy and the treatment of persons at risk for long-term disability resulting from stress and pain symptoms: A preliminary randomized trial. Behav Ther. 2004; 35: 785–802.

Gregg JA, Callaghan GM, Hayes SC, Glenn-Lawson JL. Improving diabetes self-management through acceptance, mindfulness, and values: A randomized controlled trial. J Consult Clin Psychol. 2007; 75: 336–343.

Lundgren TA, Dahl J, Melin L, Kies B. Evaluation of Acceptance and Commitment Therapy for drug refractory epilepsy: A randomized control trial in South Africa: A pilot study. Epilepsia. 2006; 47: 2173–2179.

Brown RA, Palm KM, Strong DR, et al. Distress tolerance treatment for early lapse smokers: Rationale, program description and preliminary findings. Behav Modif. In press.

Hayes SC. Smith S. Get out of your mind and into your life: The new Acceptance and Commitment Therapy. Oakland, CA: New Harbinger; 2005.

Goldberg DP. The detection of psychiatric illness by questionnaire. London: Oxford University Press; 1972.

Goldberg DP, Gater R, Sartorius N, et al. The validity of two versions of the GHQ in the WHO study of mental illness in general health care. Psychol Med. 1997; 27: 191–197.

Mannucci E, Ricca V, Barciulli E, et al. Quality of life and overweight: The Obesity Related Well-Being (ORWELL 97) Questionnaire. Addictive Behaviors. 1999; 24: 345–357.

Lillis J. Acceptance and Commitment Therapy for the treatment of obesity-related stigma and weight control. Unpublished doctoral dissertation, University of Nevada, Reno; 2007.

Rosenberg M. Society and the Adolescent Self-Image. Princeton, NJ: Princeton University Press; 1965.

Ritsher JB, Otilingam PG, Grajales M. Internalized stigma of mental illness: Psychometric properties of a new measure. Psychiatry Res. 2003; 121: 31–49.

Myers A, Rosen JC. Obesity stigmatization and coping: Relation to mental health, symptoms, body image, and self-esteem. Int J Obes. 1999; 23: 221–230.

Allison DB, Basile VC, Yuker HE. The measurement of attitudes and beliefs about obese persons. Int J Eat Disord. 1991; 10: 599–607.

St. Jeor ST, Brunner RL, Harrington ME, et al. A classification system to evaluate weight maintainers, gainers, and losers. J Am Diet Assoc. 1997; 97: 481–488.

Hayes SC, Strosahl KD, Wilson KG, et al. Measuring experiential avoidance: A preliminary test of a working model. Psychol Rec. 2004; 54: 553–578.

Lillis J, Hayes SC. Measuring avoidance and inflexibility in weight related problems. Int J Behav Consult Ther. 2008; 4: 30–40.

Brown RA, Leuez CW, Kahler CW, Strong DR, Zvolensky MJ. Distress tolerance and early smoking lapse. Clin Psychol Rev. 2005; 25: 713–733.

Cohen JC. Quantitative methods in psychology: A power primer. Psychol Bull. 1992; 112: 155–159.

MacKinnon DP, Lockwood CM, Hoffman JM, West SG, Sheets V. A comparison of methods to test mediation and other intervening variables. Psychol Methods. 2002; 7: 83–104.

MacKinnon DP, Warsi G, Dwyer JH. A simulation study of mediated effect measures. Multivariate Behav Res. 1995; 30: 41–62.

Baron RM, Kenny DA. The moderator-mediator variable distinction in social psychological research: Conceptual, strategic and statistical considerations. J Pers Soc Psychol. 1986; 51: 1173–1182.

Sobel ME. Asymptotic confidence intervals for indirect effects in structural equation models. In: Leinhardt S. ed. Sociological Methodlogy. Washington, DC: American Sociological Association; 1982.

Preacher KJ, Hayes AF. SPSS and SAS Procedures for estimating effects in simple mediation models. Behav Res Meth Instrum Comput. 2004; 36: 717–731.

Preacher KJ, Hayes AF. Asymptotic and resampling strategies for assessing and comparing indirect effects in multiple mediator models. Behav Res Methods. In press.

MacKinnon DP, Fairchild AJ, Fritz MS. Mediation analysis. Annu Rev Psychol. 2007; 58: 593–614.

Bach P, Hayes SC. The use of acceptance and commitment therapy to prevent the rehospitalization of psychotic patients: A randomized controlled trial. J Consult Clin Psychol. 2002; 70: 1129–1139.
About this article
Cite this article
Lillis, J., Hayes, S.C., Bunting, K. et al. Teaching Acceptance and Mindfulness to Improve the Lives of the Obese: A Preliminary Test of a Theoretical Model. ann. behav. med. 37, 58–69 (2009). https://doi.org/10.1007/s12160-009-9083-x
Received:

Published:

Issue Date:

DOI: https://doi.org/10.1007/s12160-009-9083-x
Keywords
Acceptance and Commitment Therapy

Experiential avoidance

Stigma

Coping

Obesity

Weight control