Abstract
Background
Most health behavior models do not distinguish between determinants of behavior adoption and maintenance.
Purpose
This study compared psychosocial predictors of physical activity (PA) adoption and predictors of PA maintenance among 205 initially sedentary adults enrolled in a home-based PA promotion trial.
Methods
Psychosocial variables were measured at 6 months (at which point 107 participants remained inactive and 98 participants adopted regular PA) and used to predict 12-month PA status (an indicator of PA adoption among those inactive at 6 months and an indicator of PA maintenance among those active at 6 months).
Results
Six-month PA status moderated the relationships between 6-month measures of home access to PA equipment (p = .049), self-efficacy (p = .086), and perceived satisfaction (p = .062) and 12-month PA status. Simple effects analyses revealed that home access to PA equipment was predictive of PA adoption (OR = 1.73; 95% CI: 1.05, 2.85), but not PA maintenance (OR = 0.88; 95% CI: 0.58, 1.35), whereas self-efficacy and perceived satisfaction were predictive of PA maintenance (OR = 2.65; 95% CI: 1.55, 4.52; OR = 1.95; 95% CI: 0.93, 4.06), but not PA adoption (OR = 1.50; 95% CI: 0.87, 2.57; OR = 0.82, CI: 0.44, 1.52).
Conclusion
Results suggest that these psychosocial variables may operate differently in predicting PA adoption versus maintenance.
This is a preview of subscription content, log in to check access.
Access options
Buy single article
Instant access to the full article PDF.
US$ 39.95
Price includes VAT for USA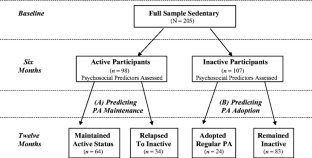 References
1.

U.S. Department of Health and Human Services. Physical Activity and Health: A Report of the Surgeon General. Atlanta, GA: Centers for Disease Control and Prevention, National Center for Chronic Disease Prevention and Health Promotion; 1996.

2.

U.S. Department of Health and Human Services. Healthy People 2010: Understanding and Improving Health. 2nd ed. Washington, DC: U.S. Government Printing Office; 2000.

3.

Prochaska JO, DiClemente CC. Stages and processes of self-change of smoking: Toward an integrative model of change. J Consult Clin Psychol. 1983; 51(3): 390–395.

4.

Prochaska JO, DiClemente CC, Norcross JC. In search of how people change. Applications to addictive behaviors. Am Psychol. 1992; 47(9): 1102–1114.

5.

Napolitano MA, Papandonatos GD, Lewis BA, et al. Mediators of physical activity behavior change: A multivariate approach. Health Psychol. 2008; 27: 409–418.

6.

Marcus BH, Lewis BA, Williams DM, et al. A comparison of internet and print-based physical activity interventions. Arch Intern Med. 2007; 167: 944–949.

7.

Marcus BH, Napolitano MA, King AC, et al. Telephone versus print delivery of an individualized motivationally tailored physical activity intervention: Project STRIDE. Health Psychol. 2007; 26(4): 401–409.

8.

Bandura A. Self-Efficacy: The Exercise of Control. New York: W.H. Freeman and Co.; 1997.

9.

Sallis JF, Johnson MF, Calfas KJ, Caparosa S, Nichols JF. Assessing perceived physical environmental variables that may influence physical activity. Res Q Exerc Sport. 1997; 68(4): 345–351.

10.

Anderson ES, Wojcik JR, Winett RA, Williams DM. Social–cognitive determinants of physical activity: The influence of social support, self-efficacy, outcome expectations, and self-regulation among participants in a church-based health promotion study. Health Psychol. 2006; 25(4): 510–520.

11.

McAuley E, Blissmer B. Self-efficacy determinants and consequences of physical activity. Exerc Sport Sci Rev. 2000; 28(2): 85–88.

12.

Williams DM, Anderson ES, Winett RA. A review of the outcome expectancy construct in physical activity research. Ann Behav Med. 2005; 29(1): 70–79.

13.

Winett RA, Anderson ES, Wojcik JR, Winett SG, Bowden T. Guide to health: nutrition and physical activity outcomes of a group-randomized trial of an Internet-based intervention in churches. Ann Behav Med. 2007; 33(3): 251–261.

14.

Rothman AJ. Toward a theory-based analysis of behavioral maintenance. Health Psychol. 2000; 19(1 Suppl): 64–69.

15.

Bandura A. Social Foundations of Thought and Action: A Social Cognitive Theory. Englewood Cliffs, NJ: Prentice-Hall; 1986.

16.

Bandura A. Health promotion by social cognitive means. Health Educ Behav. 2004; 31(2): 143–164.

17.

Rothman AJ, Baldwin A, Hertel A. Self-regulation and behavior change: Disentangling behavioral initiation and behavioral maintenance. In: Vohs K, Baumeister R, eds. Handbook of Self-Regulation. New York: Guilford Press; 2004: 130–148.

18.

McAuley E, Jerome GJ, Elavsky S, Marquez DX, Ramsey SN. Predicting long-term maintenance of physical activity in older adults. Prev Med. 2003; 37(2): 110–118.

19.

Stiggelbout M, Hopman-Rock M, Crone M, Lechner L, van Mechelen W. Predicting older adults' maintenance in exercise participation using an integrated social psychological model. Health Educ Res. 2006; 21(1): 1–14.

20.

Litt MD, Kleppinger A, Judge JO. Initiation and maintenance of exercise behavior in older women: Predictors from the social learning model. J Behav Med. 2002; 25(1): 83–97.

21.

Bock BC, Marcus BH, Pinto BM, Forsyth LH. Maintenance of physical activity following an individualized motivationally tailored intervention. Ann Behav Med. 2001; 23(2): 79–87.

22.

Sallis JF, Hovell MF, Hofstetter CR. Predictors of adoption and maintenance of vigorous physical activity in men and women. Prev Med. 1992; 21(2): 237–251.

23.

Boutelle KN, Jeffery RW, French SA. Predictors of vigorous exercise adoption and maintenance over four years in a community sample. Int J Behav Nutr Phys Act. 2004; 1(1): 13.

24.

Rhodes RE, Plotnikoff RC. Understanding action control: predicting physical activity intention-behavior profiles across 6 months in a Canadian sample. Health Psychol. 2006; 25(3): 292–299.

25.

Burton LC, Shapiro S, German PS. Determinants of physical activity initiation and maintenance among community-dwelling older persons. Prev Med. 1999; 29(5): 422–430.

26.

Marcus BH, Lewis BA, Williams DM, et al. Step into Motion: a randomized trial examining the relative efficacy of Internet vs. print-based physical activity interventions. Contemp Clin Trials. 2007; 28(6): 737–747.

27.

Pereira MA, FitzerGerald SJ, Gregg EW, et al. A collection of Physical Activity Questionnaires for health-related research. Med Sci Sports Exerc. 1997; 29(6 Suppl): S1–S205.

28.

Sallis JF, Saelens BE. Assessment of physical activity by self-report: Status, limitations, and future directions. Res Q Exerc Sport. 2000; 71(2 Suppl): S1–S14.

29.

Marcus BH, Selby VC, Niaura RS, Rossi JS. Self-efficacy and the stages of exercise behavior change. Res Q Exerc Sport. 1992; 63(1): 60–66.

30.

Marcus BH, Rakowski W, Rossi JS. Assessing motivational readiness and decision making for exercise. Health Psychol. 1992; 11(4): 257–261.

31.

Marcus BH, Rossi JS, Selby VC, Niaura RS, Abrams DB. The stages and processes of exercise adoption and maintenance in a worksite sample. Health Psychol. 1992; 11(6): 386–395.

32.

Steinhardt MA, Dishman RK. Reliability and validity of expected outcomes and barriers for habitual physical activity. J Occup Med. 1989; 31(6): 536–546.

33.

Kendzierski D, DeCarlo KJ. Physical activity enjoyment scale: Two validation studies. J Sport Exerc Psychol. 1991; 13: 50–64.

34.

Williams DM, Papandonatos GD, Napolitano MA, Lewis BA, Whiteley JA, Marcus BH. Perceived enjoyment moderates the efficacy of an individually tailored physical activity intervention. J Sport Exerc Psychol. 2006; 28: 300–309.

35.

Sears SR, Stanton AL. Expectancy-value constructs and expectancy violation as predictors of exercise adherence in previously sedentary women. Health Psychol. 2001; 20(5): 326–333.

36.

Sallis JF, Grossman RM, Pinski RB, Patterson TL, Nader PR. The development of scales to measure social support for diet and exercise behaviors. Prev Med. 1987; 16(6): 825–836.

37.

Holm S. A simple sequentially rejective Bonferroni test procedure. Scand J Stat. 1979; 6: 65–70.

38.

Cohen J. A power primer. Psychol Bull. 1992; 112: 155–159.

39.

Marshall SJ, Biddle SJ. The transtheoretical model of behavior change: A meta-analysis of applications to physical activity and exercise. Ann Behav Med. 2001; 23(4): 229–246.

40.

Sarkin JA, Nichols JF, Sallis JF, Calfas KJ. Self-report measures and scoring protocols affect prevalence estimates of meeting physical activity guidelines. Med Sci Sports Exerc. 2000; 32(1): 149–156.

41.

De Moor C, Baranowski T, Cullen KW, Nicklas T. Misclassification associated with measurement error in the assessment of dietary intake. Public Health Nutr. 2003; 6(4): 393–399.

42.

King AC, Friedman R, Marcus B, et al. Ongoing physical activity advice by humans versus computers: The Community Health Advice by Telephone (CHAT) trial. Health Psychol. 2007; 26(6): 718–727.

43.

Weinstein ND. Misleading tests of health behavior theories. Ann Behav Med. 2007; 33(1): 1–10.
Acknowledgment
This project was supported in part through grants from the National Heart, Lung, and Blood Institute (R01 HL69866 to Dr. Marcus and F32 HL78709 to Dr. Williams) and a career development award (Dr. Williams, Scholar; Dr. Coustan, PI) from the National Institute of Child Health and Human Development (K12 HD043447). This study was performed at the Centers for Behavioral and Preventive Medicine at Brown Medical School and The Miriam Hospital. We would like to thank Santina Horowitz, B.S., Jaime Longval, M.S., and Susan Pinheiro, B.S. for research assistance and Barbara Doll for her assistance with manuscript preparation. Special thanks to Co-Investigators on R01 HL69866: Anna Albrecht, M.S., R.N., John Jakicic, Ph.D., Charles Neighbors, Ph.D., Alfred Parisi, M.D., Christopher Sciamanna, M.D., and Deborah Tate, Ph.D.
About this article
Cite this article
Williams, D.M., Lewis, B.A., Dunsiger, S. et al. Comparing Psychosocial Predictors of Physical Activity Adoption and Maintenance. ann. behav. med. 36, 186–194 (2008). https://doi.org/10.1007/s12160-008-9054-7
Received:

Published:

Issue Date:
Keywords
Adoption

Maintenance

Physical activity

Social cognitive theory

Perceived satisfaction