Abstract
Background
Current obesity interventions use intensive behavior changes to achieve large initial weight loss. However, weight regain after treatment is common, and drop out rates are relatively high. Smaller behavioral changes could produce initial weight loss and be easier to sustain after active treatment.
Purpose
We examined the efficacy of an intervention that targeted small but cumulative participant-chosen changes in diet and physical activity (ASPIRE) and compared this treatment to standard didactic and wait-list control groups. The primary outcome measures were body weight, waist circumference, and intra-abdominal fat.
Methods
Fifty-nine overweight or obese sedentary adults were randomized to one of three groups: (1) the ASPIRE group (n = 20), (2) a standard educationally-based treatment group (n = 20), or (3) a wait list control group (n = 19) for 4 months. Active treatment groups received identical resistance and aerobic training programs.
Results
Intention-to-treat analyses showed that participants in the ASPIRE group lost significantly more weight than the standard and control groups (−4.4 vs. −1.1 and +0.1 kg, respectively), and the greater initial weight loss in the ASPIRE group was sustained 3 months after active treatment (4.1 kg). An alternative analytic strategy (0.3 kg/month weight gain for those lost to follow-up) showed continued weight loss (−0.2 kg after active treatment; −4.6 kg from baseline) at follow-up in the ASPIRE group. Similar patterns were observed for the other adiposity measures.
Conclusion
More modest behavioral changes are capable of promoting weight loss, decreasing adiposity markers and sustaining these changes over 3 months. Longer-term studies comparing this approach with traditional behavioral weight loss treatments are warranted.
This is a preview of subscription content, log in to check access.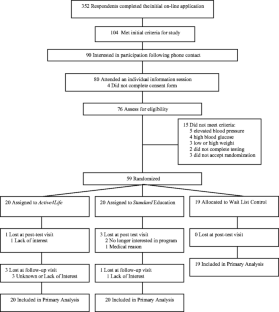 References
1.

Adams KF, Schatzkin A, Harris TB, et al. Overweight, obesity, and mortality in a large prospective cohort of persons 50 to 71 years old: body mass and the risk of death from any cause. New Engl J Med. 2006; 355: 763–778.

2.

Wing RR. Behavioral weight control. In: Wadden TA, Stunkard AJ, eds. Handbook of Obesity Treatment. New York: Guilford; 2002: 301–316.

3.

Katz DL. Competing dietary claims for weight loss: Finding the forest through truculent trees. Annu Rev Public Health. 2005; 26: 61–86.

4.

Dansinger ML, Tatsioni AM, Wong JB, Chung M, Balk EM. Meta-analysis: The effects of dietary counseling for weight loss. Ann Intern Med. 2007; 147: 41–50.

5.

Perri MG, Sears SF Jr, Clark JE. Strategies for improving maintenance of weight loss. Toward a continuous care model of obesity management. Diabetes Care. 1993; 161: 200–209.

6.

Perri MG, Corisca JA. Improving the maintenance of weight lost in behavioral treatment of obesity. In: Wadden TA, Stunkard AJ, eds. Handbook of Obesity Treatment. New York: Guilford; 2002: 357–375.

7.

Perri MG, Durning PE, Janicke DM, et al. (2007, April) Treatment of obesity in underserved rural settings (TOURS): 18-month findings. 28th annual meeting for Society of Behavioral Medicine. Washington, DC: 2007.

8.

Wing RR, Tate DF, Gorin AA, Raynor HA, Fava JL. A self-regulation approach for maintenance of weight loss. New Engl J Med. 2006; 355: 1563–1571.

9.

Weiss EC, Galuska DA, Khan LK, Gillespie C, Serdula MK. Weight regain in US adults who experienced substantial weight loss, 1999–2002. Am J Prev Med. 2007; 331: 34–40.

10.

Foster GD, McGuckin BG. Nondieting approches: principles, practices, and evidence. In: Wadden TA, Stunkard AJ, eds. Handbook of Obesity Treatment. New York: Guilford; 2002: 494–512.

11.

Berg FM. Health risks associated with weight loss and obesity treatment programs. J Soc Issues. 1999; 55: 277–297.

12.

Garner DM, Wooley SC. Confronting the failure of behavioral and dietary treatments for obesity. Clin Psychol Rev. 1991; 11: 729–780.

13.

Goodrick GK, Foreyt JP. Why treatments for obesity don't last. J Am Diet Assoc. 1991; 91: 1243–1247.

14.

McFarlane T, Polivy J, McCabe RE. Help, not harm: Psychological foundation for a nondieting approach toward health. J Soc Issues. 1999; 55: 261–276.

15.

Sbrocco T, Nedegaard RC, Stone JM, Lewis EL. behavioral choice treatment promotes continuing weight loss: Preliminary results of a cognitive-behavioral decision-based treatment for obesity. J Consult Clin Psychol. 1999; 672: 260–266.

16.

Winett RA, Anderson ES, Wojcik JR, Winett SG, Bowden T. Guide to Health: Nutrition and physical activity outcomes of a Group-Randomized Trial of an Internet-Based Intervention in Churches. Annals Behav Med. 2007; 33: 245–255.

17.

Altman RA, Schulz KF, Moher D, et al. The revised CONSORT statement for reporting randomized trials: Explanation and Elaboration. Ann Inter Med. 2001; 1348: 665–694.

18.

Winett RA, Wojcik JR, Fox LD, et al. The effects of very brief duration, infrequent cardiovascular training and resistance training protocols on the aerobic capacity and strength of unfit men and women: A demonstration of the threshold model. J Behav Med. 2003; 26: 183–195.

19.

US Department of Health and Human Services. Nutrition and Your Health: Dietary Guidelines for Americans. (http://www.health.gov/dietary guidelines/) 2004.

20.

Harris J, Benedict F. A biometric study of basal metabolism in man. Washington DC: Carnegie Institute of Washington; 1919.

21.

Jakicic JM, Donnelly JE, Pronk NP, Jawad AF, Jacobsen DJ. Prescription of exercise intensity for the obese patient: the relationship between heart rate, VO2 and perceived exertion. Int J Obes. 1995; 19: 382–387.

22.

Cohen J. A power primer. Psychol Bull. 1992; 112: 155–159.

23.

Wing RR, Hill JO. Successful weight loss maintenance. Ann Rev Nutr. 2001; 21: 323–341.
About this article
Cite this article
Lutes, L.D., Winett, R.A., Barger, S.D. et al. Small Changes in Nutrition and Physical Activity Promote Weight Loss and Maintenance: 3-Month Evidence from the ASPIRE Randomized Trial. ann. behav. med. 35, 351 (2008). https://doi.org/10.1007/s12160-008-9033-z
Keywords
ASPIRE

Weight loss

Nutrition