Abstract
Background
Having close social relationships and being married specifically have been reliably associated with health benefits including lower morbidity and mortality.
Purpose
The purpose of this study was to examine the influence of marital status, relationship quality, and network support on measures of psychological and cardiovascular health.
Method
We examined ambulatory blood pressure (ABP) among 204 married and 99 single males and females (N = 303).
Results
We found that both marital status and marital quality were important. Married individuals had greater satisfaction with life (SWL) and blood pressure dipping than single individuals. High marital quality was associated with lower ABP, lower stress, less depression, and higher SWL. Importantly, contrasting those who are unmarried with those in low-quality marriages, we find that single individuals had lower ABP—suggesting that single individuals fare better than their unhappily married counterparts. Likewise, having a supportive network did not moderate (i.e., buffer) the effects of being single or unhappily married.
Conclusions
Findings indicate being married per se is not universally beneficial, rather, the satisfaction and support associated with such a relationship is important. However, marriage may be distinctive, as evidence further suggests that support from one's network does not compensate for the effect of being single. These results highlight the complexities in understanding the influence of social relationships on long-term health, and they may help clarify the physiological pathways by which such associations exist.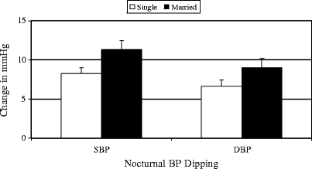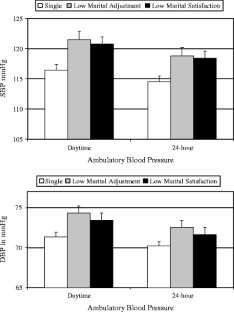 Notes
1.

Unmarried participants included 12 that were divorced and 1 was widowed. Analyses were repeated dropping these 13 individuals, and our findings were consistent with what is reported.

2.

Gender was found to significantly predict 24-h and waking SBP. We found no interactions effects between marital status or quality and gender for any of our primary DVs (p > 0.05).

3.

Pre-hypertensive status did not interact with either marital status or quality on ABP.

4.

This median split also corresponds well with validity data [23] indicating that 96% of well-adjusted couples had scores above 100 and the 83% of maladjusted couples had scores below 100.

5.

This finding was moderated by pre-hypertensive/normotensive status such that the effect was strongest among pre-hypertensives. When comparing unmarried to happily married (above the median for MAT and satisfaction) individuals, results were consistent with the overall marital status findings.
References
1.

Berkman LF. The role of social relations in health promotion. Psychosom Med. 1995; 57: 245–254.

2.

House JS, Landis KR, Umberson D. Social relationships and health. Science. 1988; 241: 540–545.

3.

Johnson NJ, Backlund E, Sorlie PD, Loveless CA. Marital status and mortality: The National Longitudinal Mortality Study. Ann Epidemiol. 2000; 10: 224–238.

4.

Gove WR, Hughes M, Style Briggs C. Does marriage have positive effects on psychological well-being of the individual? J Health Soc Behav. 1983; 24: 122–131.

5.

Robins L, Regier D. Psychiatric disorders in America. New York: Free Press; 1991.

6.

Friedman HS, Tucker JS, Schwartz JE, et al. Psychosocial and behavioral predictors of longevity: the aging and death of the "Termites". Am Psychol. 1995; 50: 69–78.

7.

Ross CE, Mirowsky J, Goldsteen K. The impact of the family on health: the decade in review. J Marriage Fam. 1990; 52: 1059–1078.

8.

Coyne JC, Rohrbaugh MJ, Shoham V, et al. Prognostic importance of marital quality for survival of congestive heart failure. Am J Cardiol. 2001; 88: 526–529.

9.

Gallo LC, Troxel WM, Matthews KA, Kuller LH. Marital status and quality in middle-aged women: associations with levels and trajectories of cardiovascular risk factors. Health Psychol. 2003; 22: 453–463.

10.

Grewen KM, Girdler SS, Light KC. Relationship quality: effects on ambulatory blood pressure and negative affect in a biracial sample of men and women. Blood Press Monit. 2005; 10: 117–124.

11.

Lepore SJ. Social conflict, social support, and psychological distress: evidence of cross-domain buffering effects. J Pers Soc Psychol. 1992; 63: 857–867.

12.

Pearlin LI, McCall ME. Occupational stress and marital support: a description of microprocesses. In: Eckenrode J, Gore S, eds. Stress between work and family. New York: Plenum Press; 1990: 39–60.

13.

Umberson D. Gender, marital status and the social control of health behavior. Soc Sci Med. 1992; 34: 907–917.

14.

Robels TF, Kiecolt-Glaser JK. The physiology of marriage: pathways to health. Physiol Behav. 2003; 79: 409–416.

15.

Burman B, Margolin G. Analysis of the association between marital relationships and health problems: an interactional perspective. Psychol Bull. 1992; 112: 39–63.

16.

Perloff D, Sokolow M, Cowan R. The prognostic value of ambulatory blood pressure. JAMA. 1983; 249: 2793–2788.

17.

Fallo F, Barzon L, Rabbia F. Circadian blood pressure patterns and life stress. Psychother Psychosom. 2002; 71: 350–356.

18.

Verdecchia P, Schillaci G, Borgioni C, et al. Gender, day-night blood pressure changes, and left ventricular mass in essential hypertension: dippers and peakers. Am J Hypertens. 1995; 8: 193–196.

19.

Ohkubo T, Imai Y, Tsuji I, et al. Relation between nocturnal decline in blood pressure and mortality. Am J Hypertens. 1997; 10: 1201–1207.

20.

Ohkubo T, Hozawa A, Yamajuchi J, et al. Prognostic significance of the nocturnal decline in blood pressure in individuals with and without high 24-h blood pressure: The Ohasama Study. J Hypertens. 2002; 20: 2183–2189.

21.

Verdecchia P, Schillaci G, Borioni C, et al. Nocturnal pressure is the true pressure. Blood Press Monit. 1996; 1: S81–S85.

22.

Cacioppo JT, Malarkey W, Kiecolt-Glaser JK, et al. Heterogeneity in neuroendocrine and immune responses to brief psychological stressors as a function of autonomic cardiac activation. Psychosom Med. 1995; 57: 154–164.

23.

Locke HJ, Wallace KM. Short marital-adjustment and predication tests: their reliability and validity. Marriage and Family Living. 1959; 21: 251–255.

24.

Spanier GB. Measuring dyadic adjustment: new scales for assessing the quality of marriage and similar dyads. J Marriage Fam. 1976; 38: 15–28.

25.

Cohen S, Hoberman HM. Positive events and social supports as buffers of life change stress. J Appl Soc Psychol. 1983; 13: 99–125.

26.

Radloff SL. The CES-D Scale: a self-report depression scale for research in the general population. Appl Psychol Meas. 1977; 1: 385–401.

27.

Diener E, Emmons RA, Larsen RJ. The Satisfaction With Life Scale. J Pers Assess. 1985; 49: 71–75.

28.

Cohen S, Kamarck T, Mermelstein R. A global measure of perceived stress. J Health Soc Behav. 1983; 24: 385–396.

29.

White WB, Lund-Johansen P, Omvik P. Assessment of four ambulatory blood pressure monitors and measurements by clinicians versus intraarterial blood pressure at rest and during exercise. Am J Cardiol. 1990; 65: 60–66.

30.

Kamarck TW, Shiffman SM, Smithline L, et al. Effects of task strain, social conflict, and emotional activation on ambulatory cardiovascular activity: daily life consequences of recurring stress in a multiethnic adult sample. Health Psychol. 1998; 17: 17–29.

31.

Marler MR, Jacob RG, Lehoczky JP, Shapiro AP. The statistical analysis of treatment effects in 24-hour ambulatory blood pressure recordings. Stat Med. 1988; 7: 697–716.

32.

Baker B, Helmers K, O'Kelly B, et al. Marital cohesion and ambulatory blood pressure in early hypertension. Am J Hypertens. 1999; 12: 227–230.

33.

MacMahon S, Peto R, Cutler J, et al. Blood pressure, stroke, and coronary heart disease. Part 1, prolonged differences in blood pressure: prospective observational studies corrected for the regression dilution bias. Lancet. 1990; 335: 765–774.
Acknowledgment
This research was generously supported by grants awarded to Dr. Julianne Holt-Lunstad from the Marchionne Foundation and the Family Studies Center at Brigham Young University.
About this article
Cite this article
Holt-Lunstad, J., Birmingham, W. & Jones, B.Q. Is There Something Unique about Marriage? The Relative Impact of Marital Status, Relationship Quality, and Network Social Support on Ambulatory Blood Pressure and Mental Health. ann. behav. med. 35, 239–244 (2008). https://doi.org/10.1007/s12160-008-9018-y
Received:

Published:

Issue Date:
Keywords
Marriage

Social support

Ambulatory blood pressure

Cardiovascular

Stress

Depression