Abstract
Background
The experience of race-related stressors is associated with physiological stress responses. However, much is unknown still about the complex relationship between how race-related stressors are perceived and experienced and potential moderators such as strength of racial identity.
Purpose
This research examines the impact of a real-life stressor and strength of race identity on physiological responses to a social evaluative threat induced in the laboratory.
Methods
Salivary cortisol measures were collected throughout a stressor protocol. African-American participants were also randomized to one of two conditions designed to promote either racial identification or student identification, before the experimental task. Unexpectedly, a highly publicized real-life racial stressor, the Duke Lacrosse (LaX) scandal, occurred during the course of the data collection. This allowed for pre–post LaX comparisons to be made on cortisol levels.
Results
These comparisons showed that across both priming conditions, participants post-LaX had highly elevated cortisol levels that were nonresponsive to the experimental stress task, while their pre-LaX counterparts had lower cortisol levels that exhibited a normal stress response pattern. Furthermore, this effect of LaX was significantly moderated by gender, with women having lower mean cortisol levels pre-LaX but significantly greater cortisol levels than all other groups post-LaX.
Conclusions
These results suggest that recent exposure to race-related stress can have a sustained impact on physiological stress responses for African Americans.
This is a preview of subscription content, log in to check access.
Access options
Buy single article
Instant access to the full article PDF.
US$ 39.95
Price includes VAT for USA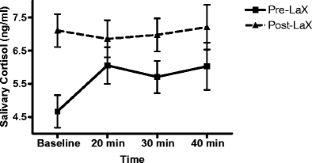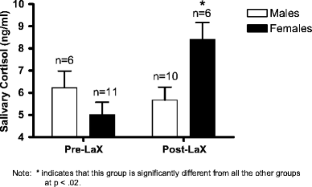 Notes
1.

We validated that saliva with or without citric acid stimulation yield comparable cortisol levels. To accomplish this test, we measured cortisol in ten samples from the current study and ten samples from saliva that was not stimulated by citric acid. We measured samples by themselves and with the addition of 2 ng/ml of cortisol standard. The computed values of cortisol were 92 ± 4% (SEM) of what was predicted if the values were simply additive for our sample.
References
1.

Williams DR, Neighbors HW, Jackson JS. Racial/ethnic discrimination and health: findings from community studies. Am J Public Health. 2003; 93: 200–208.

2.

Gump BB, Matthews K. Do background stressors influence reactivity to and recovery from acute stressors? J Appl Soc Psychol. 1999; 29: 469–594.

3.

Williams DR, Yu Y, Jackson JS, Anderson N. Racial differences in physical and mental health: Socioeconomic status, stress, and discrimination. J Health Psychol. 1997; 2: 335–351.

4.

Harrell SP. A multidimensional conceptualization of racism-related stress: implications for the well-being of people of color. Am J Orthopsychiatry. 2000; 70: 42–57.

5.

McCoy SK, Major B. Group identification moderates emotional responses to perceived prejudice. Pers Soc Psychol Bull. 2003; 29: 1005–1017.

6.

Sellers RM, Rowley SA, Chavous TM, Shelton JN, Smith MA. Multidimensional inventory of Black identity: preliminary investigation of reliability and construct validity. J Pers Soc Psychol. 1997; 73: 805–815.

7.

Williams DR, Spencer MS, Jackson JS. Race, stress, and physical health: The role of group identity. In: Contrada RJ, Ashmore RD eds. Self, Social Identity, and Physical Health: Interdisciplinary Explorations. New York Oxford University Press. 1999; 71–100.

8.

Brantley PJ, Dietz LS, McKnight GT, Jones GN, Tulley R. Convergence between the Daily Stress Inventory and endocrine measures of stress. J Consult Clin Psychol. 1988; 56: 549–551.

9.

Stroud LR, Salovey P, Epel ES. Sex differences in stress responses: social rejection versus achievement stress. Biol Psychiatry. 2002; 52: 318–327.

10.

Dickerson SS, Kemeny ME. Acute stressors and cortisol responses: a theoretical integration and synthesis of laboratory research. Psychol Bull. 2004; 130: 355–391.

11.

Bernstein V, Drape J. Rape allegation against athletes is roiling Duke, New York Times, 2006.

12.

Kirschbaum C, Hellhammer D. Salivary cortisol. In Fink G, ed. Encyclopedia of Stress 3 San Diego Academic. 2000; 379–383.

13.

Mason D. Genetic variation in the stress response: susceptibility to experimental allergic encephalomyelitis and implications for human inflammatory disease. Immunol Today. 1991; 12: 57–60.

14.

Brown ES, Khan DA, Nejtek VA. The psychiatric side effects of corticosteroids. Ann Allergy Asthma Immunol. 1999; 83: 495–503; quiz 503–504.

15.

Miller GE, Chen E, Zhou ES. If it goes up, must it come down? Chronic stress and the hypothalamic-pituitary-adrenocorticol axis in humans. Psychol Bull. 2007; 133: 25–45.

16.

Branscombe NR, Schmitt MT, Harvey RD. Perceiving pervasive discrimination among African-Americans: Implications for group identification and well-being. J Pers Soc Psychol. 1999; 77: 135–149.

17.

Luhtanen R, Crocker J. A collective self-esteem scale: Self-evaluation of one's social identity. Pers Soc Psychol Bull. 1992; 18: 302–318.
Acknowledgments
This work was supported by NIMH grant no. 1K01 MH074942-01 awarded to the first author. We thank Sherman James, Clemons Kirschbaum, and Redford Williams for helpful comments on earlier versions of this article, Gary Bennett for his valuable insights, Jasmin Sukati for her assistance with data collection, and Cynthia Kuhn for her assistance with the cortisol assays.
About this article
Cite this article
Richman, L.S., Jonassaint, C. The Effects of Race-related Stress on Cortisol Reactivity in the Laboratory: Implications of the Duke Lacrosse Scandal. ann. behav. med. 35, 105–110 (2008). https://doi.org/10.1007/s12160-007-9013-8
Received:

Published:

Issue Date:
Keywords
Cortisol

Racial Stressors

Identity