Abstract
Biomass (especially algae) is a renewable energy source that can be a great alternative to fossil fuels. Wet algal biomass converts into products such as solid, aqueous, and gaseous phases as well as biocrude in hydrothermal liquefaction (HTL). The aim of this work was to provide detailed exergy analyses of the production of biocrude from Nannochloropsis sp. by HTL. Physical and chemical exergy of the HTL products, exergy losses, exergy efficiency, and exergy distribution of the HTL process were determined in this research. The highest exergy loss and the lowest efficiency values obtained for the heat exchanger were 65,856.83 MJ/hr and 66.64%, respectively, which was mainly caused by the irreversibility of the heat transfer process. Moreover, the HTL reactor had high efficiency (99.9%) due to the complex reactions that occurred at high temperature and pressure. Also, the optimum operating conditions of the reactor were obtained at 350 °C and 20 MPa by using sensitivity analysis. The high overall exergy efficiency of the process (94.93%) indicated that HTL was the most effective process for the conversion of algae. In addition, the exergy recovery values of the overall exergy input values in the HTL process for biocrude, as well as the aqueous, solid, and gas phases, were nearly 74.88%, 18.42%, 0.86%, and 0.76%, respectively. Exergy assessment provides beneficial information for improving the thermodynamic performance of the HTL system.
Access options
Buy single article
Instant access to the full article PDF.
US$ 39.95
Tax calculation will be finalised during checkout.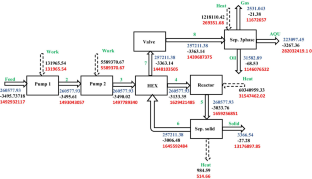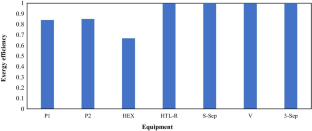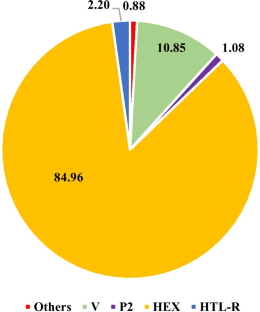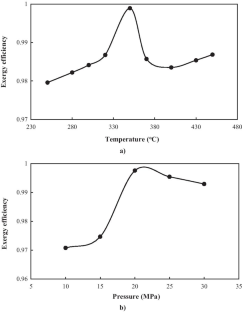 Data Availability
The data are available from the corresponding author upon request.
Abbreviations
%AAD:

Percent of average absolute deviation

AQU:

Aqueous phase

Ex:

Exergy rate (kJ/hr)

ex:

Molar exergy (kJ/mol)

g:

Gibbs energy (kJ/mol)

H:

Enthalpy (kJ/hr)

HEX:

Heat exchanger

HTL:

Hydrothermal liquefaction

HTR-R:

HTL reactor

LHV:

Lower heating value (MJ/kg)

n:

Mole flow rate (mol/hr)

m:

Mass flow rate (kg/hr)

P:

Pump

R:

Gas constant (kJ/mol. K)

S:

Entropy (kJ/hr k)

S-Sep.:

Solid separator

T:

Temperature (K)

V:

Valve

W:

Work rate (kJ/hr)

x:

Mole fraction (-)

3-Sep.:

Three-phase separator

β:

Exergy coefficient (-)

ɳ:

Exergy efficiency (-)

v:

Stoichiometric coefficient

ph:

Physical

0:

Standard state

Chem:

Chemical

f:

Formation

In:

Input

i, j:

Numerator

Loss:

Loss of exergy

Output:

Output

Q:

Heat transfer

0:

Reference state
Ethics declarations
Ethics Approval and Consent to Participate
All authors agree with the content and all give explicit consent to submit the paper.
Conflict of Interest
The authors declare no competing interests.
Additional information
Publisher's Note
Springer Nature remains neutral with regard to jurisdictional claims in published maps and institutional affiliations.
Supplementary Information
Below is the link to the electronic supplementary material.
About this article
Cite this article
Borazjani, Z., Azin, R., Osfouri, S. et al. Computer-Aided Exergy Evaluation of Hydrothermal Liquefaction for Biocrude Production from Nannochloropsis sp.. Bioenerg. Res. (2021). https://doi.org/10.1007/s12155-021-10297-x
Received:

Accepted:

Published:
Keywords
Thermochemical process

Exergy analysis

Process simulation

Algae