Abstract
To effectively utilize paper sludge and allow for energy recovery, the thermal behaviors of two paper sludge (PS) were studied by thermogravimetric analysis (TGA). The kinetic analysis was conducted according to Coats-Redfern (CR) method. The evolution of pore structure and surface morphology was investigated by N2 adsorption and scanning electron microscopy (SEM), respectively. The mineral transformation was analyzed by Fourier transform infrared (FTIR) spectroscopy and X-ray diffraction (XRD). Derivative thermogravimetry (DTG) curves of PS show two different stages. The first stage was due to devolatilization (200–400 °C) and the second stage (650–800 °C) accounted for the mineral decomposition and char degradation. It was found that a large number of pores formed during pyrolysis because of char fragmentation. The specific surface areas increased from 5.161 to 22.894 m2 g−1 for PSA and from 9.007 to 16.126 m2 g−1 for PSB with the increase of temperature. The intense absorption bands of calcite (1426, 875 and 712 cm−1) in raw material indicated that calcite was the main mineral of PS. The decomposition of calcite at 700 °C and the further production of gehlenite (916 cm−1) at 900 °C, and the dehydration of kaolinite at 500 °C and further transformation into mullite (996 cm−1) at 900 °C were observed by both FTIR and XRD. The XRD results were generally consistent with FTIR analyses.
Access options
Buy single article
Instant access to the full article PDF.
US$ 39.95
Tax calculation will be finalised during checkout.
Subscribe to journal
Immediate online access to all issues from 2019. Subscription will auto renew annually.
US$ 79
Tax calculation will be finalised during checkout.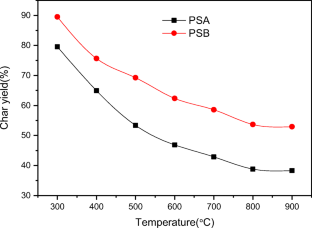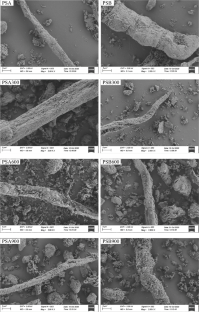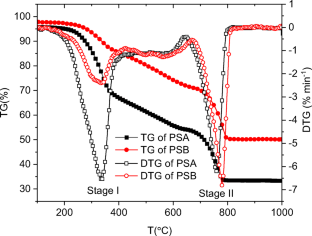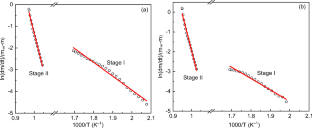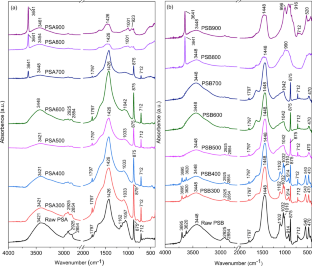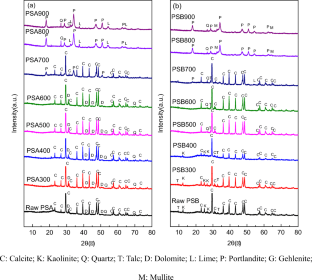 Data Availability
The data and material of the current study are available from the corresponding author on reasonable request.
Acknowledgments
The authors would like to thank Ting Yang from Shiyanjia Lab (www.shiyanjia.com) for the SEM test.
Funding
This work was supported by the National Natural Science Foundation of China (Grant No. 51206012), Excellent Youth Project of Hunan Provincial Department of Education (Grant No. 20B041), International Cooperation Project of Double-First Class (Grant No. 2019IC16), Natural Science Foundation of Hunan Province, China (Grant No. 2020JJ4098; No. 2018JJ3552), Science Foundation of Hunan Provincial Education Department, China (Grant No. 18C0201), Open Fund of Key Laboratory of Renewable Energy Electric-Technology of Hunan Province (Grant No. 2020ZNDL002; No. 2020ZNDL001), Innovative Team of Key Technologies of Energy Conservation, Emission Reduction and Intelligent Control for Power Generation Equipment and System at CSUST, Postgraduate Scientific Research Innovation Project of Hunan Province (Grant No. CX20200870), and Postgraduate Scientific Research Innovation Project of CSUST (Grant No. CX2020SS67).
Ethics declarations
Conflicts of Interest/Competing Interests
The authors declare that they have no conflict of interest.
Code Availability
Not applicable.
Additional information
Publisher's Note
Springer Nature remains neutral with regard to jurisdictional claims in published maps and institutional affiliations.
About this article
Cite this article
Yin, Y., Yin, H., Yuan, Z. et al. Study on the Pyrolysis Characteristics, Kinetics and Mineral Transformation of Paper Sludge. Bioenerg. Res. (2021). https://doi.org/10.1007/s12155-021-10248-6
Received:

Accepted:

Published:
Keywords
Thermochemical process

Biomass

Energy

Solid wastes