Abstract
Elephantgrass (Pennisetum purpureum Schum.) and energycane (Saccharum spp. interspecific hybrid) are perennial C4 grasses with potential for use as bioenergy feedstocks. Their biomass production has been quantified, but differences in plant morphology and the relationship of morphology with biomass harvested and plant persistence are not well understood. The objective was to quantify monthly changes in morphological characteristics of elephantgrass (cv. Merkeron and breeding line UF1) and energycane (cv. L 79-1002) and relate these changes to biomass accumulation and plant responses to defoliation. All were evaluated monthly during full-season growth or when defoliated once in mid-season. Merkeron and UF1 elephantgrass generally showed similar morphological characteristics. Relative to energycane, elephantgrass had fewer tillers early in the growing season, less seasonal variation in tiller number, greater tiller mass and maximum leaf area index (LAI), and earlier spring development of LAI. Energycane showed slower leaf area development in spring, lower maximum LAI, and shorter period of increasing tiller mass and canopy height during the growing season relative to UF1. Elephantgrass had greater incidence of lodging than energycane when exposed to high wind, likely due to greater elephantgrass tiller mass. Morphological characteristics of tall-growing bioenergy grasses help to explain differences among them in biomass production and plant persistence responses to defoliation.
Access options
Buy single article
Instant access to the full article PDF.
USD 39.95
Price excludes VAT (USA)
Tax calculation will be finalised during checkout.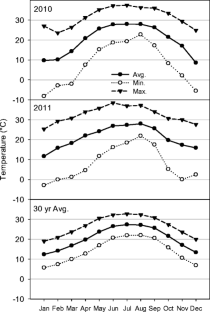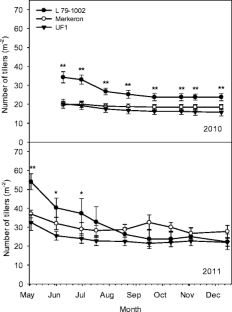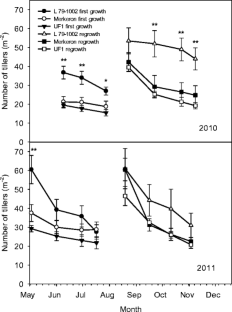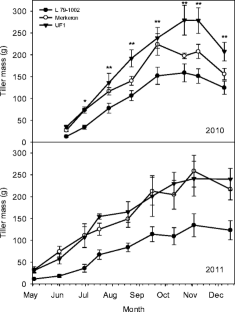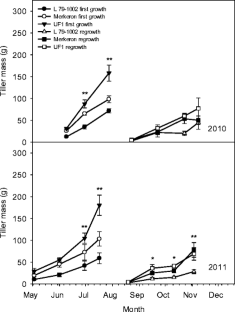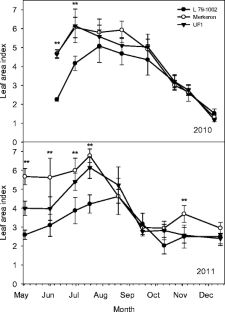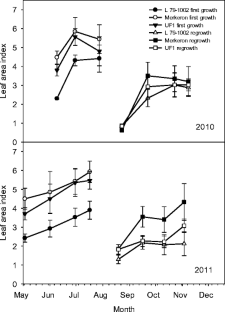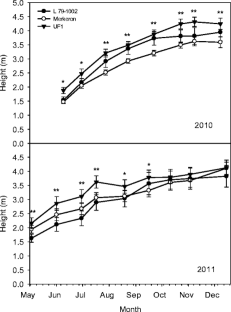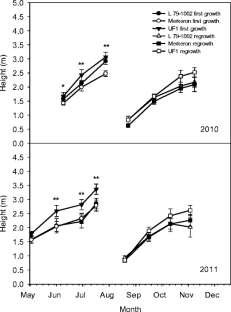 Abbreviations
DM:

Dry matter

LAI:

Leaf area index
References
Woodard KR, Prine GM (1991) Forage yield and nutritive value of elephantgrass as affected by harvest frequency and genotype. Agron J 83:541–546

Woodard KR, Prine GM (1993) Dry matter accumulation of elephantgrass, energycane, and elephantmillet in a subtropical climate. Crop Sci 33:818–824

Hanna WW, Chaparro CJ, Mathews BW, Burns JC, Sollenberger LE, Carpenter JR (2004) Perennial Pennisetums. In: Moser LE, Burson BL, Sollenberger LE (eds) Warm-season (C4) grasses. ASA-CSSA-SSSA, Madison, pp 503–535

Waclawovsky AJ, Sato PM, Lembke CG, Moore PH, Souza GM (2010) Sugarcane for bioenergy production: an assessment of yield and regulation of sucrose content. Plant Biotechnol J 8:1–14

Tew TL, Cobill RM (2008) Genetic improvement of sugarcane (Saccharum spp.) as an energy crop. In: Vermerris W (ed) Genetic improvement of bioenergy crops. Springer, New York, pp 273–294

Prine GM, Mislevy P, Shiralipour A, Smith PH (1984) Elephantgrass, energy crop for humid subtropics. In: 4th Annual Solar and Biomass Energy Workshop, Atlanta, Georgia. pp 124–127

Bouton JH (2002) Bioenergy crop breeding and production research in the Southeast, Final Report for 1996 to 2001. National Technical Information Service, Springfield

Woodard KR, Sollenberger LE (2008) Production of biofuels crops in Florida: elephantgrass. Florida Cooperative Extension Service, UF/IFAS. http://edis.ifas.ufl.edu/ss418

Na C, Sollenberger LE, Erickson JE, Woodard KR, Vendramini JMB, Silveira ML (2014) Management of perennial warm-season bioenergy grasses. I. Biomass harvested, nutrient removal, and persistence responses of elephantgrass and energycane to harvest frequency and timing. Bioenergy Res. doi:10.1007/s12155-014-9541-6

Richards JH (1993) Physiology of plants recovering from defoliation. In: Baker MJ (ed) Grasslands for our world. SIR publishing, Wellington, pp 46–54

Nelson CJ (2000) Shoot morphological plasticity of grasses: leaf growth vs. tillering. In: Lemaire G, Hodgson J, de Moraes A, Carvalho PCF, Nabinger C (eds) Grassland ecophysiology and grazing ecology. CABI Publishing, Wallingford, pp 101–126

Madakadze IC, Coulman BE, Peterson P, Stewart KA, Samson R, Smith DL (1998) Leaf area development, light interception, and yield among switchgrass populations in a short-season area. Crop Sci 38:827–834

Trócsányi ZK, Fieldsend AF, Wolf DD (2009) Yield and canopy characteristics of switchgrass (Panicum virgatum L.) as influenced by cutting management. Biomass Bioenergy 33:442–448

León RG, Gilbert RA, Korndorfer PH, Comstock JC (2012) Selection criteria and performance of energycane clones (Saccharum spp. ×S. spontaneum) for biomass production under tropical and sub-tropical conditions. CEIBA 51:11–16

Burton GW (1989) Registration of 'Merkeron' napiergrass. Crop Sci 29:1327

Bischoff KP, Gravois KA, Reagan TE, Hoy JW, Kimbeng CA, LaBorde CM, Hawkins GL (2008) Registration of 'L 79-1002' sugarcane. J Plant Regul 2:211–217

SAS Institute (2008) SAS Online DOC 9.2

Inman-Bamber NG (1994) Temperature and seasonal effects on canopy development and light interception of sugarcane. Field Crop Res 36:41–51

Mukhtar M, Ishii Y, Tudsri S, Idota S, Sonoda T (2003) Dry matter productivity and overwintering ability of the dwarf and normal napiergrasses as affected by the planting density and cutting frequency. Plant Prod Sci 6(1):65–73

Sollenberger LE, Woodard KR, Vendramini JMB, Chase CD, Lopez Y, Gallo M, Seib J, Langeland KA, Gerardo-Cuervo H (2011) Are all elephantgrasses invasive? Characterization of natural populations and cultivated types of a bioenergy grass in Florida. ASA-CSSA-SSSA Annual Meeting, San Antonio

Sollenberger LE, Woodard KR, Vendramini JMB, Erickson JE, Langeland KA, Mullenix MK, Na C, Castillo MS, Gallo M, Chase CD, López Y (2014) Invasive populations of elephantgrass differ in morphological and growth characteristics from clones selected for biomass production. Bioenergy Res (currently available online)

Wadi A, Ishii Y, Idota S (2004) Effects of cutting interval and cutting height on dry matter yield and overwintering ability at the established year in Pennisetum species. Plant Prod Sci 7:88–96

Woodard KR, Prine GM, Bachrein S (1993) Solar energy recovery by elephantgrass, energycane, and elephantmillet canopies. Crop Sci 33:824–830

Ito K, Inanaga S (1988) Studies on dry matter production of napiergrass: I. Comparison of dry matter productivities and growth parameters between Tokyo and Miyazaki (written in Japanese with abstract in English). Jpn J Crop Sci 57:90–96

Ishii Y, Yamaguchi N, Idota S (2005) Dry matter production and in vitro dry matter digestibility of tillers among napiergrass (Pennisetum purpureum Schumach) varieties. Grassl Sci 51:153–163

Wadi A, Ishii Y, Idota S (2003) Effects of the level of fertilizer input on tiller and leaf development in relation with dry matter accumulation of napiergreass and kinggrass. Jpn Soc Grassl Sci 49:311–323
Acknowledgments
We gratefully acknowledge the assistance of Dwight Thomas, Jim Boyer, Nick Krueger, and Marcelo Wallau with data collection and field management.
About this article
Cite this article
Na, CI., Sollenberger, L.E., Erickson, J.E. et al. Management of Perennial Warm-Season Bioenergy Grasses. II. Seasonal Differences in Elephantgrass and Energycane Morphological Characteristics Affect Responses to Harvest Frequency and Timing. Bioenerg. Res. 8, 618–626 (2015). https://doi.org/10.1007/s12155-014-9542-5
Published:

Issue Date:

DOI: https://doi.org/10.1007/s12155-014-9542-5
Keywords
Bioenergy crops

Elephantgrass

Energycane

Leaf area index

Persistence

Tiller dynamics