Abstract
The production of energy crops for farm-scale anaerobic digestion (AD) can affect emissions of greenhouse gases (GHG) in a number of ways. Some examples are: fugitive CH4 emissions from the digester and the storage of the digestate, emissions of N2O from soil and emissions of CO2 from farm machinery. Moreover, uptake of AD may be accompanied by changes in the way the farm is operated, which may affect GHG emissions. The scale of these emissions was assessed from published data for the biogas feedstocks cattle slurry and grass silage. Emissions were compared to references representing current farm operation and energy generation by fossil fuels. Feeding the digester with cattle slurry for the entire year did not result in reduced emissions due to relatively high emissions from stored raw slurry in summer. If grass was used for digester feedstock, the level of N2O emissions from the crop was the most important factor for the GHG balance of farm-scale AD. If N2O emissions were low, biogas realised substantial savings of GHG in the order of 1 t CO2 equivalents per hectare per year. At a high level of N2O emissions, energy cropping might even result in increased GHG emissions compared to fossil fuels.
Access options
Buy single article
Instant access to the full article PDF.
USD 39.95
Price excludes VAT (USA)
Tax calculation will be finalised during checkout.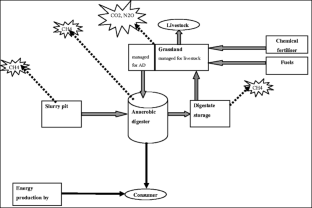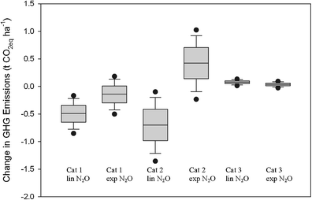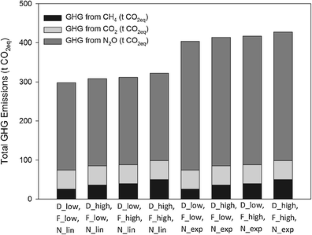 References
Rogner H, Zhou D, Bradley R, Crabbé P, Edenhofer O, Hare B, Kuijpers L, Yamguchi M (2007) Introduction. In: Metz B, Davidson O, Bosch P, Dave R, Meyer L (eds) Climate change 2007: mitigation. Cambridge University Press, Cambridge, pp 95–116

EPA (2010) Ireland's greenhouse gas emissions projections 2010–2020. Wexford

Braun R (2007) Anaerobic digestion: a multi-faceted process for energy, environmental management and rural development. In: Ranalli P (ed) Improvement of crop plants for industrial end uses. Springer, Dordrecht, pp 335–416

Weiland P (2006) Biomass digestion in agriculture: a successful pathway for the energy production and waste treatment in Germany. Eng Life Sci 6:302–309

Gemmeke B, Rieger C, Weiland P, Schröder J, Plogsties V, Kissel R, Bachmaier H, Vogtherr J, Schumacher B (2009) Biogas-Messprogramm II. vTI Institut für Agrartechnologie und Biosystemtechnik, Braunschweig

Liebetrau J, Clemens J, Cuhls C, Hafermann C, Friehe J, Weiland P, Daniel-Gromke J (2010) Methane emissions from biogas-producing facilities within the agricultural sector. Eng Life Sci 10:595–599

Forster P, Ramaswamy V, Artaxo P, Berntsen T, Betts R, Fahey D, Haywood J, Lean J, Lowe D, Myhre G, Nganga J, Prinn R, Raga G, Schulz M, van Dorland R (2007) Changes in atmospheric constituents and in radiative forcing. In: Solomon S, Qin D, Manning M et al (eds) Climate change 2007: the physical science basis Contribution of Working Group I to the Fourth Assessment Report of the Intergovernmental Panel on Climate Change. Cambridge University Press, Cambridge, pp 129–234

Sims R (2003) Bioenergy to mitigate for climate change and meet the needs of society, the economy and the environment. Mitig Adapt Strat Glob Chang 8:349–370

Dieterich B (2011) The energy potential and greenhouse gas balance of biogas production from grass in Ireland. University College Dublin, Dublin

Elsayed M, Matthews R, Mortimer N (2003) Carbon and energy balances for a range of biofuels options. Sheffield Hallam University, Sheffield

Amon B, Kryvoruchko V, Amon T, Zechmeister-Boltenstern S (2006) Methane, nitrous oxide and ammonia emissions during storage and after application of dairy cattle slurry and influence of slurry treatment. Agric Ecosyst Environ 112:153–162

Sommer S, Petersen S, Sogaard H (2000) Greenhouse gas emission from stored livestock slurry. J Environ Qual 29:744–751

Wulf S, Maeting M, Clemens J (2002) Application technique and slurry co-fermentation effects on ammonia, nitrous oxide, and methane emissions after spreading: II Greenhouse gas emissions. J Environ Qual 31:1795–1801

Crutzen P, Mosier A, Smith K, Winiwarter W (2008) N2O release from agro-biofuel production negates global warming reduction by replacing fossil fuels. Atmos Chem Phys 8:389–395

O'Mara F (2006) Climate change—development of emission factors for the Irish cattle herd EPA. Wexford, Ireland

Granli T, BØckman O (1994) Nitrous oxide from agriculture. Nor J Agric Sci Suppl 12:128

De Klein C, Sherlock R, Cameron K, Van der Weerden T (2001) Nitrous oxide emissions from agricultural soils in New Zealand—a review of current knowledge and directions for future research. J Roy Soc NZ 31:543–574

Petersen S (1999) Nitrous oxide emissions from manure and inorganic fertilizers applied to spring barley. J Environ Qual 28:1610–1618

Dalgaard T, Halberg N, Porter J (2001) A model for fossil energy use in Danish agriculture used to compare organic and conventional farming. Agric Ecosyst Environ 87:51–65

Dillon P, Hennessy T, Shalloo L, Thorne F, Horan B (2008) Future outlook for the Irish dairy industry: a study of international competitiveness, influence of international trade reform and requirement for change. Int J Dairy Technol 61:16–29

Creighton P, Kennedy E, Shalloo L, Boland T, O'Donovan M (2011) A survey analysis of grassland dairy farming in Ireland, investigating grassland management, technology adoption and sward renewal. Grass Forage Sci 66:251–264

Treacy M, Humphreys J, McNamara K, Browne R, Watson C (2008) Farm-gate nitrogen balances on intensive dairy farms in the south west of Ireland. Irish J Agric Food Res 47:105–117

Möller K, Stinner W (2009) Effects of different manuring systems with and without biogas digestion on soil mineral nitrogen content and on gaseous nitrogen losses (ammonia, nitrous oxides). Eur J Agron 30:1–16

Wulf S, Maeting M, Clemens J (2002) Application technique and slurry co-fermentation effects on ammonia, nitrous oxide and methane emissions after spreading: I Ammonia volatilization. J Environ Qual 31:1789–1794

Baumann H, Tillman A (2004) The hitch hiker's guide to LCA. Studentlitteratur, Lund

Frost P, Gilkinson S (2010) First year performance summary for anaerobic digestion of dairy cow slurry at AFBI Hillsborough. Agri-Food and Biosciences Institute, NI, Hillsborough

Connolly L, Kinsella A, Quinlan G, Moran B (2010) National Farm Survey 2009. Teagasc Farm Surveys Department, Athenry

Hyde B, Carton O, Murphy W (2006) Farm facilities survey—Ireland 2003. Teagasc, Wexford

Carton O, Magett W (1999) Land spreading of animal manures, farm wastes & non-agricultural organic wastes Part 1. Manure (and other organic wastes) management guidelines for intensive agricultural enterprises. Rural Environmental Series. Johnstown Castle Research Centre, Wexford, Ireland

Coulter B, Lalor S, Alexander S, Black A, Boland A, Burke J, Carton O, Culleton N, Dillon P, Hackett R, Humphreys J, Keady T, McHoul J, Merfield C, Murphy B, O'Kiely P, O'Riordan E, Orlovius K, Plunkett M, Schulte R, Tunney H (2008) Major and micro nutrient advice for productive agricultural crops, 3rd edn. Teagasc, Johnstown Castle, Wexford

McEniry J, O'Kiely P, Clipson N, Forristal P, Doyle E (2006) The microbiological and chemical composition of baled and precision-chop silages on a sample of farms in county Meath. Irish J Agric Food Res 45:73–83

Bachmaier J, Effenberger M, Gronauer A (2010) Greenhouse gas balance and resource demand of biogas plants in agriculture. Eng Life Sci 10:560–569

Scholwin F, Michel J, Schröder G, Kalies M (2006) Ökologische Analyse einer Biogasnutzung aus nachwachsenden Rohstoffen. Institut für Energetik und Umwelt, Leipzig

Eder B, Schulz H (2007) Biogas Praxis. 4 edn. Ökobuch, Staufen bei Freiburg

Dachs G, Rehm W, Eberl S, Horschak G, Schilling J (2006) Der Eigenstromverbrauch von Biogasanlagen und Potenziale zu dessen Reduzierung. BASE Technologies Munich University of Applied Sciences, Munich

Martínez-Suller L, Provolo G, Carton O, Brennan D, Kirwan L, Richards K (2010) The composition of dirty water on dairy farms in Ireland. Irish J Agric Food Res 49:67–80

Finch H, Samuel A, Lane G (2002) Lockhart & Wiseman's crop husbandry, 8th edn. Woodhead, Cambridge

Prochnow A, Heiermann M, Plöchl M, Linke B, Idler C, Amon T, Hobbs P (2009) Bioenergy from permanent grassland—a review: 1. Biogas. Bioresour Technol 100:4931–4944

Møller H, Sommer S, Ahring B (2004) Methane productivity of manure, straw and solid fractions of manure. Biomass Bioenergy 26:485–495

Karpenstein-Machan M (2005) Energiepflanzenbau für Biogasanlagenbetreiber. DLG, Frankfurt

Tambone F, Scaglia B, D'Imporzano G, Schievano A, Orzi V, Salati S, Adani F (2010) Assessing amendment and fertilizing properties of digestates from anaerobic digestion through a comparative study with digested sludge and compost. Chemosphere 81:577–583

Sørensen P, Møller H (2009) Fate of nitrogen in pig and cattle slurries applied to the soil-crop system. In: Adani F, Schievano A, Boccasile G (eds) Anaerobic digestion: opportunities for agriculture and environment. University of Milan, Milan, pp 27–37

BHKW-Forum Die BHKW-Infothek (2013) Accessed 19 May

Amon B, Moitzi G, Schimpl M, Kryvoruchko V, Wagner-Alt C (2002) Methane, nitrous oxide and ammonia emissions from management of liquid manures (trans: Institut für Land-UuE). Universität für Bodenkultur Wien, Wien

Sommer S, Petersen S, Moller H (2004) Algorithms for calculating methane and nitrous oxide emissions from manure management. Nutr Cycl Agroecosyst 69:143–154

Dinuccio E, Berg W, Balsari P (2008) Gaseous emissions from the storage of untreated slurries and the fractions obtained after mechanical separation. Atmos Environ 42:2448–2459

Chadwick D, Pain B, Brookman S (2000) Nitrous oxide and methane emissions following application of animal manures to grassland. J Environ Qual 29:277–287

Sherlock R, Sommer S, Khan R, Wood C, Guertal E, Freney J, Dawson C, Cameron K (2002) Ammonia, methane, and nitrous oxide emission from pig slurry applied to a pasture in New Zealand. J Environ Qual 31:1491–1501

Dieterich B, Finnan J, Frost P, Gilkinson S, Müller C (2012) The extent of methane (CH4) emissions after fertilisation of grassland with digestate. Biol Fertil Soil 48:981–985

Møller H, Sommer S, Ahring B (2004) Biological degradation and greenhouse gas emissions during pre-storage of liquid animal manure. J Environ Qual 33:27–36

Flessa H, Ruser R, Dörsch P, Kamp T, Jimenez M, Munch J, Beese F (2002) Integrated evaluation of greenhouse gas emissions (CO2, CH4, N2O) from two farming systems in southern Germany. Agric Ecosyst Environ 91:175–189

Sommer S, Genermont S, Cellier P, Hutchings N, Olesen J, Morvan T (2003) Processes controlling ammonia emission from livestock slurry in the field. Eur J Agron 19:465–486

De Klein C, Novoa R, Ogle S, Smith K, Rochette P, Wirth T, McConkey B, Mosier A, Rypdal K, Walsh M, Williams S (2006) N2O emissions from managed soils, and CO2 emissions from lime and urea application. In: Eggleston S, Buendia L, Miwa K, Ngara T, Tanabe K (eds) 2006 IPCC Guidelines for National Greenhouse Gas Inventories Institute for Global Environmental Strategies, Hayama, pp .11.11–11.54

Anon (2006) S.I. 378 of 2006, European Communities (Good Agricultural Practice for Protection of Waters) Regulations 2006

McSwiney C, Robertson G (2005) Nonlinear response of N2O flux to incremental fertilizer addition in a continuous maize (Zea mays L.) cropping system. Glob Chang Biol 11:1712–1719

Zebarth B, Rochette P, Burton D (2008) N2O emissions from spring barley production as influenced by fertilizer nitrogen rate. Can J Soil Sci 88:197–205

Cardenas LM, Thorman R, Ashlee N, Butler M, Chadwick D, Chambers B, Cuttle S, Donovan N, Kingston H, Lane S, Dhanoa MS, Scholefield D (2010) Quantifying annual N2O emission fluxes from grazed grassland under a range of inorganic fertiliser nitrogen inputs. Agric Ecosyst Environ 136:218–226

Rafique R, Hennessy D, Kiely G (2011) Nitrous oxide emission from grazed grassland under different management systems. Ecosystems 14:563–582

Fruergaard T, Astrup T, Ekvall T (2009) Energy use and recovery in waste management and implications for accounting of greenhouse gases and global warming contributions. Waste Manage Res 27:724–737

Styles D, Jones M (2007) Energy crops in Ireland: an assessment of their potential contribution to sustainable agriculture, electricity and heat production. EPA, Wexford, Johnstown Castle

Galloway J, Aber J, Erisman J, Seitzinger S, Howarth R, Cowling E, Cosby B (2003) The nitrogen cascade. BioScience 53:341–356

Dobbie K, Smith K (2003) Impact of different forms of N fertilizer on N2O emissions from intensive grassland. Nutr Cycl Agroecosyst 67:37–46

Clayton H, Mc Taggart I, Parker J, Swan L, Smith K (1997) Nitrous oxide emission from fertilised grassland: a 2-year study of the effects of fertiliser form and environmental conditions. Biol Fertil Soil 25:252–260

Grant R, Pattey E, Goddard T, Kryzanowski L, Puurveen H (2006) Modeling the effects of fertilizer application rate on nitrous oxide emissions. Soil Sci Soc Am J 70:235–248

Van Groenigen J, Velthof G, Oenema O, Van Groenigen K, Van Kessel C (2010) Towards an agronomic assessment of N2O emissions: a case study for arable crops. Eur J Soil Sci 61:903–913

Fowler D, Skiba U, Hargreaves KJ (1997) Emissions of nitrous oxide from grasslands. In: Jarvis S, Pain B (eds) Gaseous nitrogen emissions from grasslands. CAB International, Wallingford, pp 147–162

Weiland P (2010) Biogas production: current state and perspectives. Appl Microbiol Biotechnol 85:849–860

Anon (2009) Directive 2009/28/EC of the European Parliament and of the Council on the promotion of the use of energy from renewable sources

Banks C, Salter A, Chesshire M (2007) Potential of anaerobic digestion for mitigation of greenhouse gas emissions and production of renewable energy from agriculture: barriers and incentives to widespread adoption in Europe. Water Sci Technol 55(10):165–173
Acknowledgments
This investigation was part of a larger research project financed by the Department of Agriculture, Fisheries and Food of the Republic of Ireland (Research Stimulus Programme, RSF 07-506). The authors would furthermore like to express their gratitude to the following experts for sharing their knowledge with us in the course of the writing of this paper: Dr. Barbara Amon (University of Natural Resources and Life Sciences, Vienna, Austria), Dr. Owen Carton (Teagasc, Oak Park, Ireland), Mr. Dermot Forristal (Teagasc, Oak Park), Dr. Peter Frost (AFBINI, Hillsborough, Northern Ireland), Mr. Stephen Gilkinson (AFBINI, Hillsborough), Dr. Trevor Gilliland (AFBINI, Crossnacreevy, Northern Ireland), Dr. Andreas Lemmer (State Agency for Agricultural Engineering and Bioenergy, University of Hohenheim, Germany), Dr. Joseph McEniry (Teagasc, Grange, Ireland), Mr. Jörg Messner (LAZBW, Aulendorf, Germany) and Dr. Padraig O'Kiely (Teagasc, Grange).
About this article
Cite this article
Dieterich, B., Finnan, J., Hochstrasser, T. et al. The Greenhouse Gas Balance of a Dairy Farm as Influenced by the Uptake of Biogas Production. Bioenerg. Res. 7, 95–109 (2014). https://doi.org/10.1007/s12155-013-9350-3
Published:

Issue Date:

DOI: https://doi.org/10.1007/s12155-013-9350-3
Keywords