Abstract
To date, cellulosic ethanol production has not been commercialized in the United States. However, government mandates aimed at increasing second-generation biofuel production could spur exploratory development in the cellulosic ethanol industry. We conducted an in-depth analysis of the fuelshed surrounding a starch-based ethanol plant near York, Nebraska that has the potential for cellulosic ethanol production. To assess the feasibility of supplying adequate biomass for year-round cellulosic ethanol production from residual maize (Zea mays) stover and bioenergy switchgrass (Panicum virgatum) within a 40-km road network service area of the existing ethanol plant, we identified ∼14,000 ha of marginally productive cropland within the service area suitable for conversion from annual rowcrops to switchgrass and ∼132,000 ha of maize-enrolled cropland from which maize stover could be collected. Annual maize stover and switchgrass biomass supplies within the 40-km service area could range between 429,000 and 752,000 metric tons (mT). Approximately 140–250 million liters (l) of cellulosic ethanol could be produced, rivaling the current 208 million l annual starch-based ethanol production capacity of the plant. We conclude that sufficient quantities of biomass could be produced from maize stover and switchgrass near the plant to support year-round cellulosic ethanol production at current feedstock yields, sustainable removal rates and bioconversion efficiencies. Modifying existing starch-based ethanol plants in intensive agricultural fuelsheds could increase ethanol output, return marginally productive cropland to perennial vegetation, and remove maize stover from productive cropland to meet feedstock demand.
This is a preview of subscription content, log in to check access.
Access options
Buy single article
Instant access to the full article PDF.
US$ 39.95
Price includes VAT for USA
Subscribe to journal
Immediate online access to all issues from 2019. Subscription will auto renew annually.
US$ 99
This is the net price. Taxes to be calculated in checkout.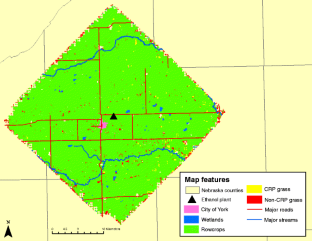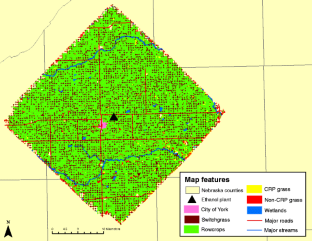 References
1.

Solomon BD, Barnes JR, Halvorsen KE (2007) Grain and cellulosic ethanol: history, economics, and energy policy. Biomass Bioenergy 31:4116–4425

2.

Hill J, Nelson E, Tilman D, Polasky S, Tiffany D (2006) Environmental, economic, and energetic costs of biodiesel and ethanol biofuels. Proc Natl Acad Sci 103:11206–11210

3.

Tilman D, Socolow R, Foley JA, Hill J, Larsen E, Lynd L, Pacala S, Reilly J, Searchinger T, Somerville C, Williams R (2009) Beneficial biofuels—the food, energy, and environmental trilemma. Science 325:270–271

4.

Schmer MR, Vogel KP, Mitchell RB, Perrin RK (2008) Net energy of cellulosic energy from switchgrass. Proc Natl Acad Sci 105:464–469

5.

Mitchell R, Vogel KP, Uden DR (2012) The feasibility of switchgrass for biofuel production. Biofuels 3:47–59

6.

U.S. Environmental Protection Agency (2011) Renewable Fuel Standard. http://www.epa.gov/otaq/fuels/renewablefuels. Accessed 12 January 2012

7.

Hovey H (2011) York on the short list: Abengoa's $500 million vision could take shape in York County. Lincoln Journal Star. http://journalstar.com/news/state-and-regional/nebraska/article_72a62cb8-3263-58d0-9609-f1f444fb563d.html. Accessed 3 November 2011

8.

Graham RL, Nelson R, Sheehan J, Perlack RD, Wright LL (2007) Current and potential U.S. maize stover supplies. Agron J 99:1–11

9.

Willhelm WW, Johnson JMF, Karlen DL, Lightle DT (2007) Corn stover to sustain soil carbon further constrains biomass supply. Agron J 99:1665–1667

10.

Sheehan J, Aden A, Paustian K, Killian K, Brenner J, Walsh M, Nelson R (2004) Energy and environmental aspects of using maize stover for fuel ethanol. J Ind Ecol 7:117–146

11.

Jarecki MK, Lal R (2003) Crop management for soil carbon sequestration. Crit Rev Plant Sci 22:471–502

12.

Dale VH, Kline KL, Wiens J, Fargoine J (2010) Biofuels: implications for land use and biodiversity. Biofuels and Sustainability Reports. Ecological Society of America, Washington D.C., U.S.A

13.

Mitchell R, Wallace L, Wilhelm W, Varvel G, Wienhold B (2010) Grasslands, rangelands, and agricultural systems. Biofuels and sustainability reports. Ecological Society of America, Washington, D.C., USA

14.

Dein BS, Jung H-L G, Vogel KP, Casler MD, Lamb JFS, Iten L, Mitchell RB, Sarath G (2006) Chemical composition and response to dilute-acid pretreatment and enzymatic saccharification of alfalfa, reed canarygrass, and switchgrass. Biomass Bioenergy 30:880–891

15.

Vogel KP (2004) Warm-Season (C4) grasses. In: Moser LE, Burson BL, Sollenberger LE (eds) Switchgrass. ASA-CSSA-SSSA, Madison, WI, pp 561–588

16.

Sarath G, Mitchell RB, Sattler SE, Funnell D, Pederson JF, Graybosch RA, Vogel KP (2008) Opportunities and roadblocks in utilizing forages and small grains for liquid fuels. J Ind Microbiol Biotechnol 35:343–354

17.

Sanderson MA, Brink GE, Higgins KF, Naugle DE (2004) Warm-Season (C4) grasses. In: Moser LE, Burson BL, Sollenberger LE (eds) Alternative uses of warm-season forage grasses. ASA-CSSA-SSSA, Madison, WI, pp 389–416

18.

Gopalakrishnan G, Negri MC, Wang M, Wu M, Snyder SW, Lafreniere L (2009) Biofuels, land, and water: a systems approach to sustainability. Environ Sci Tech 43:6094–6100

19.

McLaughlin SB, De La Torre Ugarte DG, Garten CT Jr, Lynd LR, Sanderson MA, Tolbert VR, Wolf DD (2002) High-value renewable energy from prairie grasses. Environ Sci Tech 36:2122–2129

20.

Fargione J, Hill J, Tilman D, Polasky S, Hawthorne P (2008) Land clearing and the biofuel carbon debt. Science 319:1235–1338

21.

Adler PR, Del Grosso SJ, Parton WJ (2007) Life cycle assessment of net greenhouse gas flux for bioenergy cropping systems. Ecol Appl 17:675–691

22.

McLaughlin SB, Kszos LA (2005) Development of switchgrass (Panicum virgatum) as a bioenergy feedstock in the United States. Biomass Bioenergy 28:515–535

23.

McGuire VL (2011) Water-level changes in the High Plains Aquifer, predevelopment to 2009, 2007–2008, and 2008–2009, and change in water in storage, predevelopment to 2009. U.S. Geological Survey Scientific Investigations Report 2011—5089, Reston, VA, U.S.A

24.

Gilbert MC (1989) Ordination and mapping of wetland communities in Nebraska's Rainwater Basin Region. CEMRO Environmental Report 89–1. Omaha District, U.S. Army Corps of Engineers, Omaha, NE, U.S.A

25.

Bishop AA, Vrtiska M (2008) Effects of the Wetland Reserve Program on waterfowl carrying capacity in the Rainwater Basin region of South-Central Nebraska. U.S. Department of Agriculture—Natural Resources Conservation Service, Lincoln, NE., U.S.A

26.

Pijanowski BC, Brown DG, Shellito BA, Manik GA (2002) Using neural networks and GIS to forecast land use changes: a Land Transformation Model. Comput Environ Urban Syst 26:553–575

27.

Li R, Guan Q, Merchant J (2012) A geospatial modeling framework for assessing biofuels-related land-use and land-cover change. Agric Ecosyst Environ 161:17–26

28.

Bonabeau E (2002) Agent-based modeling: methods and techniques for simulating human systems. Proc Natl Acad Sci 99:728–7287

29.

An L (2012) Modeling human decisions in coupled human and natural systems: review of agent-based models. Ecol Model 229:25–36

30.

Kiniry JR, Lynd L, Greene N, Johnson MV, Casler M, Laser MS (2008) Biofuels and water use: comparison of maize and switchgrass and general perspectives. In: Wright JH, Evans DA (eds) New research on biofuels. Nova Science, Hauppauge, NY, pp 17–30

31.

Ricketts TH, Dinerstein E, Olson DM, Loucks CJ (1999) Terrestrial ecoregions of North America: a conservation assessment. Island, Washington D.C

32.

Khanna M, Dhungana B, Clifton-Brown J (2008) Costs of producing miscanthus and switchgrass for bioenergy in Illinois. Biomass Bioenergy 32:482–493

33.

Vogel KP, Mitchell RB (2008) Heterosis in switchgrass: biomass yield in swards. Crop Sci 48:2159–2164

34.

Varvel GE, Vogel KP, Mitchell RB, Follet RF, Kimble JM (2008) Comparison of maize and switchgrass on marginal soils for bioenergy. Biomass Bioenergy 32:18–21

35.

Nebraska Ethanol Board (NEB) (2011) Nebraska ethanol industry: ethanol plants in Nebraska. http://www.ne-ethanol.org/industry/ethplants.htm. Accessed 12 January 2012
Acknowledgments
The authors would like to thank Eric Zach of the Nebraska Game and Parks Commission and two anonymous reviewers for their contributions to this manuscript, the Rainwater Basin Joint Venture for providing GIS data, and the Great Plains Landscape Conservation Cooperative and U. S. Geological Survey—Climate Effects Network for financial support. The Nebraska Cooperative Fish and Wildlife Research Unit is jointly supported by a cooperative agreement between the U. S. Geological Survey, the Nebraska Game and Parks Commission, the University of Nebraska—Lincoln, the U. S. Fish and Wildlife Service and the Wildlife Management Institute. Any use of trade, firm, or product names is for descriptive purposes only and does not imply endorsement by the U. S. Government.
About this article
Cite this article
Uden, D.R., Mitchell, R.B., Allen, C.R. et al. The Feasibility of Producing Adequate Feedstock for Year-Round Cellulosic Ethanol Production in an Intensive Agricultural Fuelshed. Bioenerg. Res. 6, 930–938 (2013). https://doi.org/10.1007/s12155-013-9311-x
Keywords
Switchgrass

Maize stover

Cellulosic ethanol

Biomass

Feasibility

Fuelshed